TRUMP! True Astrology, New Astrology
Kepler College, America's leading astrology university, told us the facts some time ago – we do not have Donald Trump's birth time straight. I ditched the horoscope when he won the election, because the chart (using the data we were given) was completely wrong. And as you all know, I ditched any stories I had written about Trump because I did not want to waste any more of your time on a horoscope which (for all I know) could be for another baby.
The New York Daily News reported on 12th December 2017 that Trump had given the wrong birthdate in the mayoral election (out by a month) so…who knows? Maybe he's a Cancerian after all. But here is some good news –
P.S. You Can Trust the American Horoscope
The American chart works with uncanny accuracy. And we can use it as a spot-on guide to take us through the current shocks and scandals, and through 2018, 2019, 2020 – the years of extreme change for the United States. We're going to see a total transformation of her constitution, structure and very foundations. And it begins with Trump.
How September was a Watergate Moment
Back on 18th February, seven months before it happened, you read on this website that September would be a Watergate moment for Trump and the White House. This was the prediction, below:
"Nixon Quits 1974 over Watergate – This Pattern Repeats in September 2017 
Presidents, Andrew Johnson and Bill Clinton were both impeached and acquitted but on August 9th, 1974 President Richard Nixon actually resigned. We have a line-up in the American horoscope at exactly the same degrees in September 2017. The Watergate pattern repeats exactly in the American chart."
Below, are news stories that appeared right on time with the astrology prediction. On 1st September, The New York Times reported on Russian hacking and in the same month, Newsweek even used the word 'Watergate' in the headline, below.
I didn't need Trump's supplied birth details at all to make that prediction – it was done using the U.S.A. data – so we can keep on using that chart as a reliable compass for the future. TRUMP! The True Astrology
People sometimes ask me how far ahead astrologers can see, in our alternative timekeeping. My esteemed colleague Michael Lutin, while at Vanity Fair magazine, wrote this prediction about the years to 2025 in January 2007:  
"The words "patriot" and "treason" will lose their meaning, and in some cases they will become interchangeable. What is treason to one person will be patriotism to another—just as it was back in the 1760s and 70s."
Michael was using the American 'birth' chart set for 4th July, when he wrote those uncannily accurate words about what would become Trump's America, some ten years later. This is one of two charts which work really well for prediction.
 Was Trump Really Born on 14th June 1946 at 10.54am?
Was Trump really born on 14th June 1946 at 10.54am, at Jamaica Hospital, Queens, New York?  We just don't know.
What we have known, for months, is that using the American chart it was always the case that 2nd December 2017 would be a major moment for the White House following whitewashing a few months before, in August. As you may remember from my website story (below) this was filed on July 17th, 2017. That July 17th Astrology Predictions – Why 2nd December Counts
From this website, July 17th 2017: "In the astrological chart of the United States set for 2nd January 1776 (when the nation was first officially dubbed 'The United States of America') we find Leo factors. In fact, the U.S. has her North Node at 16 Leo so she will experience her Nodal Return when the transiting North Node moves to 16 Leo between December 6th and 17th, 2017. As we've seen, this is big. It can only happen about every 20 years. There is karma here with the United Kingdom and the United States. It goes back centuries. It is due at Christmas. We can expect a major event then, affecting The Special Relationship."
"RICHARD NIXON AND BARACK OBAMA – CALL IT OBAMA KARMA
This Leo Node point is the 'Nixon' point in the United States chart. When Nixon quit, America's North Node at 16 Leo was transited exactly by Jupiter at 16 Pisces. That happened back on August 9th, 1974. It's also the 'Obama' point in the United States chart. When Barack Obama was made President on November 4th, 2008 the country's North Node at 16 Leo was under transit from Chiron at 16 Aquarius, which was of course also exactly conjunct her South Node at 16 Aquarius too.
I know a lot of astrologers use the July 4th  (Born on the Fourth of July) horoscope for America, but the 2nd January 1776 chart is reliable in every way. In fact, I have given it a whole chapter in my ebook, 2020 Astrology 
"THE WHITE HOUSE KARMA OF CHRISTMAS 2017

Quite apart from that Node Return for America (her Nixon and Obama moment) we will see powerful Leo weather as early as Saturday 2nd December when Ceres 17 Leo conjuncts the transiting North Node at 17 Leo, which in turn is just one degree away from America's own North Node at 16 Leo. This is a White House White Christmas but it will follow on from a White House Whitewash, a few months earlier, in August. Let's have a closer look at that, because this is a tremendous cover-up we need to be aware of.
If you are asking questions about American politics then, have a look at Carolina. In fact, I made a prediction about Russia, Trump and Carolina one year ago. Why this part of America? Because it bears the full brunt of the eclipse. 
Trump New Astrology Predictions
If you are looking for key dates for impeachment, resignation, or any other kind of departure from the White House for Trump, then you really have to look at the timing for the sale of Salvator Mundi. Really? Yes, really. I'll explain why.
You probably read that this painting of Christ by Leonardo da Vinci  sold on 15th November 2017 for $450.3 million, becoming the most expensive painting ever sold. It was owned by Dmitry Yevgenyevich Rybolovlev (Russian: Дмитрий Евгеньевич Рыболовлев) who was born on 22nd November 1966.
In 2008 Dmitry's family bought Maison de L'Amitie from Donald Trump – a Palm Beach mansion. Trump has claimed that the sale of Maison de L'Amitié, which he purchased for $40 million four years earlier and sold to Rybolovlev for $95 million, is the only dealing he has done with a Russian. 
When I look at the dates for the sale  of the painting, the birth of Rybolovlev and even the Chicago vote in 2016 I see them light up the American horoscope like a Christmas tree.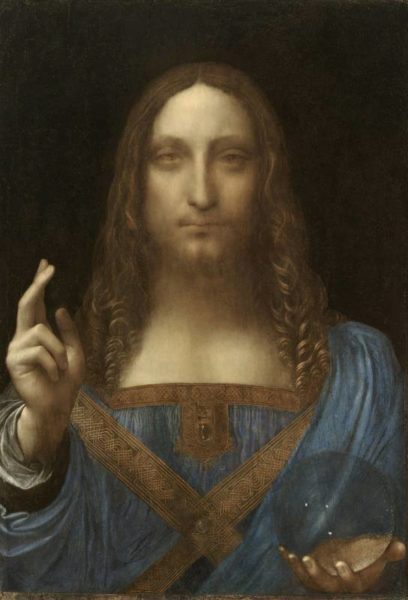 The Big Trump Turning Points
Let's go further into the American chart. What are you watching for peak Trump outcomes? Well, first of all, the original date I picked out many months ago, Saturday 2nd December. That is a critical point. Ceres at 17 Leo is conjunct the Node at 17 Leo, right on America's Node at 16 Leo.
We then have a Supermoon Full Moon at 11 Gemini on Sunday 3rd December. I am sure you can see below, that America's Sun is at 11 Capricorn and Chiron is at 11 Aries. That's a direct hit. Stress over America!
I would also draw your attention to Mercury at 28 Sagittarius conjunct Saturn at 28 Sagittarius on Wednesday 6th December. That picks up America's Juno at 28 Libra. That day is going to be all about the 'special relationship' with the United Kingdom and it is extremely serious. You might say, it's the heaviest test in three decades for the British and the Americans. They might have been 'shoulder to shoulder' back on 9/11 but near 6th December it's shoulder to the wheel.
Watching America on Wednesday 20th Thursday 21st December
The beautiful painting of Christ which plays such a fated part in the Trump story, has a double meaning as we go towards Christmas, the Christian global celebration. It also happens to be just five days after the historic arrival of Saturn in Capricorn.
This takes place at 0 degrees of Capricorn on Wednesday 20th December and there's another pattern the following day too on Thursday 21st December. There is a direct hit on America's Mercury at 0 Capricorn. This can only happen every 29 years so I am suggesting that this is the most serious moment of truth of all for Trump, for the Republican Party and for the White House.
Who or What Comes Back?
Something else really interesting happens around 20th December. Aesculapius at 0 Aquarius in the Eleventh House of political parties is also hit. Now, Aesculapius is the powerful little asteroid in Jupiter's family who revives, resurrects and 'brings back from the brink' I associate it with 'dead man walking' or 'dead woman walking' sometimes.
Put all that together and we have a very sombre moment for America's constitution, as it stood in 1776, but you are also going to see one politician, or one political party coming back. Just when you thought he/she/they were over, there's a breath of life again. Thursday 21st December is also key as the Sun conjuncts Saturn at 0 Capricorn, again hitting Mercury at 0 Capricorn in the American chart.
January continues the 'continuing story' of what will become America's historic transformation in her structure, statutes, identity, status, global positioning and maybe even her currency and flag by 2020. That's when the Capricorn weather peaks, after a pretty intense 2018, 2019 period. I'll come back to you with more January predictions soon and a forecast for the next three years. I'm happy to talk more about this on Twitter as the Trump 'Watergate' story rolls on.
Birth chart for the USA from Solar Fire set for January 2nd 1776 at 12.00pm in Cambridge, Massachusetts.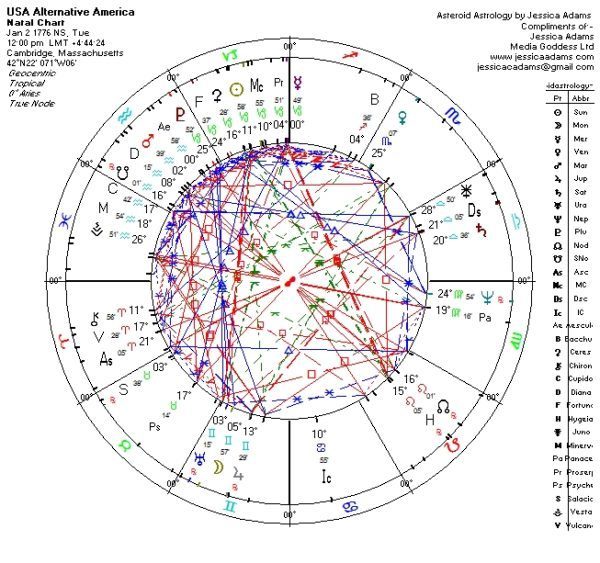 Watch 15th May, 2018 for Trump Shocks and Sharemarket Lightning Bolts
Even though we don't have a reliable and trustworthy birth chart for Trump, we know he is a Gemini. He will forever be associated with Twitter in the pages of history. Solar charts, or Sun Sign charts, are excellent predictors of 'the headlines of our lives'. They were created for the media, in their modern form, by the media.
So why are we watching Tuesday 15th May, 2018? Because in the Gemini horoscope, Uranus (shocks) moves into the Twelfth House of secrets. At the same time it moves into the world chart of sharemarkets, like Wall Street, because it is in Taurus and the world's Second House of money.
It's an unusual day. Using London time, we have a New Moon with the Sun at 24 Taurus and Moon at 24 Taurus at 11.47am. We then see Uranus, the planet of revolution, rebellion and 'the world turned upside down' moving into Taurus at 3.16pm. Mercury will have entered Taurus a couple of days before, at 12.4o pm on Sunday 13th May.
He may still be in the White House by then, he may not, but the astrology suggests – this is the big one. This is the month to watch. Why? Because it breaks up a big, stuck, global economic pattern that keeps so many people trapped! This goes beyond a mere man, into way bigger concerns.
The World Turns Upside-Down
What is also interesting is that this historic combination of the New Moon, Mercury and Uranus (lightning bolts) in Taurus also occurs in Hillary Clinton's Seventh House, which describes her enemies, rivals and opponents.
So, you don't have to be Sherlock Holmes to know this is about Donald Trump. A lot of astrologers I know are also obsessing (rightly) about the Mars-Uranus square on Wednesday 16th May, with Mars at 0 Aquarius square Uranus at 0 Taurus. This is like fireworks with dynamite in the box. You have to remember (even though I am writing this on 3rd December 2017, some five months ahead) the month of May is about May Day – usually a massive day of protests by Anonymous and other organisations about the global banking and tax system.
Uranus was discovered in 1781 when the world turned upside-down. America beat Britain and became independent. A black slave, Elizabeth Freeman, won her freedom from her white master. When the British surrendered at Yorktown, they were literally playing a song called 'And the World Turned Upside Down."
This has to be connected, right? The shocks about Trump's secret life go together with the shocks to the global economy.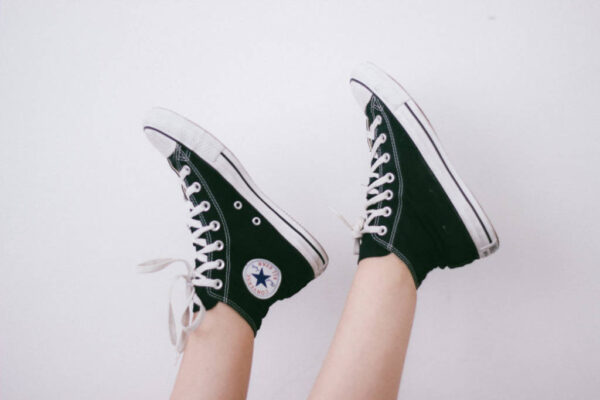 The American Horoscope and that May 2018 Pattern
This zero degree pattern in May 2018 also takes us right back to the American chart, which shows she was 'born' with Mercury at 0 Capricorn in her Tenth House, which is the White House. Take a look at that horoscope again. This is a picture of global economic 'upside down' trends having a direct impact on the White House and United States government.
Uranus at 0 Taurus and Mars at 0 Aquarius will hit America's Mercury at 0 Capricorn in a pattern you and I have never seen before and will never see again.
Can you see the picture of a very particular May outcome, building here? Even if the only thing we know about Trump is that he is a Gemini, he has Uranus (lighting bolts, electrical storms) landing with a crack, in his Twelfth House of secrets, confidential documents, classified information, and so on. As I write this, he is a man under investigation by Mr. Mueller.
On Tuesday 29th May we have a Full Moon with the Sun at 8 Gemini opposite the Moon at 8 Sagittarius. This is a natural end point for the Full Moon (Supermoon) we saw on the weekend of Saturday 2nd, Sunday 3rd December 2017 when Flynn admitted lying about Russia and Trump, to the FBI.
All eyes on May 2018. December 2017 is just the beginning. The American chart works, let's keep observing. It's my intention to be in New York for this momentous month, so if you're local, let's meet! I'll post dates on Meetups. 
Uranus is the planet which times freedom, independence, release and relief. The only people who ever have a hard time with Uranus are those who are hanging onto the past. In Taurus, it's about taxes, money, the sharemarkets and the banks. Remember, Uranus was found in 1781 when America won Independence Day. The trick is – keep moving! Keep changing!
Dubai, Sunday 3rd December 2017. Updated in Melbourne, 13th December 2017.