Filed 2.30pm, Tuesday 12th May, 2015 Melbourne.
As I write this, the Australian Treasurer Joe Hockey is preparing to hand down a budget which the nation's horoscope says will make many ABC-TV stars (including Peppa Pig) indeed feel as if they have hit a muddy puddle. Yesterday's budget preview (revealed on 11th May, 2015) highlighted a so-called Netflix tax, which will impose GST on imports of downloaded books and software. This was the first step in what is going to be a major, long, slow series of transits affecting the Third House of the Australian chart, ruled by Gemini. THE THIRD HOUSE RULES TV, RADIO AND INTERNET
The Third House rules ABC television and radio, as well as SBS, and in addition, the National Broadband Network and the use of the internet as a whole.  It also covers media ownership by  Bauer, Murdoch, Fairfax and the rest. And of course, Telstra and its rivals like Optus. There will be street protests. And there will be strikes. And your Bananas may well be marching in their Pyjamas.
Back on November 18th, 2014, Communications Minister Malcolm Turnbull announced ABC funding would be cut by $254 million over five years.  That raised questions like this, from Opposition Leader Bill Shorten: "Is Peppa Pig going to get cut? Tony Jones for the chop?" What happens from May 2015 through to 2017 is going to confront even fans of the ABC and SBS who thought they knew it all, though. Peppa Pig may in fact become a ham sandwich.
SATURN IN SAGITTARIUS
What's the problem here for Australia? The slow transit of Saturn in Sagittarius, which will begin to oppose Chiron and Vesta at 8 Gemini in the Third House, when we see a Sun-Saturn conjunction at 7 Sagittarius in the Ninth House on Monday 30th November 2015. This is the very first major hit of Saturn over 2-3 years.
This only happens every 29 years and it's months away, as Joe Hockey prepares to deliver his budget in a few hours as I write this. Saturn will conjunct Ops (his wife in mythology, and a powerful asteroid) at exactly the same moment, near 30th November 2015, as he moves to 8 Gemini in the Ninth House of the Australian horoscope. This is the chart I use for Australia. It's not set for Australia Day, but for the (legal, historic) moment we became a nation.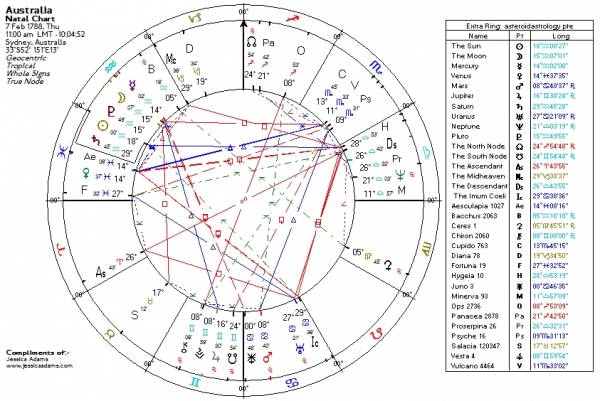 Those are momentous transits for the ABC, SBS and Australian internet, broadband and telecommunications – along with books and publishing. The Eighties is back to haunt us.
Eventually Saturn in Sagittarius will move on to oppose Jupiter at 16 Gemini and then the real climax – oppose the South Node at 24 Gemini and conjunct the North Node at 24 Gemini.  That will happen in February 2017, when we also have an Annular eclipse at 8 Pisces, returning to that difficult 8 degree position of Gemini/Sagittarius in a T-square. We can time this to 26th February, 2017. The vast Murdoch and Packer media dynasties of Australian legend are part of this pattern. We have Jupiter in Gemini as a nation! Perhaps other massively successful media moguls will also have emerged by 2017.
Saturn then retrogrades back to 24 degrees of Sagittarius in June and July 2017 and comes for his third pass in October and November 2017, when at last the process is over.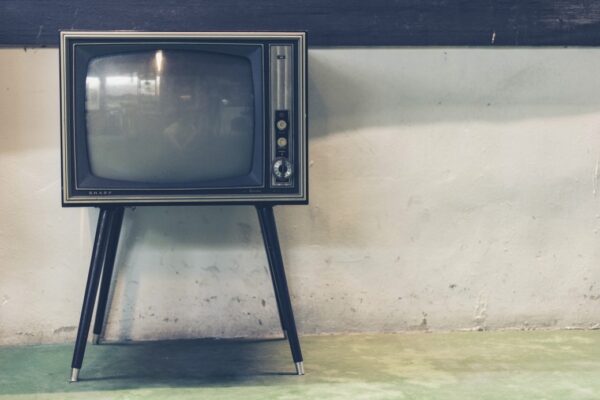 IT'S 1986 AND 1987 ALL OVER AGAIN

What happened when Saturn last trawled through Sagittarius in 1986 and 1987? We're going to see the Saturn Return for all that, in 2015-2017. Well – SBS ceased VHF transmissions on Channel 0 in Sydney & Melbourne. The Herald and Weekly Times Ltd, owners of HSV-7 & ADS-7 were sold to Rupert Murdoch's News Limited for $1.8 billion. As News Limited owned ATV-10 at this time, HSV-7 was sold to Fairfax (already owners of ATN-7 & BTQ-7) in February 1987 for $320 million. Christopher Skase's Qintex company sold TVQ-0 to Darling Downs Television, owners of DDQ-10 in Toowoomba. AUSSAT satellites were launched, bringing television to remote areas for the first time. What happened in 1987? On 23rd February, the first mobile phone call made in Australia arrived. And just have a look at the television and media action: Alan Bond purchased TCN-9 & GTV-9 from Kerry Packer for $1.055 billion. The expanded Nine Network became the first coast-to-coast network. Fairfax, owners of ATN-7 & BTQ-7 purchased HSV-7 from The Herald and Weekly Times Ltd for $320 million. The move saw the replacement of most Melbourne-produced programming with networked programming from Sydney.   Westfield bought Network Ten from Rupert Murdoch's News Limited for $842 million. New cross-media ownership rules forced the sale of the Seven Network. Fairfax sold its stations to Christopher Skase's Qintex company for $780 million.
The Other Planets in the Story – Neptune and Jupiter Transits
Other planets are also involved in the long, slow hit on television, media and telecommunications to 2017. Neptune is also moving back to 8 Pisces where it will square the Chiron-Vesta conjunction at 8 Gemini in Australia's chart in August 2015. And Jupiter will ultimately reach 8 Virgo as well in September 2015. This is a Grand Cross, coming together at different times in different ways, but it will drastically change the national broadcasters ABC and SBS. And perhaps the face of the national media as a whole.

Spotlight on May 2015 and Treasurer Hockey's Budget

Mercury is retrograde in May and June 2015, adding to the chaos. You can see the key dates below, for the transits to Chiron and Vesta in the Australian horoscope at 8 Gemini, which is when we might expect more announcements and action in the budget aftermath – that looks like a weekend of protests to me!
Sunday 24 May 2015
02:02:06 UT – Mars (8 ge 24'39") trine True Node (8 li 24'39" Rx)
21:04:02 UT – Mars (8 ge 57'50") trine Ceres (8 aq 57'50")
Saturday 30 May 2015
02:00:36 UT – Sun (8 ge 22'35") trine True Node (8 li 22'35" Rx)
16:55:46 UT – Sun (8 ge 58'21") conjunct Mercury (8 ge 58'21" Rx) Minister Malcolm Turnbull and Prime Minister Tony Abbott
The Australian Liberal Party is a nightmare when it comes to birth times. We still don't have reliable AA birth data for Malcolm Turnbull, whose portfolio is being hit by this huge transit to the Third House of communications. Nor do we have one for PM Abbott, although I have asked his social media staff and many have tried. Pity the lot of the poor astrologer trying to make predictions about specific politicians. We can, however, make them about the nation as a whole and you might say the spirit of Kerry Packer and 1980's media moves will linger on, in 2015 through 2017.
In the meantime we can at least look at Sun Signs. Mr Turnbull is a Scorpio and this pile-up on the Gemini-Sagittarius axis hits his Second House and Eighth House, ruling his investments, his salary and his business interests. Of course  PM Tony Abbott is also a Scorpio, so the same goes for him. This is a national budget with a personal impact on both their finances. And Joe Hockey? Well, this Gemini pile-up is in his Eleventh House of groups (that would be the Liberal Party as well as the Trade Unions) and he clearly doesn't read his horoscope or he would not be trying to push through dramatic changes involving both, on the chaotic Mercury Retrograde cycle. Expect madness and mayhem from now through 27th June. Mercury, the planet of e-mails, telephone calls, meetings and media will be running backwards and forwards in Mr Hockey's Liberal Party and Trade Union horoscope for weeks.
If you thought you knew where you stood with your daily newspaper, internet, and crucially your television guide on 12th May 2015, within two weeks you'll wonder what happened. And by 2017 this country's multimedia and internet will be utterly reshaped.
It might be helpful to look back at the last Saturn in Sagittarius transit in 1986 and 1987 to see what went down in Australian media. We are about to have a Saturn Return phase resurrecting the past, and very specifically, the past in terms of News Corporation, and Fairfax. The Guardian reports, "In 1986 the Hawke cabinet made decisions that unleashed far-reaching changes in Australian media ownership and control. The changes resulted in the dominance of the Australian press by Rupert Murdoch's News Corporation, a consequence felt keenly by the Rudd-Gillard-Rudd governments in 2007-13." Maybe it's not surprising. Mr Murdoch was born with the Moon at 24 Sagittarius, right on Australia's North Node at 24 Sagittarius and opposite her South Node at 24 Gemini. Data is B rated from Astro.com. 1986 and 1987 were also the years of the Fairfax crisis.
The Sydney Morning Herald (Fairfax) reported in a 2008 feature, "Two decades ago, Warwick Fairfax jnr was a media baron, a central figure in the most turbulent period in Australian media history. In 1987, after the death of his father, Sir Warwick Fairfax, the 26-year-old Oxford and Harvard graduate and devout Christian took control of Australia's oldest media empire – founded in 1841 by his ancestor, John Fairfax.By late 1990, after a $2.25 billion bid to re-privatise the company fell apart, John Fairfax Ltd was in receivership and the sharks were circling. The company would survive to become today's Fairfax Media, publisher of The Sun-Herald, but the firm would no longer be controlled by the family. It was the end of a dynasty."
Dates when the majority of heavenly bodies are circling 24 Sagittarius, the position of Mr Murdoch's Moon and also the Nation's 'karmic' Moon's Node positions include February 2017 when Jupiter is at 23 Libra (very close) and Saturn is at 24 Sagittarius. June 2017 seems significant too, when Saturn returns to 24 Sagittarius and the Sun, Mercury and Mars can all be found opposite in Gemini, the media sign. The last pass, October 2017, sees Saturn at 24 Sagittarius for the very last time, with the transiting True Node at 23 Leo which is very close. In 2017 Australia reaches the end of an intense three-year cycle when television, newspapers, radio, magazines and the internet will be utterly reshaped. Those months will be crucial to the process,which began with a trickle all the way back in May 2015, as I am writing this.