As I write this story on the sexual abuse of children and teenagers, we have about two months left of the Saturn in Scorpio cycle. That's two more months of new celebrity revelations and accusations – like those concerning Bill Cosby – and some big UK chapter endings. Important note: if you are personally affected by these issues please see the resources at the end of this piece. COSBY, HARRIS, SAVILE AND GLITTER
In this cycle Bill Cosby, Rolf Harris, Jimmy Savile, Gary Glitter and their very famous names have all put the sexual abuse of children and teenagers on the front pages for one reason or another. So has Michael Jackson, even after death. Accusations have been disproven. Accusations have been proven. No matter if it's Ronnie Barker's son jailed in October 2012 for making indecent images of children or Glitter's unglittering past – Saturn in Scorpio has taught us all the lesson of our lives. Even an alleged historic date-rape by Clark Gable has now emerged.
THE FULL DATES OF THE CURRENT SATURN IN SCORPIO CYCLE

Saturn entered Scorpio on October  5th 2012, stayed until December 23rd 2014  and is back for his final grim call, from June 14th 2015 to September 17th 2015. The Jimmy Savile story in particular, which has tentacles throughout the United Kingdom, is not over – yet we would expect to see the climax in September this year, as Saturn finally moves on.
WHY IS SCORPIO  ASSOCIATED WITH CHILD SEXUAL ABUSE?
Why is Scorpio associated with child and teenage sex abuse? Of course, it has always been the sign to associate with sex and power. Sex and death. And also sex and money. Does it mean Scorpio is a red flag for abuse issues? Absolutely not. It is more accurate to say Scorpio rules the balance of power in our sex lives. The controls.
In healthy people, in healthy situations, Scorpio rules marriage. Property. Children. The mortgage. The shared bank account. Your last will and testament. It's about the promise 'until death do us part.' It's the deep, passionate stuff of poetry, great literature and intense music. We're not really alive at all without Scorpio. It's astrological shorthand for passion. The kind of passion that means you want to be together forever, and will your lives to each other, financially and sexually. 
YOU CAN WORK SCORPIO ANY WAY YOU LIKE
You can work Scorpio any way you like. Bill Gates is one of the most famous Scorpios in the world. In December 2005, he and his wife Melinda were named as Persons of the Year by Time magazine. The Bill and Melinda Gates Foundation has donated more than US$30 billion to the world. Sex and power. Sex and money. Or, to put it more politely, a very modern power couple.
SCORPIO AND MARRIAGE
The most common Scorpio story in our lives is marriage. And also sharing a home as single people – the de facto relationship. About 45% of marriages end in America and Britain every year. Cue alimony – that's Scorpio. The word 'passion' is a key term for this sign. Crimes of passion (men killing their wives over adultery) used to be a legal defence. Rape within marriage is a Scorpio concern. Did you know it was only made illegal in England in 1991? As recently as 2011 women accused of adultery were stoned to death in Iran, Somalia, Afghanistan, Sudan, Mali and Pakistan.
CELEBRITY  SCANDALS AND SATURN IN SCORPIO 2012-2015
Why so much focus on the  sexual abuse of children and teenagers? And why so many, many big names? Even Prince Andrew made the front pages during this cycle, although the accusation of under-age sex levelled at him was disproven. One of the reasons we have all been so affected by this, across the generations, is that by a freak of planetary cycles, billions of us were born when one of the outer planets – Uranus, Neptune or Pluto – was also in Scorpio. As Saturn has slowly crossed through Scorpio and conjuncted every placement in your chart (possibly) and certainly in mine, power/sex issues have exploded. Why famous people? Logic says, because they were rich and powerful enough to abuse. The universe says, it makes us all wake up.

SCORPIO, SEX AND MONEY
Scorpio is the sign to associate with sex and money. It can manifest in a Scorpio like Bill Gates becoming one half of a philanthropist power couple with the love of his life – and saving the world, one dollar at a time. And marriage naturally involves the inheritance of a spouse's property share and money when he/she passes over – classic Scorpio. So is the handing-over of a spouse's financial affairs (when incapacitated) to a partner. However, there are some very common manifestations of Scorpio which are darker. The dowry or bride-price. Prostitution. And beyond that, blackmail.
WELCOME TO SATURN IN SCORPIO
There always tough realities and wake-up calls when Saturn goes through a sign. We now know that Judy Huth's 1974 child sexual abuse charge against Bill Cosby was rejected by prosecutors because 'the alleged incident happened too long ago' (The Daily Mail). What have we learned? Report abuse when it happens. Because if you don't, the law may not always listen if there are question marks around the case. This is exactly what happened to Judy after she reported an attack by Cosby on her at the Playboy Mansion when she was 15 years old. A lawsuit claimed: 'psychological injuries and illnesses were caused by the sexual abuse.' But – Cosby's attorney said that Huth attempted to extort $250,000 from the comedian before she sued. Joan Tarshis, below, has also made rape allegations, reported on CNN. The case continues. SCORPIO AND SEX MAGIC
Scorpio is the sign to associate with Sex Magic. So far, none of the investigations into celebrity sexual abuse have turned up any links. However, with Saturn in Scorpio until September 2015 it may be time to look. Aleister Crowley is the most famous name to link with Sex Magic. The Ordo Templi Orientis (O.T.O.) is another organisation astrology would link with the sign of Scorpio.
THE JIMMY SAVILE STORY 
The Jimmy Savile story broke on Saturday 29th September 2012. On October 5th, Saturn entered Scorpio. Astrology can be staggering, in terms of its timing. Saturn had not been in Scorpio since the 1980's. Within a week of returning to the sex/power/death/money sign, this planetary cycle was about to time the national paedophile scandal of the century in Britain. Involving a man whom Princess Diana claimed, had been asked by Prince Charles for advice about the marriage of Sarah Ferguson and Prince Andrew. Transcript of recording at People magazine.
Diana to James: 'Jimmy Savile rang me up yesterday and he said 'I'm just ringing up, my girl, to tell you that His Nibs has asked me to come and help out the Redhead and I'm just letting you know so that you don't find out through her or him. And I hope it's alright by you…and I said, 'Jimmy, do what you like.' She went on 'He said, 'You can't change a lame duck, but I've got to talk to her, 'cause that's the boss's orders and I've got to carry them out…'
After his death, hundreds of accusations of sexual abuse were made against Savile. This had happened when he was alive, but the poor accusers were ignored or disbelieved. In an act of pure evil,  Savile took legal action against some of them. He was rich and powerful. He knew Prince Charles and Princess Diana. This is his horoscope without a time (X Rodden Rating) but from several sources.We can't know the angles, but we can see key horoscope factors, even without the angles. Click to enlarge.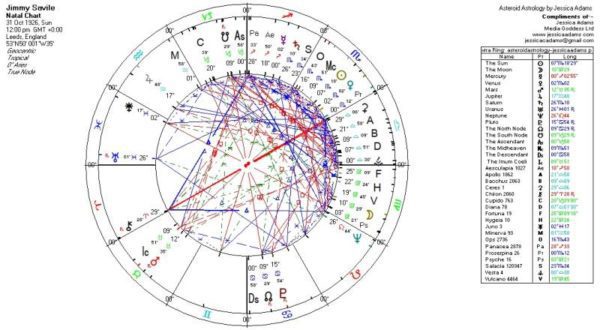 PREDICTIONS ABOUT JIMMY SAVILE AND RAY TERET

The jailing of Savile's chauffer, fellow abuser DJ Ray Teret, in December 2015 is key. This story has been overlooked as Teret was not as famous as Savile, or as well-known as Gary Glitter or Rolf Harris. However, while Teret is in jail, there is still a chapter which is yet to come out. Will it tell us more about the groups, bands or networks Savile was involved with? 
SAVILE AND HIS PAEDOPHILE NETWORK – JUPITER IN AQUARIUS
It is clear  from Jimmy Savile's chart that there was a paedophile ring involved. Born with Jupiter at 17 Aquarius  square Ops at 16 Scorpio, Savile thought he could get away with anything involving 'the group' and he did. On Top of the Pops, which he hosted, pop groups were his luck factor. On Jim'll Fix It, it was with groups of children. And friends. Like Keith Harding, a known child abuser who was a guest on the show. Was there a more sinister group in his life? A powerful paedophile ring? It's very likely. Note Minerva at 2 Aquarius, also in the Eleventh House of groups, square Venus at 1-2 Scorpio. When you put the whole chart in context, this spells group.
PREDICTION: JIMMY SAVILE AND AN OLD MAN'S KARMIC PUNISHMENT SEPTEMBER 1-17 2015
Savile died before those who survived his abuse could see him in jail. However, astrology tells us that an old man's karmic punishment will arrive, September 1-17th 2015. Savile was born with Mercury either at 29 Scorpio or 0 Sagittarius, which means for the second time in about three decades, Saturn will cross 29 Scorpio, through to 0 Sagittarius, near September 1st, 2nd, 3rd, 8th, 17th September 2015. This is a phenomenal event. Mercury is classically tied to letters, signatures, diaries, postcards, autographs, address books, paperwork and graffiti. As this is also the end of the Saturn in Scorpio cycle, it looks as if September 1-17 will see the end of the entire Savile story. At least the part that fills us all with dread. The United Kingdom horoscope set for 1st January 1801 shows Jupiter at 1 Leo and Pluto at 2 Pisces. As Saturn goes from 29 Scorpio to 1 Sagittarius, 2 Sagittarius it will trigger the national chart in a pattern only seen every three decades. WHY RAY TERET IS THE KEY IN SEPTEMBER

Why is Ray Teret the key? Astrologically, because he was born with Uranus at 29 Taurus, so Saturn at 29 Scorpio in this same time-frame (September 2015 and onwards) will explode both charts. If Teret is going to turn supergrass or yet-unseen evidence is to be found by the police, this is it. Note the way Savile also has Chiron at 29 Aries and Ceres at 29 Libra in his chart (above). This is all about the moment Saturn crosses 29 degrees of Scorpio. Ray Teret has Saturn in Scorpio (sex and business) opposite Uranus in Taurus (upheaval and money). 
You would expect to see conjunctions in Scorpio in both charts and they are certainly there. Born on 24th October 1941, Teret also has untimed X data, but even without this, we can pick up Panacea at 5-6 Scorpio, Mercury at 6-7 Scorpio, Ceres tying into the pattern at 6 Capricorn, Pluto at 5 Leo (of course Pluto rules Scorpio) and Vesta at 4 Scorpio. Whatever time he was born Savile had the Sun at 6-7 Scorpio so these two men are linked in a remarkable way. With tragic results for those who survived. September 2015 is important in Britain's history of sexual abuse cover-ups because Saturn will cross the Total Eclipse point of 22nd November 1984, when we saw an eclipse at 00 Sagittarius 40. And Saturn as the Lord of Karma will have his way. An eclipse, of course, is always a cover-up job. What was going on in 1984? Geoffrey Dickens MP, after heroic research, handed a 50-page dossier on child abuse with links to the notorious Elm House, near Barnes in London, to the Home Office. Savile also received membership of the Athenaeum, a gentlemen's club in London's Pall Mall, suiting his sociable Jupiter in Aquarius (clubs) perfectly.
Oh, and this: A small but important newspaper the Surrey Comet, had been issued with a D-notice – an official warning not to publish intelligence that might damage national security – when its editor sought, around 1984, to report on a police investigation into Elm Guest House. What else happened in 1984? The end of P.I.E. (Paedophile Information Exchange). It was a big year. And what happened on the New Moon eclipse of Thursday 22nd November? We don't know. All light was blotted out. But September 2015 is a time of serious Scorpio reckoning.
JIMMY SAVILE, NECROPHILIA AND SATURN IN SCORPIO
The most horrifying report in the Jimmy Savile story comes from The Guardian:
Jimmy Savile told hospital staff he interfered with patients' corpses, taking grotesque photographs and stealing glass eyes for jewellery, over two decades at the mortuary of Leeds general infirmary.

The late Top of the Pops presenter had free access to the mortuary from the late 1970s to the mid-1990s, an official investigation has found, concluding that Savile's interest in the deceased was "not within accepted boundaries".

One former Broadmoor nurse told investigators that Savile claimed to have performed sex acts on bodies and "mucked about" in the mortuary, posing in photographs with the deceased after placing them in lewd positions.
THE HOROSCOPE OF RAY TERET, JIMMY SAVILE'S CHAUFFEUR
If you haven't yet seen The Detectives, an amazing three-hour documentary on the arrest of Jimmy Savile's chauffeur, Ray Teret, then I highly recommend it. You can see the Gemini in his chart 'speaking' in the documentary partly through the infamous wall of girls' names, scribbled in biro. Click on the chart to enlarge. (X Rodden Rating). Note the way that Saturn in Scorpio (power, sex and money) will oppose Uranus in Taurus (tax, charity, wealth) in Teret's chart in September 2015. Key questions coming from the Taurus-Scorpio axis in the horoscope might include – what about the possibility of bribery or blackmail? Where are the entire records for Savile's tax-deducted charitable donations (which he personally pursued with PM Margaret Thatcher)? What about Teret's bank accounts and tax returns? Children In Need was at one point supported by Savile.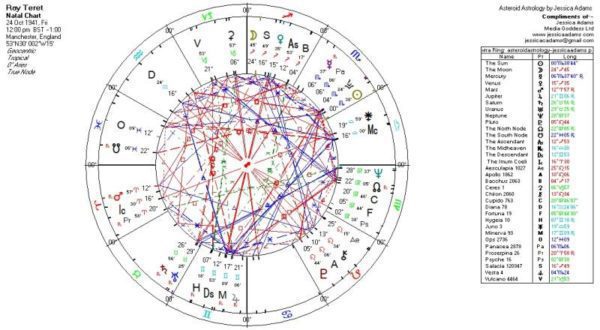 ROLF HARRIS, JAILED AT 84 – JIMMY SAVILE, DEAD AT 84
Rolf Harris (born 30 March 1930) was jailed in 2014, at the age of 84, on 12 counts of indecent assault that took place between 1968 and 1986, on four female victims then aged between eight and 19. Harris is serving a 5-year, 9-month prison sentence at HMP Stafford. One wonders what his third Saturn Return will bring.  My friend The Oxford Astrologer has written an excellent article on the British child sex scandals which swept Harris into jail and rocked the BBC.
WHY WOULD THE BBC GO SUCH LENGTHS?

The Oxford Astrologer writes:  "Why would the BBC go to such lengths to cover for Savile? What did he know about whom within the organisation that gave him "power"? The fact that he was a big TV personality would not have been enough to protect him, there must be a deeper reason.' She goes on, 'The obvious suspicion is that some of the other people involved in the child sex abuse, such as that going in at the children's home Haut de la Garenne in Jersey, were genuinely powerful."
BRITISH POLITICIANS AND PAEDOPHILE RINGS

Claims that a paedophile ring may have been operating within the British establishment first emerged in an investigation by campaigning Conservative politician Geoffrey Dickens in November 1983. This should ring alarm bells with astrologers. It's the exact period that Saturn was last in Scorpio. Is the timing right for the truth to come out?   Put it this way. If it's not all out by September 2015 we may have to wait until the next cycle, 2041-2044. 
November 29th 1982  to May 6th 1983 Saturn in Scorpio
August 24th 1983 to November 16th 1985 Saturn in Scorpio
THE ELM HOUSE GUEST LIST
Sometimes it takes Saturn decades to return his karma. This may happen with the Elm Guest House enquiry with links to VIP figures and people from, allegedly, the Royal Households. From an astrologer's point of view, time is up on this one. Let's hope it's 2015 rather than 2041-2042, though, which is Saturn's next call in Scorpio.
November 11th, 2041  to June 21st 2042 Saturn in Scorpio

July 14th, 2042 to February 21st, 2044 Saturn in Scorpio

Mar 25th, 2044 to October 31st 2044  Saturn in Scorpio
THE MISSING WESTMINSTER PAEDOPHILE FILE
Will Saturn in Scorpio until September 2015 also answer the question about a strangely absent file?  Or do we have to wait until 2041-2044 to see this astrological cycle call time on the missing files covering a 'vile' network at Parliament and Whitehall. PRIME MINISTER MARGARET THATCHER AND SATURN IN SCORPIO

The Saturn in Scorpio period of the Eighties, was of course, Margaret Thatcher's time in power at Westminster. According to The Daily Mail, Thatcher's bodyguard says he warned her about under-age sex rumours.  
GARY GLITTER AND SATURN'S KARMA
Gary Glitter was born on May 8th, 1944. He holds another lesson for us all from this cycle. And what lesson? If you have underage sex then you will pay, eventually. When Saturn in Scorpio catches up with you, the outcomes are certain and heavy. The spectre of old men who may die in jail has haunted us throughout this current Saturn in Scorpio cycle. Saturn, of course, has always been painted as an old man. This is a piece of astrological symbolism going back to the Romans. The Greeks knew him as Chronos, or Time. The sentences doled out to Glitter, Harris and others have been measured in long years. WHO ELSE HAS POWER IN THE SATURN IN SCORPIO CYCLE?
Who else has power over the young, apart from rich rock stars and politicians? Teachers. A Saturn in Scorpio cycle is about karmic payback for the abuse of power, in illegal sex. Sometimes the abusers in this 2012-2015 cycle have not been famous, but the schools were they teach, certainly were. Knox Grammar School in Sydney is one example. Former Knox Grammar student Scott Ashton told the royal commission into child sexual abuse of the shock, shame and confusion he suffered after being abused at the school in the 1980s. His courage turned the Scorpio tables, though. Power came back to him. 
THE CATHOLIC CHURCH, SEX AND POWER
The Catholic Church abuse of power over children and teenagers is sadly well-known. In November 2012, just as Saturn went into Scorpio,  Archbishop Hart, president of the Australian Catholic Bishops Conference, stated that he welcomed a Royal Commission, announced by then Prime Minister, Julia Gillard, to broadly investigate child sexual abuse in institutions across Australia. Again, the timing of Saturn in Scorpio was phenomenal. The Vatican's first high-ranking Catholic to stand trial on sex abuse charges, Jozef Wesolowski, 66, is also in the spotlight during Saturn in Scorpio. IAN WATKINS, LOSTPROPHETS, TWITTER AND PEACHES GELDOF
What else has happened to us in the current Saturn in Scorpio cycle? Some arrests have been about sexual abuse in the present, not the distant past. Ian Watkins (born 30 July 1977), Welsh musician and singer with Lostprophets, was recently convicted of 13 charges, including the attempted rape and sexual assault of a child under the age of 13. Horrifically, these offences were also committed against the infant children of two fans who were also convicted. Peaches Geldof, who so tragically passed away, criticised the mothers on Twitter. Saturn in Scorpio is a relentless three-year advertisement.
SCORPIO REALITIES AND YOUR HOROSCOPE – HOW ARE YOU AFFECTED BY THIS CYCLE?
For most of us, this cycle is broad and general. We're learning from it, but not in any personal way. Each person and chart is an individual case and no horoscope can be judged in isolation. Yet, in your own way, you will also have been touched by the Saturn in Scorpio cycle. Apart from anything else, it has raised issues like the date-stamp on reported abuse, along with victim-blaming. It has also shown us that people power (evidence from survivors in sufficient numbers) is more powerful than celebrity, political or financial power. All of us born from the mid-1950's to the present are affected by the pornography industry, of course. Is your birthday here? (Cycles begin in the 1950s). 
Neptune, Mars and Saturn in Scorpio
Christmas Day 1955 to January 12th 1956
Neptune in Scorpio
Christmas Day 1955 to March 12th 1956
October 20th 1956 to June 16th 1957 (includes the Total Eclipse at Scorpio, 18th November 1956).
August 6th 1957 to January 4th 1970 (includes the Total Eclipse at Scorpio, 7th November 1957, the Total Eclipse at Scorpio 2nd November 1967).
May 4th 1970 to November 6th 1970.
Saturn in Scorpio
October 23rd 1953 to January 12th 1956
May 15th 1956 to October 10th 1956
November 30th 1982 to May 6th 1983
August 25th 1983 to  17th November 1985 (includes the Total Eclipse at Scorpio on 4th May 1985 and the Total Eclipse at Scorpio on 28th October 1985 and the Total Eclipse in Scorpio on 12th November 1985)
October 6th 2012 to December 23rd 2014 and June 16th 2015 to September 17th 2015 (includes Total Eclipse in Scorpio on 13th November 2012)
North Node in Scorpio
October 5th 1956 to 16th June 1958  (includes the Total Eclipse at Scorpio, 13th May 1957).
July 11th 1975 to January 7th 1977.
February 2nd 1994 to July 30th 1995
August 31st 2012 to February 23rd 2014
South Node in Scorpio
February 20th 1966 to 19th August 1967 (includes the Total Eclipse at Scorpio, 12th November 1966 and the Total Eclipse at Scorpio, April 24th 1967).
September 12th 1984 to 6th April 1986 (near the Total Eclipse at Scorpio on 24th April 1986).
Uranus in Scorpio
November 22nd 1974 to May 1st 1975
September 9th 1975 to November 16th 1981 (includes the Total Eclipse at Scorpio on 18th November 1975
Pluto in Scorpio
August 28th 1984 to January 17th 1985 (includes the Total Eclipse at Scorpio on 12th November 1985 and the Total Eclipse in Scorpio on November 3rd 1994).
April 22nd 1995 to November 10th 1995
SCORPIONS AND DEATH – WHY DID ANCIENT ASTROLOGERS MAKE THE LINK?
The scorpion famously has a venom which can kill a human. Of the 12 zodiac signs – Aries, Taurus, Gemini, Cancer, Leo, Virgo, Libra, Scorpio, Sagittarius, Capricorn, Aquarius, Pisces – only Taurus the bull, Leo the lion, Scorpio itself – and possibly Pisces the fish – can be lethal. Why did our astrologer-ancestors decide that people born in that particular part of the Northern Hemisphere Autumn and Southern Hemisphere Spring, should be symbolised by a scorpion pattern?  After all, the stars they were seeing at that time, could have been put together, to form any image or symbol at all. Perhaps the answer lies in the scorpion's sting, which is right on its anus. So this is not only a symbol of death, it is a symbol of sex.
The venom is in the tail. Literally. Scorpion courtship consists of a dance called 'promenade a deux' which is the only time this nocturnal pair – who normally hide under rocks – catch our attention. They come out at night to hunt and feed. Scorpions even kiss each other. Our astrologer-ancestors, in Babylon, knew exactly what they were doing. Negative or positive, scorpions are about death and sex.
The Zodiac, known to Babylonian astronomers in the second millennium B.C. was based on the association of ideas. The constellations could have been 'read' as any pattern at all. A Babylonian cooking pot. A Babylonian foot. These zodiac signs were chosen very, very carefully. Today, thousands of years later, we still remember the death association with this part of the season (the Scorpio season) through Halloween on October 31st. 
Astrology today is based on the old Babylonian principle of association and linking. You might call it correlation. You could also call it synchronicity, Carl Jung's famous non-causal connecting principle. Over the years astrologers have added to the Scorpio myth or meaning, by discovering – for example – that during U.S. nuclear tests, scorpions were found near ground zero with no recorded effects. And that bark scorpions can be cannibals, feeding on their fellows. And also that they play dead. 
In Mexico in the 1980s when Saturn was in Scorpio, the bark scorpion killed 800 people. Often people are stung because scorpions are on the underside of an object. In Australia, paedophiles in jail are commonly called rock spiders by inmates. Using the same techniques as Babylonian astrologers, we build the symbolism of Scorpio in this way. At its ultimate worst (all signs and houses can express the worst in humanity) we have hidden abuse/abusers.
SEX, POWER AND THE RIGHTS OF THE CHILD – SATURN IN SCORPIO
Here are more Saturn in Scorpio landmarks in our history –
December 19th 1923 to April 6 1924  Saturn in Scorpio
September 13th 1924  to December 2nd 1926  Saturn in Scorpio
The Declaration of the Rights of the Child was drafted by Save the Children founder Eglantyne Jebb in 1923. Today an adapted version of this is enforced by our United Nations.
THE 1925 VERSION OF JIMMY SAVILE – A PAEDOPHILE NAMED MR. G
December 19th 1923 to April 6 1924  Saturn in Scorpio
September 13th 1924  to December 2nd 1926  Saturn in Scorpio
In 1925, a 60-year-old businessman, magistrate and parish councillor, known as Mr G, was found guilty of indecently assaulting a 15-year-old girl. Mr G was also a charity fundraiser for St Thomas's Hospital, London. He raised vast sums for the hospital – in today's terms, about four million. He exploited this position to gain the trust of teenage girls who were helping him to fundraise. Like Savile, Mr G was an exceptional charity fundraiser. Which brings us to the 'money' part of the equation with Scorpio. We can understand sex and power, and death and power, but where does money and power come into it?
MONEY AND POWER, SCORPIO AND POWER

This is quite a new association, or piece of synchronicity. The answers rests with Pluto, the planetary ruler of Scorpio since his discovery in 1930. Pluto was the god of the underworld. Of course he ruled death (another connection, as he was in charge of Hades in the Roman myth). In addition, Pluto's underworld – life below the earth's crust – also suggests gold and diamonds. Rich mineral deposits. Uranium. The gold standard of sharemarkets belongs to Pluto.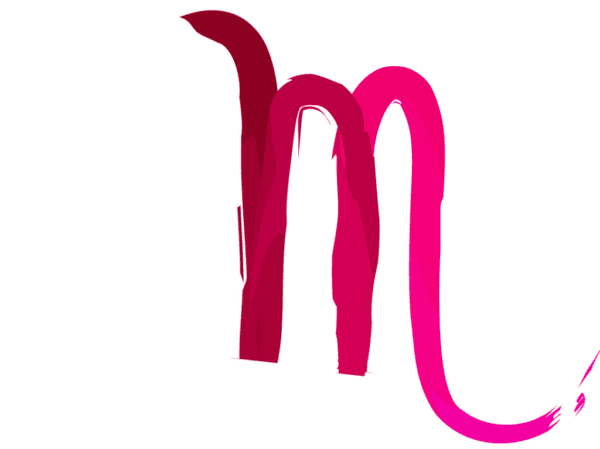 THE CATHOLIC CHURCH, SEX AND POWER IN THE 1950s IN AUSTRALIA
The Catholic Church allegedly had extensive knowledge dating back to the 1950's (during a Saturn in Scorpio cycle) of the sexual abuse of children by the paedophile priest Denis McAlinden which continued over four decades on children as young as four and five, an inquiry has heard.(Father Denis) McAlinden had sexually abused children with, the first instance of reported abuse occurring in 1954. 
One boy who was abused by McAlinden between the ages of five and nine at Singleton was required to do penance after he told his parish priest, "apparently for his sin in being abused", the inquiry into an alleged cover-up of child sexual abuse in the Catholic church in the NSW Hunter region has been told. This is one of the ugliest examples of Scorpio. The Saturn in Scorpio cycle picked it up when the abuse was reported in 1954.
ACCUSATIONS AGAINST MICHAEL JACKSON IN THE CURRENT SATURN IN SCORPIO CYCLE
An accusation of molestation against the late Michael Jackson leading to a lawsuit was dismissed in this current Saturn in Scorpio cycle. Once again, our awareness of the pros and cons of Scorpio, power, sex and money was raised. Jackson came to fame in the Eighties on the Saturn in Scorpio cycle, most famously with Thriller – but also with this advertisement, which has been viewed millions of times on YouTube. This was filmed right on the Saturn in Scorpio cycle in the Eighties and is still hugely popular. Jackson's stardom has survived the dismissed lawsuit.
BILL COSBY AND SATURN IN SCORPIO
Since October 2014, Cosby has been accused by multiple women of sexual assault. He has denied these allegations and he has never been criminally charged. Most of the accusations are barred by statutes of limitations. That's another Saturn in Scorpio issue to think about. We've learned so much in this cycle. It's not over yet. Speaking about Jimmy Savile, former BBC colleague Tony Blackburn told the Daily Mail that his era had been tarnished. That he was outraged at fellow entertainers being dragged through the mud. Cliff Richard is one of 'that era' to have denied as 'absurd and untrue' allegations of abuse made against him. Until Saturn is finally out of Scorpio from September 18th 2015, we will be stuck in the mud of historic sexual abuse for some time to come.
USEFUL RESOURCES AND WEBSITES IN AUSTRALIA, AMERICA AND GREAT BRITAIN
AUSTRALIA

UNITED STATES OF AMERICA 
GREAT BRITAIN

NAPAC  Supporting Recovery from Childhood Abuse