The most unusual line-up in years takes place at Christmas 2016, twelve months away, as I write this in Christmas 2015. If your personal horoscope has any factors at 20 degrees, you will be profoundly affected, as Jupiter at 20 Libra, Uranus at 20 Aries and Saturn at 20 Sagittarius all link up in the heavens. (Click to enlarge the chart).
Uranus is opposite Jupiter, which is rare. What is even more remarkable, though, is that Uranus is also trine Saturn, and Saturn is sextile Jupiter. What does it mean? Massive opportunities. Extreme change. Tremendous life lessons. And all at the same time!
THE BIG PICTURE – HOW THE UNITED KINGDOM WILL BE AFFECTED MOST
The United Kingdom will be affected most by this line-up as she was founded (or born) with Psyche at 20 Taurus and the Moon very close by at 19 Cancer. Proserpina is also at 19 Libra. The dramatic events at Christmas 2016 are about the Royal Family. The Moon in Cancer rules the UK 'family' and of course that is the one residing at Buckingham Palace. The Moon is always about the Queen Mother or the Queen. What can we expect? A quantum shift. As the Queen's head appears on the currency (Taurus) there may be a related question about that too.
On a broader level there is a dramatic story about the UK economy, her business interests, her pound and her values. (Click to enlarge the UK chart, set for 1801). Proserpina at 19 Libra is about the 'special relationship' with America.  It is also about the country's allies against a common enemy.
This is not just one story. It is three stories, close to one day – Christmas Day, when the Queen traditionally makes her annual speech to the Commonwealth.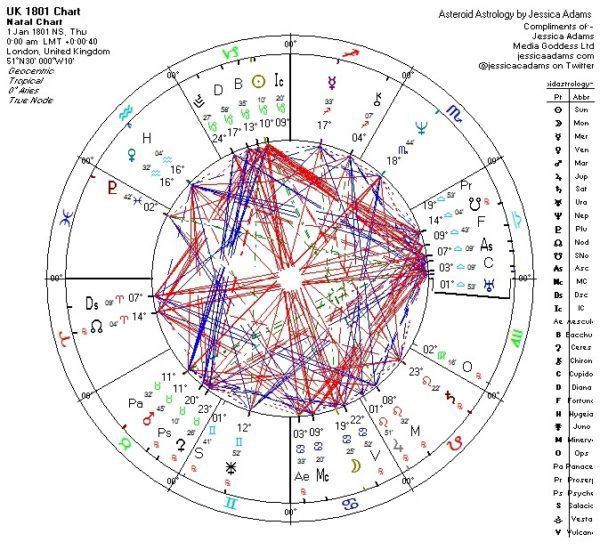 WAR AND PEACE – NUCLEAR QUESTIONS
The clash between Uranus in Aries, ruled by Mars, the God of War – and Jupiter in Libra – the sign of peace, but also 'war for the sake of peace' raises nuclear questions. Why nuclear? Because of Saturn. Saturn is returning to Sagittarius, for the first time in about 29 years. By 2017, just around the corner at that point, that sends us all the way back to the year 1969 when the Campaign for Nuclear Disarmament dominated the news. This clip created by British Pathe (the most amazing channel) on YouTube shows what was going on, the last time Saturn moved through Sagittarius. Why is this sign so important to the nuclear debate? Because it rules foreigners and foreign countries.
THE TRIDENT MISSILE, SCOTLAND, NICOLA STURGEON AND JEREMY CORBYN
There are some more clues to the Christmas 2016 issue, which is both a revolution and an opportunity, as well as a massive learning experience. Nicola Sturgeon, dubbed 'Queen of Scotland' by The Daily Mail, is fiercely opposed to Trident. So is Jeremy Corbyn, the left-wing leader of the Labor party at Westminster. What is truly amazing to see is that both these political icons have horoscope factors at 20 degrees too. Jeremy has Proserpina and Minerva at 20 Aquarius in his house of groups. That is not only Labor, it is also CND.
He also has Mars close by at 19 Taurus which you will remember is a hotspot for the UK as a whole. There is a big question here about selling out at any price – the UK making money at any price – and it's about Trident, but it may also be about other military or nuclear expenses. Mr Corbyn does not give a birth time, but even without it, the position of Mars does not change very much.
Nicola Sturgeon, for whom we have a timed birth chart, also has 20 degree horoscope factors. She was born with Saturn at 20 Taurus, right on Mr Corbyn's Mars in Taurus position. We might phrase this as 'war and money'. It is very much tied into the psyche of the United Kingdom (shown by her Psyche, also at 20 Taurus) as of course the country has a long history of mixing up its economy with its military spending and bases. Click on Nicola Sturgeon's horoscope to enlarge it.
Christmas 2016 is a defining moment for the United Kingdom and her national identity. The peace movement is coming back in a big way. There is also a separate but related issue for Her Majesty the Queen and the Royal Family.