Coco Chanel used the Lenormand oracle card deck to help her in business as well as her personal life.
As my friend Justine Picardie explains in her acclaimed biography of Chanel, the cards still rest where she left them, lying in a moment frozen in time, in her apartment in Paris. The 'Five' card in the Lenormand deck is particularly interesting, because this was Chanel's lucky number. Leo is also the fifth sign of the zodiac and Leo was her sign. As you can see in this photograph of Justine's book, Chanel used a German version of the famous Lenormand deck.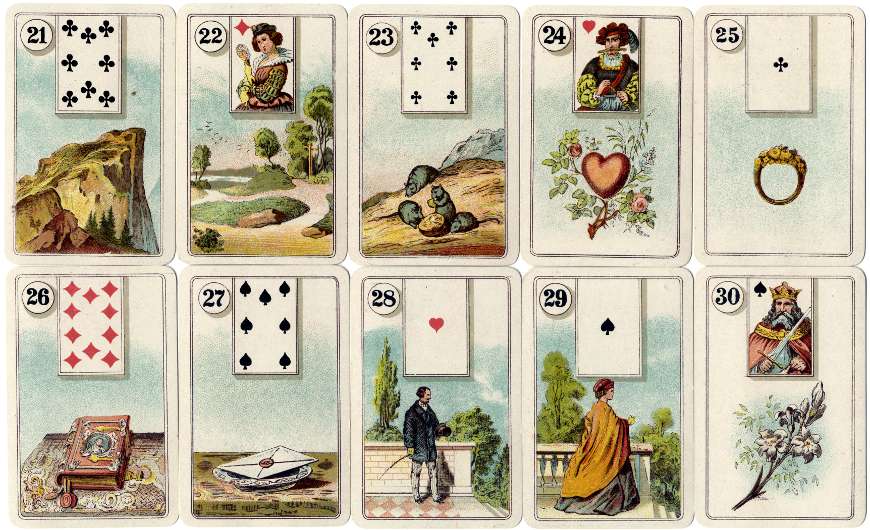 Chanel and the Astrological Connection

Chanel was a woman of her time, and the esoteric and occult was extremely fashionable, thanks partly to the boom in Theosophy, from Paris to London, via New York and Melbourne. This connection with astrology is not something that the house of Chanel shies away from today. In fact, I vividly remember Karl Lagerfeld's illustration of the zodiac sign Sagittarius, decorating my horoscope column in Vogue Australia, when he became a Guest Editor at the end of the year. I have saved that particular copy of Vogue for a very long time!
As you may know, astrology was a major part of the recent Chance campaign, and as this video shows, the Chanel-Leo connection is extremely important when understanding both the couture house and the fragrance.
Did Chanel Use the Tree Card to Inspire the Chanel No. 5 Recipe?
Chanel made the connection between her zodiac sign and the 'Five' card in the Lenormand Oracle, but there is a further mystery to consider. In its English translation (Chanel had the German deck) this card shows a beautiful green tree, seven love hearts and the message –
A tree far away means good health, when near, illness there will be, many trees close together means things will turn out all right, you'll see.
As we now know, a naturally occurring tree moss is one of the secret ingredients in Chanel No. 5 fragrance. A coincidence? Or did Chanel bring together astrology and the Lenormand, when choosing her blend?
How to Use the Lenormand Deck in Your Life
First, before you even run to a Lenormand website for a sample reading, you need to think like a Frenchwoman! The deck was created by Marie Anne Adelaide Lenormand (1772–1843) who was the most famous French professional fortune-teller of her era. She claimed to have read the cards for Robespierre, leader of the French Revolution and also Napoleon and the Empress Josephine. The images are beautiful, timeless, classic and very, very French.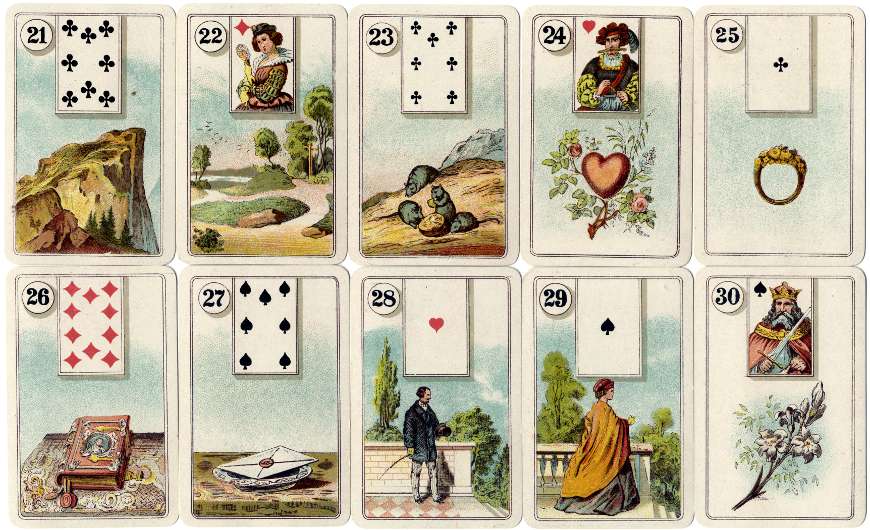 Read For Yourself
The best way to use the deck is quite intuitively, sitting with the symbol and interpreting it for yourself. The meanings have been altered in translation (French/German/English) and as with many Tarot decks, the best way to read the cards is to tap into the symbolism as it works for you – and nobody else.
The cards are wonderfully clean and clear – there is no darkness in them (unlike some branches of the Tarot). Those you see here (above) are available to purchase online
Try a Free Online Lenormand Love Reading Now
This deck is very close to the authentic German deck used by Chanel, that most passionate of women. It works in a simple way – just pull one card, to talk about your relationship today. Sometimes it's interesting to ignore the standard text interpretation and work with the cards using your own intuition. The pictures can speak very loudly! This website is also very useful.
Are You a Premium Member?

Create a journal section devoted to your Lenormand Oracle card readings and bundle it up with your 2016 Horoscope Journal. This will give you an alternative perspective on your horoscope. Just remember to record the date, the 'present' card (or current situation), the 'past' card (where you are coming from) and also, of course, your 'future' card. I actually have an entire journal devoted to the Lenormand Oracle which I use for private clients. It's my homage to Chanel, as I would never have discovered the deck if Justine Picardie had not uncovered the secret in her private apartment.
Bon chance! Bon voyage!