The worst is over. The Global Financial Crisis is behind us. That may be hard to trust, seeing the dramatic headlines of January and February 2016. Nevertheless, Saturn is out of Scorpio, which rules the banks and the sharemarkets. The planet of slow, stuck, scared situations has been gone from that sign for months, and although we are dealing with a serious hangover in 2016, Saturn in Scorpio is over. You can pack it up for another 29 years, in fact.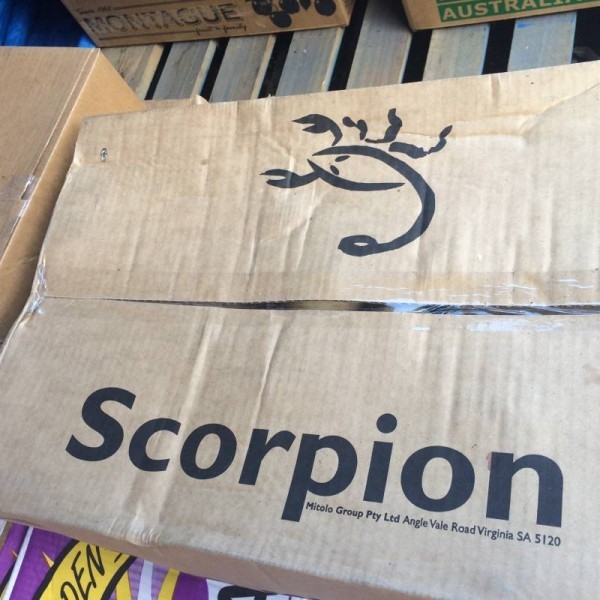 THE 2016 ECONOMIC HANGOVER
What we are experiencing in 2016 is the hangover from 2012-2015 and it will take time. Why the hangover? We have a huge number of planets and asteroids in Scorpio, many of them appearing to go backwards and forwards (like Mars, which is Retrograde in 2016). Unusually, we also have a lot of activity in Taurus, which rules personal income, and particularly gold.
This is going to be a hair-raising year at times. It will also be chaotic, when Mercury goes Retrograde in Taurus mid-year. However, you can also bank on the astrological truth that Saturn has gone.
We began January 2016 with Juno, Panacea and Apollo in Scorpio. Cupido entered Scorpio on 2nd January and Mars entered on the 3rd of the month. Even Aesculapia was in Scorpio, so the world's sharemarket and bank horoscope zone was packed. Diana entered Scorpio too, on 14th of January. What do all these asteroids do? They drag people back to the dark days of the Global Financial Crisis, but according to all the laws of astrology, this is not that.
Australia, in particular, has seen high drama on the Stock Exchange. One glance at the horoscope will show you why. The ASE was founded with a huge number of Taurus factors, while Pluto (transformation) and the Descendant (partners, like Wall Street) are both in Scorpio. As I write this on February 12th, 2016 we have seen the Taurus-Scorpio axis of the Australian Stock Exchange absolutely blitzed by Mars and the asteroids.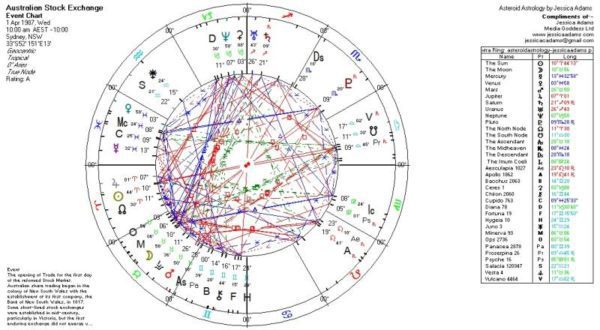 THE FINANCE ASTROLOGY DATES TO WATCH
You can see how astrology works for yourself, by watching the numbers. When we have major patterns at the same numbers (degrees) as those which feature in Scorpio or Taurus, in world money horoscopes, we are going to see high-drama days.
It is crucial to remember that the financial depression (and Saturn rules depression) we experienced from 2012-2015 has gone. Here is another key chart – Wall Street. You can instantly see how it resembles the Australian Stock Exchange, with its huge pile-up of Taurus horoscope factors. This time the IC is in Scorpio, at the other end. Without even looking at the transits yet, common-sense says that when Mercury goes Retrograde in Taurus from April 14th to June 7th (that includes the crucial shadow period) we are going to see wildly fluctuating sharemarket prices in Australia and in New York. But will this mean a crash?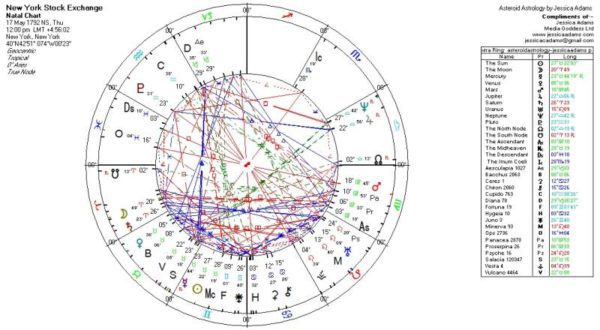 WATCHING CHINA
Before we get to the key dates for 2016, we also need to look at China, because this country has locked-in patterns which repeat all the time and affect everybody else. This is down to the North Node and South Node, which always show what is stuck, for all time, within a country. In China's case, it is her economic cycles. And the Nodes are in the money signs, Taurus and Scorpio.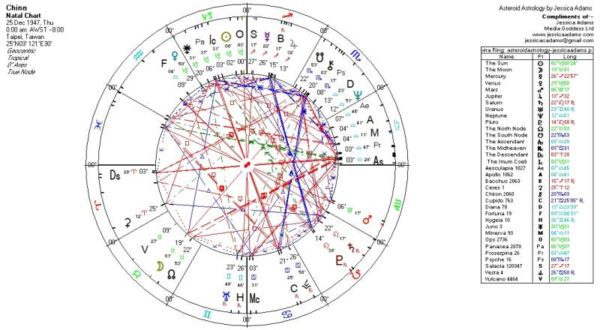 WATCHING THE UNITED KINGDOM
The United Kingdom chart always chimes perfectly with major world trends. Here it is. Again, there is a big cluster in Taurus. This time, Neptune is in Scorpio. This pattern in the UK chart was hit badly by Saturn in Scorpio, during the time of the Credit Crunch. Neptune is about fantasy and escaping from the real world. Credit cards are borrowed money, masquerading as your own cash. When Saturn hit Neptune in the UK chart, the nation hit the Crunch. The money was not real but the debt certainly was.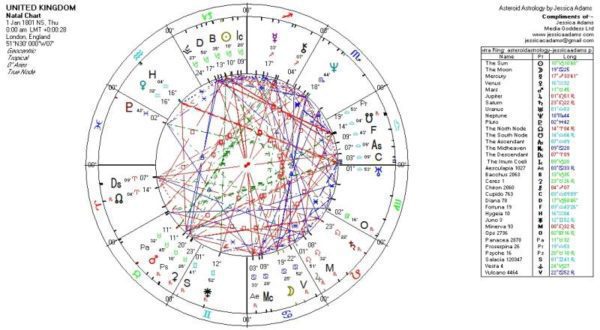 IMPORTANT FINANCIAL AND ECONOMIC DATES
The dates below (allow 24 hours either side) predict when we will see the biggest highs and lows on world sharemarkets. I am seeing Bacchus, the asteroid associated with Bacchanalia (celebrations) and grapes (champagne) on this list. For this reason, the smart money is on mini-crashes which drag prices down to bargain-basement levels, with huge rises and profits later on. There will be Bollinger in London and in New York because some Wall Street wolves are going to clean up.
THE FINANCIAL ASTROLOGY CALENDAR
We are going to see dramatic sharemarket, currency and economic headlines on, or very close to, the dates below. Why? Because the planets and asteroids will hit the Taurus-Scorpio axis, ruling money, of several world horoscopes at the same time. You will see the word 'stations' sometimes – that means, a standstill. A freeze. You will also see 'retrograde' – things move backwards.
If your chart also shows factors at Taurus and/or Scorpio at these same degrees or numbers, you will be personally affected, or may actually personally affect what is happening on the sharemarkets.
Watch the patterns from April 14th to June 7th in particular when Mercury is Retrograde. That will bring chaos on world sharemarkets. The risk of computer problems affecting Wall Street trading is higher then.
The Full Moon and New Moon phases are extremely important. The New Moon always brings a fresh start or new beginning. Governments tend to make big, dramatic announcements about taxation, currency or the budget at these times. The Full Moon is always a sign of tremendous inner turmoil and stress.
The meaning of the asteroids and planets can be found in the e-books you pick up on this website as a Premium Member, or in many of the free articles you will find here.
DATES TO WATCH FOR FINANCIAL HIGHS AND LOWS
2nd March – Juno stations 15 Scorpio
3rd March – Cupido stations at 10 Scorpio
5th March – Vulcano 8 Taurus opposite Diana 8 Scorpio
Diana Retrograde 8 Scorpio
8th March – Vulcano 10 Taurus opposite Cupido 10 Scorpio
10th March – Juno 14 Scorpio opposite Vulcano 14 Taurus.
Panacea Retrograde 22 Scorpio
20th March – Bacchus 7 Taurus opposite Diana 7 Scorpio
22nd March – Bacchus 9 Taurus opposite Cupido 9 Scorpio
25th March – Juno 13 Scorpio opposite Bacchus 13 Scorpio
Vesta 7 Taurus opposite Diana 7 Scorpio
28th March – Vesta 8 Taurus opposite Cupido 8 Scorpio
30th March – Vulcanus 22 Taurus opposite Panacea 22 Scorpio
31st March – Bacchus 22 Taurus opposite Panacea 22 Scorpio
5th April – Juno 11 Scorpio opposite Vesta 11 Taurus
8th April – Mercury 4 Taurus opposite Diana 4 Scorpio
9th April – Mercury 6 Taurus opposite Cupido 6 Scorpio
12th April – Mercury 10 Taurus opposite Juno 10 Scorpio
19th April – Mercury 19 Taurus opposite Panacea 19 Scorpio
21st April – Sun 1 Taurus opposite Diana 1 Scorpio
21st April – Vesta 19 Taurus opposite Panacea 19 Scorpio
22nd April – FULL MOON Sun 2 Taurus opposite Moon 2 Scorpio
Sun 2 Taurus opposite Cupido 2 Scorpio
27th April – Sun 7 Taurus opposite Juno 7 Scorpio
30th April – Venus 0 Taurus opposite Cupido 0 Scorpio
4th May – Venus 5 Taurus opposite Juno 5 Scorpio
6th May – Sun 16 Taurus opposite Panacea 16 Scorpio
12th May – Venus 14 Taurus opposite Panacea 14 Scorpio
27th May – Mars Retrograde into Scorpio 0
28th May – Juno 1 Scorpio opposite Apollo 1 Taurus
5th June – Apollo 10 Taurus opposite Panacea 10 Scorpio
9th June – Mercury 25 Taurus opposite Mars 25 Scorpio
17th June – Mars 24 Scorpio opposite Apollo 24 Taurus
28th June – Panacea stations direct 0 Scorpio
29th June – Mars stations direct 23 Scorpio
8th July – Juno at 0 Scorpio
18th July – Diana at 0 Scorpio
24th July – Ceres 1 Taurus opposite Diana 1 Scorpio
26th July – Cupido at 0 Scorpio
27th July – Juno 2 Scorpio conjunct Diana 2 Scorpio
30th July – Ceres 2 Taurus opposite Juno 2 Scorpio
10th August – Ceres 4 Taurus opposite Cupido 4 Scorpio
17th August – Juno 6 Scorpio conjunct Cupido 6 Scorpio
23rd August – Bacchus at 0 Scorpio
31st August – Ceres 5 Taurus opposite Bacchus 5 Scorpio
11th September – Juno 12 Scorpio conjunct Bacchus 12 Scorpio
20th September – Bacchus 18 Scorpio conjunct Cupido 18 Scorpio
23rd September – Venus to 0 Scorpio
24th September – Bacchus at 21 Scorpio conjunct Diana 21 Scorpio
26th September – Venus 3 Scorpio opposite Ceres 3 Taurus
29th September – Hygiea at 0 Scorpio
4th October – Ceres 1 Taurus opposite Hygiea 1 Scorpio
11th October – Venus 21 Scorpio conjunct Juno 21 Scorpio
16th October – Ops at 0 Scorpio
22nd October – Sun at 0 Scorpio
24th October – Mercury at 0 Scorpio
27th October – Sun 4 Scorpio conjunct Mercury 4 Scorpio
28th October – Ops 6 Scorpio conjunct Mercury 6 Scorpio
29th October – Sun 6 Scorpio conjunct Ops 6 Scorpio
30th October – NEW MOON Sun 7 Scorpio conjunct Moon 7 Scorpio
2nd November – Mercury 14 Scorpio conjunct Hygiea 14 Scorpio
8th November – Sun 16 Scorpio conjunct Hygiea 16 Scorpio
14th November – FULL MOON Sun 22 Scorpio opposite Moon 22 Taurus
11th December – Minerva at 0 Scorpio
WATCHING THE AMERICAN HOROSCOPE
There are a few contenders for the horoscope for the 'birth' of the United States of America. The only one I have found which corresponds to Pearl Harbour, the Wall Street Crash, September 11 and (even) the end of Seinfeld, is this one – below. It is set for 15th November 1777 at Confederation. The USA has a ton of Scorpio factors in this particular horoscope, too. It makes sense for a nation in which Wall Street runs the entire planet!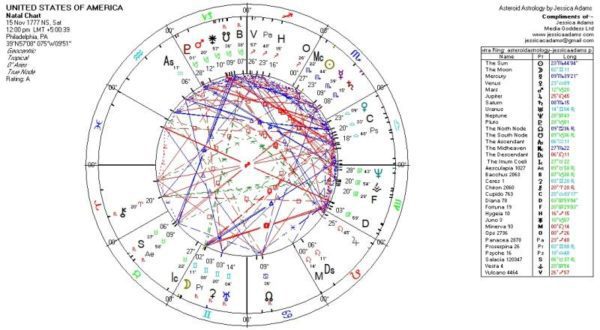 KEY DATES FOR THE CHINESE AND US ECONOMY

What you're watching – any time that the planets or asteroids hover around 22/23 degrees of Taurus or Scorpio. Why? The New York Stock Exchange has Vulcano at 22 Taurus. She also has Salacia and Mercury both at 23 Taurus. She has Pluto square that at 23 Aquarius. And Jupiter at 22 Libra! What a pile-up.
The United States herself has the Sun at 23 Scorpio. Venus at 23 Libra. Panacea at 23 Sagittarius. You can see how the destiny of the nation and Wall Street are entwined.
China has her North Node at 22 Taurus and South Node at 22 Scorpio. Saturn is at 22 Leo. Uranus is at 23 Gemini.
You don't have to be a professional astrologer to see, clearly, that these dates are crucial for Wall Street and the Chinese sharemarkets.
10th March – Panacea Retrograde 22 Scorpio
30th March – Vulcanus 22 Taurus opposite Panacea 22 Scorpio
31st March – Bacchus 22 Taurus opposite Panacea 22 Scorpio
29th June – Mars stations direct 23 Scorpio – This is a big one.
14th November – FULL MOON Sun 22 Scorpio opposite Moon 22 Taurus – This falls just after the American presidential election, so the new President will certainly affect both the U.S. and Chinese sharemarkets!

Posted 12th February 2015
All country data: The Book of World Horoscopes, Nicholas Campion, The Wessex Astrologer.