Eclipses – when they strike the horoscopes of several members of the Royal Family at once – always show milestones for Her Majesty the Queen. The Sun is always one half of an eclipse, and the Sun is ruled by Leo the lion, the traditional emblem of Queens and Kings. In its own right, the Sun is also a symbol of royalty in Europe – as you will see, any time you wish to visit Versailles.
Back on April 10th 2013 you read a prediction about a crossroads for the Royal Family:  "We have a partial lunar eclipse coming up on Thursday 25th April which falls at 5 Scorpio 46 and 5 Taurus 46. This triggers the astrological charts of Prince Charles, Her Majesty the Queen and Prince Phillip."
The Succession to the Crown Act 2013 was given Royal Assent on exactly this day, 25th April 2013. It was an Act to make succession to the Crown not depend on gender – and  to make provision about Royal Marriages. It means a very different future for Prince George.
THE ABDICATION OF QUEEN BEATRIX
Why else did that April eclipse matter? Her Majesty Queen Beatrix of the Kingdom of the Netherlands abdicated on 30th April 2013  to make way for her eldest son, Prince Willem-Alexander and his wife Princess Máxima. 
ECLIPSE PREDICTIONS FOR 18th AUGUST 2016

We have a crucial eclipse for the British Royal Family on Thursday 18th August 2016. The Full Moon at 9.26am falls with the Sun at 25 Leo and Moon at 25 Aquarius. Shortly after this at 9.42am we have a penumbral lunar eclipse, with the Sun at 26 Leo and Moon at 26 Aquarius. What does an eclipse do? It covers things up. For the most important reasons, Her Majesty the Queen, Prince Charles, Camilla, Prince George (small though he is), Prince Phillip and Prince William will all be drawn into a cover-up job.
Eclipses tend to hide the truth from a country – only to be revealed later. We had one just before President John F. Kennedy was assassinated. It was a very famous eclipse, perhaps the most watched and widely reported in U.S. history. It also took place when Lee Harvey Oswald quit one job, to go to another – in Texas.
HIDING FROM THE PUBLIC
If you think about what an eclipse actually does – wholly or partly blotting out the light – you can see why nothing is ever clear or normal when one occurs. Eclipses are rare. They spell big events, if they hit your personal chart.
This eclipse falls at 26 Leo, the Royal sign. It follows a Full Moon just before, at 25 Leo. Which members of the Royal Family, past and present, have horoscope factors at 25 and 26?
Prince Charles – Vesta 25 Libra
Her Majesty the Queen – Midheaven 25 Scorpio, Immum Coeli 25 Taurus, Juno 26 Aquarius, Diana 25 Gemini, Minerva 26 Capricorn
Princess Diana – Ops 25 Libra, Moon 25 Aquarius, Juno 26 Pisces
Prince George – Aesculapius 26 Taurus
Camilla – Salacia 25 Sagittarius
Prince Phillip – North Node 25 Libra, South Node 25 Aries
Prince William – Neptune 25 Sagittarius, Chiron 25 Taurus, Venus 25 Taurus
INTERPRETING THE AUGUST 2016 ECLIPSE

The central figure in this eclipse is Her Majesty the Queen. The last eclipse we saw to directly affect the Royal Family involved the abdication of Queen Beatrix – and a change to the line of succession in London. This is about handing over the reins in what Queen Elizabeth is reputed to call 'The Firm' either when she decides to give up her responsibilities, or she passes on.
It is interesting that Princess Diana's horoscope is triggered by this August 2016 eclipse – of course, she would have been Queen, had she survived. Note, too, the importance of the asteroid Diana in the Queen's own horoscope. There is a big story here, but it takes place in a closed book which may never be opened. Another way to view it, might be a colouring-in book which is never filled in. Will the public ever be filled in about discussions and decisions taking place in August? (Near the time of the birthdays of The Queen Mother and Princess Anne)?
URANUS AND JUPITER FINISH THE STORY

Even though an eclipse is always a c0ver-up job, when outer planets hit the same degree, we always have a major (public) story, too. The Sun and Moon create their strange dance together on 18th August at 25 and 26 degrees of Leo. What is really unusual about August is Jupiter also reaching 25 and 26 degrees of Virgo, one sign along. This happens on August 17th to 26th.
In 2017, the pattern is repeated when Saturn reaches 25 and 26 Sagittarius, followed by Uranus at 25 and 26 Aries. This occurs February 6th to March 6th 2017 (Saturn, the planet of difficult, heavy reality checks) and from April 24th to June 1st (Uranus, the planet of radical change and new beginnings).
This period also coincides with the Queen's personal and also official birthdays. I really love this portrait of Prince George, because it shows so much determination on a very young face. He will need that determined approach to deal with what looks like a massive, momentous change in his own destiny.
LOOKING AT THE HOROSCOPES
You can see the personal horoscopes (natal charts) below. They show those clear, striking connections at 25 and 26 degrees by so many members of the core Royal Family. The one sign we see repeated in all the charts is Taurus.
Taurus the Bull is associated with bull markets and the famous bronze bull sculpture on Wall Street. We also link Taurus to gold bullion. This story, covered up in August – but wide open by 2017 – is about the Royal inheritance. The palaces. The tax position. The priceless treasures. And above all – the money.
All families have a right to privacy and the Royal Family must crave it more than any other. Nevertheless, this is one confidential or even classified episode, that will ultimately affect a very public story. I like astrology because it always tells us the questions we should be asking. With this pile-up in Taurus in the Royal charts, we should be asking questions about preserving British heritage and history – but also the rather loaded question of allowances and Her Majesty the Queen's financial position and legacy.
WHO IS THE QUEEN, REALLY?
Who is Her Majesty Queen Elizabeth the Second? The horoscope, below, gives us a mixture of the public monarch and the real person.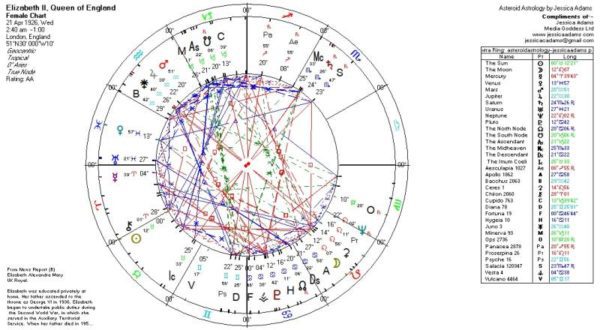 Exact patterns show us the most important stories in anybody's life and times (yours too). When the numbers or degrees line up (allow one degree's difference, at most) something out of the ordinary is occurring. These perfect, precise patterns  show the sacred geometry.
In Queen Elizabeth's horoscope, we find The MC (Midheaven) at 25 Scorpio and the IC (Immum Coeli) at 25 Taurus. These two are the money signs. They describe property, finances, possessions and also charity. Saturn, the planet of burdens, learning experiences and tremendous responsibility is very close by at 24 Scorpio.
Minerva, the asteroid which shows female wisdom, is in Capricorn, the sign of ambition, at 26 degrees. Juno is at 26 Aquarius, the sign which rules groups of all kinds – from organisations like the Red Cross to the army. The asteroid Diana is at 25 Gemini, the sign of the writer. Does Her Majesty secretly keep a diary, as Queen Victoria once did?
This is an incredible chart for someone whose head is on the currency of so many countries. That Scorpio-Taurus IC and MC pins the whole pattern. The IC shows your family, your roots, your country, and where you come from – it shows every branch on the family tree which matters. The MC shows your career.
The surprising, interesting thing about this horoscope is the huge emotional and personal investment Queen Elizabeth has in her charities and groups. She basically 'marries' them. Juno rules commitment. In this sense she is not hugely different to Princess Diana, who also had a strong Aquarius signature in her chart and was drawn to so many good causes.
If it is true that 'heavy lies the head that wears the crown' then for our Queen, it has always been the money, the palaces, the objets d'art and – particularly – the question of tax and inheritance – which has burdened her. So says the horoscope, anyway. The most public illustration of this was the tussle over repair costs after the fire at Windsor.
HER MAJESTY THE QUEEN IN 2016 and 2017
Three outer planets all moving over that crucial 24, 25, 26 degree pattern suggest events moving quickly, perhaps over a few weeks, which permanently alter the way Her Majesty sees herself, as well as her family – and her responsibility for managing British heritage, which in true Taurean fashion is priceless. It can't be bought or sold, or even cost-estimated. Some things go beyond that.
It all begins on that August 2016 eclipse, though, as history will record. Whenever we strike a question mark or a row of dots in a public story, there is usually an eclipse lurking behind it. This particular Sun-Moon pattern affects not only our Queen, but also key members of her family too.