Mercury Retrograde begins on April 14th 2016 (allow 24 hours for the world to catch up with itself, so it may be April 15th where you live) and ends on June 7th (again, allow 24 hours).
As I'm sure you know, Mercury rules the internet, computers, telephones, the mail – and in general – information, communication and transportation.
If you can imagine posting a letter into a mailbox and then having it pop out again, then in again – that's Mercury Retrograde. Or imagine if the message never got through at all. Or it went to the wrong person.
(I photographed this mural of a postbox by Tasmanian artist Peter Gouldthorpe) in Hobart –  which illustrates this well.
The message reads 'Post here anytime and your mail will go nowhere in Australia.' It's classic Mercury Retrograde.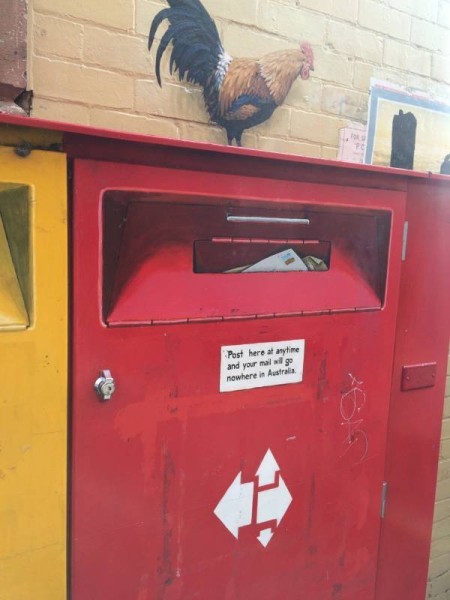 We are going to see major, planet-changing deadlocks, delays, reversals and muddles affecting all world sharemarkets and currencies. Why? Because Mercury is Retrograde in Taurus. If you have Taurus personal horoscope factors, Mercury may conjunct or sit on them.
Be aware of the potential for waiting games, stalemates, u-turns and other complications affecting your money, house, business, apartment, possessions and charity on those dates.
Here is the full list below. Note: I always include the shadow at the very start and end of the cycle, when Mercury will go over the same degree and sign, where he will shortly turn backwards. History tells us this is the right way to read the cycle.
Why? The Wall Street Crash of 1929. This exhibition at the Science Museum in London says it all – JAMMED LINES FUEL THE CRASH.
It happened on Mercury Retrograde Shadow. Not on Mercury Retrograde. On 29th October 1929, Mercury was at 18 Libra. Exactly where he had been on September 15th.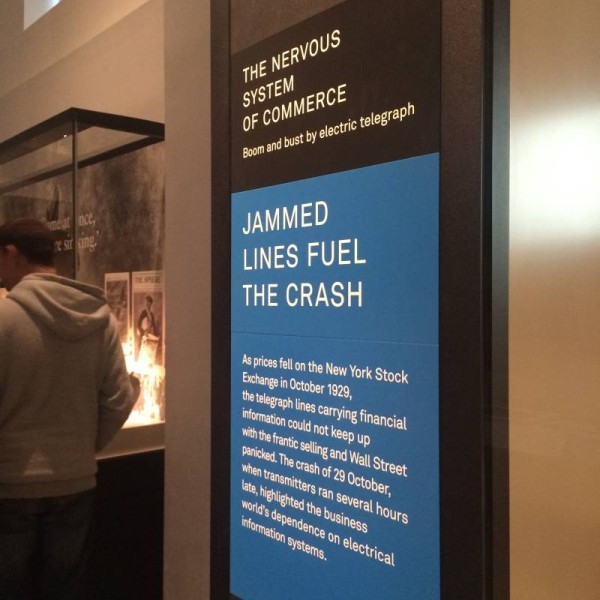 WATCHING MERCURY IN APRIL AND MAY
April 15th to 28th, 2016  – Mercury 14 Taurus to 23 Taurus
April 28th to May 22nd, 2016 – Mercury 23 Taurus to 14 Taurus
May 22nd to June 8th, 2016 – Mercury 14 Taurus to 23 Taurus
The problem areas in your horoscope and the various national horoscopes are –
Taurus 14, 15, 16, 17, 18, 19, 20, 21, 22, 23
I have written elsewhere on this website about the chaos we can expect to see on the sharemarkets.
The New York Stock Exchange has Vulcano at 22 Taurus, Salacia at 23 Taurus and Mercury himself also at 23 Taurus. (17th May 1792, 12.00pm, New York, New York).
China has the Moon at 19 Taurus and the North Node at 22 Taurus. (25th December 1947, 0.00am, Taipei, Taiwain).
The United Kingdom has Ceres at 23 Taurus (1st January 1801, 0.00am, London, England).
We are seeing fierce concentration on 23 Taurus so let's narrow down the time frame for Mercury Retrograde chaos.
In 2016 on or very close to April 26, 27, 28, 29, 30 – and May 1, 2 – and again on (or close to) June 8, we are going to see world currencies or economies go backwards and forwards. Please don't panic. It's okay. But what it will do is set up the radical banking and sharemarket reform and revolution after 2018. I have also written more about that on this website, elsewhere.
You will see Mercury Retrograde economic and sharemarket madness on those dates above, April 26th through 30th, May 1st and 2nd and June 8th, 2016 specifically in the United Kingdom, United States and China.
Why is this such a big deal? Because Mars is also Retrograde in Scorpio at…you guessed it…23 degrees. And Scorpio rules deadly serious financial agreements. The exact dates for this follow the Mercury Retrograde cycle and they hit the Chinese chart precisely.
Mars Retrograde 23 Scorpio – June 19th, 2016 to July 11th. If you work on Wall Street or know anyone else who does, the heat is going to rise April-June and it's not just because it's Spring.