What does the future hold for the first Muslim Mayor of London? In astrology, the notorious Mercury Retrograde cycle will always bring delays, mistakes and reversals – and unfortunately Sadiq Khan, was elected on Mercury Retrograde. This will not be a straightforward term for him. There will be major financial issues. Why? Mercury is in Taurus, the sign which rules gold bullion and bull markets. It also rules the charging bull on Wall Street, connected to the London Stock Exchange. Taurus is a symbol of money. Mercury rules communication. When one appears to be moving backwards through the other, life takes a strange route.
Mercury Retrograde is a well-known astrological phenomenon that even non-astrologers know about. Its famous delays, mistakes and mishaps were quite obvious on the day London voted – from train chaos to polling booth blunders.
This is the same astrological cycle which dominated the election of George W. Bush (remember all those hanging chads?) and also Julia Gillard (Australia waited for the final results. And waited.)
It took until 12.33am for Sadiq Khan to be confirmed by the media as the new Mayor of London.
True to form, even the BBC could not spell the new Mayor's name right. See the headline below – 'Election success for Saidq Khan.'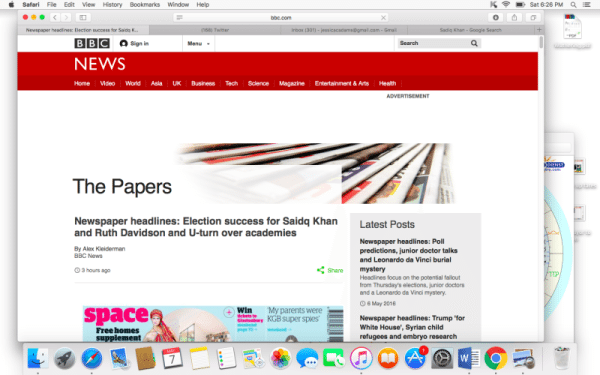 THE NEW MAYOR OF LONDON AND MERCURY RETROGRADE
On the day London voted, there was a fire at Vauxhall station which disrupted trains across the city, as reported by The Guardian, below. Textbook Mercury Retrograde.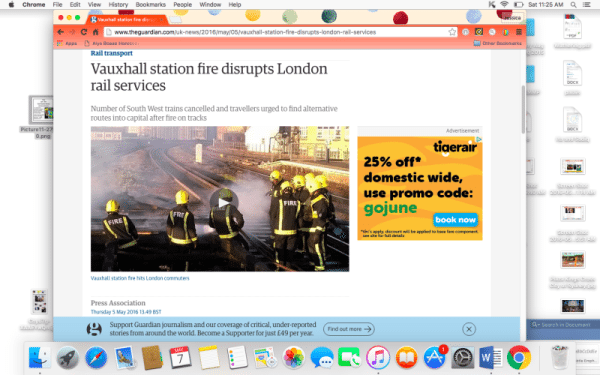 VOTING CHAOS IN BARNET
London also saw a dramatic mayoral election list blunder after voters were actually turned away in Barnet. The Evening Standard reported it here.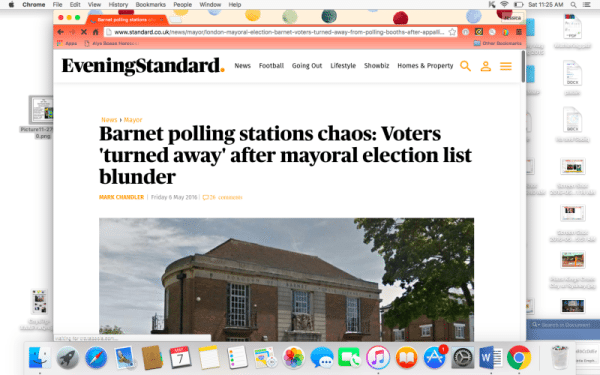 WAITING…AND WAITING…FOR THE FINAL RESULT

London then waited…and waited…for the final result to become official. In fact, television camera operators were asleep on the floor as 12.33am approached.
Even stranger? Boris Johnson is still the Mayor of London, as I write this on Saturday, when Mr Khan has actually been sworn in at Southwark Cathedral.
Technically, Boris Johnson will be in office until 12.01am on Monday 9th June, because of the late declaration. The Daily Telegraph explains it here.
This is classic Mercury Retrograde.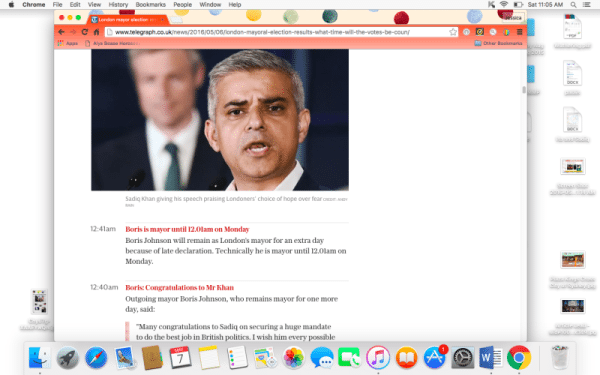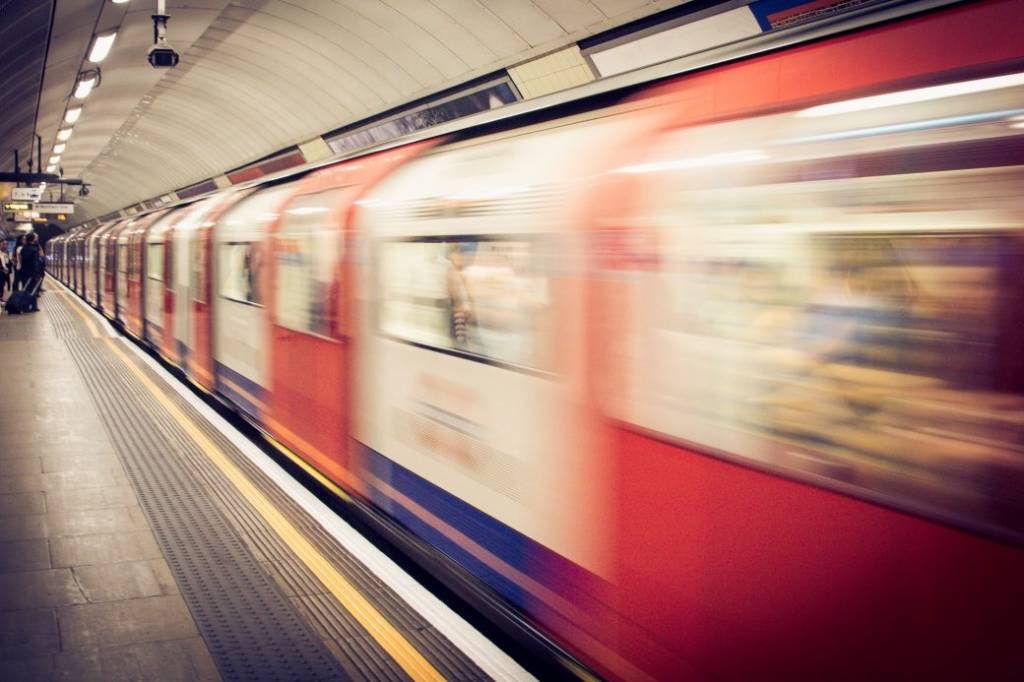 THE TRANSIT OF MERCURY AND THE NEW MAYOR
The Transit of Mercury occurs on Monday 9th May, the same day that London's hugely popular, Libran, Muslim Mayor technically takes over from Boris.
I have written elsewhere on this website about the Transit of Mercury. It's rare. It's historic. It also suggest that what is signed, sealed and delivered on Monday – is truly not. These are strange days for London and the new Mayor.
One issue will be the London Underground, which Mercury rules.
The Guardian ran a story with this headline – London mayor: who says Sadiq Khan's fare freeze figures can't add up? The only ones who do are Zac Goldsmith and people who speak publicly for TFL (Transport For London). That issue is not going to go away, according to astrology.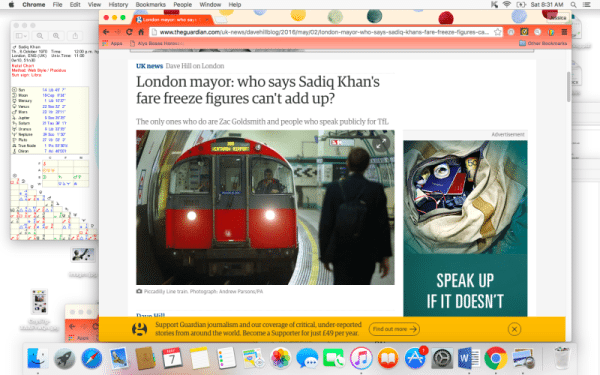 THE TRANSIT OF MERCURY AND THE LONDON UNDERGROUND

This Clint Eastwood quote was scrawled on a London Underground white board at Kennington, and widely retweeted on Twitter. The last line might also read 'The bad news is, now you're the Mayor on the Transit of Mercury.'
So – what challenges lie ahead for the Mayor who arrived with more votes than anyone in London had ever achieved before?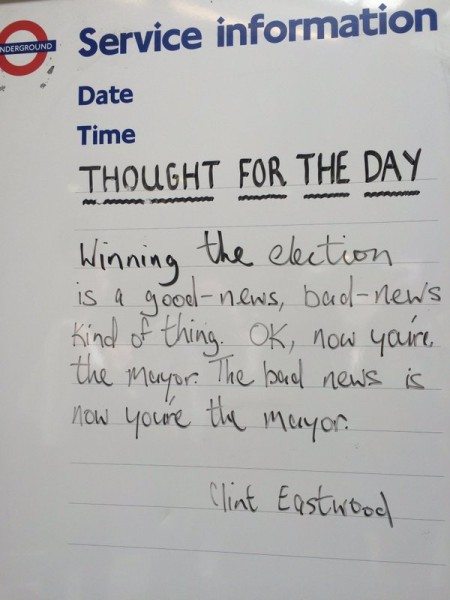 THE NEW LONDON MAYOR, MONEY AND BUSINESS
This photograph shows the moment that Sadiq Khan checked his watch at Southwark Cathedral, near the historic moment he signed in as the new Mayor of London.
This moment is important in astrology. It's the 'birth' of his leadership. The service was set for 11.30am on Saturday 8th May 2016, and the signature was recorded by The Guardian at 11.49am. If you're an astrologer, that's the chart timing to use.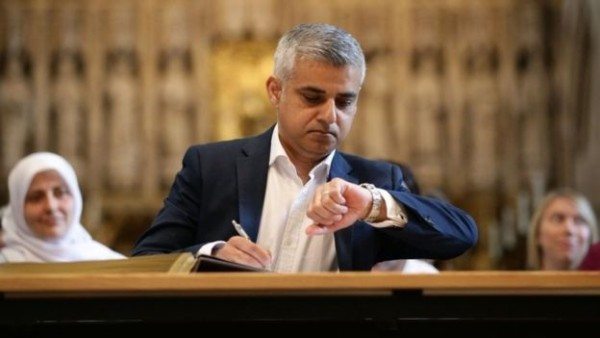 THE NEW MAYOR AND THE UNITED KINGDOM HOROSCOPE
Most of the publicity, the media reporting and Twitter coverage about the new Mayor of London has been about his Muslim religion and his Pakistani background. In astrology, there is an explanation for this fixation with Mr Kahn's preference for the Koran over the Bible. Saturn is in Sagittarius.
Long before the new Mayor was born, astrologers like Margaret Hone in the 1950's and even William Lilly (going all the way back to 17th century London) were writing about Saturn and his association with gloom, pessimism and fear. In astrology, Sagittarius has always been the sign to associate with foreigners and religion.
The new Mayor will be deeply concerned with issues of race and religion for the rest of this cycle – another year away. However, his horoscope says it's not the issue.
SADIQ KHAN – THE REAL STORY IS MONEY
We don't have a birth time for the new Mayor of London but we know this much. His horoscope, during his first three months in office, is all about money. And it's an obstacle course.
Sadiq Aman Khan was born on 8th October 1970 at St George's Hospital in Tooting. Even using a 12 noon time, this gives him Venus at 22 Scorpio, Mars at 22 Virgo and Saturn at 21 Taurus. Venus is in the sign which rules banks, big business and property. Saturn is in Taurus, the sign which rules the Mayor's personal finances – as well as money in general.
No wonder The Spectator reports that Mr Khan sent out election leaflets "the bus driver's son who'll make commuting more affordable", "the council estate boy who'll fix the Tory housing crisis". It is also no surprise to hear that the Mayor of London controls a £16 billion budget.
The new Mayor's hugely popular policies include a London Living Rent (based on a third of average local income) and a four-year freeze on Tube and bus fares.
FATED CONNECTIONS – THE NEW MAYOR AND THE UK CHARTS

Mr Khan has Venus at 22 Scorpio and Mars at 22 Virgo. His personal money, business and property horoscope triggers all the astrological charts we have for the United Kingdom in all her incarnations – within one degree.
The United Kingdom was 'born' or founded in 1801, with these placements –
Vulcano 22 Cancer
Saturn 23 Leo
Ceres 23 Taurus
In 1066 in an even earlier incarnation, the country had these placements –
Ascendant 22 Aries
Descendant 22 Libra
Neptune 22 Taurus
Juno 22 Capricorn
The Mayor of London and the National Economy

What is really striking about the birth chart for the new Mayor is not only that it is woven into the two best-known national horoscopes – it is also woven into just about every other historical record of the country. This goes way beyond running London. This is about the Mayor's countrywide influence on the London Stock Exchange.
UK INDEPENDENCE HOROSCOPE
21st March 0287
05.05 LMT LONDON
Moon 23 Scorpio
UK INDEPENDENCE HOROSCOPE (2)
20th March 0410
00.10 LMT LONDON
Uranus 23 Aquarius

UK UNIFICATION CHART
12th July 0927
12.00 LMT EAMONT
Moon 23 Scorpio, Sun 23 Cancer, Uranus 22 Aries
UK – ENGLAND – EDGAR
11th May 0973
12.00 LMT, BATH
Jupiter 23 Virgo
UK HOUSE OF COMMONS
20th January 1265 12.00 LMT, LONDON
Mars 23 Taurus
UK-ENGLAND-REPUBLIC
27th March 1649, 12.00LMT LONDON
Moon 23 Virgo
UK GLORIOUS REVOLUTION
23rd February 1689
10.00am LMT WESTMINSTER
Moon 22 Aries, Pluto 23 Cancer
UK – GREAT BRITAIN
12th May 1707
00.00 LMT WESTMINSTER
Neptune 22 Aries
UK REORGANISATION
7th December 1922
3.28PM, WESTMINSTER
Moon 23 Cancer
Retrogrades in the Sharemarket, Business, and Finance Signs

Here are all the 2016 dates for the Mars in Scorpio retrograde cycle and the Mercury in Taurus Retrograde cycle, at 22 and 23 degrees of their signs. It may be useful to go back through the new Mayor's campaign fundraising (for example) near these dates, or other economic and business stories.
All retrogrades show a story which is written, unwritten and rewritten. There are two stories going on here, which cover all the bases, from personal finances to bigger question about the City of London (which has her own Mayor) and the London Stock Exchange.
Here are the dates for 2016 –

February 16, 17, 18, 19, 20 – Mars at 22 and 23 degrees of Scorpio.
April 23, 24, 25, 26, 27, 28, 29, 30 – Mercury at 22 and 23 degrees of Taurus.
May 1, 2, 3, 4, 5 – Mercury at 22 and 23 degrees of Taurus.

Election Month – Strange Days
May, election month, is also unusual because we find the Sun at 22 and 23 Taurus on the 13th and 14th of May. Vesta at 23 Taurus all month. Chiron at 23 Pisces all month. Venus at 22 and 23 Taurus on the 18th and 19th of May. Uranus at 22 Aries and 23 Aries from 8th May.

When it comes to Sadiq Khan, the new Mayor of London, the astrology is clear. If we are talking about money, property, precious possessions or big business, then what is done will come undone. What is stuck will come unstuck. That's what retrogrades in Taurus and Scorpio do.
Beyond that, Chiron is a symbol of audacity, according to the astrologer Dennis Elwell. Uranus is a symbol of revolution. These are strange days, in May 2016.
In June and July, the patterns continue, backwards and forwards, in the new Mayor's personal horoscope and also in the national horoscopes for Britain.
June 7, 8 – Mercury at 22 and 23 degrees of Taurus.
June 19, 20, 21, 22, 23, 24, 25, 26, 27, 28, 29, 30 – Mars at 23 degrees of Taurus.
June – Uranus is at 23 Aries all month.
July 1,2, 3, 4, 5, 6, 7, 8, 9, 10, 11 – Mars at 23 Taurus.
HISTORY, MONEY, LONDON AND ASTROLOGY – WHAT NEXT?
What happened in history when slow-moving planets moved over the 22, 23 spots?
The 1926 general strike in the United Kingdom was a general strike that lasted 9 days, from 4 May 1926 to 13 May 1926.
Neptune 22 Leo
Saturn 22 and 23 Scorpio
The London Stock Exchange shut down on the same patterns.
On the first day of September 1939, the Exchange closed its doors "until further notice" and two days later war was declared. The Exchange opened its doors again six days later, on 7 September. What happened on 1st September 1939 and 7th September 1939?
Neptune at 22 Virgo
On Decimal Day, 15 February 1971, the United Kingdom decimalised the pound sterling and these were the horoscope patterns –
15th February 1971
True North Node 23 Aquarius
True South Node 23 Leo
BLACK MONDAY AND THE 22-23 DEGREE PATTERN
The London Stock Exchange took a heavy blow on October 19th, 1987 which became known as Black Monday 1987
Uranus was at 23 Sagittarius
In London the value of quoted shares fell by £50 billion.
THE NEW MAYOR AND THE E.U. REFERENDUM
Sadiq Khan is anti-Brexit, according to The New Statesman. He is quoted as saying, "Forty-three per cent of London's exports go to the European Union. In those circumstances, if you want to be a good mayor, how can you be in favour of leaving?"
This is important. Why? Because Uranus at 23 Aries conjuncts Ceres at 23 Aries on E.U. Referendum Day, just before lunch.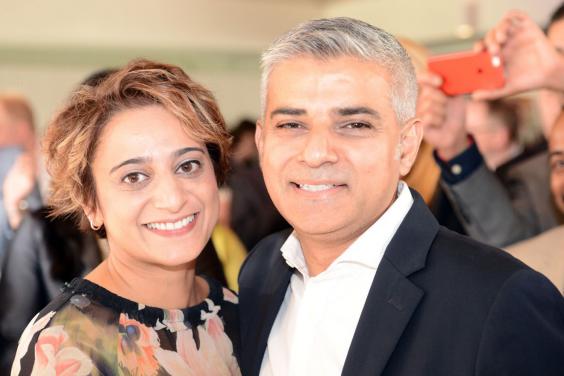 THE NEW MAYOR – A VERY LIBRAN LEADER
Sadiq Khan has the Sun, Mercury and Uranus in Libra. Libra is the sign we associate with equality, justice and fairness. I have no idea if Mr Khan has any interest in astrology, but he ticks all the Libran boxes.
He is a veteran of the legal profession, working in the field of human rights. His wife is very much an equal partner. Libra rules the scales of fairness, balance, harmony and symmetry. The new Mayor's gesture, signing into his new role as a Muslim in old Anglican Southwark, reflects that concern with harmony.
London is an old astrological city, with a plaque to William Lilly in The Strand (he predicted the Great Fire of London in a woodcut engraving). If you wander the City of London in particular (the old heart of the place, guarded by dragons) you will find the Sun, Moon, stars and even a horoscope within walking distance of St. Paul's Cathedral.
Events like the Transit of Mercury don't happen very often. Sadiq Khan probably has no interest in his horoscope at all, but this omen, or 'showing' is taking place right over the city's spires and domes, as he begins his new task. Watch this space.