Sinead O'Connor is a classic Sagittarian, with her passionate views on religion, and so she often turns up in astrology books as a typical example of the sign. This is her astrological birth chart, below. (Click to enlarge). It also holds insights about her May 2016 disappearance.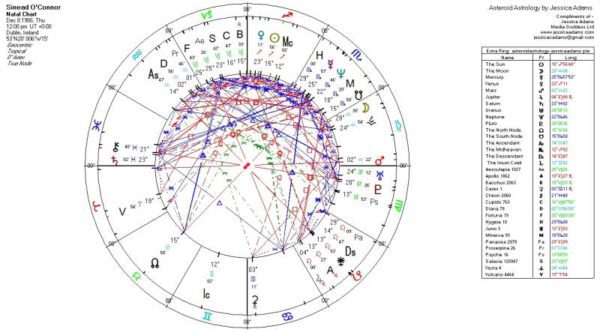 Sinead O'Connor's Personal Horoscope
The chart is set for 12 noon in Dublin, as we have no recorded birth time. This makes it impossible to find the Moon sign, which is important (it may be in Libra or Scorpio) but other information about Sinead's horoscope remains the same, no matter what time she came into the world.
Sinead is an unusual woman and she has an unusual birth chart pattern. The people who have come into her life, the organisations which have influenced her, the places she has lived and the cycles she had gone through, have taken her from unusual to extraordinary.
Sinead was born with  Mercury at 25 Scorpio, Aesculapia at 25 Capricorn and Fortuna at 25 Capricorn too. Every time this woman deals with her ever-changing career (she is destined to see her success peak and crash with this placement) this pattern in her birth chart is triggered. And with it comes the urge to write and sing about sex and death, true Scorpio themes.
No wonder she's such a superstar. Everyone born in the Sixties with Neptune in Scorpio – in their millions – has been drawn to her, at one point or another. She articulates all the obsessions of a whole generation, with that pattern led by Mercury the Messenger in Scorpio, the most intense sign of the twelve.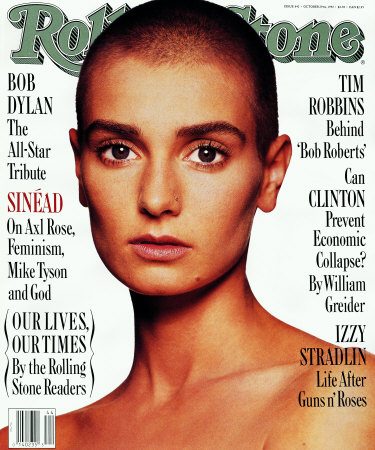 The Scorpio in Sinead O'Connor
Mercury rules Sinead's way with words and ideas. Aesculapia is associated with resurrection and rebirth. Fortuna is associated with the Wheel of Fortune that takes Sinead up and down. This is an exact pattern in her chart and it repeats at regular intervals.
Sinead's most famous song is Nothing Compares To You which has all the passionate intensity of Scorpio, a water sign – hence the tears. It also made her a global superstar as everyone related.
Yet – Sinead's chart also puts her on a Wheel of Fortune professionally. She swings up and down. Every high is a low on the way. Every low is a high on the way. It's enough to make anyone want to vanish, but that's not the reason Sinead O'Connor disappeared, according to the chart.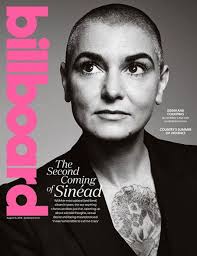 Why Did Sinead Disappear in May 2016?
There is a story about Sinead's vanishing act in May 2016  in the horoscope. She was born with Saturn at 23 Pisces, Venus at 23 Sagittarius and Salacia at 23 Capricorn.
Saturn in Pisces is about the unconscious mind, secrecy, and all that is psychological and psychic. Saturn can be a tremendous weight to carry here. In astrology we associate it with lead and there can be a dull, dark, 'leaden' feeling with this planet, whenever it surfaces in our lives.
Saturn in the Twelfth House in Pisces is a symbol of 'skeletons in the closet' in the horoscope. It often describes secrets which must be covered up and carried, over a lifetime. We never choose them. The whole experience of hiding things is inflicted upon us. It's a load to carry. It's an area of our lives and personalities that needs a ton of work, even though most of the time it is buried, ignored, neglected or just unconscious.
There is usually more than one cover-up job going on in the life, when Saturn is in Pisces and the Twelfth House. At the same time anyone born with this placement needs to look at how protected she is (or how under-defended she is!) when it comes to the things she conceals from other people.
There are usually issues here about being  paranoid, or at the other extreme, avoiding and evading the buried matters one is trying to hide, to the point where one is actually left wide open. The astrologer Sue Tompkins has written a lot about Saturn and the tendency to either under-defend or over-defend.
Saturn in Pisces in the Twelfth House is also about the psychic world, and the aura and chakras here are a very serious matter indeed. The trick with Saturn is always to learn – to do the homework – to ask questions and seek expertise and experience.
It is tremendously important to manage drugs and alcohol wisely with this placement, because they leave one wide open to all planes of existence and with Saturn here, there could be quite heavy learning experiences. All of this occurs as I look at Sinead's horoscope and that dominant Saturn in Pisces.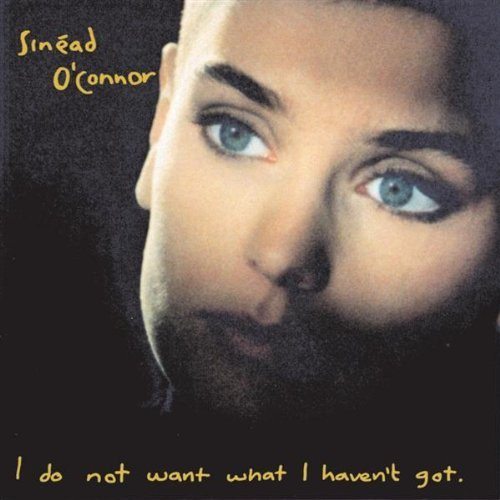 Rare Triggers in May 2016
In May 2016 Mercury Retrograde moved over 23 degrees of Taurus, at the same time that Chiron was moving over 23 degrees of Pisces. Chiron came along and sat on, or made a conjunction to, her natal Saturn in Pisces, and Mercury criss-crossed, backwards and forwards, also triggering the pattern.
Saturn was woken up in Sinead O Connor's chart. This is rather like opening your eyes to discover a rather heavy, unavoidable, hard-work aspect of your personality (some say Saturn is where the pure fear rests in your chart) has come to life again. Each time it happens it becomes easier, as experience kicks in, yet it doesn't hurt to have a bit of horoscope help either.
Sinead in 2016 and 2017
Healing and help is on the way, if Sinead O'Connor is open to it – the transits are really clear about that. The story continues in June, as Uranus moves to 23 Aries and Mercury finally concludes his long retrograde at 23 Taurus.
In August, Jupiter moves to 23 Virgo, which is very helpful. Uranus goes back to 23 Aries in September and this is quite liberating. In January 2017 Saturn himself moves to 23 Sagittarius as Jupiter moves to 23 Libra – and the patterns continue.
Astrology can't make anybody do anything – but there is some powerful assistance here, too.  It's timely and in many ways it's a crossroads that could only come now!
More on May 2016
It's rare to see a chart pattern like this being triggered so heavily. Yet, there was even more going on  in May 2016 when Sinead O'Connor vanished. She was born with the Sun at 15 Sagittarius, North Node at 15 Taurus and South Node at 15 Scorpio.
She went through a cycle which can only happen every 29 years, as transiting Saturn moved to 15 Sagittarius and set the whole thing off.
That is the second appearance of Saturn in the chart and he is commonly associated with tests and trials in astrology. The astrologer Liz Greene called him, ironically, 'the old devil' and he is a force to be reckoned with.
Yet, again – there is hope. Jupiter moves to 15 Virgo in June 2016, just in the nick of time, after such a tough set of transits. We associate Jupiter with people and organisations which are 'the gift that goes on giving' as they are all about the life force, solutions, hope for the future and progress. Jupiter will form a stunning trine to Sinead's North Node at 15 Taurus. You have to want Jupiter. You have to be proactive – but this cycle is there for the asking.
The Crossroads Sinead Faces
Whenever you see slow-moving horoscope factors like Saturn, Uranus or Chiron crossing the exact same degrees as birth chart factors, you just know people are going to hit an Elvis Presley moment. For Sinead O'Connor it is indeed 'It's Now Or Never.' The choices are hers to steer.
What is remarkable about her chart is Aesculapia in her horoscope in Capricorn, in the career zone. He is a 2000+ year old symbol of resurrection, rebirth and revival. His symbol is also the snake. Snakes are all over the CD cover above.
I'm going to take that as a wonderful piece of synchronicity and hope that yet again, the remarkable and wonderful Sinead O'Connor can relaunch herself and come back to us, just like a snake shedding its skin. We need her!
For more on Aesculapia (also known as Aesculapia) please read this extract from Asteroid Astrology, below.