The Ultimate Leo Band
If there is one thing Leo rules, it's courtship. One Direction were 'born' at exactly 8.22pm on July 24th 2010 in London, as you can see in the clip above, with the Sun and Mercury in Leo, thus becoming the ideal band to court young women everywhere, who worship them like the Leo group they are. Leo has always been associated with royalty, princes and kings and so perhaps it's not surprising that they are still wearing the Boy Band crown, six years on. I really like this Twitter image which I picked up on my timeline because it sums up One Direction's appeal to a certain kind of fangirl.
Does Harry Styles Have a Past Life Connection With the Band?
Harry Styles does not have an exact birth time, so we can only use part of his horoscope, but he still has some curious connections with the band, which suggest he knew all of them in a previous life.
Born on 1st February 1994, Harry has the Sun at 11 Aquarius, Venus at 15 Aquarius (the sign of the group), Saturn at 0 Pisces, the True North Node at 29 Scorpio and True South Node at 29 Taurus.
The band, which we do have a birth time for (as in the clip above) was 'born' with the True North Node at 11 Capricorn and True South Node at 11 Cancer. The Nodes always show karma and I suspect Harry felt he knew the others in the group even on first meeting. The clip above shows a date with fate, as Harry's Sun at 11 Aquarius was exactly aspected by the Nodes at 11 Capricorn/Cancer the minute they took to the stage for Simon Cowell's approval.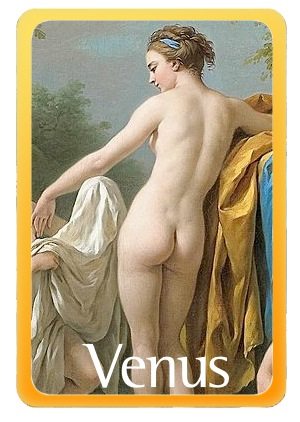 Harry's Venus at 15 Aquarius suggests he has a relationship with the whole group and probably has an intensely intimate, complicated relationship with at least one person in the One Direction circle. I suspect we don't even know about it, which may be why he as Saturn (burdens) in Pisces (secrets). The band's chart shows Venus at 15 Virgo so that's a bit of a love-in. Whenever you see a lot of Venus in an all-male group you always find a strong female following (because the boys relate to girls so well). You also find Pretty with a capital P as Venus was the goddess of vanity and beauty. Harry's hair often resembles that of the goddess Venus, pictured left.
How else does he connect with One Direction? His fate is heavily tied to theirs, as he was born with Saturn at 0 Pisces and the band came into the world with Saturn at 0 Libra and Uranus at 0 Aries. It's a tense, tough relationship. Harry also has Chiron at 29 Aquarius forming a T-Square with the band's Nodes at 29 Scorpio and Taurus. Watch what happens to Harry and One Direction from September 5th-14th 2016. It's big and it will affect his life and the life of the band, for years! Are we looking at D-Day for Harry Styles?
Perhaps they all knew each other during the last war, another lifetime ago. Who knows, but Harry Styles is one to watch in the new film Dunkirk. Harry Styles could easily split with One Direction, September 5th-14th 2016.