Harry Potter, J.K.Rowling, Horoscopes, Astrology…and the Cursed Child
Astrologers have known about J.K.Rowling's interest in astrology for a long time. It is always intriguing to see her choice of time and date for the release of a new Harry Potter book, and the arrival of Harry Potter and the Cursed Child is no exception. Of course, we have no idea at all if the top-secret releases of the Potter books are scheduled according to astrology – yet it's fun to speculate. After all, as my friend and colleague Robert Currey notes on his website, the world's most famous author once drew up an astrological birth chart, as a present for a child – and even illustrated the cover. Note Leo the lion and Pisces the fish. This, and the nod to astrology in the Potter series, does raise the question – are those hugely successful book releases timed? (For more on the story behind the chart, please see Robert's amazing astrology website).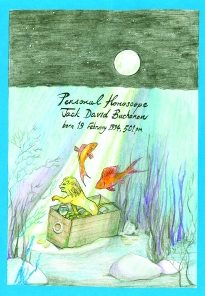 Magic and Mystery in the Harry Potter Series
As every reader knows, Harry James Potter was born on 31 July, 1980 according to Time magazine.  He was born in Godric's Hollow, West Country, England. What is remarkable about Harry is that the powerful asteroid Minerva, daughter of Jupiter, forms a stunning pattern in his birth chart. My friend The Oxford Astrologer had a look at Minerva (in her Greek incarnation as Pallas) in the birth chart of J.K.Rowling here.  
We have no birth time for Harry, nor for his creator, but the Minerva aspects would be exact, no matter if Harry had arrived at the very start of 31st July or the end of the day. He has Minerva at 11 Libra, conjunct Mars at 11 or 12 Libra. It's powerful.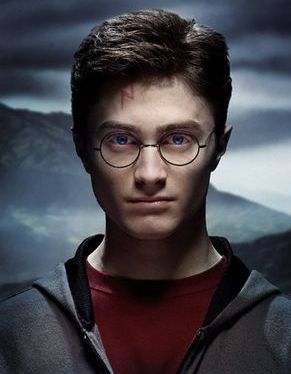 Minerva the Asteroid of Wisdom
Minerva describes great wisdom in the birth chart. She is the daughter of Jupiter and was born fully formed from his head. She became Jupiter's counsellor and advisor and is always seen with him, as well as her famous owl. The owl and Minerva have been associated for about 2000 years.
If you are curious about this asteroid in your own horoscope, you can find out more about Minerva on this website. So why is she conjunct, or exactly next to, Mars? This might tell you all you need to know about Harry. Mars, is the red planet – and in mythology he was the god of war. Put these two together in the sign of Libra in the Seventh House of the natural horoscope and Harry Potter has a tremendous fight on his hands. Libra is associated with the pursuit of justice, even if means a battle.
 
Finding Planets in the Potter Series
My friend, author and astrologer Neil Spencer has also analysed the chart of Harry Potter here. He notes, "For their astrological homework Professor Trelawney asks her students to forecast what will happen to them on the basis of their birth charts' transits. After struggling with the ephemeris, Harry and Ron simply write the worst things they can think of. Ron decides he will lose a treasured possession 'because of Mercury', Harry that he will get stabbed in the back by someone he thought was a friend 'because Venus is in the twelfth house'. Their teacher is delighted with their gloomy predictions, both of which, ironically enough, come true." If you are curious about the Potter series and astrology, it has a dedicated Wiki page here. Harry Potter's own birth chart with all the full 34 factors of modern astrology, is here. To find Minerva look at the M, in the 3pm position on the horoscope wheel. You will see it stands at 11 Libra, the sign of the scales of justice, exactly conjunct Mars (the circle with the arrow) at 11 Libra too.  The chart is set for 12.00 noon on July 31st 1980 in Ammanford.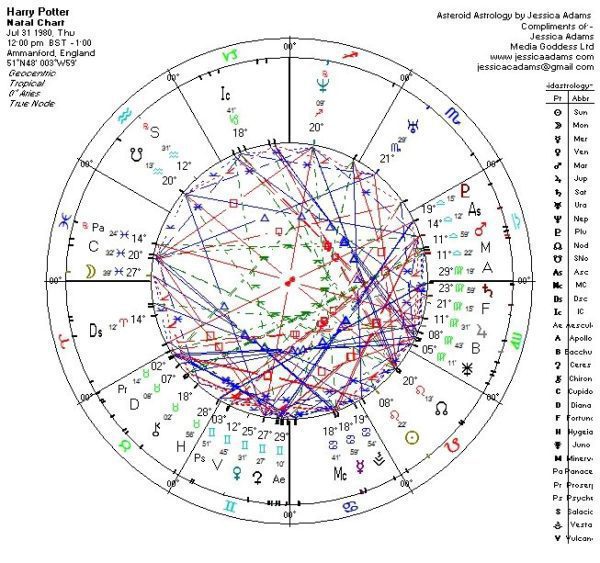 J.K.Rowling and her (Very Private) Birth Chart

It is tempting to peer deeply into the birth chart of Rowling herself at this point, but she is a famously private person. Neal Meredith has her birth certificate, but without a time. Sandra Rozhon emailed her agent without success.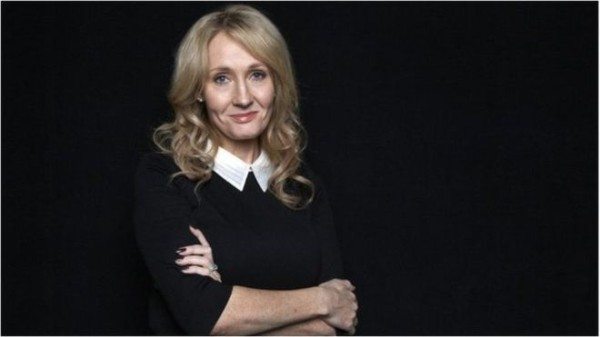 More Minerva in the Potter and Rowling Charts

Despite Rowling's understandable need for privacy – there are some matters which are public knowledge,  and beautifully mirrored by her birth chart. There is more Minerva here, just as you might expect. She  was born with Minerva at 1 Leo sextile Psyche at 1 Gemini.
The two asteroids make an exact sextile. Psyche, the daughter-in-law of Venus, is the asteroid who describes eternity, and this speaks volumes about Rowling's career. Using the Natural House system, you can see Minerva falls in Leo in the Fifth House of children, making a precise link with Psyche (posterity) in Gemini in the Third House of books. If you are curious about Psyche, you can find out more about her in your own chart, on this site. The chart, set for noon, is below. You can see Psyche at 1 Gemini, near the 6pm position in the chart – and there is Minerva herself at 1 Leo, just ahead.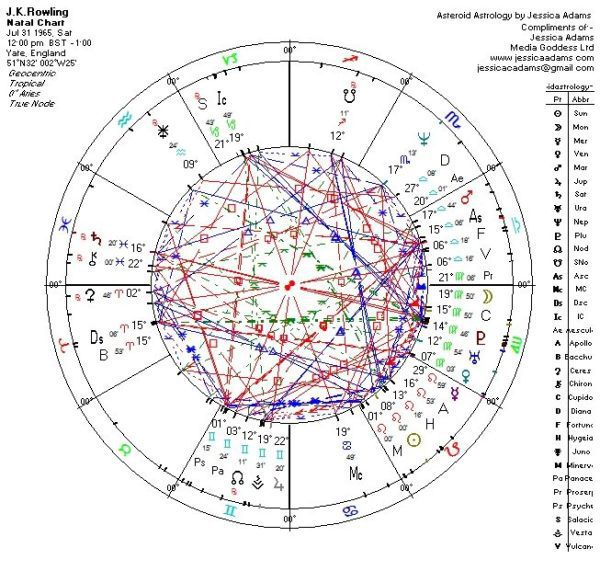 Philanthropy, Generosity and Giving Back

J.K.Rowling is famous for two more things, apart from creating a 'forever' series of books, films and plays. She is very rich and very generous. She was born with Neptune at 17 Scorpio in the Eighth House of finance and charity. Apollo at 16 Leo in the Fifth House of children. Saturn at 16 Pisces in the Twelfth House of secrets.
I can vouch for the fact that the wheels of Rowling's contributions turn quietly and discreetly. When I worked as a team editor on the third book in the Kids' Night In series for the children's charity War Child, published by HarperCollins and Puffin, we requested permission to reprint J.K. Rowling's favourite poem by Walt Whitman Of the terrible doubt of appearances from his collection Leaves of Grass.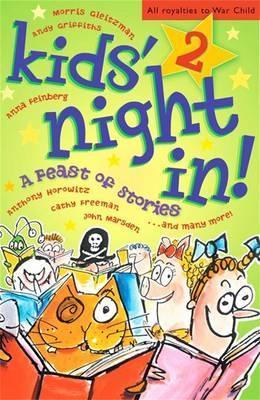 We knew that her involvement would take the charity's sales from the book (all royalties were donated and all work was voluntary) through the roof. It did. The Guardian picks up the story here. The book continues to sell, thanks partly to her help and every copy you buy, helps War Child continue its work in war-affected countries around the world. I suspect this is just a drop in the ocean for Rowling, who publicly gives back so much, but privately must do endless amounts of work for others.
The Harry Potter Horoscope and Hogwarts
You would expect Harry's chart to show tremendous emphasis on the sign of Aquarius and the Eleventh House, as he is so closely identified with friendship – and groups. Neptune's wife, the Trans-Neptunian planet Salacia, is at 12 Aquarius in his Eleventh House, forming a trine to that uncanny Minerva-Mars conjunction at 11 or 12 Libra.
We also find the South Node (karma, reincarnation, past lives) at 20 Aquarius making a staggering pattern – sextile Neptune at 20 Sagittarius, semi-sextile Cupido at 20 Pisces and of course, opposite the North Node at 20 Leo. There's the sign of the lion again, and its association with children, through the Fifth House. What is also important here is the emphasis on Aquarius and Sagittarius, signs which entire generations of children have prominent in their own birth charts, as the slow-moving planets like Uranus, Neptune and Pluto inhabit those parts of the zodiac for millions. Aquarius is about the community, the tribe, the tight-knit group. The higher purpose and meaning of the Potter series is about friendship. Children find this through fandom as much as they find it in the stories. Aquarius looms large in their birth charts and it is the constant of the series. Sagittarius rules beliefs – like magic.
Harry Potter and the Cursed Child – Timed Release Date
On July 31st 2016  at 00.01am Dallas, Texas USA a bookstore photographed its guards with the treasured cardboard boxes and sent a Twitter message. This gives us a timed and dated horoscope for the minute that the celebrated new book, Harry Potter and the Cursed Child, is 'born' into the world. It arrives with a brilliant link to Harry's chart, with Fortuna at 20 Aquarius. Fortuna is another of Jupiter's daughters, like Minerva. So, by design or fate, J.K.Rowling's new Harry Potter adventure has come into the world with the powerful asteroid Fortuna exactly on Harry's South Node.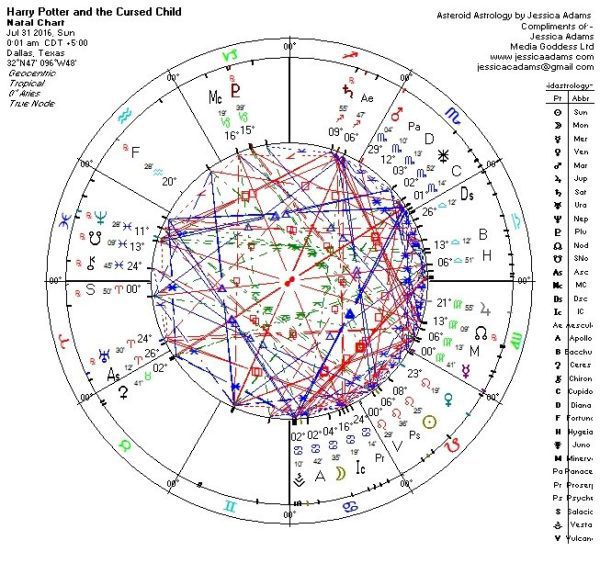 What fascinates me is that the MC or Midheaven for the book's release into this particular shop shows a link with Rowling's chart too. It's at 16 Capricorn, forming precise patterns with her Neptune at 17 Scorpio in the Eighth House of finance and charity. Apollo at 16 Leo in the Fifth House of children. Saturn at 16 Pisces in the Twelfth House of secrets.

It is set nineteen years after Harry Potter and the Deathly Hallows and he is now a Ministry of Magic employee with a younger son, Albus Severus Potter.