Are you Generation Sagittarius? You were born with outer planets in Sagittarius, 1970 through 1995. We are about to hit a risky cycle in August and September 2016 as Mars and Saturn join up in Sagittarius.
Timing is everything in astrology. Risky Sagittarius cycles from August 2nd through September 27th, 2016 will affect every sign of the zodiac (not just Generation Sagittarius) as Saturn and Mars go through that sign in a rare pattern. We already know about Saturn in Sagittarius. Predictions you read here about one year ago gave a clear astrological caution about all matters ruled by Sagittarius – travel, airlines, foreign people and places and extreme cults.
As I write this on July 15th, 2016, we are looking at one of the most crucial travel industry cycles in 29 years, through August and September. Astrology tells us that destiny is negotiable. Awareness is everything. If you're a regular globetrotter like me (that's my suitcase, below) then you will know that astrology is all about handling this stuff. Know what's coming and how to manage it. Being aware of the little things – and understanding that the horoscope shows the world affecting us, and us affecting the world. If there is one piece of advice astrology could give about this Mars and Saturn transit – it is to avoid adding oxygen to anything or anybody which seems risky to you, especially online. Equally important? Check travel plans, even if it's just about the risk of delayed or cancelled flights, trains, buses or ferries.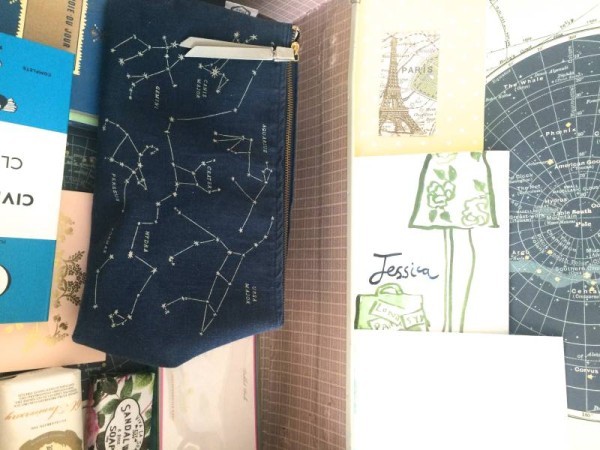 What Do We Believe, What Do We Know?
I wish this wasn't so but all my experience as an astrologer tells me – we are about to enter one of the most volatile periods for 29 years, 2nd August through 27th September, 2016. Saturn translates as fear. Mars translates as violence. Put those two together and the tragedy we have already seen in France and Germany simply will not go away – in fact, it looks as though we are approaching flashpoint.
You read five predictions about Saturn in Sagittarius almost a year ago. Here is a flashback so we can update on what is going on, in the world horoscope as we go into phase two, the risky Mars-Saturn cycle. I'm a practical astrologer. I believe common-sense astrology is there to be used, like a weather forecast. So here is that (human) weather forecast you saw on this website, back in September last year.
An Astrological Flashback to September 2015
"Saturn enters Sagittarius, the sign which rules travel, airlines, space travel, religion, the internet and universities on September 18th, 2015. The cycle runs until December 21st 2017 and it will change all our lives. Here are five astrological predictions.""Astrology is about knowing what not to do. Saturn is about accepting unavoidable realities and inevitable consequences – and then working with them. You never blindly stumble into any big, new decisions about travel, religion, the internet, airlines, space travel, when this cycle occurs."
Predicted in September 2015 – Brexit and the end of The Schengen Agreement
"The Schengen Agreement which means 26 European countries have no passport or border control will transform or be scrapped. Why? It came in on 14th June 1985 with horoscope factors in Sagittarius and Gemini which will be hit by Saturn. But wait. There's more. Britain will leave the European Union by December 20th 2017. Who is affected most by the end of 'free and Easyjet' travel within Europe? People born in the 'Sagittarius' generations. The days of hopping on a bus, cheap plane or Eurostar without border controls are over."
Are You in Generation Sagittarius?
Born with Uranus, Neptune or Pluto in Sagittarius, you will have Mars crossing (or conjunct) this hotspot in your personal birth horoscope throughout August and September. You are most affected by the eight-week rise in emotional temperatures so be aware of that. You express a major part of your personality by travelling, studying, teaching, using the global worldwide web, pursuing your personal beliefs – and through your experience with foreign people and places. This goes on the line as Mars triggers your chart. Awareness is everything. Negotiate your destiny and navigate, by knowing Mars will be conjunct Uranus, Neptune or Pluto in your chart for a day or two. Friends (contemporaries) or colleagues your age may also be involved. Be wise and watchful. Hit 'Search' to read more about Sagittarius and what it means, because you have a key planet there, if your birthdate is below – and your chart (and those of your peers) is triggered.
[contentblock id=show-chart]
Generation Sagittarius Birthdates
If you are part of Generation Sagittarius, you were born with an outer planet in this sign. More than any other generation, you will be profoundly affected by the global changes of August-September 2016 which will permanently alter the way you travel the world. You were born to travel – however, we are about to see tough new realities for Gen Sag travellers.
January 17th to April 21st 1995
November 10th 1995 to January 26th 2008
June 14th 2008 to November 27th 2008
February 17th 1981 to March 20th 1981
November 16th 1981 to February 15th 1988
May 27th 1988 to December 2nd 1988
January 4th 1970 to May 3rd 1970
November 6th 1970 to January 19th 1984
June 23rd 1984 to November 21st 1984
If you were born on cusps (changover days) check your time, place and date of birth for precision. Data Neil Michelsen.
September 2015 Prediction Flashback – The new Holy War
This also comes from that September 2015 story, ten months ago –
"Sagittarius rules religion. We are going to see a revival of the old Holy War between Christianity and Islam on a serious new scale. In fact, when Pluto was in Sagittarius centuries ago, Jesus was baptized by John the Baptist and crucified. It was on this same cycle that we hit the 9/11 terrorist attacks. (Data by Raymond White, Madalyn Hillis-Dineen and Patricia White at Alabe). Saturn is now moving over the same position as Pluto in Sagittarius."
Mars in Sagittarius Alert – Dates to Watch August, September 2016
Mars is the planet which adds heat, tension and action whenever it appears. On Tuesday 2nd August 2016, Mars enters Sagittarius at 5.49pm, in London. He will be right alongside serious Saturn, until Tuesday 27th September 2016 at 8.06am when he finally leaves Sagittarius and the atmosphere relaxes.
If you travel all the time like me then common sense says, check the airlines, check the airports, the day before you fly and on the day itself. Update yourself on what's going on, globally, so that you're more aware than usual. Remember, this is the cycle that hits airports and airlines, sometimes train travel (for example international trains) and so on. As Mercury Retrograde also crosses over August-September please do be more cautious. You definitely need Plan B on this cycle anyway, as we know! Don't be paranoid. Do be sensible. Watch the news and watch Twitter. Remember, one security issue in one major airport can create a chain-reaction of delays and changes in every other airport.
Germany and the German People
Stuttgart in Germany is one place where we will see flashpoint issues about immigration continue. Astrologers like me can only track the cycles and hope that another tragedy is prevented. Why is Stuttgart such an issue? Because of another cycle, running alongside the risky Saturn in Sagittarius/Mars in Sagittarius transit.
This horoscope pattern is the famous 'Independence Day' line-up of Uranus 23 Aries, Ceres 23 Aries, Mars 23 Scorpio. It is about revolution and radicals, in politics. It also triggers the foundation chart for the German political party AFD (Alternative Feur Deutschland). The party is led by Frauke Petry, below. When they launched their campaign in Stuttgart, that 23 degree hotspot was also triggered. As an astrologer, alarm bells ring. Why? This is about two cycles overlapping each other. The 'birth' chart for Germany on January 18th 1871 at 1.00pm in Versailles clearly shows Uranus himself at 24 Cancer. That is triggered exactly by the Uranus cycle at 23/24 Aries.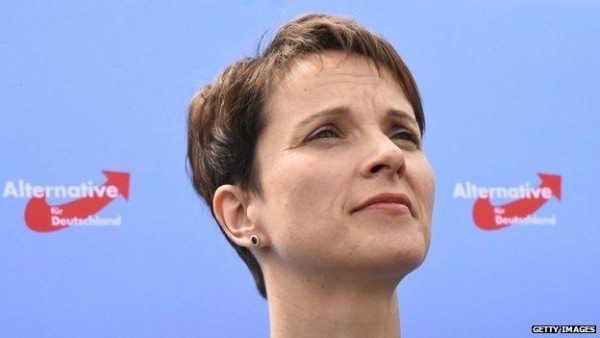 The Sagittarian Arrow and the AFD Logo
The AFD (see its logo, below, which resembles the Sagittarian arrow) was founded on 6th February 2013 with the True North Node at 22 Virgo and True South Node at 22 Pisces. That's fate. This anti-Islam party has a 'birth' chart signature which lines up exactly with the explosive Uranus transits around 22 and 23 Aries which will be with us, now through April 2017.
On 1st May 2016 the BBC reported, "The German right-wing party Alternative fuer Deutschland (AfD) has adopted an explicitly anti-Islam policy. Delegates at a party conference adopted a ban on minarets, the call to prayer and the full-face veil, saying Islam was "not part of Germany".
What was the pattern that day? Mercury Retrograde stood at 23 Taurus. This is the degree which will be triggered repeatedly throughout this whole Saturn in Sagittarius cycle. This goes beyond August and September 2016 and takes us into 2017. Watch Stuttgart, because that's the place where the German horoscope patterns first unfolded.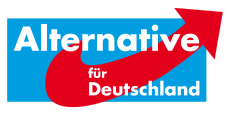 Steer Your Fate by Selecting Your Destiny
Difficult aspects involving Mars or Saturn in Sagittarius, and the Moon in Sagittarius as a trigger, are worth being proactive about. I use the Natural House system which shows us that even one person with one word or action, can affect everything and everybody in ripples. We're all in that rippling Sagittarian pattern by six degrees. When you look at your horoscope, think macro-micro. The world affects you. You affect the world. One person can and does change things.
The ingress of Mars into Sagittarius itself is worth watching, so on or very close to 2nd August, we should all be more cautious about the Sagittarian 'list' which also includes extremist cults. The worst cult mass suicide in history occurred on an outer planet Sagittarius cycle. Lest we forget. As we are about to find out in August and September, what human beings believe can have a powerful and sometimes dangerous impact.
On Thursday 11th August at 5.23pm London time, the Moon enters Sagittarius and remains there until Sunday 14th August at 4.11am. That weekend is extremely challenging. Why? Saturn stations direct in Sagittarius on Saturday 13th August at 9.49am. I can also see major aspects involving the asteroids and the reclassified planet Ceres.
Cults are all about the group. Watch the Full Moon on Thursday 18th August as it is also a Penumbral Lunar Eclipse, timed for 9.42am in London. An eclipse is always a cover-up job. The Full Moon is in Aquarius, the sign which rules groups. Be aware.
Mars Conjunct Saturn, 24th August 2016
Mars will conjunct Saturn at 9 Sagittarius at 11.26am, London time on Wednesday 24th August. Two days later on Friday 26th August at 6.56am, Mars at 10 Saturn squares Neptune at 10 Pisces. We associate Pisces with Christianity in astrology.
It goes on. There is a T-Square (T stands for trouble, tension and tough times) involving Mars at 12 Sagittarius, the True North Node at 12 Virgo and True South Node at 12 Pisces on Monday 29th August at 7.18pm.
The Moon enters Sagittarius again on Thursday 8th September at 1.19am in London and stays there until Saturday 10th September at 1.03pm. This takes place on the same day as the clash between Saturn and Neptune. Saturn is at 10 Sagittarius square Neptune at 10 Pisces.
The Real Brexit Fallout is Coming
The real Brexit fallout is coming, according to the astrology. On Saturday 17th September, Mars at 23 Sagittarius trines Uranus at 23 Aries. Uranus always describes the world turning upside down. This is the exact same position as the Brexit '23 degree' pattern back on 23rd June 2016, when millions voted for freedom from the EU and shocked the world. It's not over. In fact, it's hardly yet begun. Watch the weekend of Saturday 17th-Sunday 18th September.
September 2016 and the Mars-Saturn Cycle
The whole period around Saturday 17th September just crackles and we are going to see a heated (Mars) period with tremendous rebellion in the air. There may be electrical storms across Europe, as Mars rules heat and Uranus rules lightning. This is exactly what we saw on Brexit Day – in fact, astrology called the weather four months previously!
All this tension and electrifying post-Brexit aftermath atmosphere, comes right on the heels of an eclipse very close to that 23 degree position. We have a penumbral lunar eclipse on Friday 16th September at 6.54pm in London. An eclipse is always a cover-up job as you know. The eclipse itself sees the Sun at 24 Virgo and Moon at 24 Pisces. That Friday-Saturday period requires time, space and tolerance and – something else – sharp awareness. Where's the cover up?
France and Her Horoscope in August, September 2016
Back in January 2015 you saw that there were eleven possible astrological charts for France. One seems to fit the times more than any other and it has these placements, below. As I write this after the heartbreaking Nice tragedy, my eyes are on the fact that Mars in Sagittarius will either conjunct or oppose all these placements in the French national chart set for 5th October 1958 at 00.00 CET in Paris (The Book of World Horoscopes, Nicholas Campion, The Wessex Astrologer, 2004).
Watch when Mars crosses 2, 4, 14, 15, 20, 22, 28 Sagittarius and triggers these placements in the national chart. If ever there was a period in the last 29 years when France needed time, space, tolerance and change – that is it. We can narrow that period down to August 8th through September 25th, 2016. If you know your astrology, these are the aspects in the French horoscope to watch – all triggered.
Fortuna 4 Sagittarius 49
Bacchus 15 Sagittarius 41
Saturn 20 Sagittarius 29
Panacea 28 Sagittarius 46
Mars 2 Gemini 19
Vulcano 14 Gemini 50
Hygeia 22 Gemini 55
Moon 28 Gemini 27
Filed 27th July 2016.
You can read more about Mars, Saturn and the zodiac sign Sagittarius in my new book 2020 Astrology – Your Five Year Personal Horoscope Guide.