Back on 22nd December 2015, seven months before UK Labour leader Jeremy Corbyn found his job under threat, the astrology prediction was clear. Christmas 2016 would see him lead the peace protest of the year alongside Nicola Sturgeon. I'm standing by that prediction because, despite the threat to his leadership, I believe the horoscopes clearly show Mr. Corbyn is going to stay on as leader. He will fight Trident, in the rebirth of a peace movement that we have not seen since the Eighties.
THE MAN WITHOUT A BIRTH TIME
Jeremy Corbyn has no birth time for astrologers to work with. This is tricky, because it means a good chunk of the chart is missing. Whenever that happens, it's useful to turn to the charts for Britain as a whole, as well as astrology. What is the common factor bringing all the Corbyn voters together? And more importantly, does he speak to them?
He is trying to win over the voters who make up Generation Libra, whose birth dates are listed below. Born with Neptune and the South Node in Libra, Mr. Corbyn is going to do it, too. When mighty Jupiter moves into Libra from September 10th, 2016 and slowly passes over all the Libra placements of this generation, we are going to see a tidal wave of protest against war. There is no other sign so strongly associated with CND and the peace movement.
WATCHING GENERATION LIBRA WHEN JUPITER GOES THROUGH LIBRA 2016-2017
Neptune in Libra Voters' Birth Dates
Oct 3rd 1942 to April 17th 1943
August 2nd 1943 to Dec 24th 1955
March 11th, 1956 to October 19th 1956
Jun 15th 1957 to August 6th 1957
Uranus in Libra Voters' Birth Dates
September 29, 1968 to May 21, 1969
June 24, 1969 to November 21, 1974
May 2, 1975 to September 8, 1975
Pluto in Libra Voters' Birth Dates
October 6, 1971 to April 17, 1972
July 31, 1972 to November 5, 1983
May 19, 1984 to August 27, 1984
HOW JEREMY CORBYN IS FATED TO LEAD THE UK LABOUR PARTY
Beyond the Libra anti-war signatures taking place in the heavens from September 10th, 2016 what else is going on? It seems that Mr. Corbyn was destined to be the person in charge of Labour, all along. The UK Labour Party was born on 15th February, 1906 with the True South Node at 20 Aquarius exactly conjunct Mercury at 20 Aquarius. Jeremy Corbyn has Minerva at 20 Aquarius and Proserpina also at 20 Aquarius. This sign rules the group. It rules friendship. It rules people power.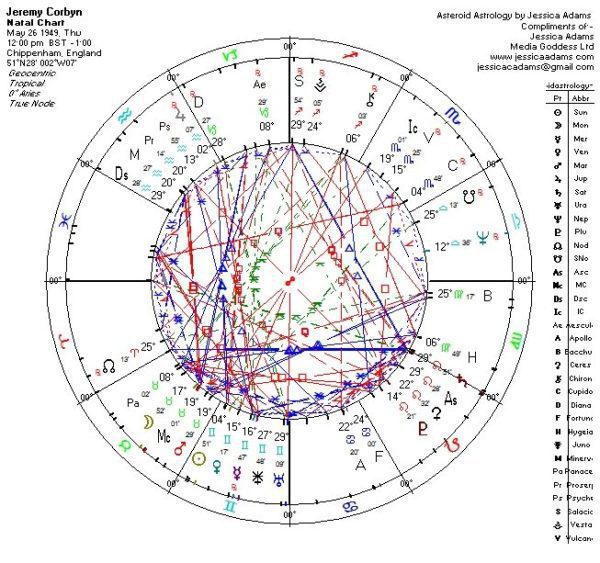 The Gemini, Aquarius and Taurus Signatures in Jeremy Corbyn's Horoscope
I like this well-known news clip on YouTube, because it shows Mr. Corbyn's Gemini, Aquarius and Taurus chart signatures. The stellium in Gemini gives you his natural ease with a television soundbite. Gemini knows how to talk to a camera. The Aquarius 'power to the people' values in his horoscope are really clear, along with the usual Taurus concern with money. And clothes!
CAN JEREMY CORBYN WIN AN ELECTION FOR THE LABOUR PARTY?
The United Kingdom general election of 1997 was held on 1st May resulting in a landslide for Tony Blair. It showed clearly in the horoscope for the Labour Party. She was founded with fortunate Jupiter 27 Taurus and when Blair won, the True North Node was at 27 Virgo and True South Node was at 27 Pisces. That stunning line-up made history.
Why is Corbyn going to hang onto leadership? Because Jupiter is moving to 27 Virgo, from August 27th through 31st, 2016. This pattern can only happen once every 12 years. Jeremy Corbyn was also born with Juno at 27 Gemini, the sign which rules media. Close to August 27th, 28th, 29th, 30th, 31st 2016 Jeremy Corbyn will give the speech or publish the manifesto of his life, turning the tide in his favour and reminding the Labour party of its 1906 roots. If you want to know what a politician with a stellium in Aquarius looks like, see the photograph below. Note the younger faces. Along with built-in appeal for Generation Libra, Corbyn also speaks to Generation Aquarius, born with Uranus and Neptune in Aquarius. 1906 meets 2016 in the middle.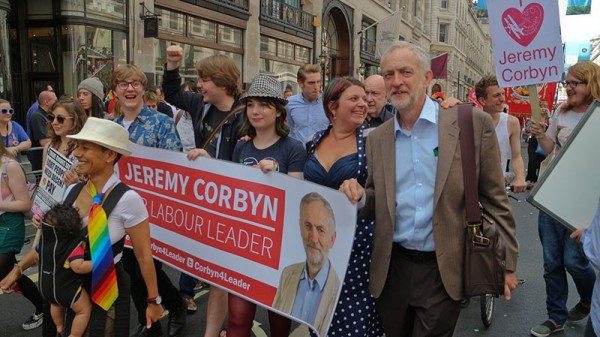 WHY LABOUR AND CORBYN HAVE A FIGHT ON THEIR HANDS, MAY AND JUNE 2017
To win another election, against PM Theresa May, Corbyn and the party must cross the next bridge as Saturn moves through 27 Sagittarius in May 2017, followed by Uranus at 27 Aries in June, 2017, alongside Chiron at 27 Pisces. Those are tough obstacles.
May and June 2017 will pile huge pressure on Jeremy Corbyn and the Labour Party in historic patterns not seen in years, but if they can survive that, they can survive anything. My eyes are drawn to May 2020, when Jupiter stands at 27 Capricorn, ahead of an historic pattern with Saturn at 27 Capricorn in November and December 2020. It's a long way off as I write this (four years into the future) but the Labour Party looks like one to beat, in that period. Maybe we'll have a birth time for Mr. Corbyn by then so we can look at the rest of his chart. Without a time, it is impossible to say if he will even hang onto leadership past 2017, as the chart angles are missing. Until then, though, all eyes on 2017. Cometh the hour, cometh the man.
Filed Tuesday 23rd August, 2016.