Using Mars in Your Horoscope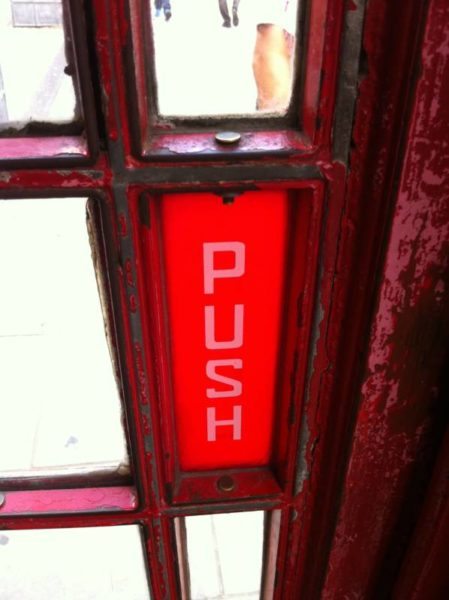 Your Mars by Sign and House shows you where you push and where you get red in the face. Just like a toddler crashing and banging around in the house (or the supermarket). I like this phone box photograph from London – because it shows the classic Mars scarlet colour and also the word PUSH in CAPITALS which are of course the preferred typeface of all emergency services, from the police, to the fire brigade, to the military.
Mars rules all of this. It has long been associated with scarlet faces because when we are angry blood rushes to the surface of our skin. When we run, as a soldier or athlete might run, we also turn red in the face. This is nothing to do with embarassment or blushing, and everything to do with the classic Mars reaction. PUSH! RUSH! PUSH BACK!
Your sign and house will show you which issues get you on the attack or defence. Aspects to your Mars will show you how you handle anger and the desire to be first – to compete – to win. Astrology is a numbers game.
If you're a premium member, look at the degree or number of your Mars in your chart, and see if it matches anything else within your chart, to one degree's difference. If you have Mars at 17 Taurus is anything else also at 17? The sign and house of your Mars show you where you are most likely to come on like Russell Crowe mixed with John Wayne. Mars is a masculine planet. It rules Aries a masculine sign. This is a very old-school, male side of our personality and life. Men who have a lot of Mars aspects can seem very traditionally male – rather like gladiators or warriors.
Your Birth Chart
Are you a Premium member? Login now to see your birth chart. Or choose a membership plan to create your chart.
If someone else has horoscope factors 'on' your Mars (or in the same sign at the same degree) they will bring out your inner pushiness and perhaps your need to compete, to fight, to win. This is how we understand that astrology is alchemy!