Who will win the election in France in 2017? Marine Le Pen wants to stage a Frexit referendum that would offer the French the choice to break free of the EU, the European Union. Her rival Emmanuel Macron is a former banker who wants to stay in. Neither of them have reliable horoscopes, but we can take some educated guesses. The first part of this feature was filed on 12th April 2017, before the French went to the polls.
The second part, at the end of this page, has been filed on 25th April, using the Lenormand deck, the most famous French oracle cards in history. I will leave the interpretation of that to you…
MARINE LE PEN – JUST SAY NON TO EUROPE
Any time astrologers are given first one birth time, then another, the chances of the natal chart being a useful guide to destiny reduce. In the case of Donald Trump, we didn't even begin with a proper birth certificate – and the time changed twice. Hillary Clinton presented us with two birth times, and a third was suggested.
Fiercely patriotic Marine Le Pen is just the same.
She has an AA rated birth chart set for 5th August 1968 at 11.20am in Neuilly sur France. The original birth time given was 11.00am, however, and I am wary of these kinds of time differences since the Donald Trump fiasco
THE ASTROLOGICAL CHART FOR FRANCE – THE FIFTH REPUBLIC
Fortunately the chart set for France and her Fifth Republic is a good, reliable guide to history and I have also been able to road-test it for prediction, as you'll see. It's dated for the 5th October 1958 at 00.00 CET in Paris.
What you read on this website, way back in was a prediction of a serious terrorism risk at Christmas 2016. As The New York Times reported on 21st November 2016, an attack timed for the opening of the French Christmas markets was successfully foiled by the French authorities. Mon Dieu! – but also thank God, too.
The New York Times – Seven men who French authorities say were planning a terrorist attack have been arrested in France…The arrests occurred a few days before the opening of the popular Christmas market in Strasbourg, which attracts over two million visitors every year.
The Independent newspaper, below, reported that an Isis terror cell planned the attack for 1st December. This is three weeks wide of the original prediction, but as we'll see in a moment, we can narrow that down.

USING THE HOROSCOPE FOR FRANCE 1958 TO PREDICT TERRORISM RISKS – AND ELECTION RESULTS
This was the original astrology forecast you read on this website way back on January 10th 2015, two years previously, and it was based purely on that chart we have for France. It was set for 00.00am (in The Book of World Horoscopes by Nicholas Campion). There was a ceremonial moment one day later, on 6th October and then General de Gaulle actually took power in January 1959. All this gives us a little wobble with the chart – maybe 2-3 weeks out, in terms of timing.
The prediction –
"France, and Paris, will experience a Saturn Return in Sagittarius when this planet moves to 20 Sagittarius 29 on Christmas Eve, 2016, the exact position occupied by Saturn back on 5th October 1958. Chiron also forms a square on Christmas Eve at 20 Pisces 54, and that is an extremely big stress point in the French chart. In fact, December 24th 2016 (about two years away as I write this on 10th January 2015) is a major pressure point all round, as a cluster of heavenly bodies lining up in Pisces, Virgo and Sagittarius is creating a T-Square in the chart."
"On Christmas Eve 2016, and perhaps the days either side of it, including Christmas Day itself, France will experience her Saturn Return in the sign of Sagittarius, which rules foreigners, religion, universities and publications of all kinds. She will learn a serious lesson then and take a heavy reality check. Exactly in what form, is up to France, but astrology is there as a lighthouse to warn us away from the rocks. The astrological chart for 5th October 1958 reveals precise patterns, working backwards from Charlie Hebdo to the 1960's and it is a good, working lighthouse."
The French chart works, but we need wiggle room with the timing. Now, what about Marine Le Pen and her plans to take France out of the EU? One thing is really clear about Europe and it was predicted way before Brexit – as far back as 5th July 2015. This is the forecast here, which you may remember seeing.

EUROPE IS BREAKING APART AND THIS IS THE START…
"Europe is breaking apart and this is the start. It began on the Uranus-Pluto squares ( a whole series of them, which evolved at the time of the Greek financial crisis and the rise of UKIP and Nicola Sturgeon). …. Even just using Sun Sign astrology – very simple – the Euro currently has Pluto (critical transformation) in her Second House of currency, too. It's all adding up. The Euro will not last."
This astrological forecast is interesting from the point of view of Scotland, in particular. It obviously foresaw Brexit a long time before it happened, but also Scotland's second chance at independence, which Nicola Sturgeon is committed to.
What is the back story with all this? Uranus in Taurus from May 2018. The people who are put into power in 2017, or even put into power in 2018 (if others resign or are pushed out) will be those who collaborate with fate to end the Euro and EU trade.
THE TIMING OF THE FRENCH ELECTION IS UNE NIGHTMARE
The timing of the French election is une nightmare. Pardon my French. The first round of the 2017 French presidential election is set to be held on 23 April 2017. Should no candidate win a majority, a run-off election between the top two candidates will be held on 7 May 2017. This is right across Mercury Retrograde.
We will see a huge risk of the following for the French elections which begin on 23rd April 2017. You can look at the chart, below, to see where Mercury Retrograde, passing through Taurus and Aries, will do his worst.
WHAT TO EXPECT ON THE FRENCH MERCURY RETROGRADE ELECTION OF 2017
Voter fraud.
Russian hacking of the election, similar to its hacking of the American vote
Extreme weather (possibly storms and flooding) delaying voting.
Suspended results or the possibility of legal recounts.
Peculiar circumstances which throw the whole election into chaos.
The French economy is going to be a complete mess at this time. Why? Mercury Retrograde will oppose Neptune and Jupiter in Scorpio in her Eight House, which describes the Euro, the economy. Bubbles of trouble. Speculation and fantasy. Muddle and madness! What you're looking at here is Mercury Retrograde crossing 2, 3, 4 Taurus which occurs April 1st through 20th and then May 17th to 21st. What else is going on, though? Are we seeing a push for freedom from the EU?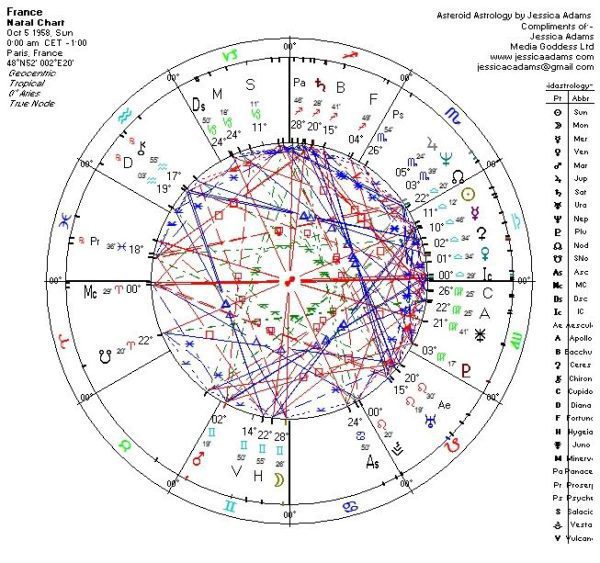 THE CHANCES OF FRANCE OF VOTING FOR FREXIT AND FOLLOWING BREXIT

The Sun reports "Ms Le Pen says she wants to organise a Frexit referendum "to resign from this nightmare and become free again". As we've seen, her closest rival is the 39-year-old independent Emmanuel Macron, a former merchant banker who is pro-Europe, and pro-free trade. Birth data on him isn't great and unfortunately that is not a trustworthy chart.
What is quite remarkable, though, is that France is over her Saturn Return at 20 Sagittarius in the Ninth House of immigrants, foreign people and places – and religion. The pain has been great, but the worst is over. From April, Saturn moves to 27 Sagittarius and even when he moves backwards, it's only to 21 degrees. When he moves to conjunct Panacea at 28 Sagittarius across December 4th to 11th, 2017 we will see a hardline crackdown on all those difficult questions about terrorism, and then it's over. C'est finis. In fact, once the planet of hope, healing, growth, solutions, optimism and expansion – Jupiter – moves across the French chart from November 2018, it's a whole new world. By 2019, the country can put much behind her.
BOOM TIMES
We are also going to see boom times for the French economy, as Jupiter crosses Neptune, Jupiter himself and Psyche, all in the financially focussed sign of Scorpio, in the Eighth House of trade, currency and investment – from October 2017. The most stunning opportunities and solutions in 12 years present themselves and by 2018 she's on the up.
May 2019 to April 2020 will be a different matter. Shocking. Confronting. Challenging. Enthralling. Exciting. Electrifying. At that point the nation will go through the full impact of the long Euro and EU break-up.
At that point, Marine Le Pen is going to go the full French Revolution. She may be in power by then, or truly out of it – but her destiny in the summer of 2019, which will crackle with electrical storms across Paris, will be history-making. She will be part of the biggest shake-up for the French currency and economy in our lifetime and there will be shock upon shock. Quel surprise.