I have never seen an astrological chart quite like this (below), for a person – or a political party. Have you ever seen so many factors in Aquarius, the sign which rules brotherhood and sisterhood? The community? Friendship? It is set for that historic day when the Labour Party acquired the name we know today – February 15th 1906. We don't have a time, so we're using 12.00 noon. Just look at this photo. It's a game of Spot The Woman, natch, but apart from that – this is a proper bunch of Aquarian types. This photograph was taken at Farringdon Street in a snapshot which shows us a horoscope being born. THE LABOUR PARTY HOROSCOPE – THE MOST AQUARIAN POLITICAL PARTY IN THE WORLD?
What you can see below is Proserpina, Chiron, the South Node, Mercury, the MC (Midheaven), Sun, Venus and Panacea all in Aquarius, all in the Eleventh House, using the Natural House system. Remember Tony Blair and New Labour? That all happened when the slow-moving outer planets, Neptune and Uranus, were also in Aquarius, triggering the chart. Historic.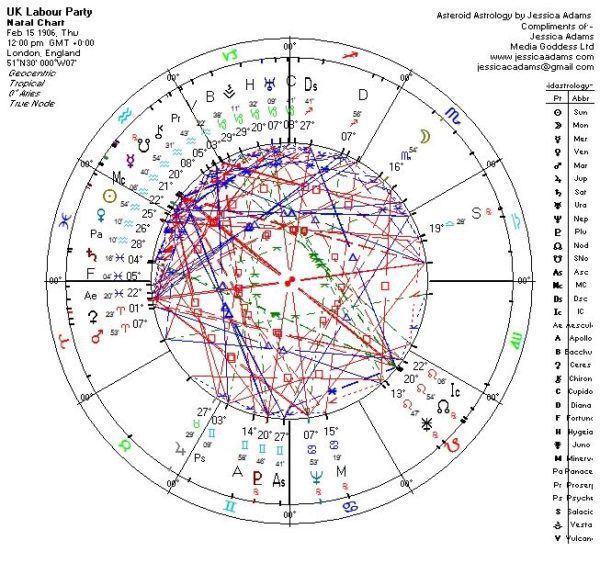 CAN THE UK LABOUR PARTY EVER COME BACK FROM DISASTROUS 2017 POLLS?
Can this astrological chart show us a comeback? It can show us David Miliband, brother of Ed Miliband, who is currently in America – but could easily replace Jeremy Corbyn if not now, then in the years ahead and take Labour to power. We don't have a birth time for David Miliband, although there has been some fascinating discussion about his horoscope, and the relationship with his brother, by The Astrological Association and my friend, The Oxford Astrologer.
He would be a good natural leader to take Labour back to Downing Street, with his classic Leo placements – the leadership sign. In fact, former Prime Ministers David Cameron, Margaret Thatcher and Sir Winston Churchill all had them too.
TRUE PREDICTIONS, NEW PREDICTIONS
It's always good to check true predictions, so we can make new predictions for Labour. You read this on 23rd August 2016, predicting that Jeremy Corbyn would win the leadership contest.
It was also really clear, peering eight months into the future, that May and June 2017 would be crunch time for Labour. In fact, Prime Minister Theresa May has called an election for June. This was the prediction –
"May and June 2017 will pile huge pressure on Jeremy Corbyn and the Labour Party in historic patterns not seen in years, but if they can survive that, they can survive anything. My eyes are drawn to May 2020, when Jupiter stands at 27 Capricorn, ahead of an historic pattern with Saturn at 27 Capricorn in November and December 2020. It's a long way off as I write this (four years into the future) but the Labour Party looks like one to beat, in that period."
If you look at the chart above, you can see why. Labour was born with Jupiter at 27 Taurus in the Second House, which rules the economy, income, wealth and poverty, taxation and the rest. She was 'born lucky' with those issues, in fact! In 2020, we are going to see stunning patterns, as transiting Jupiter and Saturn trine natal Jupiter. In 2021 Pluto moves to 26 Capricorn and then in 2022 we have the powerful Pluto trine to natal Jupiter.
People love this party when she runs on pure economic issues. That's when things work for her. If Labour was a person she would be a philanthropist with a gift for raising millions of pounds for good causes. This is a charitable party.
This stunning pattern triggering Jupiter (good fortune, growth, dumb luck) in the Labour chart, in 2020, is a gift for the party. And who knows what shape the UK will be in then, politically? Plus, this 'lucky Labour' pattern is all happening against a background of economic revolution (Uranus in Taurus) and massive change at the top of politics and business (the Capricorn patterns). Labour is going to come rocketing back. With David Miliband, perhaps?
DAVID MILIBAND – IS HE THE GHOST WHO WALKS?

Like so many politicians, David Miliband lacks proper AA data, from birth certificate. All we really know is that he was born on 15th July 1965 – so he's a patriotic Cancerian. I know that some people dismiss the idea that Sun Sign astrology can be useful with elections, but actually, it's extremely good for basic prediction. This is a man who wants to radically change his political party from May 2018 and spend seven years revolutionising it, if necessary. It excites him. And he's ready.
David is a classic Cancerian, as he's so well-known for the relationship with his brother – the family Miliband fascinates everybody in Britain. What I'm also interested in, is any politician who has Phantom or 'Ghost Who Walks' status, because the horoscope for election day, June 8th 2017, clearly shows a perfect sextile from Aesculapia at 27 Aquarius and Uranus at 27 Aries. That's a comeback from someone everyone had assumed was finished in politics.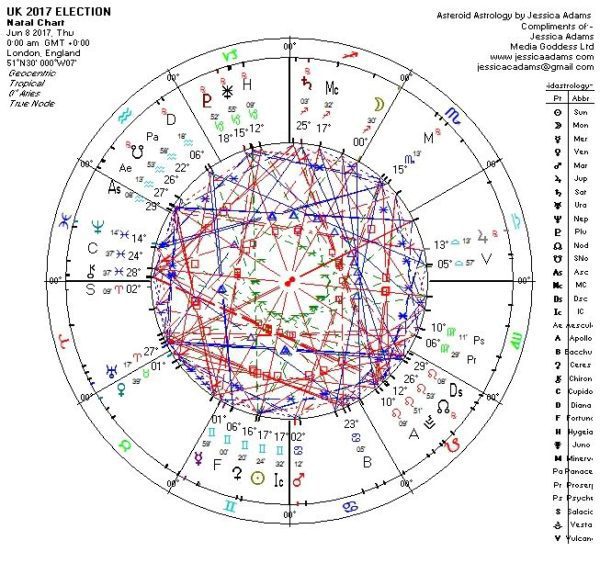 ALL ABOUT AESCULAPIA IN THE HOROSCOPE
Aesculapia is a symbol of resurrection, rebirth and rescue. In Rome, he was the god you worshipped, if you were dying – and he brought you back to life. He is in Jupiter's family tree, in modern astrology, which uses the asteroids.
Here we see him in Aquarius – the signature sign of Labour – and he is making a strong pattern with Uranus, the symbol of revolution, independence and freedom – in fiery Aries. This looks like a man who understands the passion for Brexit and can come back from the political 'dead' to make it work. I think this newspaper shows us that David Miliband is sufficiently 'over' to merit a miraculous Aesculapius resurrection. He didn't become Labour leader. He didn't become PM. But it looks like he'll come rocketing back once this 2017 General Election is over. Now – over to you. Just look at that chart. What do you think?