Mercury Retrograde to 2020 – Get the Dates Right!
I am reposting this story, which first appeared on August 26th 2016 (a year ago, as I write this). Why? Because I still see some media, like The Sun newspaper in England, and various astrology websites – getting the Mercury Retrograde dates wrong. Please – it's not over until the shadow is over. 
Do you want proof of that? For all you people ion Twitter posting astrology memes saying 'Mercury Retrograde is finished, relax' yesterday – check the weather across America right now. Beyond #Irma, how much more classic Mercury Retrograde outcomes do you need?
Mercury Retrograde to 2020 – Details
Mercury rules – cars, buses, trains, trams, aeroplanes. This planet rules the worldwide web, telephones, fax machines, computers and the media. When Mercury appears to move forwards, slow down, stand still, move backwards, slow down then move forwards again (over the same spot where he hesitated the first time) we have Mercury Retrograde.
It comes with two shadow periods. Just before and after the actual 'retrograde' period. Always use the shadows.
On Mercury Retrograde there are classically major computer, transport, internet or travel problems across the world, usually in influential cities like New York, Sydney, London, Los Angeles or Paris. We live in a 24-hour and 365-day time zone, because of the internet, so you can see why chaos in one major hub can affect everything else. Sometimes we have chaos affecting two or three places at the same time. That creates a chain reaction. And it affects you.
Always have Plan B and Plan C on Mercury Retrograde. Always allow for extreme weather, strikes, internet issues, hacking, product recall, reversed decisions or other issues to alter your schedule. Back up your computer.
It's a great time to rehearse and review. It's a smart time to have alternatives. If your personal birth horoscope is triggered in a powerful way, it can be the wrong time to begin or launch any crucial plan. If Mercury goes over the same zodiac sign and degree as anything in your chart, skip that day for paperwork or meetings, if you can. You can check the position of Mercury any time on my website. I also warn you about Mercury Retrograde and Mercury Retroshadow (sometimes called Mercury Retroshade) in your weekly horoscope.
I have included all the risky Mercury Retrograde Shadow periods in the dates below. The Wall Street Crash of 1929 happened on the shadow. They are often the most difficult parts of the cycle so be aware of that.
The shadow period in August 2016 saw Delta flights grounded in America, Southern trains stop in England and a national Census fail in Australia. Mercury Retrograde Shadow is key. It also rules the big stuff that creates global chaos.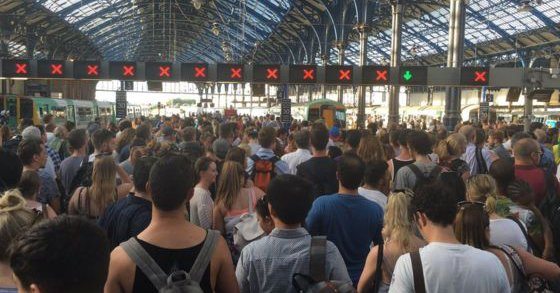 This Twitter image from London shows a classic Mercury Retrograde train delay.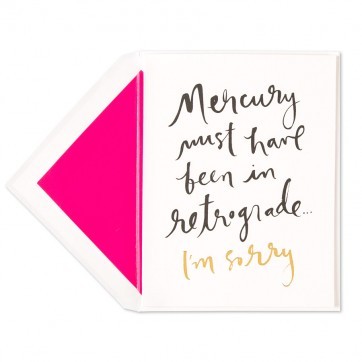 MERCURY RETROGRADE DATES 
Allow 24 hours either side of the start and end dates, for the world to catch up with itself.

2017 July 25th to September 19th
2017 November 15th to January 11th 2018
2018 March 9th to May 5th
2018 July 8th to September 2nd
2018 October 29th to December 25th
2019 February 20th to April 17th
2019 June 20th to August 14th
2019 October 11th to December 8th
2020 February 2nd to March 30th
2020 June 2nd to July 26th
2020 September 23rd to November 20th
How Does Mercury Retrograde Work?
Mercury is the planet known to the Romans as the Messenger of the Gods. The astrology we know today is Roman so to understand what happens when this planet appears to travel backwards, we need to understand how the Romans saw their postal system. It was created by the Emperor Augustus for the Roman Empire and had thousands of stations on roads, to take the messengers on their horses, mules, donkeys, oxen donkeys, and oxen – from as far as Rome to Egypt. It's about relays. Relayed information. Relayed paperwork and news.
How long did that take? About the same length of time as the Mercury Retrograde cycle today.
If you update the idea of the old Roman postal service to include e-mails, text messages, contracts, Skype calls, airmail, couriers, telephones, faxes and the rest – you can see how chaotic the world becomes when Mercury the Messenger appears to be running backwards.
The Shadow periods (called the pre-shadow and post-shadow) are part of the cycle.
The Wall Street Crash of 1929 and why you should always use the shadow

The Wall Street Crash on Black Tuesday, October 29th 1929, was the most chaotic event of the 20th century, leading to years of Depression around the world. It happened on Mercury Retrograde Post Shadow.
During the Pre-Shadow Mercury fools everyone by appearing to travel normally. Deals are done. Contracts are signed. Meetings are successful. Statements are made. Trips are booked. Shares are bought and sold.
PRE RETROGRADE SHADOW September 8th through 24th, 1929
Mercury travels forwards through Libra at 8, 9, 10, 11, 12, 13, 14, 15, 16, 17, 18, 19, 20, 21, 22, 23 degrees.
RETROGRADE September 25th through October 16th, 1929
Mercury travels backwards through Libra at 23, 22, 21, 20, 19, 18, 27, 16, 15, 14, 13, 12, 11, 10, 9, 8 degrees.
POST RETROGRADE SHADOW October 17th through November 2nd, 1929
Mercury travels forward through Libra at 8, 9, 10, 11, 12, 13, 14, 15, 16, 17, 18, 19, 20, 21, 22, 23 degrees.
Wall Street crashed on the Post Retrograde Shadow on October 29th. Always use the shadow!
Brexit in December 2018 – Prediction
I am writing this on Wednesday 28th November so you can date-stamp this prediction. It will also prove to you that Mercury Retroshadow works. Between December 13th and 25th (Christmas Day) the world will see the British government retract statements, reverse decisions and reschedule the Brexit departure.
You'll see a lot of astrologers telling you life is back to normal. They will tell you that Mercury in Sagittarius is now going direct, or forwards, and the muddles, mess and mayhem is over.
Not so. This will work out really well for Britain, actually, as fortunate Jupiter is also involved. Yet, it's still classic Mercury Retroshadow. The end of the cycle.
What To Do on Mercury Retrograde and Mercury Retroshadow
Rehearse and be prepared to reschedule. Rethink your plans. Review the past few weeks and months and be prepared to retract some promises or statements and perhaps deal with product recall. You'll have to re-do some important matters and there may be a lot of rewinding in your life, as you have issues with your computer, telephone, fax machine, USB sticks or paperwork. What not to do – expect final and fixed outcomes. Rewrite the story of your life.