New Zealand's preference for electing female Prime Ministers (far in advance of other nations) makes her a gift for astrologers. Using all the asteroids of modern astrology, it is easy to pinpoint symbols like Venus, or Minerva when looking at elections. Jacinda Ardern won office on 23rd September 2017 and took on her job as P.M. on 26th October. New Zealand astrology is clear to see even if she has different 'birth' charts.
I was lucky enough to be invited to speak at the Astrology Foundation of New Zealand recently in their stunning Auckland home, and we had a long discussion about the New Zealand 'birth' horoscope.  How does new Prime Minister Ardern's victory show up? It falls in line with a strong Capricorn pattern across several New Zealand astrology charts. There are four possible astrological charts for New Zealand, and two in particular have turned out to be very good predictors of everything from earthquakes, to politics. They are 13 years apart, but the national horoscopes set for the constitution on January 17th, 1853 and the Waitangi Treaty with the Maori people on February 6th 1840 have a lot in common.
The latter was signed in the afternoon, so the chart is set for 1.00pm. The former has no recorded time, so 00.00am is used.
You can see Venus in Capricorn – the woman at the top – showing clearly in the Waitangi Treaty chart. This is a good description of New Zealand's crusading feminism, and shows both Helen Clark, the first female Deputy Prime Minister in the country's history, and also Jenny Shipley, the first female Prime Minister, together with Jacinda Ardern (left).
Using the Natural House System and the full asteroid family tree of modern astrology, we also get the planet Ceres in Capricorn (another female symbol) and Bacchus as well. The latter is associated with grapes and vineyards so we get New Zealand wine. She's an ambitious and much-awarded wine producer and exporter. Ceres is the powerful producer goddess associated with agriculture. The New Zealand coat of arms shows us a goddess as well so this pile-up of astrological archetypes makes great sense.
Different Charts – Different Versions of New Zealand Astrology
There is a lot more going on in this chart (and in New Zealand) than these simple truths, but more on that in a moment. Look at the second chart, set for the arrival of the constitution, below – to see the similarities.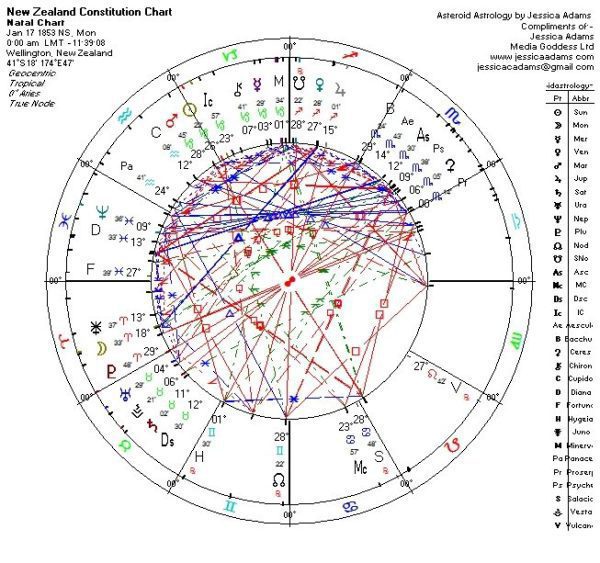 COMPARING THE WAITANGI TREATY CHART AND THE NZ CONSTITUTION CHART

Do we also find female Deputy Prime Ministers and Prime Ministers in the chart set for the constitution? Yes. Minerva is in Capricorn, also in the sign of ambition and people at the top. Minerva is an important asteroid in modern astrology. She is the daughter of Jupiter. She is a symbol of wisdom. She is traditionally shown with an owl by her side. The Romans knew her as her father Jupiter's counsellor and advisor and she was often seated by his side in their temples. These female symbols are stacking up!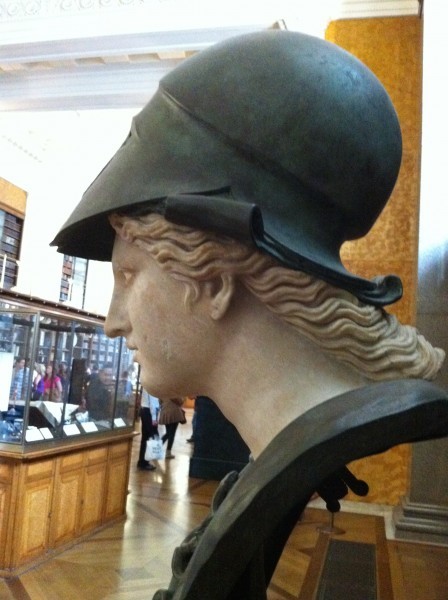 WHAT HAPPENED TO THE NEW ZEALAND HOROSCOPES WHEN WOMEN MOVED INTO POWER?
What happened to New Zealand (in both horoscopes) when women moved into power in 1989 and 1997 and again in 2017? You might expect an outer planet to make an impact, because they move very slowly, and when they reach the same degree as anything in a national chart, it tends to be historic. Groundbreaking. Unforgettable.
You might also expect those transits to involve Capricorn, which describes the people at the top. Traditionally, this is the Prime Minister, the Deputy Prime Minister, the President, the Queen and so on.
In 1989 when Helen Clark became the first woman to be appointed Deputy Prime Minister of New Zealand, Uranus moved across 1, 2, 3, 4 and 5 degrees of Capricorn. Uranus is the planet of revolution. Thus, Uranus was conjunct New Zealand's Minerva at 1 Capricorn that year, triggering the chart we have set for the constitution. Helen Clark was playing Minerva.
Also in 1989, as Uranus passed 5 degrees of Capricorn, it made a conjunction to Venus in the other chart – set for the Waitangi Treaty. So here, Clark was acting out the role of Venus in her country's horoscope.
Uranus is about radical change. It is associated with liberty and also liberation. Having seen these early degrees of ambitious Capricorn work in both NZ horoscopes in the year Clark made history, we might also expect the pattern to turn up in the years that Jenny Shipley and Jacinda Ardern both became Prime Minister. It does. JENNY SHIPLEY AND JACINDA ARDERN – CAPRICORN STORIES
Jenny Shipley came to power in 1997. Remember Venus at 5 Capricorn in the Waitangi Treaty horoscope? Uranus was at 5 Aquarius, making an exact semi-sextile that year. Jupiter was at 5 Aquarius as well. Saturn was at 5 Aries, forming a square. Pluto was at 5 Sagittarius, making a semi-sextile.
In the chart set for the constitution, it is Mercury at 3 Capricorn, in the sign of leadership, which is under exact transit. Jenny Shipley found herself in the top job, in the same year that Jupiter at 3 Aquarius, Saturn at 3 Aries, Uranus at 3 Aquarius and Pluto at 3 Sagittarius all made exact aspects. Here is Bill Clinton, below, sharing a toast with Shipley that year. She was acting the role of Mercury the messenger. The woman behind the microphone. The Prime Minister in front of the world's media. When Jacinda Ardern won across 22nd, 23rd, 24th September 2017 we found Hygiea, the asteroid of protection, at 5 Capricorn. Bacchus, the asteroid of celebration (and the N.Z. wine industry) was at 5 Scorpio. Venus was at 6 Virgo, Minerva was at 6 Sagittarius and Hygiea later moved to 6 Capricorn.
Venus at 5 Capricorn and Ceres at 6 Capricorn in the Waitangi chart were thus triggered when Ardern became P.M. When she took office across 25th, 26th October 2017, the Moon moved through Capricorn as an entire sign.
In the N.Z. Constitution chart the Sun at 26 Capricorn was exactly transited by Jupiter at 26 Libra and Chiron at 26 Pisces on 23rd September 2017 when Ardern won the election. THE FINANCIAL REVOLUTION OF 2018-2026 AND THE FUTURE OF NEW ZEALAND
Do you remember the November Supermoon? The Full Moon in Taurus, on November 14th, 2016 was very important to the future of the New Zealand economy. We are approaching a cycle (from May 2018) that will transform the world economy and New Zealand saw a small preview of the future, back in November 2016.
This memorable Full Moon (Supermoon) in Taurus saw the Sun in Scorpio opposite the Moon in Taurus at 22 degrees. On the same day, the nation suffered an earthquake that drew more attention than usual – because it famously stranded cattle, cutting them off from the country and the rest of the world. Image – Twitter. NEW ZEALAND HOROSCOPES AND TAURUS FACTORS

Astrology works on synchronicity. The cattle were a clear symbol of Taurus, to any astrologer who was watching. New Zealand does in fact have major Taurus signatures in both charts – and of course, she is well-known for her dairy industry.
The Supermoon and cattle stranding occurred very near the victory of Donald Trump in America, and the New Zealand dollar fell dramatically after this occurred. We had a good discussion about this at the Astrology Foundation in New Zealand, in their lovely Auckland meeting rooms. The symbolism of the cows, cut off from the rest of the world – and the 'coincidence' of the dollar slide, seemed to point to both American politics and climate change as key factors in what is undoubtedly going to be a massive shift for the NZ economy, from 2018.
THE WAITANGI TREATY CHART
Juno 4 Taurus
Ascendant 19 Taurus
Juno is Jupiter's wife and a symbol of commitment. Of course, the chart itself, was a land commitment made between Maori people and the new arrivals! We don't have a clock time for the first signature, but history tells us that signing began that afternoon, so a Taurus Ascendant is clear.
THE CONSTITUTION CHART
Uranus 4 Taurus
Vesta 6 Taurus
Saturn 11 Taurus
Note the fact that Uranus and Juno have ended up at exactly the same position. This means that 4 Taurus is a hotspot in New Zealand's destiny. Vesta is Saturn's daughter and a symbol of male-female imbalance, which is interesting. Saturn is, of course, the hard karma for New Zealand – the tough realities of her economy.
PREDICTING THE FUTURE OF NEW ZEALAND IN MAY AND JUNE 2019
I happen to believe that the universe talks to us, and she talks in unforgettable images, which go around the world on social media, as well as the regular media. That photograph/clip of the cattle cut off, right on the Taurus Supermoon, is definitely whispering about the future of NZ, in the context of her dairy and beef exports, the realities of climate change, and the American trade partnership. Of course, November was also a key month for the Brexit process and Her Majesty the Queen (a Sun Taurus) has her head on New Zealand currency.
In May and June 2019, Uranus will move to 4 Taurus and Venus is also at 4 Taurus, near Sunday 19th May. (Allow across May 18th, 19th, 20th for the world to catch up with itself). That is highly significant. We also have Chiron circling 4 Aries, which forms a semi-sextile to both Juno and Uranus itself, in the two New Zealand charts.
Shrinking herds or shrinking industry? Shrinking trade terms in the wake of Brexit? A new American trade deal?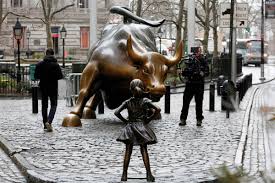 Learning from the Past – New Zealand in 1934

The last time Uranus was in Taurus in 1934 it marked the end of a dairy price-fall. How will Brexit Britain and America treat New Zealand and her butter and cheese exports in 2019? 1934 is also the year that the Reserve Bank of New Zealand was established as the nation's central bank. Up until that time New Zealand's monetary policy had been set in the United Kingdom.
The special trade relationship between NZ and the UK fell apart in 1973 when Britain joined the European Economic Community. In May 2018 we're looking at nothing short of a revolution. The Wall Street Girl (left) may be an early sign of this for New Zealand.
Uranus is the planet which times rebellion, leading to new freedom and independence. The specific windows in time, when Uranus passes the crucial 4 Taurus position, include May 20th to June 8th, 2019 and as the planet retrogrades, October 19th to November 12th, 2019. There is a final pass over 4 Taurus from March 9th to 28th, 2020.
I am a huge fan of Auckland and have always enjoyed the comments and letters from my New Zealand readers, at The Star Times, when I used to write a weekly column there, and more recently, in The Australian Women's Weekly (NZ Edition). Over to you. What do you think these historic passes through New Zealand's economy sign, Taurus, will mean for the country?
I am writing this in 2017, so about two years into the future, but –
Between May 20th and June 8th, 2019 – and then October 19th to November 12th, 2019 and March 9th to 28th, 2020, New Zealand will undergo an economic revolution which directly affects the Reserve Bank and also her dairy and beef, cattle industry. This was hinted at back in November 2016, when American politics, Brexit and also climate change became issues. The economic revolution to come, will give the nation a clear choice. She can either select independence, or perhaps have it forced upon her. This independence will be confronting, as the radical changes of Uranus always are, but from May 2019 to March 2020, the country will find exciting new economic freedom she has never known before. The value of the New Zealand dollar on world sharemarkets will spring shocks and surprises, throughout this period.
Two More Charts – New Zealand Dominion and Auckland
I thought I would finish with two more charts showing different versions of New Zealand astrology. Again we have that Capricorn signature. The Dominion chart shows Uranus at 8, Mars at 20 and the South Node at 20. The Auckland chart has goddess Ceres at 18 and the Ascendant at 26 Capricorn. The Sun is of course at 26 Capricorn in the Constitution chart so right on the other Ascendant!
Going back to the Ardern win again we find the asteroid Diana (independence) at 20 Capricorn and Mercury at 20 Virgo very close to the voting and result across September 22nd, 23rd, 24th, 2017. That's right on Mars at 20 Capricorn and the Node in the Dominion chart.
The Auckland chart shows us the Ascendant at 26 Capricorn and on 23rd September that is where we find Jupiter at 26 Libra and Chiron at 26 Pisces making a point.
Now look at the amazing match across Taurus-Scorpio 16 degrees in both charts. In the Waitangi chart, Jupiter is close at 17 Scorpio. Prediction! When Jupiter goes to 16, 17 Scorpio from December 27th 2017 to January 7th 2018, New Zealand is going to cut the deal of her dreams. The pattern repeats in May 2018 – a shock for the world but a breakthrough for New Zealand. August, September 2018 complete the cycle and N.Z. will make or save a fortune. Let's talk about that on Twitter.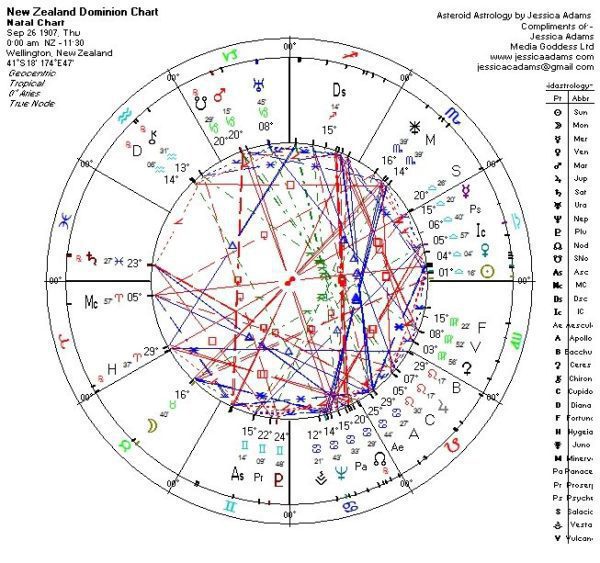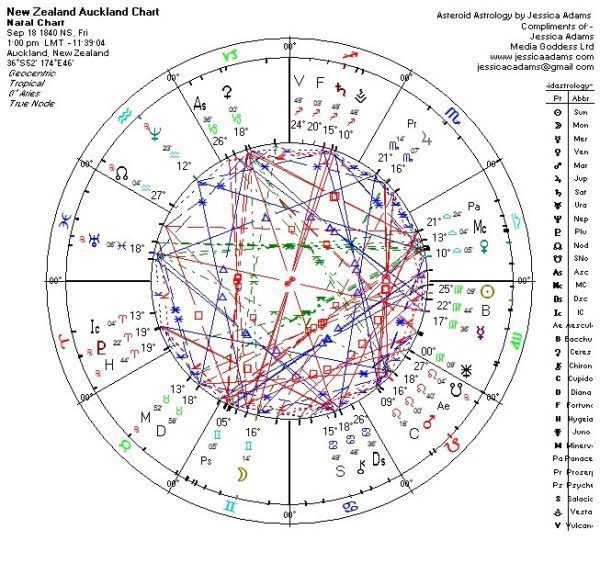 Natural House System
Solar Fire – Roman Asteroids by Jessica Adams
Wikipedia
The Book of World Horoscopes by Nicholas Campion
@jessicacadams