Astrological Meaning – Super Blue Blood Moon
So what is the astrological meaning of the Super Blue Blood Moon? You will be able to see this in America and Australia across Wednesday 31st January and it's a Total Lunar Eclipse, which means there will be a blind spot or cover up affecting all of us. In a moment I'll have a look at your Sun Sign prediction and also your personal astrological birth chart, if you have one from me as a Premium Member, to see how you are affected. This superb infographic is from CNN.
Why is January 31st, 2018 a blind spot for you? Because the earth blocks sunlight. And the Sun puts the moon in shadow. This will be a time of cover-ups involving famous people. In your own life it is time to avoid judging or acting dramatically about the areas of life affected. Why? You can't see. You don't know. Where Can You See the Super Blue Blood Moon?

Those in North America, Alaska or Hawaii will be able to see the eclipse before sunrise on Wednesday, according to NASA. For those in the Middle East, Asia, eastern Russia, Australia and New Zealand, the Super Blue Blood Moon will be visible during moonrise on the morning of January 31st.
If you're a Premium Member your personal birth chart will appear now. Check to see if you have anything at 10, 11, 12 Leo in the Fifth House of your horoscope. If you do, this is about children, young people as a whole – and sexual relationships. You'll be 'flying blind' now so be aware of that.
If you have anything at 10, 11, 12 Aquarius in the Eleventh House of your horoscope, this Super Blue Blood Moon is about friendships and groups. Don't act or judge if you can avoid it. Why? Same reason. You're flying blind.
Do you have anything at 10, 11, 12 Leo in the Fifth House of your horoscope? You are also experiencing a lack of insight, knowledge or information. About what? Sexual relationships. Children. Young adults.
In either case, try not to take any new direction in your life, regarding either, near Wednesday 31st January. You could be heading off on the wrong track for years. That's how long the impact of an eclipse can last.
Your Birth Chart
Are you a Premium member? Login now to see your birth chart. Or choose a membership plan to create your chart.
Eclipses are Cover-Ups – From Diana and Prince William to Princess Grace
To give you an example of the kind of cover-up or mystery that eclipses can bring, think back to 1982 when we had seven of them. In that year Princess Diana was pregnant with Prince William and secretly threw herself down the stairs, in a suicide attempt – according to her biographer Andrew Morton, who was given tapes for his book by Diana. In 1982, Princess Grace (who befriended Diana) died in a car crash after being linked to a secret cult. This Press Association photograph from 1981, the year before, says so much. The eclipses were a year away when this was taken.
In 1982 Prime Minister Margaret Thatcher's son Mark went missing. Remember that? Files about him are still classified. How Your Zodiac Sign is Affected
Your Sun Sign or Zodiac Sign shows you the headlines of your life – the big, public news. Sun Sign astrology is the most trusted kind on the planet, as 2 million of you showed me in 2017, when you visited this website. So, let's look at your sign and the two areas of life where you have a blind spot; won't see clearly; may be affected by a cover-up; won't have the full picture!
ARIES: Sexual Relationships. Children. Young People. And – Groups. Friendships. Communities.
TAURUS: Property. Home. Family. Homeland. And – Career. Unpaid Work. University or College.
GEMINI: The worldwide web. Telephones. Multimedia. And – Travel. Foreign people and places.
CANCER: Money. Property. Business. And – Charity. Taxation. Legacies.
LEO: Image. Reputation. Profile. And – Former, Current and Potential Partners. Enemies and Rivals.
VIRGO: Secrets. Your Inner Life. Your Mysteries. And – Workload. Your Body. Daily Routine.
LIBRA: Children. Sexual Relationships. Young People. And – Groups. Friends.
SCORPIO – Home. Family. Property. Homeland. And – Career. Unpaid Work. University or College.
SAGITTARIUS – Multimedia. The Worldwide Web. Telephones. And – Foreign people and places. Travel.
CAPRICORN – Money. Property. Business. And – Insurance. Pensions/Superannuation. Taxation.
AQUARIUS – Image. Profile. Reputation. Appearance. And – Rivals. Enemies. Former, Current, Potential Partners.
PISCES – Secrets. Personal and Private Matters. Your Inner Life. And – Workload. Body. Routine.
Why do Eclipses Have a Bad Reputation?
Eclipses have a bad reputation for common-sense reasons. When people commit crimes, or there is a crisis, or they are taking great risks – they often cover it up. This does not mean eclipses are bad news. It just means they do exactly what you would expect – they hide and conceal.
Eclipses can coincide with good news. Your friends are secretly nominating you for the O.B.E. behind your back. Your girlfriend is three months pregnant and saving it up as a nice surprise.
You have to take every eclipse in context. Is it hitting your personal birth chart and if so, which bits?
Eclipses can hide or conceal good news, as much as darker truths. As a rule of thumb, though, try to assume that you're in the dark (for whatever reason) about someone or something that matters a great deal, on the day of an eclipse.
The Super Blue Blood Moon meaning in astrology is really about trying not to take any big new pathway in your life, just because you would never drive with a broken headlight, or find your way into a new town without street lights. So be sensible. History and astrology tell us – eclipses mean – we just can't see, sometimes, what we're even doing!
Did you know that the explorer Captain Cook was an eclipse chaser? He saw more eclipses than any other man of his generation. Do you know what he was blind to, all those years? He was unfortunately opening up the world to colonisation, invasion and exploitation of local people. Eventually he was murdered for it.
See – eclipses can be dark. But it really depends on your personal birth chart. You have everything on your website you need, if you are a Premium Member, to look at that now and decode it.
Aquarius Weather in 2018 and Eclipses in February and July
Beyond the January 31st  eclipse of 2018 also known as the #SuperBlueBloodMoon we have another on February 15th at 27 Aquarius –  this is a partial eclipse, with the Sun and Moon both at 27 Aquarius. There is another one, quite dramatically, on July 27th 2018 when the Moon is at 4 Aquarius opposite the Sun at 4 Leo.
Aquarius is about groups. It's about friends, clubs, teams, bands, political parties, secret societies, associations, communities, communes, and all networks which involve friends. I really like this eclipse photograph (below) because it shows the impact on a group of you. Aquarius rules social media groups like Facebook, so you really want to watch what is going on there in 2018.
This applies to everyone. All of us. On a global level there are a ton of cover-ups taking place in 2018 regarding social networks and particularly organised groups.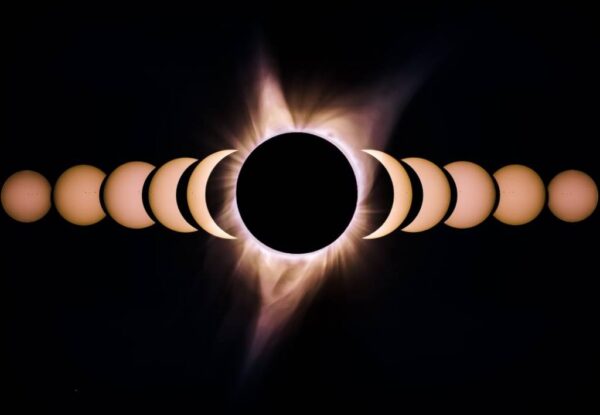 Do You Have Aquarius Factors in Your Personal Birth Chart? Are you an Aquarian?
Quite apart from these eclipses in your Eleventh House of friends and groups in 2018, the South Node in Aquarius brings back familiar faces –  old friends, but perhaps old groups you were once a part of. In 2018 you may find a blast from the past coming back. An old 'friend of a friend' would be typical. If you left a trade union or political party, charity or (even) a bridesmaid line-up the last time the Node was in Aquarius, or you had other Aquarius weather – well. In 2018 maybe it's time for final closure. You may literally have an old, old friend walk back into your life so that you two can finish something you never truly closed.Patterns repeat too. So, there may be a theme or symbolic story unfolding for the second or even the third time in your life in 2018, involving friendships or groups. It's really worth watching your chart if you have Aquarius factors to see it pan out. Just don't pass judgement or act about these friends, or these groups, across any of the eclipses – even if they don't hit your chart exactly. The 'weather' in the Eleventh House of your chart is still affected. It's like heavy cloud cover. You can't see.
Your Aquarius Factors at 0-15 Degrees in 2018
The Node moves from 15 Aquarius as I write this on 10th January 2018, all the way back to 0 Aquarius, before it vanishes on 6th November. If you have Aquarius factors at 15, 14, 13, 12, 11, 10, 9, 8, 7, 6, 5, 4, 3, 2, 1, 0 – then watch the Node as it moves across Aquarius at those degrees (there is always a list showing this on the front page of this website).
As you may know – of the famous Roman Baths, in Bath, England. All our ideas about Aquarius come from Rome, the home of the astrology you read today. An Aquarius in Rome was actually the water-bearer who supplied this communal pool. From this, we get the idea of a community pooling its resources, or a group pooling its talent. This is fine – but just be aware, if you do have Aquarius factors in your Eleventh House, or you are a Sun Aquarian, that in 2018 you may want to avoid those eclipse periods if you're thinking of changing the pool, or changing the membership.
January 31st, February 15th, 27th July – blind spots, cover ups and 'Can't see, don't know.' Be aware of that in 2018.