The Ireland astrology chart is set for 17th April 1949 at 11.00pm in Dublin (The Book of World Horoscopes, Nicholas Campion, The Wessex Astrologer 2004). What is this country all about, astrologically, and who are the Irish? How will Ireland cope with challenges like Brexit and the current crisis in rugby?
This chart, set for 17th April 1949, is pretty powerful. This was the moment she became a republic and separated with Great Britain. One glance at the horoscope, below, and you can see how packed the First House of image, self-promotion and identity is. Using the Natural House system, it is possible to see the IC, Mars, North Node, Sun, Venus and Panacea all in bold Aries.
This is a country which is all front and very big on 'the look' and appearances.  Rock stars who are also all front – U2 with Bono as its frontman – fly the flag, literally, for Ireland in the eyes of the world. The recent passing of Dolores O'Riordan (The Cranberries) reminds us of something else about the Irish horoscope. Venus in Aries is about strong, assertive, fiery women. Let's take a closer look at the Ireland astrology chart. Using the modern family tree of asteroids (related to Jupiter, Saturn and the rest) we end up with a packed First House. You can see it at the 9pm position on the wheel. This massive signature in Aries is fearless, frank, fast and fierce. Up for a fight. With the intensely feminine Venus as part of this 'cast' of Aries players in the chart, Irish women are part of that.  Ireland astrology and Irish horoscopes are strongly Aries.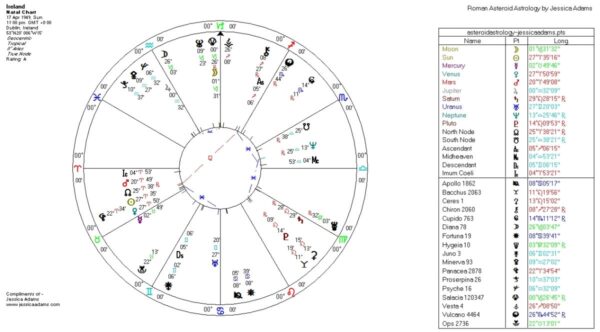 The Ireland Astrology Chart – Strong Women Dominate
There is an exact conjunction between the Sun at 27 Aries and Venus at 27 Aries in the First House of self-promotion, advertising and appearances. This is rare and it tells you what Ireland is, and who the Irish are.
This is the beautiful woman (Venus) who pushes herself to the front (Aries) in the spotlight (the Sun) – but there is more to Irish women than this.
Since the Ireland astrology chart also shows the classic 'war and peace' signs of Aries and Libra, connected by the North Node at 25 Aries and South Node at 25 Libra. Ireland astrology and Irish horoscopes were born from a troubled time (the 'terrible beauty' born during her push for independence). So in a way, this inner tussle between fighting and peace was locked into the Irish temperament and the national character decades ago.
These Venus in Aries types are women who get involved in battles. The MC at 4 Libra and IC at 4 Aries show the same soundtrack. It sounds like The Cranberries. This is the nation which gave us the Nobel Peace Prize winners and activists Betty Williams and Mairead Corrigan, but also Dolores O'Riordan, Sinead O'Connor and Mary Robinson. No wonder the shocking tragedy of the 2017-2018 Irish rugby rape trial has produced a movement called I Believe Her, mostly made up of women – taking to the streets.
As you can see below, Ireland is all about that Sun-Venus conjunction at 27 Aries, and as Uranus (shock, revolution) passes exactly 27 Aries in March, April 2018 it is not surprising that Irish feminists are in furious protest. The Ireland Astrology Chart in Detail
When analysing the astrological chart or 'birth' horoscope for a country, the same rules we use for people apply. First of all, where are the exact aspects, or precise patterns, in the chart? We allow a gap of one degree (a one degree orb) in modern astrology, so where are the most striking spreads in this Irish chart?
I've mentioned that fiery, feisty Venus-Sun conjunction in Aries, which is exact.
This is also important. You can't really go past Salacia at 0 Capricorn, the Moon at 1 Capricorn and Mercury at 2 Taurus. Salacia is the latest discovery in astrology. She is Neptune's wife and like the ruler of the sea, she describes situations which flow everywhere, all the time, without any boundaries.
Salacia in your own chart, by zodiac sign and house, will tell you where you operate in a different space to everybody else. Almost as if you were scuba-diving or collecting sea shells on the sand, when the rest of the real world was somewhere else.
Ireland has this drifting, floating, 'other reality' quality to it, partly because of this pattern. And it's in Capricorn and Taurus, so status, success, ambition and the economy.  If you are a Premium Member take a look at your chart now and see where Salacia is. In the Irish chart, we can see that her position in the world, but also her finances (Capricorn and Taurus) aren't really real. They don't exist in the same real world, as everybody else's real world! This is a really good explanation for Ireland's status as a tax haven.
Mercury and Irish Writers, Journalists, Poets, Lyricists, Playwrights and Novelists
Ireland is famous for her Blarney Stone and also her wordsmiths. Why? One look at Ireland Astrology – Irish Horoscopes – and you can see Mercury at 2 Taurus, Salacia at 0 Capricorn, the Moon at 1 Capricorn showing themselves. On Merrion Square in Dublin alone you can find Oscar Wilde on one side and W.B. Yeats on the other.
In 2000, I joined Fiona Walker and Chris Manby, my fellow novelists, in editing Girls' Night In (HarperCollins) in aid of the children's charity War Child. It was an anthology of short stories donated by bestselling and acclaimed women novelists, and I flew to Dublin for the launch.
It was only then that I realised just how much the Irish love their writers! We were very lucky to have Pauline McLynn (Father Ted) and Cathy Kelly at our launch, and the support of Marian Keyes, who donated a story too.  The novelists at our launch party were mobbed like rock stars.
There is a huge respect for, and love of, the spoken and written word in Ireland which you can find from Samuel Beckett to James Joyce, from Sinead O'Connor to The Abbey Theatre in Dublin.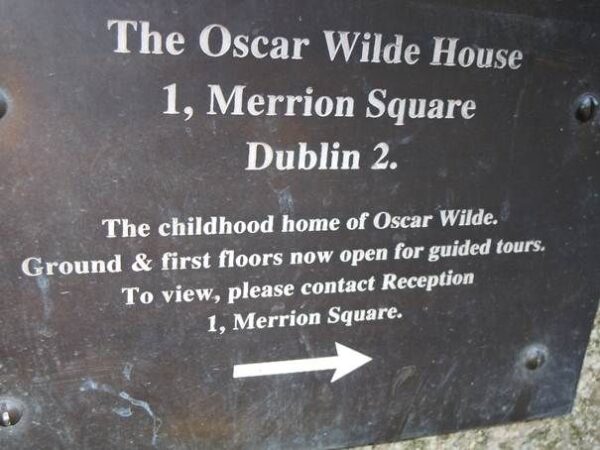 Astrology Predictions for Ireland 2018, 2019 – The Irish Horoscope Revolution
I am writing this on  31st March 2018, gazing at Wales, not Ireland – from a delightful hotel room overlooking the sea. Ireland is not far away, though – and neither are some dramatic cycles which will bring about a revolution in both her attitude towards her women – and her economy.
*There will be a crash as Uranus (shock, change) in Taurus (the economy) passes 0, 1, 2 of the sign. This begins in May 2018 and it will accompany Ireland throughout 2019.
*Ireland will see new laws on abortion and other issues directly affecting women, like the current legal system surrounding rape allegations.
How can we say this? Well, I guess if you know this website well, you'll also know that astrology works.
The crash of the Irish economy will begin with Uranus at 0 Taurus in May 2018 in trine to Salacia at 0 Capricorn. I mentioned the fantasy element of Salacia. The 'double bubble' effect of this very important object. This just has to be the unique status Ireland has had, as a tax haven for companies like Facebook, which is currently in crisis as I write this at the end of March 2018. Beyond that, Ireland has property bubbles, and other bubbles, involving large corporations keen to avoid the tax system – not just Facebook.
Crashes are set up in stages and we are going to see Uranus then moving to 1 Taurus in 2018, again – trine the Moon in Capricorn. This also feels very much like Blockchain and Cryptocurrency sweeping the country. In fact, Ireland may well become one of the world's earliest uptakers of this.
Uranus goes from 0, 1 Taurus to 2 Taurus, where it will conjunct Mercury in the Irish chart. This is the currency revolution and the crash. One thing that history has taught us (as well as astrology) is that these things evolve over time but we could date the very first day of the spiral, from the moment Uranus changes signs.
Dates for the Irish Crash and Blockchain/Cryptocurrency Revolution
Watch what happens to the Irish economy and currency on Monday 14th May, Tuesday 15th May, Wednesday 16th May. This is just the start. By May 2019 Ireland will need to change – radically and quickly – for revolutionary times.
Irish Women – The Revolution is Here
Remember Venus? Uranus will cross Venus repeatedly, appearing and disappearing, in 2018 and 2019, when he finally moves to Taurus for good. This is historic! It also means that those fierce, feisty, fearless, forthright Irish women will not rest until the laws have changed, both on abortion and rape trials. Watch this space. But it will be real by 2019.