Italy, Spain, Astrology, Pizza!
On 18th February 1861, Victor Emmanuel assembled the deputies of the first Italian Parliament in Turin. He didn't know it, but he was creating a horoscope for Italy. A horoscope that in 2018 and 2019, looks like a pizza.
Astrologers who work with planets like Mercury, Venus, Mars and the rest may also not be aware of it, the whole time – but those symbols are Italian. Our astrology actually comes to us in a straight line from Emperor Augustus, who was deeply into the zodiac. Maybe it's no surprise that the horoscope for Italy is so powerful. But – the cycles of time say – this is going to be messy.
One of the reasons for this, as we'll see in a moment, is that Spain and Italy have strangely similar birth charts. And fate has decided that 2018, 2019 is the moment that both will be cooked. Expect a lot of heat as Italy and Spain decide if they are going to stay in the E.U. kitchen.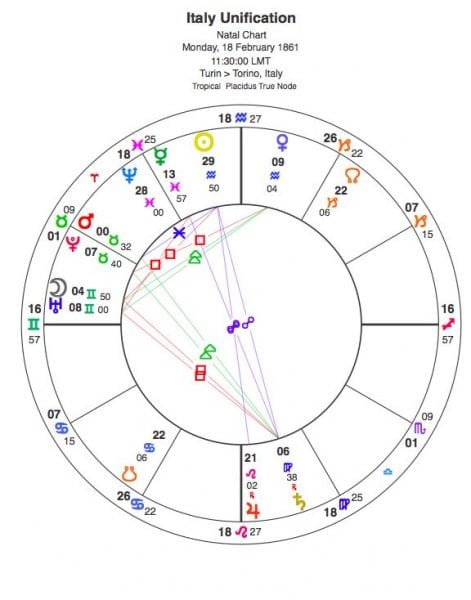 Italy and Her Astrology Chart – Mama Mia!
I was recently on Twitter talking about the chart set for Italy's birth moment, with other astrologers like my friend Kate and Mr. Capricorn Research – when something became strangely clear. Italy is tied to Spain. And this is a Euro crossroads.
This chart above, is from the Astrology Research Twitter feed @CapricornResearch, and I find it really interesting, because it shows how different astrology techniques can say the same thing. I don't use this house system. I would never use a chart without asteroids, for example – but this is the same story about a currency crisis in Italy – told from a different angle.
This is something that really works well with horoscopes – it's like second or third opinions from doctors – if you drill down into two or three different techniques but get the same result, you're seeing something major. Like a horoscope that heats up and gets seriously messy, just like pizza. (The stargazer Debbi Kempton-Smith often compared astrological charts to pizza, too).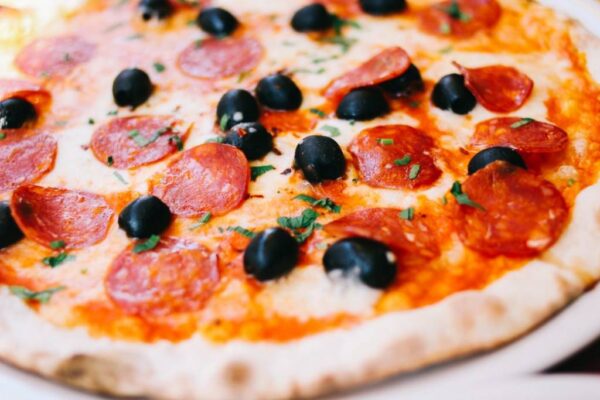 Uranus in Taurus, Italy and Spain
What you're looking for in the horoscope at the top of this page, if you're hunting for a Euro or European Union crisis,  is Taurus or Scorpio, the finance signs. Always go straight to the bull and the scorpion. In the Natural House system, this is the Second House or Eighth House.
In this chart for Italy you will see Taurus the Bull (gold bullion, bull markets) straight away, tenanted by Mars at 0 Taurus and Pluto at 7 Taurus. That's a real concern for astrologers. Why? Uranus (the revolution) is sitting on 0 Taurus right now, on Tuesday 29th May 2018. That has not happened since 1934.
Uranus moves backwards and forwards through Taurus, taking Italy from a white-hot moment in May, June 2018 into the first part of 2019. So this is not just about a panic on May 29th. This is about many months of radical change. Uranus crosses from 0 Taurus to 1, 2, 3, 4, 5, 6 and then onto 7 degrees in quite a short space of time, where he will conjunct, or sit on, Italy's Pluto.
As readers will know, I used a few different astrology techniques to predict that England would leave the European Union (three years ago) and also, more dramatically, that the end of the Euro would come. I did this three years ago, with my eyes on Greece, but it's now abundantly clear that this 2018-2019 story is also about Italy and Spain. You'd have to say that the usual umbrella that shields and protects Italy is wobbling in a storm.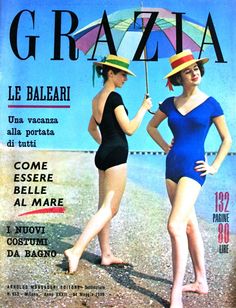 Before we all start throwing our umbrellas in the bin, though, there is an answer. In fact, with Uranus, there is always an answer no matter how wild and stormy the climate becomes. That answer is the replacement of the Euro with one-world cryptocurrency. This may sound like the last kind of thing anyone could expect or even accept in Italy, with all her tradition – but it's coming. Uranus is about invention, innovation, anything powered by electricity (like cryptocurrency), shock, change, awakening, freedom, liberation, excitement.
If you work with the idea that we are on day one of a seven year cycle, and that Uranus only just got to 0 Taurus, you can see why Italy is now taking her very first step towards nothing short of a jaw-dropping, complete change in her economy.
What's the other clue here? I'm sure you know Aquarius is about groups. It's about the community. You can see the Sun at 29 Aquarius in this chart. That's the Italy we know, this century. She's all about those groups of gondoliers in Venice. Italy's Aquarian Sun is also about her place within the European Union – her economic community. She's also very much identified with her famous football teams (more groups) and her wartime liberation friends and allies, the Americans. Italy is also very much about the worldwide Catholic community of churches. Aquarius itself is an old Italian word. It means 'the water-bearer' and this was in fact the job of those who supplied the famous communal baths of Ancient Rome.
We will see Uranus (again, the revolution) go to 29 Aries for the very last time this century, as we cross from 2018 to 2019. We are also going to see Jupiter (opportunity) move to 29 Scorpio (banks, cryptocurrency, sharemarkets) as Italy looks forward to Christmas and New Year 2019. That is a massive moment of truth for Italy.
When we see Jupiter and Saturn move into Aquarius, her sign, from Christmas 2020 and then Pluto into Aquarius from 2023, Italy will deconstruct her place in the European Union and Europe – and with America. This cycle can only happen every 240+ years and slowly but surely it is coming her way. Spain is one of those friends.
The Astrology Chart for Spain and the Italian Connection
I mentioned before how astrology works with different techniques, which say the same or similar things. This is the case with these two horoscopes for Spain. Again, one is from Astrology Research UK and the other one is from the seriously popular horoscope website Astrology Weekly. (You can also see these same charts on my Pinterest page).
The chart for Spain (top) is set for Saturday 22nd November 1975, when she incarnated in her modern form. That gives her the Sun in Scorpio. There is also another chart! You can see it below. This makes her an Aquarian, like her E.U. friend Italy.
I am sometimes asked if two or three charts for a country can be 'right' and although this sounds like a wishy-washy and confusing answer – it's quite true. Every chart shows a different stage in the country's history and every chart will work. You can see why Spain is all about sex and money (Scorpio) since the mid-1970's. It's also very much about death and taxes, which are the other Scorpio concerns. Yet – she is also Aquarian, in the sense that like Italy she depends so much on her famous football teams – and her friendships within Europe.
What we are looking for here, again, is Scorpio and Taurus signatures. In the top chart you will see the Sun at 29 Scorpio. Out of interest, you can also see Mars at 0 Cancer, the sign of patriotism. In the bottom chart there is no real action across 29, 0 Scorpio or Taurus – but there most certainly is at 0, 1 Sagittarius and again at 0 Aquarius.
Taking the zodiac signs apart here, what we end up with is a picture of 'two Spains' old and modern, both of which are about to experience the revolution (Uranus) as he crosses 29 Aries for the last time, by early 2019, and then goes back and forth in the early degrees of Taurus (the world economy) at 0 and 1 degrees.
You probably know that Sagittarius rules foreign places and people and we've already discussed Aquarius and its connection with groups, friends, teams and the community. You really don't have to be Sherlock to work this one out. This is a firestorm for the European Union and the Euro and again – once Jupiter and Saturn go into Aquarius at Christmas 2020 and Pluto goes into that sign from 2023 – we are talking about the end of what used to be the E.U. back in the 20th century. Why? Cryptocurrency!