Saturn in Capricorn 2018, 2019, 2020
Saturn is the planet astrologers associate with pain. The Romans, who gave us the horoscope symbols we use today, associated Saturn with holly. During Saturnalia, the December festival celebrating the god, Romans would make garlands from holly. The Ashmolean Museum has an interesting post on this.
If you have anything at all in Capricorn in your personal birth chart, then you will already be experiencing the ouch factor (just like handling sharp, prickly holly) as you experience this cycle, which began on December 20th 2017 and then winds down on March 22nd 2020, returning for one last hit from July 1st to December 17th 2020.
Saturn in Capricorn 2018, 2019, 2020  and Your Career
Capricorn rules the Tenth House in the natural horoscope, and the Tenth House is about your career. Your part-time or full-time work. Your university degree. Your unpaid work. Your status. Your success.
What else is painful apart from the 'holly effect' of Saturn's sharp lessons? It's the pointy end of his famous scythe (below). He was a ruthless old god to the Romans, as you can see – his own children were rightly terrified of him.
This is Saturne, Fils du Ciel et de Vesta by Stefano della Bella and dates from the 17th century. You still get some astrologers today who pull away when they think Saturn is about to trigger their chart! It's a bit like pulling way from the sharp blade of a scythe, or the pricking sensation of holly. I was recently at the Astrological Association Conference in Britain and whenever the talk turned to Saturn at dinner, people pulled the 'ouch' face. Saturn rules sharp edges and sharp objects, prickly people and prickly plants. Spikes and spikiness. He is associated with not only holly, but also with the blade of a scythe. The Spanish painter Goya associated him with the knife in a cutlery drawer.
Saturn in Your Tenth House
Using the Natural House system, Saturn is in your Tenth House from now until 2020. If you look at your chart wheel (if you are a Premium Member it's a click away) then you'll see that the Tenth House is actually the top of the wheel. The highest point.
There is a reason for this. The Tenth House is ruled by Capricorn the mountain goat, who climbs to the top. Saturn in turn rules Capricorn, so it's a triple whammy. Saturn is in Capricorn, the sign he rules, in the Tenth House, which is his rightful place.
Now, astrologers have not always associated the Tenth House (the midday and midnight position on the horoscope wheel) with Saturn. The old Roman astrologer Manilius thought the Fourth House belonged to this planet.
If you look at what has been happening to world governments since Saturn moved into Capricorn, though, back on December 20th 2017, I am sure you will see that Manilius was wrong.  Saturn has been hard at work on the people at the top – people in high places.
Look at the high number of resignations at the White House and the Mueller investigation into Donald Trump's collusion with Russia, to begin with
There is a precedent for this. Later on in this story, I'll look at the last time Saturn was in Capricorn and how it coincided with the death, failure, exile or resignation of everyone from The Dalai Lama to Emperor Hirohito. From Margaret Thatcher to Richard Nixon. Saturn can be very, very hard on the people at the top. Especially if they have Capricorn factors in their birth charts.
My friend Susan Miller, the world's most popular astrologer, recently sent me an intriguing message on Twitter about the high Capricorn count in the Donald Trump White House administration.
Susan told me, "Jessica, the Trump WH is all Capricorn: Mike Flynn, Jared Kushner, Jeff Sessions, Anthony Scaramucci, Betsy De Vos, Nicki Hailey, Kelly Anne Conway, Donald Trump Jr., Eric Trump, the Secretary of the Treasury, and also Kim Jung Un.
Fate! This is a heavily Capricorn administration going through a very heavy cycle until 2020.
Even if you have nothing at all in Capricorn or the Tenth House of your chart – your job, unpaid work or university degree will still be affected by Saturn passing through. Think of it as heavy weather for people in high places. It trickles down to you!
Problems with or for your boss, lecturer, teacher, high-ranking client, C.E.O. or manager are typical of Saturn's transit through Capricorn and the Tenth House of your chart. This illustration (from the British Museum) shows 'the old man' about to devour his own child. Thus, we associate Saturn with men at the top, usually approaching retirement – and sometimes working past it into their late sixties or seventies – who thwart the young. Who 'devour' their youthful replacements. Who want to hang on to the top, no matter what.
This is behind many of the issues that I know some of you are having, judging by the comments I'm seeing on this website. Also common now? Problems between father and son, or grandfather and grandson within the family pecking order.
Saturn, Status, Position, Mission and Ambition
Saturn in Capricorn in the Tenth House of your birth chart for 2 or 3 years, is really a triple whammy. This planet/symbol/god/archetype has long been associated with status. And now, here he is, in Capricorn, that socially ambitious sign, creating that sharp, prickling, 'ouch' holly sensation in your life, with bosses, staff, lecturers, classmates, colleagues, clients, competitors and maybe your entire profession. If you think people around you at work are more prickly than usual, it's not your imagination. We're in an 'ow' cycle.
During Saturnalia, the Roman festival celebrating Saturn, it was traditional for all men to wear a pointed felt hat (called a pileus).
This pileus was the hat that a male slave began to wear after he had been freed. By allowing his slave to wear the pileus, his master was giving him a short but ultimately disappointing promotion to temporary freedom. Interestingly, the high-ranking Roman master would also be wearing this strange felt hat, during the festival, thus lowering himself to the social rank of a newly freed slave.
All these ideas about Capricorn, Saturn and the Tenth House you read about today come partly from that hat. And if you have a hunch that Christmas owes something to the old Saturnalia, you're right. Every time you pull a cracker and put on a paper hat you are having a flashback to the days of the pileus at the end of the year. The plastic holly wreath on the front door is about the same festival!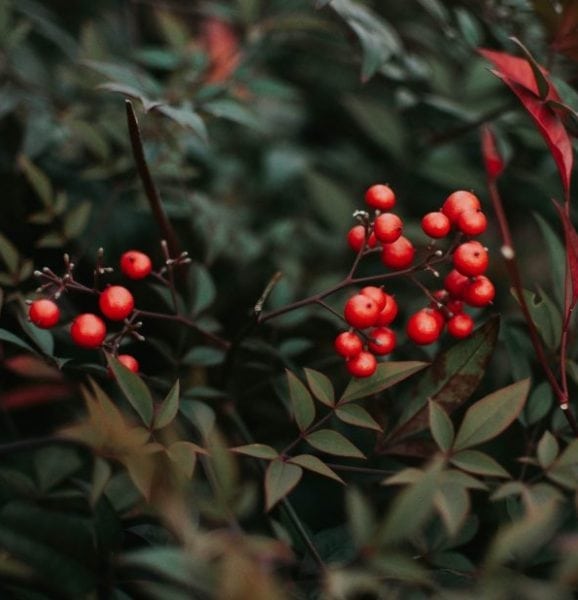 Holly is toxic, incidentally. If you are poisoned by it, you will vomit. This idea about holly and vomit is very interesting as Saturn has long been associated with  regurgitation. He famously ate his own babies, in the old Roman myth, and then hurled them all back up again.
When you hear people saying they are 'sick of Saturn' or 'this Saturn transit is making me sick' they are talking about an archetype that is about 2000 years old. But what else is there to this transit, now that Saturn is stuck in Capricorn? And how can you work with the cycle?
Saturn and Burdens
The holly that the Romans linked to Saturnalia is still obviously a feature of December, and December is also the month that the Sun enters Capricorn, ruled by Saturn. These old connections go back a very long way indeed.
I'm sure you know that Saturn (apart from being a pain – and making us feel sick of particular people) is also about burdens.
Holly is sometimes called Christ's thorn. As Christmas Day is Christ's  birthday, and the Sun is also in Capricorn on that day, December 25th, there is another strong association between Saturn and 'a cross to bear' and in fact, that powerful carol, The Holly and the Ivy, is really about what it feels like to have a Saturn transit.
We talk about bearing a burden or carrying a load,  on a Saturn transit, especially if we have Capricorn chart factors and Saturn conjuncts, or lines up with them – at the same degree. If you were born about 29 years ago, then you will be experiencing your Saturn Return, which you can read about here.
The Holly and the Ivy references Saturn's plant, but also refers to Saturn experiences and emotions.
The holly bears a prickle,
As sharp as any thorn
And Mary bore sweet Jesus Christ
On Christmas Day in the morn.
The holly bears a bark,
As bitter as any gall,
And Mary bore sweet Jesus Christ
For to redeem us all.
Saturn and Symbolic Castration – Young Man Against Old Man
Saturn famously castrated his father Uranus. The whole story is told in the Theogony by Hesiod and retold by Robert Graves, among others. In astrology, Saturn represents the symbolic 'castration' or the 'unmanning' of father by son, or father figure by younger man. As a political event it can show the overthrow of the old leaders by the new leaders to come. While Saturn is going through Capricorn, the sign of big business, big government and 'the man at the top' – we are seeing the current American president Donald Trump being unmanned, almost on a daily basis, by younger Americans. It remains to be seen if his own sons will also do this, of course – or his younger son-in-law! The myth is currently being acted out by Michael Avenatti, playing Saturn to Trump's Uranus.
This rather gruesome part of the Saturn story is shown here. There was some confusion about who was castrating whom, in the Middle Ages, as the original Roman story (from the Greek) was distorted. Immediately below, it is Saturn himself (holding the scythe, eating his babies) who is being unmanned, probably by Jupiter. In fact, this never came to pass in Hesiod. It was simply what Saturn feared, as he had been cursed by the usual karma of the Ancient World, to suffer what he had visited upon his father. In the original myth, the blood and semen from the discarded penis and testicles, which were thrown into the sea, mingled with sea foam to produce Venus (seen in the background of the first image, with the hand-mirror that later provides her symbol/glyph for the horoscope – the circle with the stick). Saturn and His Famous Scythe
This idea about fathers being castrated by sons, and the family curse (those sons then go on to be castrated, also) is a very old one. It survives today when young men talk about 'my old man' when referring to their father – and not always affectionately. Men talk about other men 'having the balls' to do things, or more critically, 'not having the balls.' In England, punk rock was announced by the arrival of The Sex Pistols with an album called Never Mind the Bollocks, Here's the Sex Pistols. Testicles and bollocks are very Saturn.
From Plotinus (Enneads 3.5.2.) to the mid-seventeenth century we also find Saturn being castrated by his son Jupiter in some myths. It really depends which male writer you read, but I wonder how many of them came from severely patriarchal families where son emasculated father, and was then himself emasculated!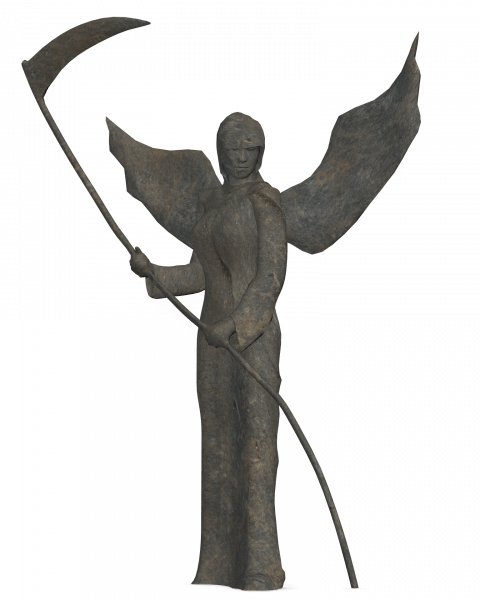 The scythe is an enduring symbol. It became the face of an AIDS awareness campaign in Australia, created by Siimon Reynolds in the late 1980's as the Grim Reaper played bowls with people in a famous commercial. Fulgentius wrote that Saturn carried the scythe "because every season turns back on itself like the curved blades of scythes." There is certainly an idea of Time, personified by Saturn, gnawing away at everything. Saturn is unavoidable and inescapable, like old age.
Roman writer Cicero: "Men have believed it to be Saturn who rules the cyclic courses of the times and seasons. In Greek the nature of this god is expressed in his name. He is called Kronos, which is the same as Chronos, and means a lapse of time, just as our Roman name "Saturn" means 'sated with the years.'
I'll look at the root word 'chron' elsewhere in this feature about Saturn, but I am sure you can see how it informs the old woman of legend – the old crone – and also anything chronic. Chronic illness can hang around for years. When we suffer through an interminable Saturn transit we say 'it's chronic' and we talk about 'chronic failure.'
Retirement is associated with Saturn. As Saturn goes through Capricorn and your Tenth House until 2020, you are likely to be affected, directly or indirectly, by men at the top retiring – and sometimes women, though Saturn is a male archetype. This can affect a whole department, company or business heavily, as Saturn cycles do not just chime with a quiet departure and a gold watch from head office. The retirement can be momentous in its effects.
Saturn Devouring Children – Father and Son – Men in the Corporate and Political World
Saturn in Capricorn in 2018, 2019, 2020 will touch your life directly, if you have Capricorn factors in the Tenth House, which so often describes the corporate and political world. Along with the symbolic castration of old men by younger men, you are likely to see the other side of Saturn. This is the devouring of younger males by older males! When cursed to suffer the same, or a similar, fate at the hands of his own sons (after castrating his own father) Saturn swallowed his children whole, rather than risk being unmanned – or worse.
Saturn Devouring His Son is the name given to a painting by Francisco Goya showing a headless infant – more like a tiny man – being devoured by his father.
Goya painted it directly onto the wall of his house in 1819-1823 and today it is on canvas in the Museo del Prado in Madrid. Hilariously, The Simpsons paid homage to it in an episode featuring Mr. Burns – himself a very good example of the Saturn type. You can see the younger man, eyeing the older man, with some trepidation here – despite the fact that he wants his job. The other image is by the Flemish artist Peter Paul Rubens now in the Museo del Prado. The three stars at the top represent Saturn as described by Galileo a few years before. Rubens got it wrong (or at least, the telescopes of 1636 did). Saturn was not a central planet flanked by two stars. What was seen, was actually Saturn's famous rings.
(All these images are captured on Pinterest, which is a very good source for Saturn and Uranus).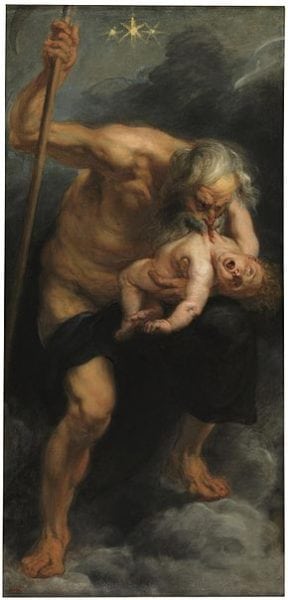 The Rings of Saturn and the Capricorn Cycle of 2018, 2019, 2020
Saturn is encircled by rings which gives us some more symbolism for this planet in astrology. Saturn types tend to protect themselves by building protection around themselves, rather like walls. When I say 'Saturn types' I mean people who have Saturn in exact aspect to one or more other factors in their personal birth chart (Saturn is at the same number/degree as another planet like Jupiter, for example, or an asteroid like Hygiea). In addition the true Saturn type will also have a stellium or unusually high cluster (more than three) of factors in Capricorn, which is ruled by Saturn.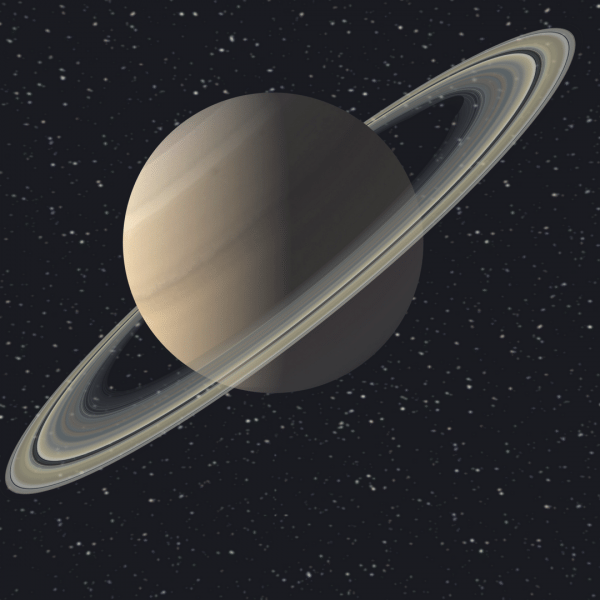 The rings of Saturn are the protective layers, the defences, the armour that go up, to stave off the worst. There is always a lot of fear with Saturn types and usually for a very good reason. Saturn types can feel cursed, or actually be cursed in some way, by an unkind fate. Often the father-son or grandfather-grandson issues loom large, or there is a classic career coup lurking.
You can see the rings everywhere in life. They are the 'ring' of CCTV cameras outside a corporate headquarters in New York. They are the high walls, covered in spikes, that protect Buckingham Palace (where many a son has replaced a father). Top-ranking politicians are encircled by security guards.
Even if you are not particularly Saturn or Capricorn influenced, the transit of Saturn through Capricorn and your Tenth House of professional or academic life – or unpaid work – may result in an instinctive need to build walls, symbolically speaking. Have you noticed people at work being more defensive, or guarded, or reserved? Maybe you have become like this too, since Saturn changed signs at the end of 2017.  Protection and self-protection are common responses to Saturn cycles. Lord of the Rings!
I mentioned the 'ow' factor with this planet – Saturn is associated with holly, that prickly plant – and also with the sharp edge of a scythe. Saturn is very much about the vasectomy or the circumcision process. Saturn was also associated by Goya with the knife and fork (and particularly the knife) . One way of protecting yourself if you are Saturnine, is to become spiky. Prickly. It keeps people away. Barbed wire is also Saturn – commonly seen anywhere that old farmers in particular want you to keep out. Saturn is effectively an old farmer. This is what he became, anyway, once Jupiter ushered him into a Golden Age. Here are the famous rings, in illustrative form, at Pinterest.
What to Expect From the South Node in Capricorn in 2018, 2019
There are certainly some tried and tested ways to deal with a Saturn cycle. Here are five ways to work through it. What happens when the South Node (karma) also moves into Capricorn, though? The last time this happened was April 10th 2000 to October 12th 2001, so by all the laws of astrology, when the South Node goes back into Capricorn from Tuesday 6th November 2018, you are on course for a major flashback about work, unpaid work or academia.
If you do have anything in Capricorn in your Tenth House, in your personal birth chart, this new cycle, which is really about karmic debts and credits, will directly concern your career back in 2000, 2001 – or your university degree – or even your earliest schooldays, if you were just a child at the time. There may have been issues about your status or social position, from 2000-2001 which now return. An old project or the people who worked on it, may return to you. The South Node goes backwards through the signs, and thus astrologers (particularly in India) believe you are also taken back into the past.
This is going to be particularly heavy given that Saturn and Pluto are also in Capricorn in your Tenth House of career or status. Yet, the South Node is also a gift as you get to learn from the past, too. Knowing what is coming next is reassuring. The same theme songs you heard back in 2000, 2001 will be back as the soundtrack of your life and you'll know how to play the song.
Malignant Saturn, Introspection and Melancholy
Astrology as we know it today, comes to us from the Romans, who swiped it from the Greeks, who exported it to Great Britain. Much of what we think we know about Saturn comes from this time, when life was impossibly hard and miserable old men really did rule with an iron fist. (They call it patriarchy).
Saturn's reputation for being malignant, or a bringer of melancholy, owes a lot to the Arab astrologer Abu-Masar who thought Saturn ruled introspection, contemplation, magic and secrecy, as Jennifer Rea explains in her excellent book on Michelangelo's Medici Chapel. I highly recommend it if you are interested about Saturn.
The epic Latin poem I studied for my arts degree at university, The Aeneid  makes a lot more sense to me since I became an astrologer. It was written between 29 and 19 BC – and our modern image of Saturn as a scythe-bearing, baby-eating, difficult old man comes partly from this work.
Yet, Saturn is also associated with a Golden Age, which began when his son Jupiter (who luckily escaped being eaten) sent his paranoid old man into exile, and then Saturn used his blood-stained scythe – with which he had castrated his father Uranus – to teach Italian farmers agriculture. Crops thrived. The harvest was abundant. Thus – eventually – Saturn's Golden Age.
This is also partly where the modern idea about Saturn and maturity comes from. You learn the lessons and you progress in life. You get better as you get older. The further on you go into the Saturn cycle, the better it gets.
I mentioned your career, university degree or unpaid work. When Jupiter (Saturn's generous son) moves into Capricorn too, in the year 2020, you will notice a huge change, by all the laws of astrology. Not only are you ending the cycle, so it becomes easier – Jupiter is associated with good fortune, positive solutions and breakthroughs – so 2020 may well be a Golden Age.
Entering Rome from around the 3rd century BC onwards, astrology grew to be the number one mode of divination by the early imperial period. From 44 BC to AD 16, Octavian/Augustus put astrology right at the heart of Roman life.  Saturn was part of it. The Romans gave us not only this idea of a miserable old man – but also – redemption, transformation and hope. If you have been through your Saturn Return (you are over the age of 29) then I am sure you'll remember what it was like.
Any difficult Saturn cycle, particularly if it hit your planets, asteroids, points or angles – would have been just as memorable. I am sure you can recall how it started out badly, but eased up with time – and by the end – you were beginning to see the point of what you had been through! Saturn cycles literally take time.
Saturn as Father Time
Very commonly, you will read astrologers telling you that Saturn rules old age, and slow time. Astrologers tend to say that  Saturn transits become easier with time, and your natal (birth) position of Saturn also becomes more comfortable, the older you become.
Here you can see Mercury, below, trying to stop the course of time, represented by Saturn, in this artwork by Nicolas Flamel (1330-1418) from The Book of Abraham the Jew. It's held in the National Library of France. Images of Saturn also turn up in the Tarot. The famous egg-timer appears here, in this picture of Mercury and Saturn, along with the scythe (sickle) which is actually compressed into the planetary symbol you still see today in the horoscope.
The baby-eating is a constant theme with Saturn too. I am sure you know the myth. Saturn castrated his father Uranus, cutting off his penis and testicles with the scythe his mother gave him.
Saturn was cursed for it. Terrified that his own children would do the same thing to him (or worse) he ate every baby his wife Ops produced in a mad kind of preventative measure. This is where all those ideas about 'malignant' Saturn and 'melancholic' Saturn come from today. He became reduced to a mindless devourer of his own offspring. Then his wife Ops fooled him into swallowing a rock one day, and set Jupiter free – her youngest son. When he returned from exile, grown to manhood, he was merciful towards his father, and rather than castrating him or killing him, he allowed him to go free.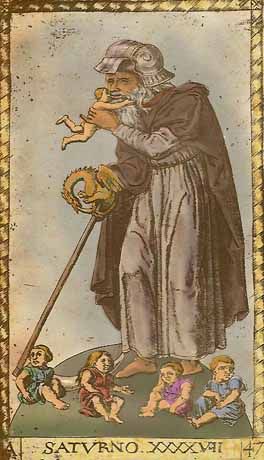 Saturn and Saturday
I find Saturdays really interesting because they draw their name from Saturn. The 'Sa' root of the word appears in Saturnus, dies Saturni, dies Sabbati, the Sabbath, Samedi, Sabato – and all variations on that theme. The Oxford Dictionary website has quite a good blog on the astrological origins of the days of the week.
Saturday is really about time, and it usually begins with most people turning off the alarm clock. Do you do that?
The working week is over on Saturday. If you are sweating through a Saturday part-time job, though, you'll also be clock-watching. There can be a delight in Saturday, and Saturday night, at the same time that there is a tick-tock anxiety about Monday coming round too soon.
When you wake up on Saturn's day (Saturday) you have time off, and time out (if you work a five-day week) but strangely, the clock or calendar will never be far from your thoughts, because you only have 48 hours to put on your pileus, so to speak, and feel free.
The pileus, the hat of the Saturnalia, is everywhere on Saturdays. Have you ever noticed how the first thing people do on the weekends is either put on a baseball cap, a beanie or a fascinator to wear at the races/a wedding?
Perhaps the Roman astrologer Marcus Manilius, author of Astronomicon, would have made the hat connection with Saturday too. This Latin classic was the first book to outline the astrological house system, probably in the first century CE. The brilliant astrologer and author Deborah Houlding is a great go-to source if you are curious about Manilius.
The astrologer Ficino regarded Saturday as a day for intense contemplation. No football. No cocktails. No wild sex. This may also be where Saturn's rather dour image comes from.
Cicero thought the Greek version of Saturn, Kronos (who lends his name to chronology and chronicles and chronological order) became known as Saturn because the god had been 'saturated' with the passing years, symbolised by his sons. Lomazzo in the 16th century agreed: "time devours temporal events as Saturn did his children," he wrote.
Wherever you find Saturn in your chart making exact aspects (patterns) with other factors, you will find issues about time. It often seems to drag, or you have to wait for everything, or it takes years for things to resolve. If you have personal birth chart factors which fall at the same numbers (degrees) as your Saturn you will automatically have that planet in the picture. Whenever you 'do' one, you get the other. If you have Mercury at 1 Aries and Saturn at 1 Libra, then every time you sit down to write a letter, or speak up at a meeting (Mercury rules communication) you may find time drags, or it takes ages to get the right words, or it takes too long to get your message across.
There is no way around it. Saturn takes work. If you work Saturn, though, you have your own little Golden Age later on.
Managing Saturn – Maturity and Wisdom
In Essays on Roman Satire, William S. Anderson writes, "Roman astrologers considered Saturn essentially malignant, a baleful influence which could be counteracted by a happy conjunction of planets."
This is the idea that if you have Saturn making exact patterns (aspects) in your chart, or hitting everything as he goes through on a cycle, you can counteract him with some nice Jupiter-Minerva conjunctions, or perhaps a good Diana-Mercury transit.
By the time we get to the 12th century, though, Christian writers like Alexander Neckam were conjecturing that the slow movement of Saturn around its orbit, was rather like the slow acquisition of wisdom that came with experience.
This idea about Saturn and maturity is examined in some depth by Edith Balas in her book Michelangelo's Medici Chapel.
The scythe or sickle you see with Saturn is sometimes interpreted as a tool for a harvest. The idea being, you endure the sharp, prickling, holly-like 'needling' sensation of Saturn for 2-3 years and then reap the rewards of persisting.
The Library of the Royal Observatory at Greenwich has held a remarkable collection of books about astrology in its time. Abu Masar's Great Introduction, printed in Latin in 1506, shows bearded old Saturn with his scythe, but also with his symbol, the miniature scythe on its side. This also brings to mind the old phrase 'you reap what you sow' which is very typical of Saturn.
Sunday January 12th 2020 – Saturn's Harvest and Your Horoscope
I mentioned the South Node, also passing through Capricorn and your Tenth House, alongside Saturn. On Sunday January 12th 2020 we have an even more potent line-up. Mercury at 22 Capricorn, Saturn at 22 Capricorn, Pluto at 22 Capricorn. The Sun is very close at 21 Capricorn.
This is so massive in terms of world governments, not to mention the corporate sector (all ruled by Capricorn – the people at the top) that I wrote a prediction about it called The Capricorn Effect back on 20th December 2017 as Saturn was coming in.
You have never seen this in your life and you will never see it again.
There will be a change in the balance of power at the top of so many governments and big business organisations, thanks to the Pluto cycle, and a time of serious reckoning for people in high places. Some may pass away. Some may resign or lose elections.
Think of Capricorn the mountain goat again. The mountain is the skyscraper or tower of big city life. The top of the mountain is the penthouse suite, or the corner office on the top floor.
The goat is he who climbs, and sometimes she who climbs. What will Mercury, Saturn and Pluto create for us? It will be the intense moment of truth in a cycle that began on December 20th 2017, and continues into 2018, 2019 until December 17th 2020, just before Christmas – the old Saturnalia. We may see it a day later or earlier, but around January 12th, 2020, we will see a moment of truth which helps us make sense of 2018, 2019 as well – where the world order is concerned.
Learning From 1989 and 1990 – Old Men Step Down or Fall Over
One of the reasons you may be having such a hard time with your career, or employment, or university life, or unpaid work – is the wobbling at the top that happens when Saturn goes through Capricorn.
When old senior goats are faced with bad weather, they hang on to the mountain for dear life. Saturn is very bad astrological weather. It is classically a time when old men step down and are replaced, just as Saturn himself was replaced by his son Jupiter. This affects the whole structure of the corporation, the company, the business, the government department and so on.
The last time we saw Saturn dominate our lives in Capricorn was 1989, 1990. The world saw an unprecedented, high number of deaths, resignations, takeovers, election landslides and illnesses affecting the men at the top. This is set to happen again. We're all affected by this wobbling. It's like storms hitting the mountain.
1989 and the Heavy Hand of Saturn in Capricorn – Last Time Round
What follows is a long list of 1989 Saturn in Capricorn casualties. At its very worst, Saturn in Capricorn can result in a death sentence.
Nicolae and Elena Ceaușescu were trialled on Christmas Day 1989 by a drumhead court martial and the former Romanian president and his wife Elena were executed. The young replaced the old, quite brutally. In 1989 we also saw death from natural causes. Other leaders were deposed or otherwise decimated.
Hirohito died in Japan. The old emperor was no more – the end of an era.
Ronald Reagan stood down.
Andrew Peacock deposed John Howard as Federal Opposition Leader of Australia.
Andreas Papandreou, Prime Minister of Greece resigned
1990 and the End of Margaret Thatcher – Saturn in Capricorn – One Last Time
Margaret Thatcher resigned as Prime Minister of the United Kingdom after over 11 years. Born with Jupiter in Capricorn she experienced Saturn 'on' or conjunct her Jupiter at this time. The Saturn transit of her Tenth House was the end of an era.
President of Bulgaria Petar Mladenov resigned
Geoffrey Palmer resigned as Prime Minister of New Zealand
In Norway, the government headed by Prime Minister of Norway Jan P. Syse collapsed.
Indian Prime Minister Singh resigned
Prime Minister of Singapore Lee Kuan Yew resigned
Prime Minister of Bulgaria Andrey Lukanov and his government of former communists resigned
President Hussain Muhammad Ershad of Bangladesh was forced to resign.
Baroness Thatcher, Capricorn the Goat and People at the Top
Capra is a genus of mammals, the goats, and it's the ancient root word at the heart of the zodiac sign, Capricorn.
Whenever you see a difficult planet like Saturn in this sign, not to mention the South Node and Pluto (with all his power struggles), people who are typically ambitious, respectful of the system, entrenched in the establishment, fond of social climbing (social mountaineering) – tend to suffer.
Even if they have made it to the top of the mountain, the people at the top have to find a way to hang on for dear life when Saturn goes through Capricorn. And if they're not there yet, they may have to give up. At the very least, they'll be tested.
If you are strongly Capricorn, with a stellium in that sign (more than three factors in modern astrology) this is a cycle that will challenge you over and over again. Why? You need to figure out if the mountain is still what you want. Is it a good mountain for you to climb or do you need to do something else about your ideas of success and status?
This video of Margaret Thatcher on her last day at 10 Downing Street gives you an idea of the sign. Remember, her Jupiter was in Capricorn. This is what it feels like to have Saturn going over your Jupiter in the Tenth House, once every 29 years.
Dealing With Changes at the Top Until 2020
There is no Saturn in Capricorn cycle that does not bring massive changes at the top of the world order. From January 5th 1959 to January 3rd 1962, Saturn was in the sign of the mountain goat. 1959 was the year that the Dalai Lama was forced out of Tibet by the Chinese. He escaped to India. He is still the Tibetan leader in exile today. In 1960, Sun Capricorn politician Republican Richard Nixon was forced to admit defeat in a close race with Democrat John F. Kennedy.
As I write this on Tuesday 31st July 2018, we haven't even really started this cycle. By 2020, Saturn, together with the South Node and Pluto, will sweep right across the top of the world order and that is going to affect you and I both.
The United Nations, the White House, Buckingham Palace, 10 Downing Street, The Lodge and other houses of power for 'top people in high places' will be most affected – and those mountains and high-climbing goats will be heavily challenged.
In your own personal birth chart and life, if you have Capricorn placements, always check the planetary positions on the front page to see where Saturn, Pluto (and soon the South Node) are travelling. Are they 'on' or conjunct your Capricorn factors? That's a big career moment for you. These slow-moving outer planets take decades, even centuries, to cross Capricorn. What you experience when, say, the South Node at 29 Capricorn in November 2018, goes over your Sun at 29 Capricorn, will be memorable and important. Saturn himself moves at a different speed, but watch him too. And Pluto!
Capricorn the mountain goat climbs steadily and carefully to the very top of an impossibly high and challenging peak, and then he has to decide what to do next. What is your mountain and where is it? How much do you want that top position? How greatly do you need to hang on? Even one factor in Capricorn in your Tenth House is enough to make you question success. By 2020 at the end of this cycle you will have reshaped, or be reshaping, an important job, project, course or plan. Remember, you only get the sharp end of a Saturn in Capricorn cycle like this every three decades. Be careful with that scythe – and that holly!