Tarot Tuesday appears on the first Tuesday of every month with world and personal predictions from Kyra Oser, who holds an M.A. from San Francisco State University.
Kyra's work has featured on Yahoo! Finance, The Wall Street Journal, NBC News, CBS News, ABC News, CBS Radio and more. You can discover more of Kyra's predictions at her website.
Kyra Oser and Jessica Adams first worked together on a radio show broadcast across Los Angeles and Seattle and now join forces on the first Tuesday of every new month to combine Kyra's Tarot skills with Jessica's combined use of Pamela Colman Smith's deck, Arthur Waite's occult brilliance and the ancient field of astrology. For Premium Members only, the chance to ask Jessica Adams questions in the comments below, for detailed Tarot replies.
First Week of February 2019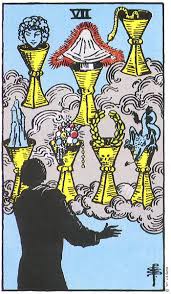 7 of Cups – A shadowed figure observes seven cups in a cloud, each containing a different image: a human, a metaphysical being, a snake, a castle, jewels, a laurel wreath, and a dragon. This card is a reminder to be realistic, even while wishing for the best possible outcome. Illusion without realism can result in disappointment, yet realism without hope is counterproductive to both contentment and motivation. Seven of Cups calls for a balance between reality and dreams.
On a global scale, be wary of promises made by world leaders, namely the Trump-Putin alliance. Investigative reporting in a magazine article will reveal that this authoritarian duo is engaged in a coordinated effort to seize control of other countries under the premise of "preemptive defence." At the same time, intensification of Mueller's F.B.I. investigation will result in an escalation of media revelations about Trump and Trump Jr.'s personal involvement in conspiring to swing the 2016 Presidential elections.
For those with heightened self-awareness, you most likely will receive the twin gifts of clarity and perspective soon. Someday, when you combine that clarity with flexibility, new actions will be revealed that can eventually lead to the realisation of a dream.
Second
Week of February 2019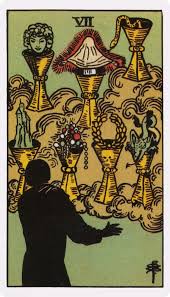 The Empress – The Empress holds a scepter, signifying a position of power. Her head is adorned with a crown of stars, and her throne is embellished by a heart that is decorated with a symbol of the feminine. The strawberries on her gown are a sign of nature, harvest, and the sharing of abundance.
An American woman in a leadership role is prominently featured in this week's news. I see her proposing legislation for African-American and Indigenous reparations. While the realisation of her bill may take up to fifteen years to go into effect, she will be praised in future history books as a civil rights pioneer. Until then, you can expect her efforts to be both vilified and celebrated by news outlets. Some of the first public figures to acknowledge, support, and promote her proposal will include former Georgia House Minority Leader Stacey Abrams and Rep. Alexandria Ocasio-Cortez. Keep in mind that any backlash to these proposals is based on economic conflicts of interest. As with most political arguments, continue to do your research and approach opposition with suspicion.
In your own life, this is a good time to either reconnect with or stay connected to the nurturing part of yourself. If you've been feeling disconnected from self-care, try meditating on seeing yourself through the eyes of someone who cares about you. What would that person want to give you or tell you that would make you happy? How can you give those same gifts to yourself?
Third Week of February 2019
The Lovers – A couple is standing closely, yet independently, adjacent to both a Tree of Life and an apple tree encircled by a snake. The presence of both autonomy and connectivity is a sign that these figures are staying true to themselves, even while becoming involved. A supernatural being emerges from a cloud and opens its palms toward the couple, indicating that forces beyond the material realm have granted a blessing of their union.
Celebrity news highlights the public commitment of what will be referred to as a "highly unlikely couple." Global news will feature headlines about war, peace, and a call for increased humanitarianism, particularly from the U.N. There will be more advocates for peace than conflict and plans for major anti-war protests will soon be underway. A major news article will refer to the history of humankind as having been intermittently "brutal and gentle." Youth-led, worldwide movements for the mass abandonment of glorified violence is building momentum at this time.
This week's theme is love in many forms. We get more of what we focus on, so even repeatedly thinking about a loving image, word, or sound can expand the presence of love in your life. Alternatively, you can meditate on The Lovers tarot card, perhaps placing it on an altar or mirror. For a more advanced and interactive meditation on The Lovers tarot, privately imagine beaming an energy of non-judgmental, unconditional love from your heart to the heart of another, including strangers. The love you send will reverberate back to you in time, with interest.
Fourth Week of February 2019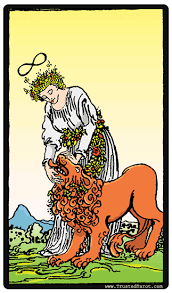 Strength – A woman whose dress includes a wreath of flowers and belt of roses is opening the mouth of a lion. Her bravery is demonstrated with a calm, confident certainty. An infinity symbol is suspended in the realm of her crown chakra, indicating that her courage is derived from a spiritual source, and has consistently been demonstrated over time. Her flowers and roses are a reminder that love is a contributing factor in the formation of courage.
In world news, medical research reports from countries such as Israel, South Africa, and China announce successful clinical trials related to women's health, heart disease, and an advancement in fertility treatments.*
Strength's position following The Lovers card sometimes indicates recovery from mental, emotional, or relationship obstacles. If you have recently been putting effort into positive thinking or inner growth, the fourth week of February is a time when you may start to notice that your efforts are paying off in the form of increased gratitude or improved circumstances.
Overall, this month features three out of four major arcana cards. Major arcana cards represent vital events that produce lasting effects. Depending on other factors such as personal choices and astrological components, decisions you make during the final three weeks of this month may have a positive and enduring impact on your emotional life. Global political actions that occur throughout the latter half of February will likely result in far-reaching implications. These are the times of which history is made.
*Please consult with your physician regarding any health concerns.
Premium Members – you can ask Jessica Adams questions in the comments below for the chance to have a detailed Tarot reading. Please specify the time-frame you are asking about – days, weeks, months or years into the future.