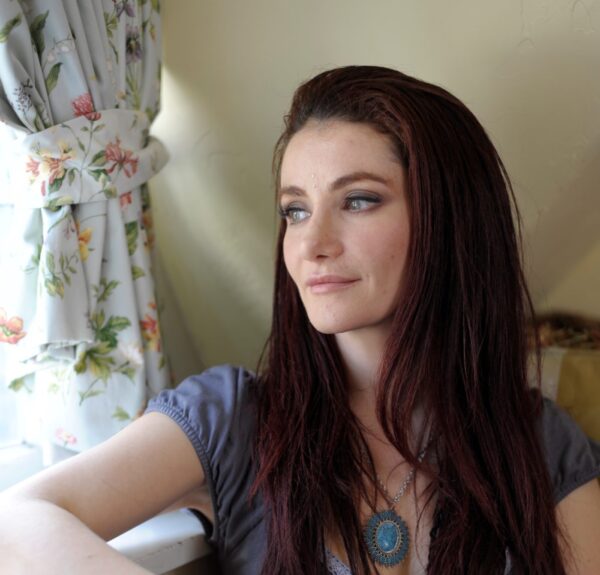 Tarot Tuesday appears on the first Tuesday of every month with world and personal predictions from Kyra Oser, who holds an M.A. from San Francisco State University.
Kyra's work has featured on Yahoo! Finance, The Wall Street Journal, NBC News, CBS News, ABC News, CBS Radio and more. You can discover more of Kyra's predictions at her website.
Kyra Oser and Jessica Adams first worked together on a radio show broadcast across Los Angeles and Seattle and now join forces on the first Tuesday of every new month to combine Kyra's Tarot skills with Jessica's combined use of Pamela Colman Smith's deck, Arthur Waite's occult brilliance and the ancient field of astrology.
For Premium Members only, the chance to ask Jessica Adams questions in the comments below, for detailed Tarot replies.
First Week of March 2019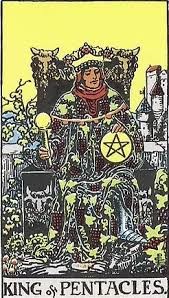 King of Pentacles – The King of Pentacles wears a crown that accentuates his grape-decorated garment, which reveals armour underneath. He holds a coin, representing savings, as he sits on a throne carved with four bulls. The bulls are a sign of the wealth that sustains him through every season. We can see his sumptuous castle situated in the background. He is a vision of security, authority, comfort, and safety.
This week's news features a focus on profit, particularly the means by which some politicians and many CEOs secure their additional income. The first week of March will highlight the activities of the wealthy, and that includes major corporations. A question that will be asked by U.S. and Indigenous youth activist groups will be: if corporations can be regarded as people, why can't land and nature? After all, the earth sustains us while most corporations drain us—of time, energy, and, of course, funding.
In your own life, the King of Pentacles asks you to think big when it comes to setting new expectations around the future of your financial life. Meditate on how it would feel to have complete security in your life. If you logged into your online banking account and saw that you'd saved enough to cover all your expenses for life, what would that moment feel like? In order to do this exercise, it helps to know what the ideal figure would be. Identify your average annual spending, then multiply that number by many years into the future. Or perhaps vision boards resonate with you more than meditation. Why not dream big? It doesn't cost anything! And if you're already feeling financially secure, then enjoy your time as the King (or Queen) of Pentacles!
Second Week of March 2019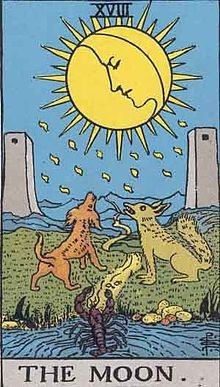 The Moon – Gathered together from both sea and land, a wolf, dog, and crab are gazing at and connecting to the energy of the moon. The space between the mountains, valley, water, and moon are joined by one path, which makes each terrain seem closer in distance. This card represents a time when the forces of nature, including those of outer space, are connected more closely to us. We journey to our own relationship with the moon any time we choose to take the path of intuition, dreams, and emotions.
In global news, expect deepened speculation about hidden agendas of world leaders who have been paid extensive sums to carry out corporate bidding. These revelations will eventually lead to laws regulating political bribery in the form of corporate lobbying, although don't expect any changes in the U.S. around this issue until at least a couple of years from now.
This is one of those weeks when you may have a heightened sense of what other people are feeling about you, yet it might be challenging to articulate those feelings in words quite yet. This is an ideal time to start or continue a dream journal, read poetry, or listen to music with lyrics that match your feelings. Connection with your inner world is often a conduit for increased insights about your outer life.
Third Week of March 2019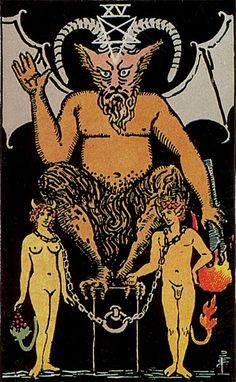 The Devil – Speaking of the outer life, The Devil is a card of materialism. He crouches on an authoritative altar that holds two people captive with chains: one appears to be masculine, and his "tail" is either being created or lit on fire by the devil. The other figure is feminine, and her "tail" is represented by grapes. Because the humans have characteristics of their overlord, part of the message is that if you willingly allow someone to hold you captive, you may start to develop some of their inner characteristics.
In world celebrity news, expect to hear new allegations that accuse major public figures of betrayal and cheating. Because of the adjacent Moon card and its associations with deception, many of these stories aren't true. One of these narratives will be centered around Meghan Markle, and the publishing of this story about her will eventually be revealed as a fabrication designed to sell tabloid news. However, there will be some damage because the media frenzy will cause physical stress to Meghan that results in a temporary health issue.
We will also see global news headlines questioning the nature of work. Some of these articles will suggest the likelihood of an upcoming economic and labour revolution. A few years from now, many of the wealthiest countries will have adopted a system of employment and housing that is radically different from how many of us currently live.
The Devil card represents a time when we, as a society, can be lured by the temptations of materialism. For most people, this will not be an optimal time to make a major purchase.* If you have been feeling held captive by a situation, this card may represent the need to give yourself the gift of more personal time. Even twenty or thirty minutes a day of "alone time" can make a big difference in your week.
*Please consult with your financial consultant or stock broker concerning any financial decisions.
Fourth Week of March 2019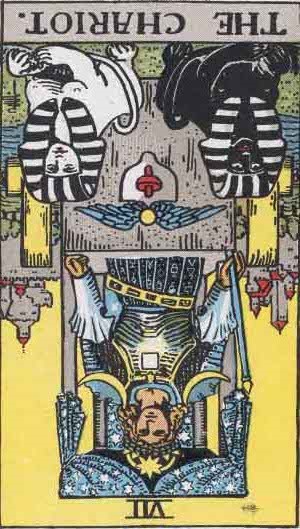 The Chariot (Reversed) – A king stands confidently in his chariot, led by two sphinxes and followed by a kingdom. A star on his crown signifies the ability to realize one's hopes and dreams, while two crescent moons support the shoulders of his armour. The presence of space symbols on his kilt and belt allude to the cosmos in general, and space travel in particular. The balance of images on both sides of the card signifies two opposing forces that join together under a common understanding.
In news headlines, there could be a glitch in space travel, particularly to Mars, that causes engineers to go back to the drawing board and create a new plan. Expect news about Elon Musk, discoveries published by NASA, and discussions of a Disneyland-type space station scheduled for construction between the Earth and the moon.
In your own life, know that any setbacks this week will serve to bring you closer to the kind of life you want, even if the changes in plans might not make sense yet. These times will make more sense in hindsight.
On a global scale, this month will expose corrupt economic practices that will initiate the fall of more than one world leader in power (and yes, that includes Trump!), a change in travel plans that accidentally leads us to a new discovery, and a reconnection with our emotional lives in the form of meditation and dreams. Music will play a large role in the coming age, both as a healer of the future and as a revealer of past times. Expect future news to be delivered both with background music and even as musicals. Inner connection will help prepare us for the coming age. We are currently navigating a time of increased materialism so that we will be forced to ask questions like "How Much Land Does a Man Need"**?
** "How Much Land Does a Man Need?" (1886) is a short story about greed by Leo Tolstoy.
Overall, March features three out of four Major Arcana cards, giving this month at least as lasting and memorable an impact as February 2019. A period of major news and major changes continues…
Premium Members – You can ask Jessica Adams questions in the comments below for the chance to have a detailed Tarot reading. Please specify the time-frame you are asking about – days, weeks, months or years into the future.