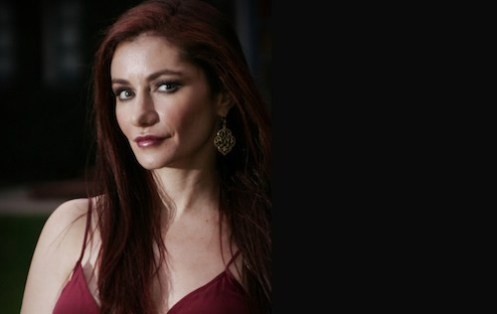 Tarot Tuesday appears on the first Tuesday of every month with world and personal predictions from Kyra Oser, who holds an M.A. from San Francisco State University.
Kyra's work has featured on Yahoo! Finance, The Wall Street Journal, NBC News, CBS News, ABC News, CBS Radio and more. You can discover more of Kyra's predictions at her website.
Kyra Oser and Jessica Adams first worked together on a radio show broadcast across Los Angeles and Seattle and now join forces on the first Tuesday of every new month to combine Kyra's Tarot skills with Jessica's combined use of Pamela Colman Smith's deck, Arthur Waite's occult brilliance and the ancient field of astrology.
For Premium Members only, the chance to ask Jessica Adams questions in the comments below, for detailed Tarot replies.
First Week of April 2019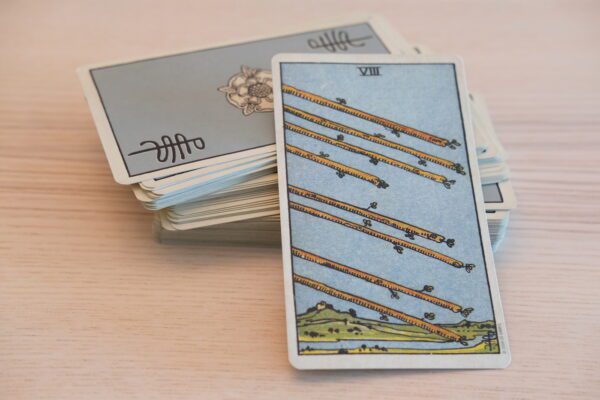 Eight of Wands – Eight wands travel toward Earth, seemingly propelled by a force that set them into motion from afar.
In global news, you may hear of the words "wind" and "fire," possibly in relation to weather changes, as well as propositions for alternative air travel.
In U.S. news, changes in politics will come swiftly this week, and generate a great deal of communication and passionate debate, particularly in the areas of transportation and climate change.
A card of action, the Eight of Wands can be about making travel plans in the near future or moving forward on a goal that you've been waiting to act on. Alternatively, Eight of Wands can herald the arrival of an opportunity that soon comes your way, but that won't be available for long…so be prepared for the possibility of an exciting change.
Second Week of April 2019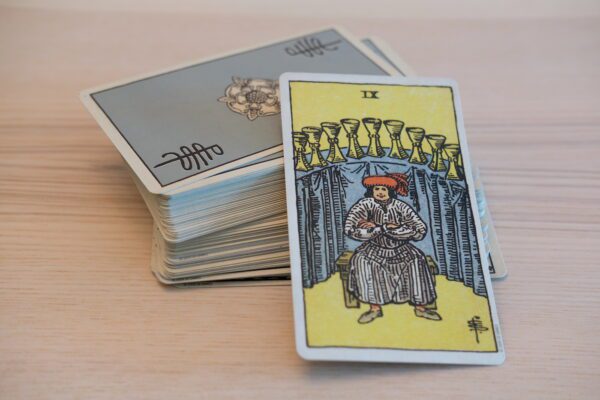 Nine of Cups – A man in lavish clothes is seated on a bench, surrounded by nine golden chalices raised above his head. His crossed arms and satisfied expression signify contentment.
In global news, a story about the percentage of world wealth held by the top two wealthiest people will plant a seed for eventual riots later this summer, starting in July and intensifying into somewhat violent conflict later that month. By August, the riots are dying down and a movement to replace late stage capitalism with a new form of government will be underway in more than one country–at least in theory, and, in the coming years, in practice. This spring, and into the summer, will be a particularly pivotal period for initiating major economic and governmental changes over the next decade–especially in the area of banking.*
In American news, more generous programs for wealth reform will be proposed in Congress and demanded by youth-led organizations.
This card encourages you to feel content and confident in knowing you will receive something you have longed for. Sometimes if you act as if you have what you want already or find something to feel grateful for before you get what you are looking for, life brings you even more than you were expecting, and sometimes in surprising ways.
Third Week of April 2019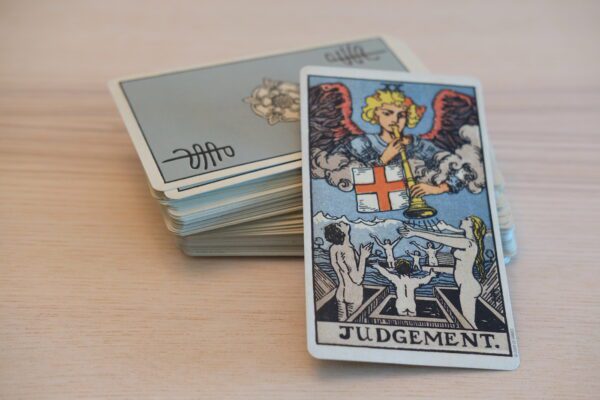 Judgement – The archangel Gabriel blows his trumpet, and people of all ages and genders rise to meet the music. They have presumably entered the land of the afterlife, or perhaps they are being visited by an angel in the realm of their dreams. Wherever these spirits have travelled to, they are being given a new life, borne of a shifted perspective and heightened awareness.
In global news, the Judgment card denotes a feeling of rebirth, heightened activism, and a shift in global consciousness. Those whose deeds have been harmful to the poor over the past fifty-sixty years will suddenly have their records publicly exposed. The truth will be painful to face, but some of the accused who took advantage of loopholes in laws to gain monetary benefits at the expense of others will find opportunities for redemption and the rebuilding of a better life.
In American news, expect a major event to unfold that involves a legal proposition in U.S. Congress that could result in a major transformation for the rights of immigrants. While these changes won't likely be able to be implemented until a couple of years from now, improvements may be planned as soon as this month. Expect a leak of the Mueller report, whether in parts or as a whole. Any "redactions" should be encountered with suspicion, as edits made by Barr will only serve to protect Trump and his family. The Judgment card indicates that we will eventually find out how the Mueller case was closed suddenly, without full consent of all parties, and under duress–a potential obstruction of justice in and of itself.
In your own life, this card can serve as a reminder that excessive guilt is able to be alleviated when we modify our actions by making amends today for the things we've done in the past. In other words, it's never too late to start building good karma (or adding to the good karma and helpful deeds you've already brought into the world).
Fourth Week of April 2019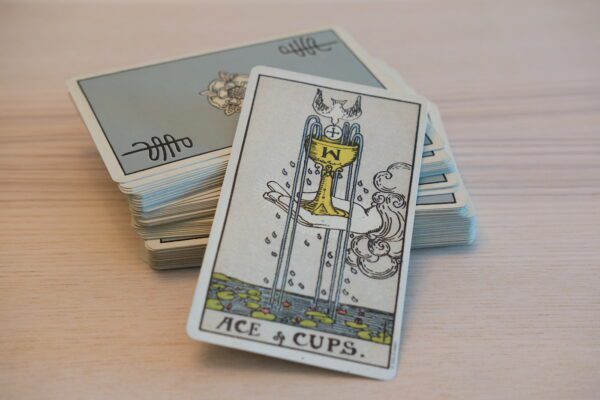 Ace of Cups – A dove places a communion wafer in an overflowing chalice which is held by the hand of a spiritual being who emerges from a cloud. Peace, a renewed interest feeling of serenity, and faith in unseen forces are all signified by this card.
In global news, expect more positive relationships to unfold amongst countries where new leaders will soon be inaugurated.
In U.S. news, a peace movement unlike any we've had before will soon be underway. The younger generations today will become the most peaceful generations of tomorrow, and perhaps of any generation before. While the peace movement will follow a time of conflict, know that peaceful movements will grow in time and yield tangible results.
On a personal level, Ace of Cups is about the emotional fulfilment that transpires when you follow your intuition. The card also points to the possibility of a new friendship, business, or romantic relationship that partly manifests as a result of visualization, heightened intuition, or the adoption of a different perspective about love than you've ever had before.
Overall, the Ace and Nine of Cups combined with the Eight of Wands brings a month of sensual satisfaction and a feeling of moving forward, whether those fulfilling circumstances take place in relationships, creative endeavors, travel plans, or something surprising.
*Please consult with your financial advisor regarding any financial decisions.