Astrology Prediction: Jeffrey Epstein, Trump, Clinton and Prince Andrew
On July 17th, 2017, almost two years before Jeffrey Epstein's arrest, you read a feature on this website about the astrology trends about to trigger questions about Prince Andrew, Donald Trump and Bill Clinton.
All three men had horoscopes which showed Leo eclipse patterns.  As you will know if you are a regular reader, an eclipse is always a cover-up or a blind spot. Those Leo eclipses of 2017-2019 spelled very dark days – I am sure you will remember one of those hot summer eclipses in particular sent the United States of America into deep shadow.
There's a reason for that, as key questions come out of the shadows about Epstein, arrested for sex trafficking and paedophilia. And it touches on the personal astrology birth chart for Prince Andrew, featured below, in Vanity Fair, with his partner Sarah, Duchess of York, in jollier times.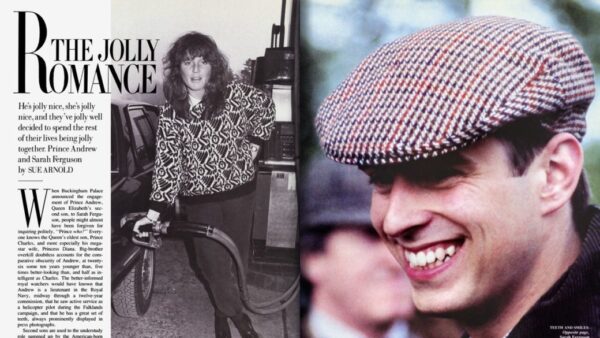 How Astrology Called the Exact Date of the Jeffrey Epstein Arrest
Before we look at the feature that ran on the Leo eclipse weather, and see how there was an astrological connection for almost two years, between the book Lolita, as well as old karmic questions for Bill Clinton dating from his affair with Monica Lewinsky – it's the moment to look at timing.
The fact is, astrology accurately called the arrest date for Epstein, specifically July 8th 2019, as a key point in a critical summer for the Trump dynasty – the President having been cited as part of Epstein's circle. Bloomberg ran this headline opinion piece right on July 8th.
Flashback to Trump Astrology Predictions About July 8th, 2019
This piece you saw at my website was viewed by a reasonable number of the 2 million people who visit jessicaadams.com every year. It appeared on February 3rd, 2018. The key date prediction (July 8th 2019) and general forecasts about July-August 2019 appear in red.
"This is a whole chain of cover-ups, secrets and lies covering the President's children and young in-laws – and it began on 11th February 2017 and will not finish until 21st January 2019."

Why the young Trumps? Because one half of these eclipses occur in Leo, the royal sign, which rules dynasties and kings. In America that means the President, his children and their partners and children.
I'm sure I don't have to explain that the heart of the cover-up eclipses is the conflict between the Trump children and their circle – Ivanka Trump, Jared Kushner, Donald Trump Junior, Eric Trump and his wife Lara Yunaska – and some people within the Republican Party itself. We might also bring some other Aquarian groups into that mix. The Democrats. The FBI. 
I mentioned that Aquarius describes groups – The Republican Party, the Democrats, the FBI. Throughout this whole series of  Leo eclipses involving the world's number one young dynasty – The Trumps – the sign of Aquarius has been reminding us that it's the political parties or intelligence agencies at the other end, which tell the other half of the story.
At this point, I have to mention the British royal family under Her Majesty Queen Elizabeth II. The whole point of eclipses is that they cover things up. Yet – we have to wonder about the role of Great Britain and MI6 in this too. Why? Leo is royal.
We then have to wait. And wait. The story stalls. What are we waiting for?
The mess of June through August 2019. Expect lies. Why? Mercury is retrograde. Do not believe what you hear or read about the Trump dynasty then. Fake news? You bet.
Mercury Retrograde in Leo, including the shadows, happens  from June 28th 2019 through August 15th 2019. 
The summer of 2019 is D-Day for the Dynasty, though. And it's going to happen something like this –
Around June 28th, 2019, the news about the Trump children and their circle, begins to roll as Mercury passes 0 Leo. From July 8th the story starts to change. By July 19th what we thought we knew, near June 28th – we do not. Hang in there.
Mercury, the planet which rules Twitter, newspapers, television stations, speeches, statements, computers, telephones and paperwork is going forwards. Then he's stalling. Then he goes backwards. Then he vanishes. Then he goes forwards again, but the story will change – or even be scrapped.
From August 12th through 15th, 2019, it's messy. But at last it will feel as if we are finally getting the truth.
It's an angry summer. Why? Mars is also in Leo, July 2nd through August 18th, 2019. Mars is the red planet and it shows battles. 
This is going to be like some epic Georgian feud involving a monarch and the heirs to his throne – and those against them. It's about King and court.The President's young heir Barron Trump is just a child and you would hope children do not get caught up in this. Again, Leo rules monarchy and the clue is in the name. Barron. Baron.
Astrology is about history. A great deal of what comes out in the long, hot, furious summer of June-August 2019 will directly relate to Donald Trump's life as it was, when the North Node was in Leo between October 21st 1998 and April 9th 2000. 
Going even further back, to the Leo node cycle of January 6th 1980 through September 20th 1981.
Back then, the North Node was in Leo (the children) and the South Node was in Aquarius (the group).
Space does not allow me to cover what happened then, but if you are curious about the cover-ups and conspiracies affecting the lives of Jared Kushner, Ivanka Trump, Donald Trump Junior, Eric Trump and the rest, in 2017-2019, start there."
Jeffrey Epstein, Trump, Bill Clinton and Prince Andrew
The Guardian and Bloomberg are just two media outlets, on July 8th 2019 raising questions about Epstein's powerful friends, as 'the case could have implications for others who have mixed with him," according to Edward Helmore.
"Epstein has counted Donald Trump, Bill Clinton and Prince Andrew among his friends and associates.
The counts against Epstein allege that he drew dozens of underage girls to his home on the Upper East Side neighborhood of Manhattan. Prosecutors will allege some of the girls were as young as 14. If convicted, Epstein could face up to 45 years in federal prison, according to the New York Times.
As the Epstein saga moves back into public view the White House could come under the spotlight. Trump was a sometime member of Epstein's social set and told New York magazine in 2002 he was a "terrific guy" he had known for 15 years.
"He's a lot of fun to be with," Trump said. "It is even said that he likes beautiful women as much as I do, and many of them are on the younger side."
Flight logs from Epstein's private jet showed that former president Bill Clinton took at least 26 trips aboard the plane between 2001 and 2003 – the same period from which the new charges are believed to stem." What Astrology Saw Two Years Ago: Predictions From July 17th 2017 
As Bloomberg reports, "The Jeffrey Epstein Arrest is a Worry for Donald Trump" it is worth looking back at the astrology predictions from this website filed almost two years ago now.
This was a long piece I wrote on the Leo weather in astrology, which was historic, dramatic and pulled in everything from Lolita, the notorious book by Nabokov, to the same famous names now being mentioned in connection with the Epstein arrest by at least two major international media outlets. And counting.
"THE LEO ECLIPSES 2017 THROUGH 2019 – BEWARE BLIND SPOTS" (July 17th, 2017)
"An eclipse is exactly what you might assume. An unclear, patchy or obscured period. It is neither negative nor positive. It just does not show you, what it normally should. On a world scale we will see cover-ups involving the British royal family, but also the American White House family…
Back in the 20th century, Princess Anne only occupied the position of "spare" to the heir, Prince Charles, until the birth of her younger brother Prince Andrew when she was nine. He then jumped over her in the line of succession…
THE LOVE THAT DARE NOT SPEAK ITS NAME – LEO BEDCHAMBER SECRETS
What happens when the heir has no children, and the spare may be gay? What happens when the royal bedchamber, that home of royal privilege, allows the ruler to do whatever he pleases, with whom he pleases, whatever the laws of the day might say about sex?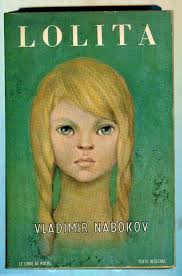 LEO AND THE DARK SIDE OF SEXUALITY
Scorpio is usually written about in astrology books as the sign to associate with the unacceptable side of sex. Leo is not immune. Promiscuity leads to sexually transmitted disease. There is nothing particularly noble, regal or dignified about V.D. but it skyrocketed during the Second World War when Pluto was in Leo and in 1943 the Archbishop of Canterbury was moved to speak out about it.
Vladimir Nabokov produced Lolita in 1955 during the long Pluto in Leo cycle. The power of sex. The power of the teenager. This was not a charming tale of courtly love, knights and damsels. It was the story of a nymphet step-daughter and her middle-aged stepfather. 
In the same year Francoise Sagan, then eighteen, published Bonjour Tristesse about Cecile, a teenager taking on her widowed father's mistress.
TROUBLE IN THE COURT OF KING TRUMP
The President, elected in 2016, has been compared both to King George III and Henry VIII. I do not know if he has yet been compared to Tiberius. Does Leo turn up in his birth chart? It is hard to say, because the first 'birth certificate' the world was given, was not a birth certificate at all. There are still two conflicting birth times for Trump.
The Leo mythology at the White House suggests we can expect trouble at the court, though. Those eclipses, and the arrival of not only Ceres but two long Mercury Retrograde periods in Leo, points to all manner of complication by 2019.
BARRON TRUMP – LITTLE DONALD
The young heir apparent, Barron Trump (the clue is in the name) is ten years old and also known as Little Donald. 
The other members of the dynasty include wife Melania Trump, daughter Ivanka Trump, her husband Jared Kushner and – Tiffany Trump, Vanessa Trump, Donald Trump Junior and Eric Trump. Former wives Ivana and Marcia Maples are also in the family tree. Watching these charts, there is a sense of America's deep past returning.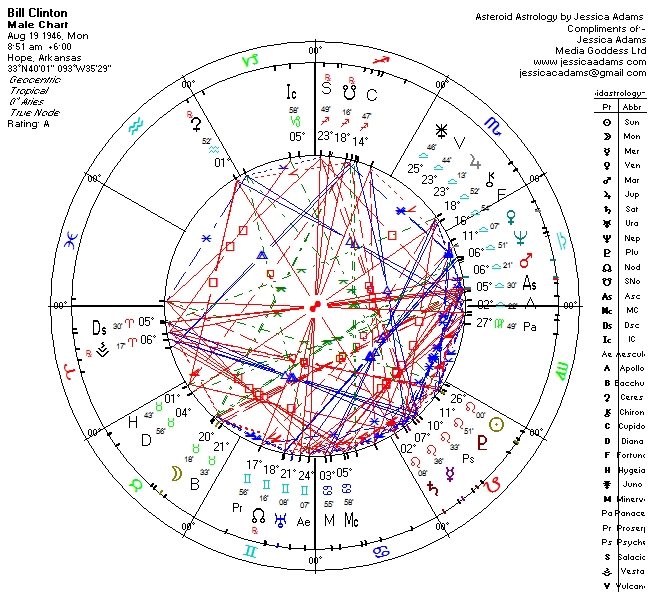 BILL CLINTON AND LEO KARMA  – WHAT GOES AROUND IN THE WHITE HOUSE COMES AROUND
A very Leo thing happened in 1999 on the last major Leo Node cycle. Sun Leo U.S. President Bill Clinton was acquitted in his impeachment trial for allegedly lying about his affair with Sun Leo intern Monica Lewinsky. 
Lacking a monarchy, or a royal bedchamber, America has the White House and the Oval Office. That year is a good example of Leo-Aquarius 'weather.' The Democrats were the people. Bill was King. The people rose up against him, but he kept his crown.
It would be unusual if there was not a direct or indirect replay of the Clinton/Lewinsky story of 1999 between now and 2019, on the final Leo eclipse. 
The North Node in Leo is about debts and credits from the last cycle, after all. The Node in transit can sometimes confront us. Just when you think someone/something was well and truly ancient history, it will come up again – prompting decisions." Now, over to you. What do you think of these two astrology predictions from the distant past? Both former President Bill Clinton and current President Donald Trump dominate the biography and autobiography section of any American bookstore, with titles like The Death of American Virtue and Crippled America.
Isn't it ironic? That's how the song goes. We are seeing the Clinton connection with Epstein raise uncannily similar questions on social media, to those which circulated about him and his fellow (much younger) Leo Monica Lewinsky back in 1999. We are also seeing Trouble in the Court of King Trump. As for the British Royal Family, we have no idea what those cover-ups have been, across the recent Leo eclipse weather. But cover-ups are a keynote of such times.
Please recall the original astrology prediction (I am filing this on July 8th 2019) over the next few weeks – in regard to messy information, a scrapped and changing story and the long quest for truth. Keep asking questions!
To recap:
"Around June 28th, 2019, the news about the Trump children and their circle, begins to roll as Mercury passes 0 Leo. From July 8th the story starts to change. By July 19th what we thought we knew, near June 28th – we do not. From August 12th through 15th 2019, it's messy. But at last it will feel as if we are finally getting the truth. A great deal of what comes out in the long, hot, furious summer of June-August 2019 will directly relate to Donald Trump's life as it was, when the North Node was in Leo between October 21st 1998 and April 9th 2000. Going even further back, to the Leo node cycle of January 6th 1980 through September 20th 1981."
How the World Media saw Epstein, Clinton, Prince Andrew and Donald Trump 
The denials are official ,according to Vanity Fair – CLINTON AND TRUMP PLEAD IGNORANCE AS EPSTEIN'S OLD FRIENDS BEGIN TO SWEAT. And in USA Today – 'Jeffrey Epstein's friendship with Prince Andrew is raising eyebrows: What's their link?' (The reply: 'The current charges against Epstein do not involve Prince Andrew in any way…")
That was quite a prolonged period of Leo weather with the Node of karma and the notorious blind spots of the Leo eclipses also coming to pass. Now, let's see how that old prediction about July-August 2019 pans out. ---
If you want to know more about how astrology predicts the future using the Eclipse and North Node and South Node cycle, please come to my Stonehenge and Avebury Astrology Walk launch – where we will talk about why Stonehenge is an eclipse and node calculator – on Monday, 15th July, 2019 at The Astrological Lodge of London, near Baker Street. The podcast tour features leading astrologers Natalie Delahaye, Maggie Hyde, Olga Morales and Penny Thornton. If you are a Premium Member or Sun Sign School student you can collect a complimentary podcast/walking tour.