I am writing as Boris Johnson becomes the new British Prime Minister and Conservative Leader. There is no upset or shock here, as I predicted hours before the announcement was made – the chart said, step aside Jeremy Hunt – and make way one of the few Gemini leaders at 10 Downing Street (Anthony Eden being the other notable Prime Minister born under the sign of the twins).
Boris writes about himself, and has been written about, more than most politicians in the 21st century. For that, we have his Gemini overload to thank – it being the sign to rule newspapers, biographies and autobiographies too. Gemini talks. A lot.
In this feature, I'll look at why astrology is right to take on Boris (because he has certainly written about astrology – as an expert on Roman history). We'll also consider the chances of an election in 2019 and 2020, and how the new Prime Minister might fare. But first, a true prediction. Against all the odds!
How Astrology Predicted Brexit
Astrology predicted Brexit on 22nd February 2016 when the opinion polls said the British would vote Remain and Boris Johnson didn't stand a chance.
This is true to form. During the English Civil War, astrology proved itself repeatedly. So, maybe we should not have been surprised that the old horoscopes for the nation, work so well.
This was the original Brexit vote forecast, on this website.
How Astrology Predicted Theresa May's Timeline
Astrology was also really clear about the future of Theresa May, back on 14th November 2018.
Here is a flashback in case you missed the original prediction:
Quote:
First hopeful sketch of a new Britain and new world – January 28th, 29th, 30th, 31st, February 1st, 2nd 2019.

Second hopeful sketch of a new Britain and new world – June 23rd, 24th, 25th, 26th, 27th, 28th, 29th, 30th, July 1st 2019.

Big finish for the best possible Brexit – September 22nd, 23rd, 25th, 25th, 26th, 27th, 28th, 29th 2019.
How the Theresa May Timing Worked
This timing – 'Second hopeful sketch of a new Britain and new world' was a bulls-eye for astrology. Unpopular Prime Minister Theresa May resigned on 7th June – and on 25th June in the media,  an announcement was made that the new Tory leader would be announced on 23rd July.
What About the Halloween Deadline? Back in 2018, the astrology was quite specific. It would be the end of September that was the deciding factor in the best possible Big British Brexit. Theresa May's suggested deadline of Halloween, October 31st, was one month over. Quote: "The final window for the best possible Brexit is September 22nd to 29th."
Here's another prediction from the same feature you saw here last year – Crossing Obstacles June 23rd to July 1st,  2019:
"September 22nd to 29th is worth holding a candle for, as Britain is set to face significant obstacles in May and June as we have some classic Gemini-Sagittarius oppositions which are strangely reminiscent of D-Day. No matter. Everyone comes up smiling again between June 23rd and July 1st …"
"The end result for Brexit 2019 is written in the stars in the last week of September, although Ceres at 17 Sagittarius from October 11th to 13th may be the hard part. That's the compromise where everybody has to agree to share the controls."
"You might say, September is the golden goodbye handshake but it is October 2019 which is the firm grip as the deal is cut."
"Wednesday 25th September is likely to  bring the crucial peace agreement (B-Day) as we find Mercury at 17 Libra, Jupiter at 17 Sagittarius and Neptune very close by at 16 Pisces."
October 2019 – The Deal is Cut
Remember, all of this was published on 14th November 2018, and it was not until 11th April 2019 that Theresa May announced her Halloween due date for Brexit. Horoscopes can and do work months into the future. Even years!
The British horoscopes for every stage of the nation from the Roman takeover of 55 B.C. forwards to the Act of Union on 1st January 1801 all said the same thing, six months before it happened. 
In July 2019, as Boris prepares to take power, I am going to stand by that old prediction: "You might say, September is the golden goodbye handshake but it is October 2019 which is the firm grip as the deal is cut."
By September, this is suddenly a nation in a hurry. Forget about sitting on your hands waiting for something to happen at Halloween!
Johnson, Hunt, Gove, Farage
What about new Prime Minister Johnson, though? Does his rival Jeremy Hunt vanish without a trace? What about Virgo Michael Gove? How about Aries Nigel Farage? Let's peer into the future one more time using the national horoscopes. As we'll see in a moment, none of these names should be swept away, as we are up for a radical fresh start in Britain in the year 2021 as a New Age of Aquarius comes in. The power then will belong to unusual team players, not to one man. Or one woman.
The Japan Times captured Nigel Farage's Brexit Party with a lot of white (and certainly non-Asian) faces in the frame, below, but in the year 2021, power in Westminster will be across all nationalities, races, genders, ages and classes.
The New Westminster – Many Parties, Many Faces
Johnson is heading that way, with a team which is notable for its female and non-white faces – but let's see how it all looks by Christmas 2020 when our New Age of Aquarius begins. Will we see an election by then? Yes.
The results will be a first, though. What we are seeing is 'Aquarian' thinking in Britain. Forget the old system of two, mostly white, mostly male parties with a rigid choice between two 'star' leaders and two ways of thinking…
The winning government, or cross-party government, that we find ourselves with, from December 2020, will be composed not just of Labour or Conservative faces, but a whole range of wildly diverse Britons, from all backgrounds, ages and viewpoints. The only thing that unites them will be a commitment to the climate emergency.
Flooding and Climate Emergency in Britain
For that we turn to two factors in astrology. Neptune in Pisces, which has long predicted flooding (watch the Thames in particular) as well as rising sea levels. Britain is melting, as surely as Britons are melting in record temperature summers.
To fix climate emergency we need one-world thinking. And for one-world thinking we need to go beyond the old two-party system towards community/diversity/unity (Aquarian watchwords).
Beyond that, we are seeing an uncanny repeat of the same astrological patterns Great Britain experienced during the Abdication Crisis last century, when the crown was given up for love – and it was necessary to haul in politicians from the left and right of politics to work together.
This forthcoming United Kingdom election will end the two-party system. Watch. I am going to predict we will see it across these time-frames, when Mercury Retrograde rules. Why? Nail-biting postal votes. Allegations of interference, again, on Facebook by Russia. Mistaken media calls.
We are increasingly seeing these kinds of elections in Australia, and Great Britain (one ended in that strange hybrid of the Liberal Democrats and the Conservatives) when there is mess, muddle, mayhem and the old system is rocked. Before we get to Nigel and The Brexit Party (amazing photograph, here, in The Japan Times) we need to look at these mad Mercury dates!
Astrology Predicts Election Dates for the UK
Given that we are heading towards a cross-party government or a groundbreaking 'hybrid' collection of the most diverse group of faces in Westminster history (in 2021) it seems likely that we'll also be seeing an election campaign or an actual vote on Mercury Retrograde. I use the shadow periods, for accuracy. Be aware of these muddled time-frames, below, as they could so easily chime with a split-hair election.
2019 June 20th to August 14th
2019 October 11th to December 8th
2020 February 2nd to March 30th
2020 June 18th to July 26th
2020 September 23rd to November 20th What Astrology Sees for Boris
Boris Johnson was born on 19th June 1964 in New York at 2.00pm and given the name Alexander Boris de Pfeffel Johnson. This gives us a natal chart for Boris with a B Rodden Rating (from a biography, in this case, Boris written by Andrew Gimson).  The 2 pm time is suspect. Very few babies are born right on the hour! Nobody from the Johnson family has amended those details in the book since publication, but a birth around 2pm may be right, as it gives Boris the Moon in sexually obsessive Scorpio, which might explain the complicated love life with Allegra, Marina and Petronella – all reported faithfully by Boris Johnson's biographers, even if he was never exactly faithful himself.
Scorpio has long been associated with marriage and mortgage, sex and money, passion and property.  Should the personal life of any political player, be a deciding factor in his/her suitability for the job at 10 Downing Street? Boris will get away with everything until the first week of December 2019. but he will have tremendous karma to deal with, starting May 2020, that dominates 2021 and does not finish until 2022. His past, in terms of his private life, will not be private then – and there will be some historic debts and credits to settle, karmically.
Close to his birthday in 2020 and 2021, Boris Johnson will have to deal with his former lovers and partners, as well as his enemies. Everything he did will be called to account. Blond Ambition, left, is just one of a slew of books about Boris Johnson which help us see what's happening in the Boris horoscope. His own books are interesting too. Would you believe he's actually written about (at least one) zodiac sign and its history?
Boris, Astrology and The Dream of Rome
At the start of this feature I mentioned that astrology was right to take on Boris, because Boris had taken on astrology. Well, he must be the only Prime Minister in Britain to have ever done so!
Back in 2006, before he was Mayor of London or Prime Minister of the United Kingdom, Boris Johnson wrote a book called The Dream of Rome (HarperCollins) which referenced astrology.
Emperor Augustus and his Lucky Sign – Capricorn – According to Boris
"Augustus' lucky sign was Capricorn, in celebration of the date of his conception…It was 23 December…which strikes me as being spookily close to Christmas."
And – "It is no surprise that if you go to the press conferences of the most powerful man in the world, and you look at the roundel on his lectern, you will see the American bald-headed eagle, clutching the lightning bolts of Zeus/Jupiter in his claws."
P.M. Johnson as he is now, also had this interesting fact about that astrological favourite, Mercury, on page 127: "The Gauls were particularly big on a god called Lug, who was associated with transport and commerce. No problem, said the Romans. Let's say Lug and Mercury are the same." (If you've ever wondered why Mercury is associated with lugging transport, now you know). 
There is more on Augustus and "the star sign with which he was identified" (Capricorn) on page 176 and also, interestingly, the Roman god Apollo, who lends his name to an important asteroid in modern astrology.
Jupiter Optimus Maximus and Boris
It is typical of astrology, which rests on synchronicity, that in this fantastically entertaining and informative book, Johnson should reference Jupiter (as he was known to the Romans, Jupiter Optimus Maximus) and, at the very minute he is announced as new Conservative leader – and new British Prime Minister – it should be Jupiter which lines up exactly in Sagittarius, at 15 degrees, perfectly quincunx the Midheaven or M.C. over London at 15 Cancer. 
Nothing could be more fitting. Likely, the only British Prime Minister to have ever written a book which darts around zodiac signs and planetary archetypes, comes into power as Jupiter himself – in the sign of foreign relations, Sagittarius – aligns with the Midheaven (the highest point of achievement) in the sign of patriotism, homeland and one's home town – Cancer. The recorded data was 23rd July 2019, 12.05pm at Westminster. It's also typical of astrology (and synchronicity) that the new British Prime Minister should have been born with an exactly opposition from Jupiter at 15 Taurus to Neptune at 15 Scorpio – and that he should choose the eagle, Jupiter's bird, to decorate the end pages of his book (below). Boris Johnson Horoscope Traits
This birth time of 2 pm given for baby Boris, by his biographer – also gives Johnson, Libra rising, also known as a Libra Ascendant.
David Cameron, Margaret Thatcher and Theresa May were all Sun Libra Prime Ministers. 
Libra is mistakenly associated with love and peace, partnership and duets of all kinds. It is actually about duels, just as much. It's about combat in the interests of justice, fairness, equality. 
The scales represent two sides, opposite sides, opposing parties and boxing-ring positions in red and blue corners. Boris looks like a man who engages in duels as well as duets. That's his image. Lover and fighter. 
The Gemini Overload in the Boris Chart
Boris was born with a stellium or unusually high cluster of horoscope factors in Gemini. 
London is a Gemini city, according to astrologer William Lilly in his 1652 book, Monarchy or No Monarchy in England, and Boris became part of the London landscape during his time as Mayor.
Gemini rules commuting, public transport and cars. Boris Bikes were part of Johnson's legacy to London, and he also enjoyed a role as motoring correspondent for GQ (where I also write about astrology). 
Let's Be Honest…
Can astrologers ever be objective about politics? It's a good question! Some in astrology would argue that at the moment one predicts the future, or analyses a personal birth chart, there is no more objectivity to be had. The astrologer becomes part of the story too. My colleague at Sun Sign School, bestselling author Maggie Hyde, thinks along these lines.
Let's be honest, anyway, as I know so many readers on this website have polarised political views.
In the interests of transparency, I should be upfront about the fact that Boris Johnson's sister Rachel Johnson contributed to a HarperCollins travel book I edited. I'm also friends with Sarah Vine, my brilliant fellow writer and partner to Michael Gove, who is a major player in the new British government. And yes, my lovely goddaughter also happens to be the granddaughter of Sir George Young, rather a legend in the Tory party.
So, declaring my hand, I have to say it's hard for me as an astrologer to be completely objective about Prime Minister Johnson. However, over the years I have learned to step aside as much as possible and look at the astrology, not the people. 
Watch September 2019 and Brexit
The horoscopes for every version of the British Isles we have ever historically known, all say the same thing: watch September 2019. And this does end well in terms of global expansion, abundant foreign trade and even the cost of holidays. At least for a time!
What we are really watching, though, is the karma of May 6th 2020 to January 18th 2022, when the natural luck and protection of Jupiter disappears from Britain. That is when the nation will be called to account for the past, in terms of her relationship with Europe, but also the United States and even further afield, the Commonwealth. All that the nation owes, or is owed, will come back then. The destiny of Prime Minister Boris Johnson is entwined with that. He will also be karmically called to account. Will he survive that? 
Boris Now: Shuffling the Reshuffles in August 2019
Boris takes the top job on Mercury Retrograde, so there will be reshuffles, of the reshuffles, of the reshuffles of the cabinet and ministerial team. You can count on chaos until at last Mercury is out of shadow – so the middle of August. There will be the usual standstills, reversals, computer and telephone problems, hacking, wrong announcements and the rest until just after August 15th, at Westminster. Thereafter we begin to get what looks like a solid Autumn plan in British politics. Chart below, calculated with Astrogold, for Prime Minister Boris Johnson, using the Natural House System (also called Zero Aries) born 2.00pm on 19th June, 1964 in New York, U.S.A. From Biography (Rodden Rating B).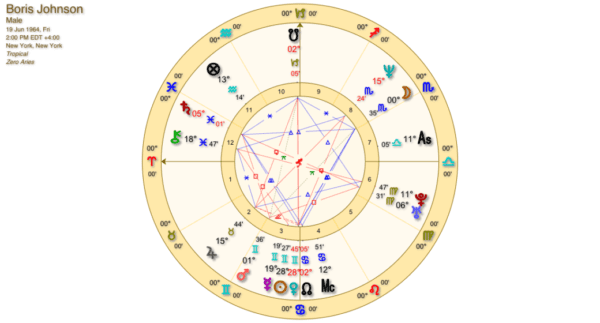 Uber, Transport for London and Boris
It's interesting looking at the astrological chart for Uber, which is set to implode during that key karmic period I mentioned for Britain and also for Boris. His own birth chart (above) has heavy, fated ties to Uber thanks to Saturn. 
Uber began life in March 2009, as the Sun moved through Pisces, so it has a direct link to the Boris Johnson horoscope which I have calculated with Astrogold using B data and the Natural House system. You would expect a time of reckoning for Uber as we move into the Sagittarius-Gemini weather May 6th 2020 to January 18th 2022. I find it really interesting that Uber is virtually invisible online (classically Pisces in nature: it swims far below the surface) when it comes to Johnson's support. 
My black taxi drivers in London tell me a different story! In fact they never stop talking about Boris and his impact on their lives. Yet, all I could find was this, but it's a telling quote: "Former London mayor Boris Johnson's hands-off policy toward app regulation has led to lax control of apps and the companies providing them, says trade union GMB London. This has had a serious effect for street hail and taxis."
Uber and the Pisces Connection for Boris
Sometimes in astrology, you see one series of charts, and then another, and make a connection. With all bells ringing. This is very much the case with Boris Johnson and the Uber corporation.
The story of Uber, which began life as UberCab in March 2009 is here. 
That month, we saw the Sun in Pisces, Mercury in Pisces, Mars in Pisces and Uranus in Pisces too. That's an overload of the fishiest sign in the zodiac. Karma will out, and we should be curious about just how that karma plays out in the Boris horoscope too. It may seem peculiar, but the charts are linked and so is the long-term future. 
Pisces Weather and the Boris Horoscope
As Johnson becomes the new Conservative leader and British Prime Minister at 11.40 am on Tuesday, July 23rd, 2019, Neptune passing by at 18 Pisces will conjunct Boris Johnson's Chiron at 18 Pisces in the Twelfth House. This is hugely important in terms of Wednesday 25th September 2019, (when I predicted B-Day back in 2018) as this date is likely to bring the crucial peace agreement regarding Brexit, as we find Mercury at 17 Libra, Jupiter at 17 Sagittarius and Neptune very close by at 16 Pisces. 
It's going to involve the fishing industry. And how. All this circles the Boris Johnson chart. The Twelfth House describes his relationship with his God, his inner demons, his soul and his spirit. There is something here none of us will ever know about, which is a matter for Johnson's conscience. And it's fishy. It is in the nature of Pisces that so much should be below the surface, lurking in the depths, though – and thus it is very hard to trawl that. Yet, we should also be seeking answers, long-term.
The Fishy Business of Boris Johnson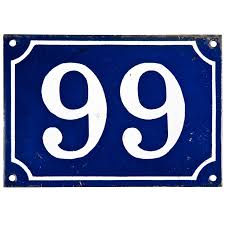 This theme, above, came up in a talk I gave to the Brighton and Hove Astrology Group in July 2019, so I will repeat it here. There is slippery, fishy business taking place with Brexit, and Boris Johnson's soul – quite literally – as fishermens' rights in Britain, France and all around the island water territories are a hugely clouded and mysterious issue. This goes beyond the old English Channel and Dover-Calais borders into all that lies above the ocean bed and under Eurostar.
At our talk at the Brighton and Hove Astrology Group, in the heart of British fishing territory, the astrologer Julian Venables raised the image of King Canute trying to turn back the tide. Others literally pointed to the Pisces theme of fish – the threat to the French being the Brexit bargaining chip. We also have the word play, so typical of astrology, of kippers and UKIP (nicknamed Kippers).
There is so a great deal of slippery, elusive, fishy business below the surface in the Johnson chart and we will reel it all in, in September, one month short of the 31st October deadline set by Theresa May. The astrology suggests that's too late – this all happens earlier. What we're looking at here, is a September 2019 drama. Who or what gets caught in the net?
Astrology is an odd thing. Here we have a new Prime Minister with a major Pisces signature in his chart. Arriving with Neptune in Pisces, sending huge waves across his horoscope – at a time when the British Isles and her territorial waters are also making waves. This is going to grow, and grow, as a future election issue.
The British Chart and Boris
In September 2019, these patterns which generate so much fishy business for Boris and the nation, lock into the old United Kingdom chart for January 1st, 1801, which shows Mercury (trade) position at 17 Sagittarius (foreigners). 
The trigger, transiting Neptune in Pisces, suggests the English Channel. Meanwhile Mercury at 17 Libra is about The Special Relationship between America and Britain. And Boris is American. Most interesting. Libra, as we've seen, is his Rising Sign and it is associated with duels as much as duets. 
This is war with France and you would have to suspect, with that exact, historic pass of Neptune over Johnson's chart, that so much has already been going on below the surface, most of it's invisible.
I would also add to this, that we need to look at foreign intentions for the Arctic, Antartica and also the climate emergency and rising sea levels. This also swirls around in Boris Johnson's destiny, with that massive emphasis on Neptune, the ancient Roman god of the oceans.
Britain Against France
Monty Python went searching for the Holy Grail in one of their most famous films and found a classic joke – French soldiers blowing raspberries and trading hilarious insults at the British. The long rivalry and occasional outright loathing between the French and British is back, in a big way, as Boris takes charge. This goes beyond him allegedly calling the French 'turds.' What we're looking at here is centuries-old conflict stirred and shaken by the passage of time across the French and British horoscopes. The English Channel (where I am shortly about to go swimming, as I write this, on 23rd July 2019) will be where it's all played out. This goes beyond cod and mackerel, though. Boris has the kind of horoscope where he cannot leave transport alone. We're now looking at ferries, water taxis, sea planes, private craft. The lot. This is where the new war with France will be played out, and of course this includes Eurostar.
Again, at the Brighton and Hove Astrology Group event, in July 2019, we wondered if the future might not involve rock-bottom Eurostar tickets by Christmas. Beyond that, though, you'd have to say that 2021 in particular is a time of reckoning for French-British relations, transport and travel – like no other we've seen in years.
The Boris horoscope reveals a man obsessed with getting from A to B, no matter if it is by sponsored bicycle, ferry, train or bus. One of the very first epic mistakes we will see, as Johnson takes power in July 2019, is his handling of these transport and travel issues, as he takes the reins on Mercury Retrograde. I mention this, for those of you who have summer plans in the British Isles and over to Europe. Mercury the messenger of the Gods will be cycling backwards until mid-August 2019. This feature is about the long-term, though, not just the short-term.
It is in the nature of astrology that anything which has not been resolved, re-resolved, and re-re-resolved regarding Eurostar, the Cross-Channel ferries, trains and so on (all these short-haul commuting or travel decisions showing up in Johnson's chart) by August 17th 2019, will never be resolved. They will go on. And on. And cause any amount of problems! Time is of the essence for the new Prime Minister regarding this.
How 2021 Changes Everything
So much for 2019. And even 2020. Yet, the year that changes everything for Britain and the world is 2021. This is the New Age of Aquarius, the sign which favours teams, not leaders. Groups, not superstars. All colours, ages and genders together. We are starting a cycle not seen in over 240 years as Pluto approaches Aquarius and Jupiter and Saturn are also in Aquarius, moving in for Christmas 2020. The election to come will absolutely seal this deal. The new United Kingdom has nothing to do with kings, nothing to do with old 20th century ideas of 'unity' and everything to do with a very unusual collection of vastly different interest groups – yet all seeking a common purpose.
Never mind Boris Johnson, Nigel Farage, Michael Gove, Jeremy Hunt and the rest. The future is female. It is also male, white, non-white, old, young and from all classes – all backgrounds. 
Boris, Nigel, Donald and 2021
Let's see where the Brexit Party is in 2021 in terms of that new Aquarian direction. And let's also consider the shape of the Conservatives, Labour and their relationship with the world as a whole, because the New Age of Aquarius is about one-world thinking in the face of what will then be a desperate climate emergency.
Donald Trump is long gone by then. No leader with a history of severe problems with women, or other races, can possibly survive this cycle. In 2021, it will no longer be about the man at the top. It will be about the people, united in a spirit of sharing, and it will include all sexual preferences, genders and so on. This is where the Aquarian generation (born with the outer planets in Aquarius: today's teenagers) will send their votes.
A Coalition or Cross-Party Government Like No Other
So, peering two years into the future, I've had to say that we might also be looking at a coalition government in Britain, made up of politicians from all the parties – Green, Conservative, Liberal Democrat, Labour – and independents. 
We'll likely see very slim minority results by some individuals, and such a divided Westminster that it becomes clear the old days of 'one ruler, one party, one direction' are ancient history by 2021.
You'd have to expect that the election itself, or its end results, would be carried out on Mercury Retrograde because of this. That chaotic cycle would suit this kind of outcome.
Tom Watson, Labour and Cross-Party Thinking
Again, I have to show my hand here, because I follow Labour's Tom Watson on Twitter and he follows me! Yet, Tom would have to be a major contender for that kind of unique, surprising, 'dream team' teamwork which is showing up in the politics of 2021. He has that kind of birth chart and has been making those kinds of noises…
Just to repeat. We are seeing the same crisis and cross-party government patterns that we found in the astrological charts for the Abdication, when a King stepped down to marry the woman he loved, and the country had to deal with it in a most unusual way.
The Brexit Party is an interesting attempt at this kind of 'all-comers' Aquarian thinking. In fact it is ahead of its time. Let's see which faces line up in 2021 and if they are suitably diverse – because that's the future. Power goes back to the people, from the people, for the people – the bad old days of white men in suits at the top vanish. You'd have to say, though, that for a genuinely Aquarian future, as Jupiter and Saturn go through Aquarius in 2021, and Pluto follows them from 2023, this is not just about Nigel and his team of Tory rebels and – particularly – female household names.
This is going to be an astonishing band of many different players, governing us from Westminster, plucked from left and right. What binds them together is climate emergency – economic transformation following Brexit – and very likely, waiting in the wings, a looming question about Prince Charles as well. But that's another story.
The Boris Horoscope on Astrogold
Let's finish with Boris-at-a-glance. Astrogold software for the Mac gives us this chart: you can see the Gemini overload in the Boris natal chart immediately (long the sign of the writer and broadcaster), and also the patriotic North Node at 2 Cancer, matched by the Cancer MC or Midheaven, showing the highest peak of achievement. 
The Boris Johnson horoscope is extreme, like the man. You can make a prediction right away, about his finances. You can read that in a moment – and that's how I will finish this feature on the new Prime Minister. Why? Because that is (almost) how it will finish him, too! For now, though, just look at this chart:
Boris Johnson and the Gemini Overload
Jupiter 15 Taurus
Mars 1 Gemini
Mercury 19 Gemini
Sun 28 Gemini
Venus 28 Gemini
North Node 2 Cancer
Midheaven (MC) 12 Cancer
Uranus 6 Virgo
Pluto 11 Virgo
Ascendant 11 Libra
Moon 0 Scorpio
Neptune 15 Scorpio
South Node 2 Capricorn
Part of Fortune 13 Aquarius
Saturn 5 Pisces
Chiron 18 Pisces
How May 2022 Finishes Boris's Finances
Let's finish by peering at May 2022. I am writing this in July 2019 but this is a time of reckoning for the new Prime Minister.
Very close to Friday 6th May 2022, we find the Sun at 15 Taurus, Mars at 15 Pisces, Uranus almost at 15 Taurus and Chiron almost at 15 Aries. This is a major trigger for Boris's property, charity, business, share market, political donation, banking and taxation horoscope. Why? He was born with Jupiter at 15 Taurus opposite Neptune at 15 Scorpio.
Uranus will bring a shock for Boris Johnson that also makes his accountant fall off his/her chair, close to May 6th 2022. It will make headlines. It will challenge everything he ever thought he knew, about his own finances – and that means we are all affected in some way, too. This is the beginning of a saga that goes on all month. It goes beyond his own personal finances into the fate of the country and actually, the world economy. This is bigger than Boris – bigger than all of us – affecting millions who were also born with Scorpio placements –  but he is affected. This is a personal and a political moment of truth and a shock that will bring a revolution in British banking.
Watching August-September 2022 and Boris's Bank
We only see these Node cycles once every 19 years and in August, September 2022 we find the North Node at 15 Taurus and South Node at 15 Scorpio. Thus, as we predict the future, we also hark back to the past.
What happens with the Johnson banking and finances in August, September 2022, takes him all the way back to 2003-2004.
The Nodes were known to the people of Stonehenge. They are a keynote of Indian astrology. The Nodes show the past coming back to us, for better or worse, but it is the appearance of Uranus (the shock) in 2022 that suggests something from 2003-2004 is set to rock Boris Johnson's world. 
These cycles affect all of us, by the way, so we are likely looking at a massive time of reckoning for the country and the planet, in terms of settling karmic debts and credits from the past. Astrology is for the people, not the elite (as it was in the days of Augustus, which Boris Johnson covers so brilliantly in his book).
Today, we use it quite democratically, to ask powerful questions about powerful people and that is why I am calling the year 2022 right now, as a period to ask the deepest questions of/about P.M. Johnson.
Watching December 2022 and the Johnson Finances
The pattern repeats in December 2022 as Uranus moves to 15 Taurus again and triggers the Johnson horoscope. He has never had this cycle before and he will never have it again. It will utterly change his life and his financial affairs. Given his huge part in London life, and British political life, you'd have to say this is also a game-changer for the Conservative party. So – what do you think? Are you also as intrigued by this chart as I am? The Brexit saga has ended, finally, with democracy triumphant. The majority now have what they voted for, with the man who led them there. The timing of Boris's exact arrival as the new Prime Minister was a perfect triumph, too, of optimism (Jupiter) global expansion (Sagittarius) and patriotism (Cancer) as the Midheaven lined up at 12.00 noon exactly on what Twitter called #BorisDay. Beyond that, though, you can expect this intriguing leader to be part of nothing less than a sweeping revolution at Westminster that ushers in a New Age of Aquarius in 2021, when it is not the leader, but the team (and the teams, plural) which will lead Britain into the next decade.

Boris Johnson Natal Chart Data
Where possible I always use Lois Rodden verified data, thanks to the generosity of Alois Treindl at Astro.com. Our best source for the time, date and place of the Boris Johnson chart is the Andrew Gimson biography, available on Amazon.
Boris Johnson has already been written about, more than most British leaders, in the astrological world. We are fortunate to have a Prime Minister who has also, in the spirit of research, also referenced astrology in a critically acclaimed history of Rome. Now, that's a first. Yet, the real first will be a reborn Westminster in the year 2021. That's worth watching and waiting for, as Jupiter and Saturn in Aquarius, begin their ascent over Johnson's Part of Fortune, also in Aquarius. But that's another story.