How Astrology Predicted Brexit
You can't really separate Boris horoscopes (Boriscopes?) from Brexit. Astrology predicted that Great Britain would leave the European Union on 22nd February 2016 when the opinion polls said the British would vote Remain – and Boris Johnson didn't stand a chance. Well, it seems to have been written in the stars.
This is true to form. During the English Civil War, astrology proved itself repeatedly. So, maybe we should not have been surprised that the old horoscopes for the nation, work so well. In fact, there is such a long relationship between astrology and power in Britain (going all the way back to the coronation of Queen Elizabeth I and Dr. John Dee) that it's not surprising that all the old horoscopes work. Boris was always on the right track.
This was the original Brexit vote forecast, on this website.
What Astrology Sees for Boris
Boris Johnson was born on 19th June 1964 in New York at 2.00pm and given the name Alexander Boris de Pfeffel Johnson. This gives us a natal chart for Boris with a B Rodden Rating (from a biography, in this case, Boris written by Andrew Gimson).  The 2.00 pm time is wrong, in my opinion. Few babies are born then. Nobody from the Johnson family has amended those details in the book since publication, but a birth around 2pm may be right, as it gives Boris the Moon in sexually obsessive Scorpio, which might explain the complicated love life with Allegra, Marina and Petronella – all reported faithfully by Boris Johnson's biographers, even if he was never exactly faithful himself. It's just that even a few minutes can result in wrong prediction!
Scorpio has long been associated with marriage and mortgage, sex and money, passion and property.  Should the personal life of any political player, be a deciding factor in his/her suitability for the job at 10 Downing Street? Boris will get away with everything until the first week of December 2019. but he will have tremendous karma to deal with, starting May 2020, that dominates 2021 and does not finish until 2022. His past, in terms of his private life, will not be private then – and there will be some historic debts and credits to settle, karmically.
Close to his birthday in 2020 and 2021, Boris Johnson will have to deal with his former lovers and partners, as well as his enemies. Everything he did will be called to account. Blond Ambition, left, is just one of a slew of books about Boris Johnson which help us see what's happening in the Boris horoscope. His own books are interesting too. Would you believe he's actually written about (at least one) zodiac sign and its history?
Boris, Astrology and The Dream of Rome
At the start of this feature I mentioned that astrology was right to take on Boris, because Boris had taken on astrology. Well, he must be the only Prime Minister in Britain to have ever done so!
Back in 2006, before he was Mayor of London or Prime Minister of the United Kingdom, Boris Johnson wrote a book called The Dream of Rome (HarperCollins) which referenced astrology.
Emperor Augustus and his Lucky Sign – Capricorn – According to Boris
"Augustus' lucky sign was Capricorn, in celebration of the date of his conception…It was 23 December…which strikes me as being spookily close to Christmas."
And – "It is no surprise that if you go to the press conferences of the most powerful man in the world, and you look at the roundel on his lectern, you will see the American bald-headed eagle, clutching the lightning bolts of Zeus/Jupiter in his claws."
P.M. Johnson as he is now, also had this interesting fact about that astrological favourite, Mercury, on page 127: "The Gauls were particularly big on a god called Lug, who was associated with transport and commerce. No problem, said the Romans. Let's say Lug and Mercury are the same." (If you've ever wondered why Mercury is associated with lugging transport, now you know). 
There is more on Augustus and "the star sign with which he was identified" (Capricorn) on page 176 and also, interestingly, the Roman god Apollo, who lends his name to an important asteroid in modern astrology.
Jupiter Optimus Maximus and Boris
It is typical of astrology, which rests on synchronicity, that in this fantastically entertaining and informative book, Johnson should reference Jupiter (as he was known to the Romans, Jupiter Optimus Maximus) and, at the very minute he is announced as new Conservative leader – and new British Prime Minister – it should be Jupiter which lines up exactly in Sagittarius, at 15 degrees, perfectly quincunx the Midheaven or M.C. over London at 15 Cancer. 
Nothing could be more fitting. Likely, the only British Prime Minister to have ever written a book which darts around zodiac signs and planetary archetypes, comes into power as Jupiter himself – in the sign of foreign relations, Sagittarius – aligns with the Midheaven (the highest point of achievement) in the sign of patriotism, homeland and one's home town – Cancer. The recorded data was 23rd July 2019, 12.05pm at Westminster. It's also typical of astrology (and synchronicity) that the new British Prime Minister should have been born with an exactly opposition from Jupiter at 15 Taurus to Neptune at 15 Scorpio – and that he should choose the eagle, Jupiter's bird, to decorate the end pages of his book (below). The Gemini Overload in the Boris Chart
Boris was born with a stellium or unusually high cluster of horoscope factors in Gemini. 
London is a Gemini city, according to astrologer William Lilly in his 1652 book, Monarchy or No Monarchy in England, and Boris became part of the London landscape during his time as Mayor.
Gemini rules commuting, public transport and cars. Boris Bikes were part of Johnson's legacy to London, and he also enjoyed a role as motoring correspondent for GQ (where I also write about astrology).  You can see the 2.00pm birth time chart below. This looks quite wrong to me. And it led most astrologers in Britain to predict a hung parliament election in December 2019. Actually, we were predicting what had already happened. Blocked Boris and Blocked Brexit in London, was ancient history by then. So – not 2.00pm!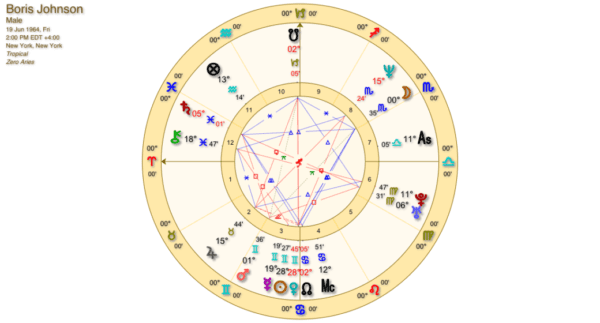 Uber, Transport for London and Boris
It's interesting looking at the astrological chart for Uber, which is set to implode during that key karmic period I mentioned for Britain and also for Boris. His own birth chart (above) has heavy, fated ties to Uber thanks to Saturn. 
Uber and the Pisces Connection for Boris
Sometimes in astrology, you see one series of charts, and then another, and make a connection. With all bells ringing. This is very much the case with Boris Johnson and the Uber corporation.
The story of Uber, which began life as UberCab in March 2009 is here. 
That month, we saw the Sun in Pisces, Mercury in Pisces, Mars in Pisces and Uranus in Pisces too. That's an overload of the fishiest sign in the zodiac. Karma will out, and we should be curious about just how that karma plays out in the Boris horoscope too. It may seem peculiar, but the charts are linked and so is the long-term future. 
Boris Johnson Natal Chart Data
Where possible I always use Lois Rodden verified data, thanks to the generosity of Alois Treindl at Astro.com. Our best source for the time, date and place of the Boris Johnson chart is the Andrew Gimson biography, available on Amazon.
For those of you who have asked, I will try to obtain an accurate birth time when I can. You see, I was the Editor of The Holiday Goddess Guide to Paris, London, New York and Rome featuring a certain writer named…Rachel Johnson!