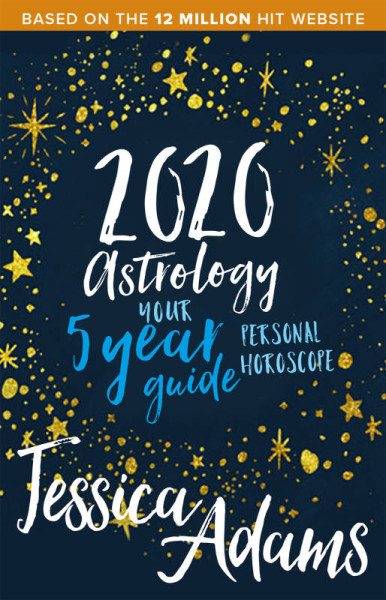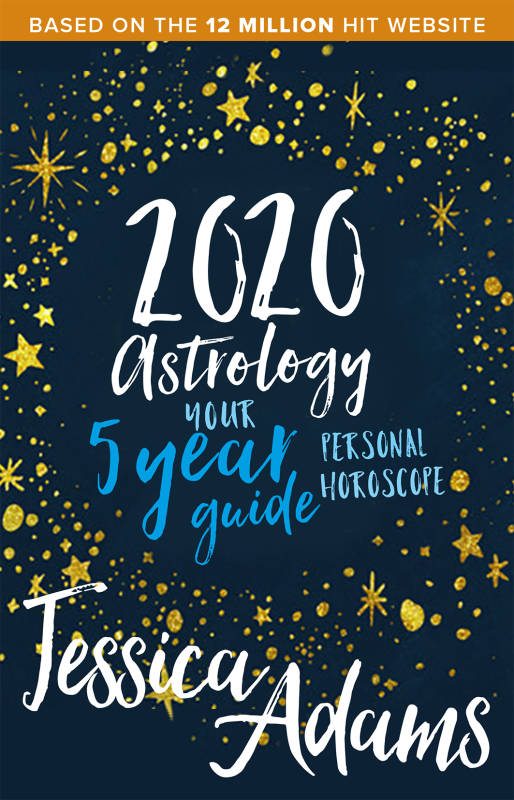 2020 Astrology – Your 5 Year Horoscope Guide by Jessica Adams is based on the 12 million hit website, jessicaadams.com and covers every aspect of modern 21st-century astrology. It's your way of discovering your personal birth chart, as you've never seen it before – and predictions through 2020.
About 2020 Astrology * Introduction * Sun Signs * Moon Signs * Welcome To The New You * Your Ascendant * Your Horoscope Factors * Your Aspects * Using Your Chart * Mod Astrology * Fortuna * The Joy of Jupiter * Saturn * Freedom! Uranus * Pluto * Love * Money * Your Body * Mercury Retrograde * Dates With Destiny * Life On Mars * Your Venus Return * Dogstrology * Eclipses * Full Moon * New Moon * Here Comes 2020 * Is America Capricorn? * Sacred Geometry

FROM THE INTRODUCTION
Ten years ago I wrote an astrology book called 2020 Vision. My Sagittarian publisher at Penguin Books came up with the title.
Astrology has transformed beyond recognition since then. Pluto was demoted. We have new heavenly bodies to work with, like Neptune's wife. I needed to edit my original book and add new sections.
Most importantly, the eBook has come along. This means you can now read this eBook while looking at your astrological birth chart online.
This book, 2020 Astrology – Your Five Year Horoscope Guide allows you to make your personal horoscope work harder for you.
ABOUT 2020 ASTROLOGY
2020 Astrology – Your 5 Year Personal Horoscope Guide is interactive so that you can read chapters on your computer, Kindle or iPad and refer to your own birth chart on Jessica's website at the same time. Regular updates, exclusive extras for Premium Members and tie-in events around the world will appear here.
From Jessica
Thanks for dropping by to find out more about my new ebook. When we found out that our website had been visited 12 million times in 12 months I thought it would be great to give readers like you even more as a way of thanking you for an incredible year. This book is a fully updated and extended edition of 2020 Vision which was published by Penguin Books almost ten years ago. Astrology has changed dramatically since then with the demotion of Pluto and I needed to rework that book! Beautifully designed by Creative Director Mark Elder, this is one to take away on your next vacation or to smuggle into the bath. Best of all, with this book and your birth chart, you can find out who you are.
Topics include:
+ Your Venus Cycles and Your Love Life
+ Don't Sign! Mercury Retrograde Rules
+ When to Buy a House, Sell or Move
+ How 2020 Changes the World Forever
PREDICTIVE QUOTES FROM JESSICA ADAMS

June 5, 2015
"England will eventually leave the European Union. Scotland will ultimately leave England. Europe is breaking apart and this is the start."
February 22, 2016
"Expect wild electrical storms in the final week of June and into the first 2 weeks of July… two kinds of lightning, both forked and sheet, seem certain to light up the sky over Britain as she votes for freedom from Brussels' rules and the excitement of a Brexit. Isn't Astrology fun?"
ABOUT JESSICA ADAMS
Jessica Adams B.A.. has written horoscopes for Elle, Vogue, Harper's Bazaar, Bloomingdale's and Marie Claire during a global career as a professional astrologer. Her astrology books include Astrolove, Handbag Horoscopes and 2020 Vision (Penguin) and the #1 Amazon bestseller 2020 Astrology – Your Five Year Horoscope Guide. Jessica is also a novelist published by Penguin. She lives between Australia and Britain and edits The Holiday Goddess Guide to Paris, London, New York and Rome (HarperCollins). Read more online at Family Circle USA. 
She is well known for making specific, accurate predictions – years in advance. 
Read more
.