Astrology Predictions – The 2020 Fires in Australia
You don't have to be an astrologer or psychic to know that every summer brings terrible bushfires to Australia. I spend about half the year in this country, and have a fire plan, and a fire kit – as most of us do, who live in the bush or on the coast.
I've had questions from so many readers in January 2020 about these new, devastating fires. You want to know if Prime Minister Scott Morrison will last, given international as well as national criticism of his government's handling of the tragedy. I recently held a workshop in Sydney where some of you also asked if the Governor-General would dismiss him as PM.
Why is Everyone So Divided Over Scott Morrison?
The last election in Australia was held on a Full Moon. The Sun clashed with the Moon, across Taurus and Scorpio, the economy signs. (Also the signs of huge bills, like those currently coming from the catastrophe in Australia). I ran this prediction on 5th of April 2018, just before the nation voted. It was always going to be about money. And always divisive!
The Liberal Party leadership has an overload of Taurus and Scorpio men, to make matters worse. You might also have seen this prediction, that the 2018 election would be about 'coal or koalas'. Well, that has now had a heartbreaking outcome.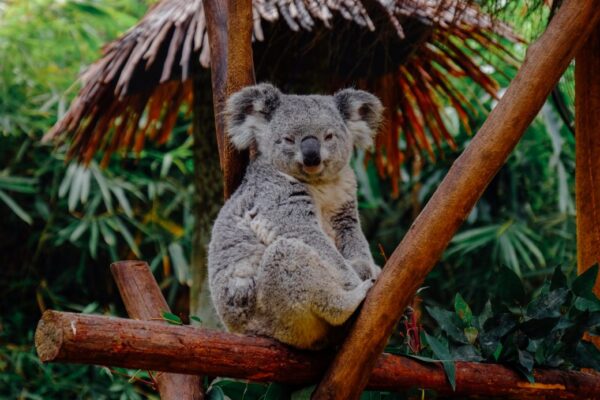 Big Answers! Liberal Spill for Leadership in 2020
We are going to see a crisis within the Liberal party in 2020 with a spill, unless everyone can switch direction and unite at the last moment. The threat of the spill will come rapidly and it's a make-or-break moment for Prime Minister Scott Morrison.
We'll see the #LibSpill2020 threat when the Australian economy is hit by foreign trade storms and a new global financial crisis.
Absolute Chaos in February and March 2020
We are also going to see absolute chaos in politics in Australia, starting with Mercury Retrograde on Monday 3rd February and ending Monday 30th March. PM Scott Morrison was given the job on Mercury Retrograde! This is my statement on that, here. It was always going to be a 'wobbly path' for him. He could easily come off his bike, February and March 2020.
The Astrology of Scott Morrison
There is no point in casting a horoscope for the controversial Prime Minister, as he has no verified birth time. Yet, we can look at up to five horoscopes for Australia as a nation and see the same pattern.
From a previous feature: "This is a nation with many 'birthdays' and birth certificates. We get to choose from 26th January 1788, 7th February 1788, 1st January 1901 and 9th May 1901. Finally – the most interesting Australia astrology chart of all – the one set for 27th May 1967 when Aboriginal Australians won a landslide referendum in favour of equality."
The Governor-General, the Royal Family and Australia
January 2020 is critical for the relationship between Australia, the Royal Family and the Governor-General. Remember, this is where the ultimate power lies (and it was how Gough Whitlam was sacked in The Dismissal of 1975). In January 2020 Her Majesty the Queen is at a critical point in her relationship with Australia, as is Prince Charles, her successor, by January 31st, 2020. I am writing this on January 7th, so it's weeks into the future. So is this a constitutional crisis or something else?
February-March 2020 Mercury Madness – Possible Scenarios
If the Senate blocks supply on this Mercury Retrograde, the country grinds to a halt. Yet – what if Australia sees no end to these fires? Or more leaders on holiday when the country burns? As I write this on January 7th 2020, we have already seen hell. What if this does not stop? Perhaps, then, the Senate will trigger a crisis, to call a halt to a crisis.
Cyclones and Flash Flooding, February 2nd until March 30th, 2020
Australia will experience a heavy cyclone and flash flooding risk, during Mercury Retrograde. This begins close to Sunday 2nd February and ends near Monday 30th March. There will be piped and tank water shortages, but ironically, floods as well.
The Second Mercury Retrograde and Australia
We also have a second Mercury Retrograde from Tuesday 2nd June until Monday 27th July. It takes place in Cancer, which rules property, land, families, the national identity, homes and other issues relevant to Climate Emergency fires. Mercury is a symbol of paperwork, negotiation, information, communication and transportation. Retrograde (or appearing to go backwards) in Cancer, this planet suggests a messy period in the aftermath of Australian fires – in astrology.
Watch the Senate and Watch Zali Steggall
We are moving out of the old Age of Capricorn and into the New Age of Aquarius around the world, in slow stages. By December 2020, the new rebirth is complete. Aquarius phases in astrology are about global community, one world thinking, humanitarian values, diversity and equality.
This suits the Senate of Australia and its big spread of independents, men, women and politicians from the right and left. I would watch Zali Steggall during the chaos of February, March 2020. Will she cross the floor? Are we seeing a No Confidence Motion?
Aquarius is not about the old two-party system. No, not at all. Australia seems extremely likely to be the 'test' country for a new way of leadership which is inclusive and diverse. Remember, Steggall ran on climate change and defeated the former Prime Minister, coal-loving Tony Abbott!
Is the chaos of February-March productive, then? Are we going to see the very start of a radical new 'blend' of power, involving the Greens, Labor, independents and perhaps rebels in the Liberal party? That would fit the astrology really well. The Capricorn Age was old white men in suits. The Aquarius Age is – a collection of minorities.
Chaotic Mercury Retrograde Weather in February-March 2020
The chaos from the fires is not going away. We are going to see Mercury Retrograde in Pisces (water supply, dams, water shortages) from Tuesday 4th February until Monday 30th March. I wish it wasn't so, but this is a dangerous period for Australia. Country towns are running out of water now.
Why Australia Will Change Political Direction in 2021
The new one-world thinking (Aquarius) is coming just before Christmas 2020. A fantastic Christmas present for everyone troubled by Climate Emergency. The year 2021 is when Australia abandons the old Capricorn age of 'total power from the top down' and embraces horizontal power, shared equally, by politicians who represent diversity and equality. Not white. Not male. Let's turn to astrologer Margaret Hone, peering at the sign of Aquarius, seven decades into the future. As Principal of the Faculty of Astrological Studies between 1954 and 1969, in London, she was hard to beat.
This does not sound like the old choice between 'Labour and the Conservatives' or 'Labour and the Liberals' or 'Republicans and Democrats.' Rebellions within the parties themselves are an issue.
"Aquarius: Detached acquaintance-Free Thinking-Revolutions and rebellions" was Margaret Hone's verdict in her 1950's classic, The Modern Textbook of Astrology. Based on that, I would bet heavily on blocked supply, crossed floors, no-confidence motions or similar radical politics in Australia, February-March.
The Dismissal of 1975 and the Spirit of Gough Whitlam
At my Sydney workshop in January 2020, we tried Bibliomancy – the art of choosing a book at 'random' and finding a line inside, to answer a question. Our question was – will there be a repeat of The Dismissal in 2020? We were all rather interested in this book, Whit, by Iain Banks, which shows smoke on the cover (fires) and the ABC-TV logo sideways. I am sure you can see the other clue in the title – WHIT(LAM). How would you interpret this piece of bibliomancy, below? You can see the Aquarius logo at the bottom too! Australia and Water Supply in 2020 – and Religion, Too
Watch February for deeper controversy over religion in Australia and PM Morrison's own religious beliefs. Why? Pisces weather. It has always been the sign to link with Christianity. Pisces also obviously rules water and issues like dams, water sales to foreign buyers, cleanliness of water supply and so on, dominate February. Watch for a major media episode with Morrison's church.
The Scott Morrison Astrology Chart – Sworn In
We really miss the brilliant astrologer Ed Tamplin at times like this, because of his work on Australia and its destiny. The data for the swearing-in of Scott Morrison as Prime Minister shows these patterns. There are alarm bells ringing here. There is a second chart (see Comments) but Ed's choice is not a bad one to begin with. What I am seeing here is not just the lid blowing off Morrison's career – there may be actual physical and structural issues with Kirribilli (The Lodge) or within Canberra itself – Parliament House. Those of you who are astrologers can get a lot from this chart.
Scott Morrison was sworn in on 24th August 2018 at 6.13pm in Canberra
Saturn at 2 Capricorn, Uranus at 2 Taurus, Sun at 1 Virgo is one to watch – that's a hotspot at 1, 2 degrees.
We should also be looking at this Aquarius pattern: South Node at 5 Aquarius, Moon at 7 Aquarius
Australia – the Aquarius Nation in the New Age of Aquarius
Born (constitutionally) in February and (popularly) on 26th January, Australia is an Aquarius nation, either way. This is the sign of the water-bearer. The recurring image of koalas drinking from water bottles held by humans, has become a sign of the times in climate emergency Australia. The ABC News on January 25th, 2018 broadcast this image from Adelaide. Now, look at the classic 19th century astronomical map of Aquarius. A different kind of water-bearer!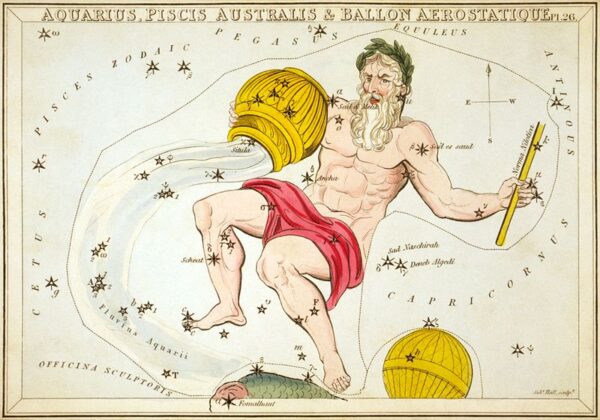 Australia – the Astrology of 2020 from March to December
If January is about the relationship between Australia and Her Majesty the Queen, and February is about water supply, how does the rest of the year look? Let's race around the five horoscopes we have for the nation and see.
March – Australia in a war of words with the rest of the world over PM Scott Morrison's Climate Emergency denial. Green wars. This is a furious month with media and social media battles and the Greens in Australia will also be at the heart of the conflict. The Greens may be divided between blocking supply (chaos!) and keeping things intact.
April – The country finds herself caught in legal issues and justice is done – this may be class action lawsuits. The High Court may be called in. The NSW Rural Fires Act, 1997 set out a very clear responsibility for ministers and officials. We could easily see a constitutional crisis resolved then, but also farmers, firefighters and homeless families – taking steps.
May – The focus on marriage, civil partnership, common-law marriage (de facto relationships), gender, sexuality and the personal aspects of the nation's private life, gives us all a diversion. Unfortunately fires are still burning in May 2020. This is never over. A 'hot romance' involving a politician is another diversion.
June – Australia's relationship with Great Britain and PM Boris Johnson is centre-stage as her old mother country is caught up in post European Union debates about free trade, visas, residency and so on. Mercury Retrograde! Expect a long waiting game. PM Johnson has obviously taken a strong stand on climate change. What does his Australian ally say?
July – Steady economic growth and good employment remind people that Liberal governments are devoted to the bottom line, jobs, wages and that a huge part of their support base is working-class. Climate Emergency debate is taking a back seat then.
Australia Alone – the Second Half of 2020
August – Australia alone. At this point in the year the world is beginning to come together far more on strong measures for 2021 and a united front, on Climate Emergency. This may be because the USA Democrats and their Green New Deal are rising. There are tremendous questions in August about religion, as well.
September – Again, the PM Boris Johnson 'dangle' over life beyond the European Union affects Australia too. This particular 'special relationship' (remember Her Majesty the Queen prevails) will be in sharp focus again as Downing Street is caught up.
October – Australia is back to the water issue again in October. Water supply, drought, water quality and also fish stock depletion. Climate Emergency issues from The Great Barrier Reef to ocean pollution and over-fishing begin to dominate.
November – This is a really interesting month as it's American election time. What we're seeing is Uranus in Taurus kicking in. This is Green New Deal thinking on world trade. Australia will be making major choices about economy and the environment.
December – A woman rises enormously in importance. This may be Penny Wong or another strong leader. This is a fascinating month when 'the green economy' really starts to kick in. This woman is a feminist. Is this her, on the cover of The Monthly?