One of the great things about asteroids is that they liberate your astrological vocabulary so you are not perpetually stuck with Venus or Moon as the only female archetypes.
Diana is Jupiter's daughter. I hope you are getting a feeling for the way asteroids work in modern astrology, now. We use the family tree. Anything else is really just a random symbol and has more to say about an astrologer's state of mind than anything else. Sedna, Pallas and other archetypes are not used. Why? They are not in the Roman family tree that began with Mercury, Venus, Mars, Jupiter and the rest.
Diana is important when understanding Jupiter because you don't really see his generosity, largeness and abundance until you understand that he bestowed freedom upon her. He had other daughters, like Fortuna (his first-born) and brilliant Minerva (who was born from his brain, fully-formed).
Yet, it was to Diana that he gave the precious gift of freedom from marriage and liberation from motherhood. She begged him to set her free from having to marry or have children, and so he made her a huntress.
Jupiter tends to have this function in a horoscope. He gives and opens doors. He allows and accommodates. To Diana, he offered something she craved, which was space, autonomy and independence. Diana is a symbol of feminism for this reason.
Peter Paul Rubens and Diana

The work of Peter Paul Rubens is preserved for us through a Creative Commons license today at Wikimedia Commons, but to really experience what he felt about women, you need to see the paintings up close and personal.
Rubens understood the importance of Diana's dogs and also her friends, the nymphs. Diana's greyhounds hunted with her. She had no interest in a husband or children, but Rubens painted her fondling her animals instead.
Female friendship is also what sustains Diana instead of a family and Rubens also painted this very clearly. Diana is not disinterested in sex. She is sensual, often bare-breasted (as are the nymphs) and in art and mythology, we know she was a wild swimmer.
She was spied on and destroyed the voyeur who did it, having him ripped to shreds by his own dogs. She did have occasional lovers, notably Endymion.
Diana and Endymion
Diana is shown with a crescent moon on her head (a New Moon) but is not the Moon. That is a really important distinction to make. The Moon in your chart is quite separate. (Musée Bonnat – Diane et Endymion – Peter Paul Rubens ca. 1636).
Her Moon is there, because she needed a night light. She comes out at night to have sex with Endymion, who is always asleep. This idea of a passive male lover is central to Diana. Also, a man reserved strictly for the hours after dark. There is no real relationship here. No commitment, no partnership and certainly no family or domesticity.
Rubens painted Diana and Endymion to show her essentially dominating the affair. He is there, but not there. His eyes are always closed, yet he could perform, sexually. Here's a little test for this week. Find the natal chart of Germaine Greer and see if you can set up Diana in her horoscope.  You will need to use the free resources at astro.com or serennu.com to do this and it will take time, but you will also learn how to find Diana in any chart. If you are a Premium Member, you can of course locate her in your own horoscope.
By sign and house, Diana shows where you cannot commit, where you seek space, where you 'hunt' what and who you desire, where you tend to keep the company of women (rather than men) or just your own company, perhaps with a dog.
Diana can be quite literal sometimes! On a purely symbolic level, Diana just shows the need to be free. If you have Diana in Cancer in the Fourth House you will have issues with being tied down at home, or chained to housework or the family.
Diana, Princess of Wales
The passing of Diana, Princess of Wales is recorded in history, so we have a time, place and date. She was a firm believer in astrology and was helped enormously by two of our Sun Sign School tutors, Debbie Frank and Penny Thornton. To develop your understanding of Diana the asteroid, look at her in this chart. She stands at 12 Taurus, the sign which rules money, in the Second House of possessions, property, charity and finance.
Look at the aspects Diana makes (exact or within one degree). Then do your research and find out what happened to Diana's will and her charities when she passed.
You can go quite deeply into this, and look at Diana's own inheritance from her father (Diana's father Jupiter is very important to her in astrology) and also the central principles of freedom, autonomy, independence, liberation.
Uranus also rules liberation but it comes from a revolution. Diana is different. If you want to go even further, compare and contrast the two by doing your own research!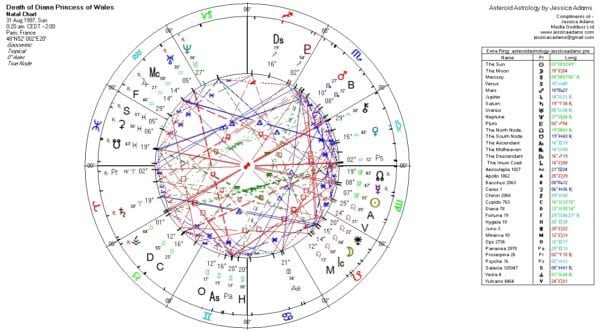 Feature Image: Lightscape