A sextile in your personal birth chart takes place when two horoscope factors are 60 degrees apart. For example, the Sun at 5 Aries and Moon at 5 Gemini. Or Proserpina at 28 Aquarius and your Ascendant at 28 Aries. What you are looking for (in modern astrology) is the same number or degree.  Quickly scan your natal chart now if you are a Premium Member and check. If the two planets, Asteroids, angles or points are two signs apart (this is the most common example) then you have a sextile.
What Sextiles What?
Read this in vice-versa fashion.
Aries factors sextile Gemini factors. Taurus factors sextile Cancer factors. Gemini factors sextile factors.
Cancer factors sextile Virgo factors. Leo factors sextile Scorpio factors. Virgo factors sextile Scorpio factors.
Libra factors sextile Sagittarius factors. Scorpio factors sextile Capricorn factors. Sagittarius factors sextiles
Aquarius factors. Capricorn factors sextiles Pisces factors. Aquarius factors sextile Aries factors. Pisces factors sextiles
Taurus factors. And round it goes.
What Sextiles Do
They create flow. They show what comes easily to you. What is natural and simple and requires very little effort.
The 'what' is really the planet, asteroid, point or angle. The 'where' comes from the signs involved and the houses or life departments they rule.
Refer to your guidebooks to decode the houses and life departments that show up, if you're a member, or hit Search.
Sextiles in the J.K. Rowling Natal Chart
Lacking a confirmed birth time for J.K. Rowling we use 12.00pm noon for July 31st 1965 and don't bother using the angles (Ascendant, Descendant, Midheaven and Immum Coeli) as the AC, DC, MC and IC – as they are known – require a minute-accurate birth time. We ignore the Moon as well as she moves so fast.
The rest of the chart is pretty safe and it wouldn't make a huge difference if J.K. Rowling was born in the wee hours of the morning or the end of the day.
The degrees (numbers) are always shown first, in big numbers, next to the squiggle that shows the sign. What you are doing here is looking fo r matching numbers that are 60 degrees or (easy method) two signs apart.
Another really easy way is just to look at each sign on the surrounding circle and then eyeball two signs along.
Does anything match?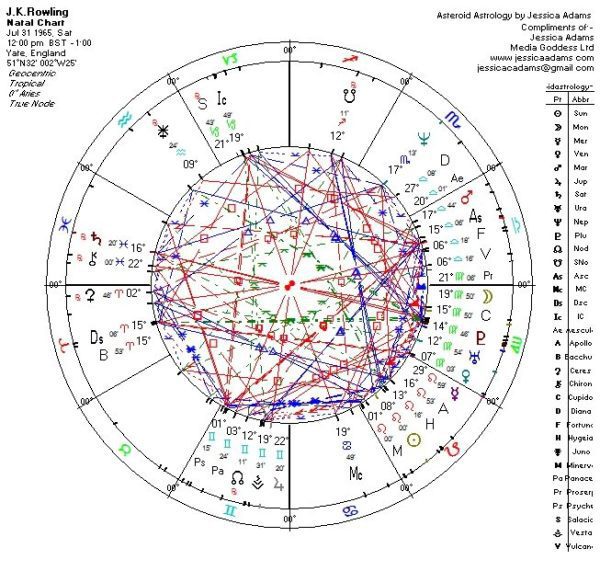 Psyche 1 Gemini and Minerva 1 Leo
Well done if you found Psyche at 1 Gemini in the Third House sextile Minerva at 1 Leo in the Fifth House.
Psyche is what lives forever. Gemini is words. The Third House is media, film and television. Minerva is wisdom.
Leo is children. The Fifth House is a parent or teacher role. Here is someone who has used that sextiles well.
We know J.K. Rowling wrote a personal horoscope for a friend, but did she create Minerva because of the asteroid Minerva?
More marks if you ignored the MC (Midheaven) at 19 Cancer even though it is sextiles Apollo at 19 Leo.
Why? The birth time is unknown so we can't possibly know the MC or Midheaven to use it.
In fact this is the only sextile in the chart (using modern astrology we use 0 degree orb, or zero difference patterns).
If you really want to take this further, look up Psyche, Gemini, Third House, Minerva, Leo, Fifth House and write notes.
A bigger stretch still would be to look at the months and years that the Harry Potter books and films hit number one.
You can use the free ephemeris selection at astro.com to do this. If you spot slow-moving outer planet or Nodes at the same degree?
Hitting the sextiles at 1 Gemini and 1 Leo? You'll be watching real-time astrology in action, because the weather/climate passing by matters.
If it hits the same degree or number as the sextiles, and particularly the same signs, magic happens. Even without Hogwarts.
Trines and Super Flow
Trines are really interesting because they show super flow. People tend to 'do' their sextiles because it is all so damn easy.
J.K. Rowling used to write her bestsellers while drinking tea or travelling on a train. Trines are even more powerful as they are rare.
So, if you have one (or more than one) you are a rare bird in some aspect of your life. Perhaps you are an outstanding volunteer for charity.
You may be beautiful. You may be a brilliant home renovator.
Trines are triangles and you never have to tri/try hard with a trine on your side. They are pyramid shaped and show what is impressive.
Just like all those wonders in Ancient Egypt.
You are looking for horoscope factors which are 120 degrees apart. So, four signs. Same degree or number, but in a triangle shape. Vice-versa rules.
Aries trines Leo.
Taurus trines Virgo.
Gemini trines Libra.
Cancer trines Scorpio.
Leo trines Sagittarius.
Virgo trines Capricorn.
Libra trines Aquarius.
Scorpio trines Pisces.
Pisces trines Cancer.
J.K. Rowling and Her Trine
Again, looking for numbers that are identical, you can eyeball this chart very quickly.
Look for Proserpina at 21 Virgo in the Sixth House. She is trine Salacia at 21 Capricorn in the Tenth House.
Taking it apart, using your guidebooks, Proserpina is the go-between who acts as a bridge between two powerful people or organisations.
In Virgo and the Sixth House this is about work. Salacia is about existing in two worlds, neither of which are real.
Salacia in Capricorn in the Tenth House is about career, success and ambition.
You could have looked at this birth chart long before Harry Potter was created and seen this sextile and trine working with fate.
Of course you have to make it happen and J.K. Rowling did.
Now, do you have a sextile or trine in your personal birth chart (natal chart) and what are you doing with it?
Remember, transits or astrological weather/climate can help you activate your sextiles and trines.
Again, if you want to stretch this lesson, use the free Ephemeris library at tro.com to locate years when Harry Potter skyrocketed.
If you find a year when slow-moving outer planets, Nodes or Chiron hit not only the sextile degree of 1, but the trine degree of 21? Bingo.
Harry Potter and the Sextile and Trine Year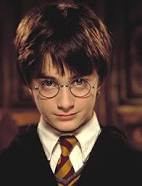 Harry Potter and the Philosopher's Stone began the series in 1997. Jupiter (good fortune) was at 1 Aquarius as the year began.
Chiron was at 1 Scorpio. The North Node was at 1 Libra. The South Node was at 1 Aries.
In 1997 the Gemini-Leo sextile at 1 degree was triggered not just once, but four times.
What about the trine at 21 degrees? In 1997, year one of the Potter phenomenon, J.K.Rowling got off to a flying start.
Jupiter was at 21 Aquarius. The North Node was at 21 Virgo. The South Node was at 21 Pisces.
It takes the North Node 19 years to reach 21 Virgo and J.K. Rowling was born with Proserpina at 21 Virgo.
1997 was part of her destiny. What's yours?
Article feature image: Richard Cohen