All About the Quincunx
When I was learning astrology in my early twenties, I was taught that aspects (patterns) in an astrology chart were minor or major. Major aspects were the conjunction, sextile, square, trine and opposition. Everything else was minor.
The quincunx, when two horoscope factors are almost opposite, but not quite (not six signs away, but five signs away) were called minor.
Not So Minor
Actually, all aspects (patterns, shapes) are equally important. They are all parts of the astrological language. A quincunx shows you what is an awkward or uncomfortable truth. A difficult fit. It's like a story that people know they have to hear but find it tricky to live with. Yet they can't avoid it. It is the story of their lives.
VE Day and the Quincunx
I thought I'd show you the chart for VE (Victory in Europe) Day on May 7th, 1945. This is timed for 2.41am in Rheims when the signatures were final. An astonishing moment that people had waited since 1939 to see. You would hope for a chart that was full of drama, but the drama is led by a quincunx.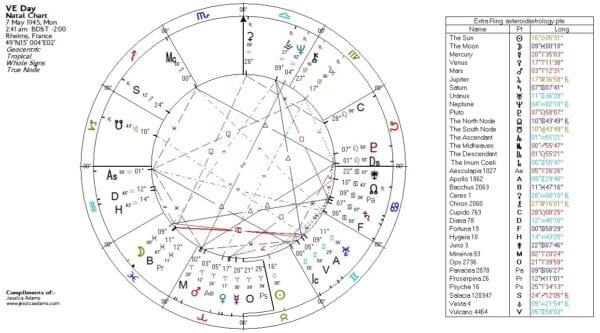 Jupiter at 17 Virgo is quincunx Venus at 17 Aries. Here we have a symbol of hope, release, relief, opportunity, growth, expansion, solutions and breakthroughs in the sign of Virgo – work, service and duty. Unpaid work and full-time study. Daily routine, lifestyle and health. Wellbeing and fitness. Food and drink.
VE Day was the end of gruelling life in the army, navy and air-force. It promised the end of rationing. There was already tremendous hope in Great Britain for a National Health Service.
Right opposite Venus in Aries, Jupiter made for an uncomfortable and awkward story about complicated relationships (Venus) within the army, navy and air force (Aries).
V.E. Day was a Jupiter in Virgo-Venus in Aries narrative about the difficult fit between the great news about the end of life in uniform for men and women in service – and the multi-layered courtships, flirtations, affairs and worse – which were a fact of life for those on active duty during the Second World War.
More Than One Quincunx
As historians know, the end of the war was the end of years of suffering and misery in Europe and the British in particular had been waiting (and asking astrologers) about it since 1939.
Yet, it wasn't a simple knees-up. It was not a straightforward or easy resolution. There is more than one quincunx in this chart.
See if you can find it. You are looking for horoscope factors usually five signs apart (not six, as you find in a 180-degree opposition) and they will be at the same number or degree, but a total of 150 degrees apart.
If you really want to stretch yourself, take notes on the symbols you find, the signs they are in and the houses they occupy. Then cross-reference this with what historians tell you about that unforgettable day in 1945 and what it meant for millions of people. The astrology is specific, detailed and accurate.
The quincunx is uncomfortable to say and it feels like a tricky 'fit' in the astrological chart too. See if you can find one in your own horoscope.
Feature Image Credit: Photo by Goke Obasa via Unsplash