Katie-Ellen Hazeldine – Nine of Pentacles (Venus in Virgo)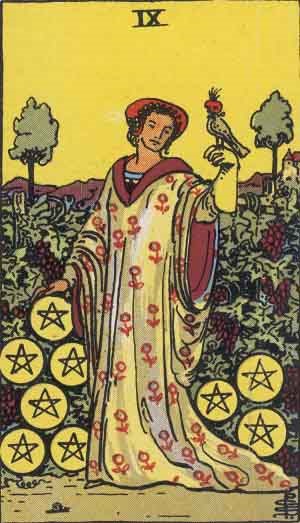 The Nine of Pentacles (Venus in Virgo) is my focus card for this September, drawn blindly and at random.  I drew other cards too, looking at September in general, and will include those references.
In General
A practical Virgo theme continues. Last month I drew the Ten of Pentacles (Mercury in Virgo) and this month I have drawn the Nine of Pentacles (Venus in Virgo.)
We entered the zodiac sign of Virgo on 23 August and we remain there until the autumn equinox date of 22 September after which we move into Libra territory.
The appearance of the Nine of Pentacles therefore suggests that key developments in September may be clustered around or be concentrated before this turning point of 22 September.
The Nine of Pentacles is in general a strongly positive card of financial independence and self-sufficiency. Whatever we have, however much or little, has been worked for long and hard. This is representing us as individuals, while the garden represents our identification with our nation, its produce, services, its economic well-being, and sense of identity. The Nine of Pentacles is looking to the future, while resting her hand on the fruits of past efforts.
The beauty, health and hospitality industries are specifically associated with this earth card, as are interior design, architecture, financial services, schools, universities; food production and horticulture. All of these, though of course, many other industries besides, will face a major effort this September as they work to recover lost ground.
Globally
This is a card of women in power, and individually may refer to Kamala Harris, Joe Biden's new Vice-President. It suggests there is tremendous focus here, and self-discipline; a serious work ethic, though it may be that her greatest gifts are executive rather than presidential.
The Magician reversed has also made an appearance this month, reflecting the inevitable economic recession now impacting so many countries. The Magician  drawn reversed suggests that the pattern of lifting and re-imposing lockdowns will continue for some time to come.
Only time will tell but, globally speaking, my cards suggest an improving picture of recovery over the next twelve quarters, that is to say, over the next three years starting from this September. This recession, whilst very serious, and with likely industry exceptions, e.g., holiday aviation, may prove not be as long lasting in its effects on employment as the banking crash and recession of 2009, though this picture will vary from country to country.
In the UK
In the UK, recovery from recession seems likely to happen during the next 3-6 quarters.
In September, children will be returning to school, and more parents will be returning to work as the government furlough scheme starts drawing to a close. This could prove unsettling and tensions may arise at home, with fresh anxieties and a sense of disorientation, as suggested by the appearance of The Hanged Man, reflecting the effects of the Full Corn Moon on 2 September in dreamy, moody, Neptunian Pisces.
Further localized lockdowns seem highly likely to occur during the foreseeable future, and this could mean until February/March 2021. However the Tarot has not shown me a return to a national blanket lockdown within the UK.
The Nine of Pentacles suggests we navigate this transition, staying focused on the known facts and the immediately available information, taking things one day at a time, focusing only on what is within our direct personal power to control, just as the lady in the Nine of Pentacles controls the bird on her gauntlet. If it gets too much, take a break from social media. What good does it do anyone, all that trolling and shouting and name calling?
Things seem to settle somewhat during the middle two weeks of September, as collectively as well as personally, we start to find a new footing.
At Home
Virgo rules the concept of routines. The return to school is a major milestone in the return to normal routine but frequent handwashing continues more important than ever and may also reduce cases of seasonal flu which also claims many lives each year.
The Nine of Pentacles as a personification of both Demeter, goddess of the harvest, and Vindemiatrix, goddess of the vines, recommends the consumption of more fresh food, and less fast food. Slow cooking, a one- pot meal is easier than some might think, a casserole, a curry, a soup, a stewed fruit dessert. It's a delicious, nutritious, and seriously budget-friendly way of eating and feeding a family. (The odd glass of wine doesn't go amiss either, says Vindemiatrix.)
Relationships
On a personal, romantic level, this card can suggest a relationship where the woman earns more than the man, or if two women live together, there is a marked difference in earnings or seniority. It can mean a mature lady meeting someone new, and it can mean a later pregnancy.
If this lady is looking to meet someone new, she has plenty to offer. What does s/he want or need in return? The Nine of Pentacles has learned self-worth, and often, she has learned it the hard way. She will go it alone if she needs to, and she can make a real success of it too. Timewasters and freeloaders need not apply. She's already got more than enough to carry, and that means there's a heck of a lot to lose.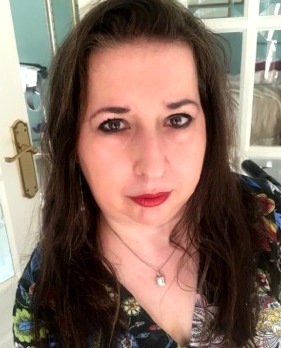 Katie-Ellen Hazeldine, BA Hons, is a Tarot and Rune reader/consultant, writer, and historian in the UK, and has been reading professionally since 2006. Website – True Tarot Tales. Twitter: @truetarottales
Kyra Oser – Queen of Wands (Reversed)
The tarot card I drew for September is Queen of Wands Reversed. This card features lions facing each other on the back of the Queen's throne and turned away from one another in the space under the armrests. She holds a sunflower, an image that is repeated beneath the lions on the upper half of her throne. A very alert-looking black cat peers at you (the viewer or querent) while sitting at the Queen's feet. The sunflower can be a sign of the joy that comes from creative expression. Sunflowers are also referred to by their Latin name, Helianthus Annuus. The word Helianthus contains the name Helios, a crown-wearing Greek God who brought sunshine to the skies while riding a legion of horses. If you draw this card, the sunshine of positivity is or will soon be shining its light onto some aspect of your life. At the same time, the Queen's black cat helps connect you to your unconscious desires by answering questions and creating changes in your life that bring you closer to the potential of experiencing unlimited joy.
Queen of Wands Reversed highlights self-perception, and encourages confidence, courage, creativity, and optimism. She asks you to take charge, speak up for what you believe in, or connect to projects and ventures that you're most passionate about. Her cat's connection to the subconscious mind is a reminder to sometimes share the more vulnerable parts of yourself. Being open about imperfections with people you can trust makes you more relatable and can be healing for yourself and others. You'll be achieving a more significant state of self-acceptance while helping others to do the same.
In world news, this card in its reversed position is literally a sign of introversion and social distancing, meaning there's more of that to come. However, this trend is being shown by the cards as a positive development because Queen of Wands Reversed is a sign of beneficial times spent alone. This might be a time when you can get clear on what you want instead of being influenced or distracted by others' opinions. If you can let go of preconceived notions about how a society "should" be and accept what already is, you'll have a much happier time in these times. It's almost like many of us are on a forced meditation retreat, and according to the Queen of Wands Reversed, being indoors and reflecting on life without the usual interruptions is exactly where we're meant to be.
Overall, this card helps you embrace your inner royal traits such as self-confidence, possibly bringing you into a time when you also become interested in (or continue to be fascinated by!) history or genealogy (by the way, expect fast-moving developments in ancestral testing and groundbreaking archaeological finds this month!) For others, this is an ideal time to take in some art, music or literature while staying at home. However, you choose to spend your days, the Queen of Wands challenges you to enjoy this time of spiritual and creative reconnection. In the long run, the more you improve yourself in solitude, the greater chance you'll have of helping others enhance their lives when the opportunity arises to be of service.
"As you simplify your life, the laws of the universe will be simpler; solitude will not be solitude, poverty will not be poverty, nor weakness weakness." —Henry David Thoreau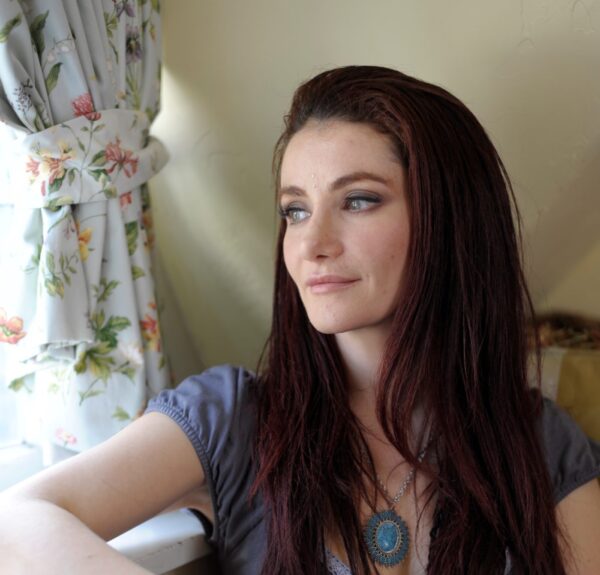 You can read more from Kyra at her website here.
NOTE: Please consult with your financial advisor regarding all financial decisions.
Featured Image – Photo by Sergi Viladesau via Unsplash