I've had so many questions about Harry, Meghan and Oprah since the CBS interview on Monday, March 8th, 2021, that I don't know where to start. Archie? The new baby girl? Meghan's father?
The 'recollections' (as Her Majesty the Queen called them) that Meghan has about alleged racist remarks from one of the family?
The news that she apparently had suicidal depression but was not helped by anyone in the family, staff or presumably anyone at the hospital where she gave birth to Archie?
Honestly, if you work as an astrologer and psychic, you just don't know where to begin. Rescue chickens? Her Majesty the Queen making a Russia joke, in a highly entertaining interview? The stars have aligned for an astonishing mystery. The Story Everybody is Missing – Meghan Markle Invests in Clevr and Oprah Winfrey Promotes It
The best place to begin with all of this, is with a really obvious fact. And it's the story that most of Meghan's American fans, like President Joe Biden and Hillary Clinton, apparently seem to be missing.
Here is Oprah Winfrey recently promoting Clevr, the American drink company Meghan Markle bought shares in.
What I Predicted in The Daily Mail – October 19th, 2020
"There will be no reunion for Prince William and Prince Harry."
Well, we can see why, now! As predicted in the Daily Mail interview with me on October 19th, 2020.
This seemed to be a small detail, back when I made the prediction. It turns out, it isn't.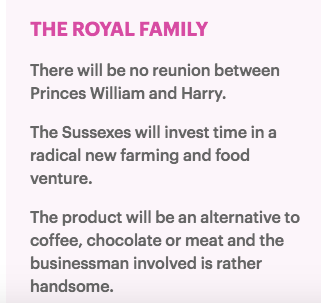 About Oprah:
"And Oprah Winfrey will become centre stage in a very different way to her usual TV role."
I had my tongue in my cheek when I wrote that prediction about Oprah Winfrey. I'm sure all you natural psychics reading this, will know exactly what I meant.
Meghan's Clevr Alternative to Coffee and the Handsome Businessman
Meet Roger Coppola and Hannah Mendoza from Clevr.  He's the handsome businessman I saw, psychically. At the time of the front-page interview with The Daily Mail, nobody knew that the Oprah endorsement of Meghan's investment was coming.
Clevr is the alternative drink, to coffee and chocolate, that I predicted  on October 19th, 2020. And here we are on March 13th, 2021.
What is really interesting is that Oprah Winfrey (who the media alleges collected $9 million for the CBS special with Harry and Meghan) promoted Clevr lattes in such a spectacular way – free of charge – for Meghan in 2020. As some media have commented, a free promotion from Ms. Winfrey is worth millions by itself.
The Astrology Chart for Clevr Blends
I asked my friend, the financial astrologer Olga Morales to have a look at the astrological chart for Meghan's investment, Clevr Blends.
I know a lot of professional astrologers and psychics will be reading this story, as I've had so many questions on Twitter. You'll immediately see Saturn 19 Capricorn, Venus 20 Capricorn, Pluto 21 Capricorn. The data comes from a business search in California.
That line-up is historic. There is more to this than oat milk lattes.  The chart locks into several national horoscopes, for a start, in The Book of World Horoscopes by Nicholas Campion (The Wessex Astrologer, 2004). Among them are Russia, Great Britain and America.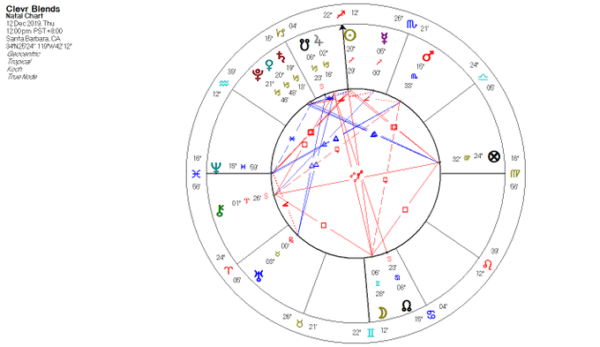 Her Majesty's Little Russia Joke
In the same week that various astrological charts for Oprah, Meghan, Harry and the Clevr company were all triggered, we also saw more triggers. Some were for Russia, America and Britain as I've mentioned. The final astrological chart to chime belonged to Her Majesty the Queen. This is her little Russia joke made to everybody's favourite Pisces astronomer.
The Meghan Markle Horoscope, Taurus and Money
As you read on this website here – way back on December 16th, 2017, Meghan Markle is a Leo, but she has a strong Taurus chart signature, which is always about money.
"Harry and Meghan, for Richer, for Poorer. What about Harry's horoscope? He has his Moon in Taurus next to his future wife's Chiron. Meghan will either cost him a fortune, or help him make one, so let's hope Meghan's long-time connection with World Vision (as global ambassador) or the United Nations, will see the benefits. It is all or nothing, financially, for Meghan and Harry."
"She could either help him clean up his financial act, or take him to the cleaner's. In any case, Meghan's horoscope shows a fantastic new role involving children in 2018. This is also the year that a special child will come into her life."
Cleaning Up Harry's Financial Act?
The special child was baby Archie and the future will reveal if Meghan helps Harry clean up his financial act, following her investment in Clevr latte drinks, promoted by Oprah Winfrey. Or if Meghan and Harry eventually divorce after their mission in America has finished and she does, in fact, take him to the cleaner's.
Will she make a fortune for charity or will the Charity Commission of the UK have a problem with her accounting?
When you see a chart like this, as I did with Meghan Markle, it can go either way. Yet, if you think there is more to all this than a former actress in the TV ratings episode of her life, though, you are quite right.
Two Years Ago – The 2019 Harry and Meghan Prediction
This is what you read two years ago, back in 2019, on this website, about Harry and Meghan predictions.
"It must be so hard to be Royal. You have an expensive life. Yet, you cannot operate by the normal fiscal rules. This comes into sharp relief with the presents Archie receives. All of which are charity based. This in turn points us to lifelong questions about Archie and his accountant."
"What we are seeing here, long-term, are major questions about how the British royals must operate as a business. Flying the flag for Britain after she has left the European Union on the world stage – and particularly in relation to America. It's really about The Special Relationship, showing up in other kinds of special relationships. Meghan and Harry. Meghan and her son."
"The two 'archers' in Archie's astrology chart – his dominant Chiron, the centaur/archer in Aries – and the prominence of the sign of Sagittarius the Archer – tell a big story about his life, later."
An International Young Royal
"This is an International Young Royal for a Global Duet. The Duke and Duchess could apply for their child to have dual US-UK citizenship and the horoscope suggests this will unfold. You'll remember Princess Margaret was one of the original 1970s jetsetters, more at home island-hopping and cruising the world, than staying in rainy Britain. This little boy will be the same, as a restless and adventurous young man of the future."
Having looked at Archie's horoscope again, I now think he will be forced to go between Great Britain (where his family is) and other countries along with his sister. Yet, the House of Windsor has a funny way of getting what it wants and he may turn out to be an asset for the United Kingdom in the end.
Three Years Ago – The  2018 Harry and Meghan Prediction
This is what you read on this website back in 2018. This was published before Harry and Meghan's wedding.
"The larger message is really about the cost of the Royal Family to taxpayers. These people are paid by the people. Beyond that, there are deeper questions about values. Ethics. Morals. The cost of things and the price of things! The Royal family manage their inheritance because they produce the 'heirs and spares' who rule Britain and the Commonwealth."
"A T-Square in astrology is shorthand for 'tense' and 'troublesome' so it's not really what you'd like to see in a royal wedding chart, but Meghan has it."
"The public are seeing a big message about values. This may be about offshore tax, the cost of the nuptials, the state of the royal purse and other big question marks that classically come up when Uranus in Taurus is around. Meghan may have her own taxation or financial story going on. They obviously both have major involvements with charities."
Harry, Meghan and the Future of the Royal Family
I'm going to finish with what is sadly, a 2017 prediction about William and Harry at war. I don't see peace. Do you?
We've seen a paparazzi photograph of Prince William in his car, after the Oprah Winfrey show, in tears. This goes beyond politics, even though President Biden and Hillary Clinton have made sure they are prominently involved. For poor William, it's intensely personal.
Predicted – The Harry-William Split
The headline you read here four years ago was The New War of the Rose – The Male Windsors and you might remember it from a long piece about the Leo eclipses and the cover-ups involving Buckingham Palace.
"A complete split is possible between the male heirs in the United Kingdom with one male Royal breaking away by himself, in search of post-Brexit horizons."
In the same story, I wrote about Bill Clinton and also Vladimir Nabokov, author of Lolita. We also talked about the fateful, fated Great American Eclipse on August 21st, 2017. Four years ago now.
Lastly, you also read comments about Prince Andrew in the same story. This published prediction about cover-ups in 2017 was such a long time ago, that Ghislaine Maxwell and Jeffrey Epstein had not even been thought of. Meghan Markle was still a Hollywood actress.
Meghan and Harry: The Key Predictions
We know the Winfrey story (above). There are several more. As I told The Express in London three years ago, in May 2019, Harry and Meghan will attempt to adopt their next child from abroad. Following in the footsteps of other American celebrities like Madonna, Harry and Meghan will look around the map. It will suit the narrative that they very publicly seek a baby who is not white. Meghan's Psychic Richard Win Also Saw Adoption
Meghan's psychic in Los Angeles, Richard Win also predicted adoption, according to The Sun.
Diana, Princess of Wales and Her Astrologers
The amazing Debbie Frank and Penny Thornton, occasional guest tutors at The Sun Sign School and friends of mine, have made some strong astrology forecasts about Meghan and Harry. Diana, Princess of Wales, relied on both women for astrological advice and friendship, as Andrew Morton reveals in what is essentially Diana's autobiography.
Debbie Frank believes Leo Meghan has made Virgo Harry, her servant, as she tells The Sun.
She also believes the pair are acting out karma from The Abdication. So, Edward and Mrs Simpson are at the heart of the events of 2021. Debbie successfully predicted the second child, back in June 2020.
Penny Thornton at Astrolutely: "The monarchy has withstood hurricanes of scandal over its one thousand years of existence, and it's going to take a lot more than the combined efforts of the Sussexes- unintentional though they may be – to see it written off in the next couple of years."
What Diana's Medium Predicted
Simone Simmons, back on October 8th 2018, predicted problems for Harry and Meghan and one or two children. She worked as a psychic medium for Diana, Princess of Wales and wrote a book about her experiences: Diana, The Last Word.
Simone is the second of Diana's psychic mediums I've had the pleasure of talking to, over the years (Rita Rogers being the other), and she's always proven herself to be an accurate and rock-solid reliable intuitive. This is the video, which originally ran in 2018 on Entertainment Tonight. Judge for yourself.
Stripped of Their Titles – No Sussex Socks?
What you read a year ago on January 15th, 2020, on this website:
"Meghan Markle will lose the title, Duchess of Sussex. They will be offered the same status as Princess Anne's title-free son, Peter Phillips. There will be no Sussex Royal Socks." (Meghan and Harry were even attempting to trademark Sussex Royal at the time, allegedly, according to some media – for socks – if you can believe that!).
You can read the original prediction here.
2021-2022 – Enquiries Into Meghan and Harry's Charity and Finances
The Charity Commission announced it was making an enquiry into Meghan and Harry's affairs in March 2021. This follows the predictions you read here at the time of their wedding, that there would be major questions about the couple's finances.
I saw this last year and told Gina Lazenby at The Conscious Cafe, that Christmas 2020 was a critical time for Charles, Prince of Wales and Her Majesty the Queen, in terms of the finances of the entire royal family (including Harry and Meghan). I told Gina it would be covered up. I believe it was. You can see the video here; fast-forward to the end of the program.
Media attention in 2021 will turn again to Oprah Winfrey and her stunning promotion of Meghan's shares and investments in the oat milk latte company, Clevr. More questions will be asked.
Book Deal For Meghan
Meghan will be tempted to sign a lucrative book deal to write her autobiography. Andrew Morton will update his own book about Meghan. You would expect this to take place by Christmas 2021, according to the astrology.
The financial astrologer Kate Silas (Profit With the Planets) has pointed out that the astrology chart for Clevr, Meghan and Oprah's favourite oat milk latte company, will be hit by an eclipse on Thursday, June 10th, 2021.
That's a cover-up. We don't know why, or for what reason. If you ran that company, you would be vigilant then.
The eclipse falls with the Sun at 19 Gemini and Moon at 19 Gemini. This exactly aspects Saturn at 19 Capricorn in the Clevr astrology chart. There is no point in talking about Thursday the 10th of  June 2021 as a day to watch. Eclipses blot out; they conceal. We are left in the dark. Later on, though, that date will become significant.
Oprah Winfrey and Clvr
You need good astrology software to narrow down the future to a single day, and my friend, the astrologer Stephanie Johnson, kindly created two charts for me, using AstroGold. One is for Oprah Winfrey and one is for Clevr. I am sure you can see that Oprah has Mercury at 19 Aquarius and Clevr was founded with Saturn at 19 Capricorn. There will be a cover-up involving both during the eclipse at 19 Gemini on June 10th, 2021.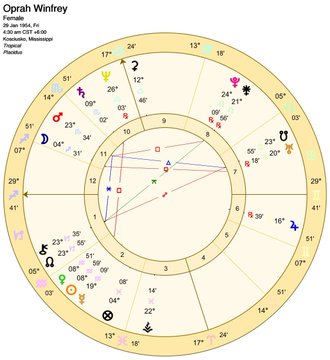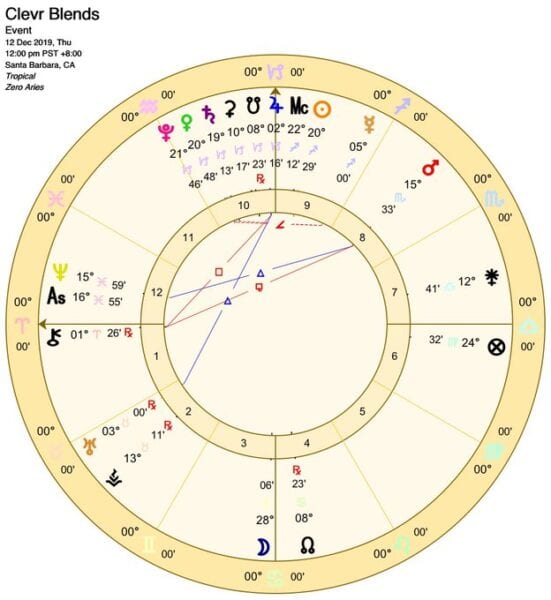 This is followed by Saturn at 19 Aquarius in conjunction with Oprah Winfrey's Mercury at 19 Aquarius (something that can only happen about every three decades and is extremely challenging) between March 3rd and 11th, 2022.
March 3rd,2022  – We can even narrow it down further to Thursday 3rd March 2022. Mercury is at 19 Aquarius then, so this is Oprah's Mercury Return. Mercury of course rules television, the internet and media. Aquarius rules groups and friends. This is a good fit for Clevr. It is also a very good fit for the Democrats, and of course Winfrey has had a connection with that political party in the past. As the company Clevr also has Saturn at 19 Capricorn, this is a double Saturn moment for both. It's a tough one. This has a sequel too. In fact it's a three-part drama.
September 11th to 30th, 2022 – Saturn goes back to 19 Aquarius from September 11th to 30th, 2022 and this time we have a sequel with a twist. Uranus, the planet of shock, radical change and u-turns is then at 18 Taurus, so extremely close. Just one degree away.
November 15th to December 3rd, 2022 – We end this story with Saturn at 19 Aquarius for the final time and notably Mars at 19 Gemini from the 28th to 30th of November, 2022. This takes us into the year 2023 (two years into the future as we publish this) when we find Mars at 19 Gemini again on March 1st-3rd 2023. The final double pike and twist in the tale. That is when that old eclipse will really make sense. Meghan Copying Diana – The Second Story
Meghan has been accused of copying Diana, the Princess of Wales, for years.
The story goes, Meghan is deliberately copying not just the wardrobe, but also the life of Diana, Princess of Wales. It's rather like a Hollywood TV actress studying a character. 'Getting into character' it's called, before the script arrives.
So, what do you think? Right or wrong?
There has been huge interest (1.88 million Tweet interest) in these stories. For as much as you wish privacy for people who have survived mental health issues, it's very hard to offer it, when the person in question has chosen to face the world, on every television channel, in every nation.
Below, the huge spike in Twitter impressions from my Analytics on March 9th 2021 shows one tiny part of global Twitter traffic for #Meghan #Harry #Oprah.

Psychic Tara Buffington and Meghan Predictions
As a psychic and astrologer, I am clear that the real issue is the unreleased 'Part Two' of the Oprah, Meghan and Harry Show. The story was never actually part one. It was always the 'withheld' part two.
This is the crucial footage that the public has been tantalised with. The footage, perhaps, where the pair talk about Prince Andrew and the Epstein-Maxwell story. The footage where Harry talks about the death of Diana. We can only speculate and that is exactly what we are being encouraged to do.
I'll be really curious to know if your instinct tells you, the unseen film will ever be released. I expect that outcome very much depends on Ghislaine Maxwell, now, in jail. Her astrological chart is also singing in 2021.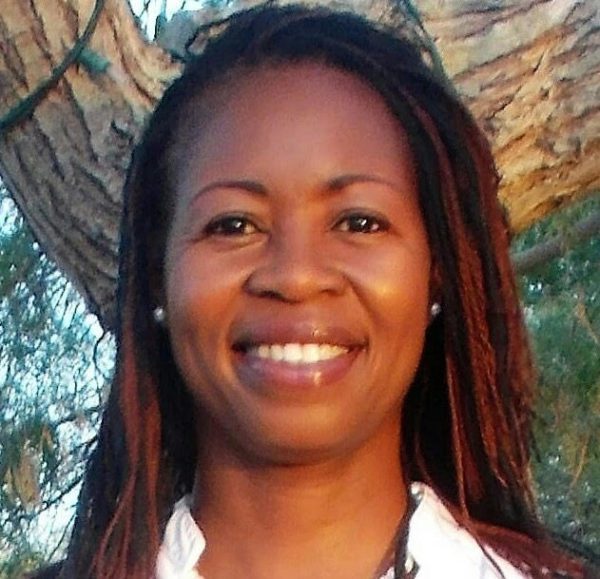 My psychic colleague and friend Tara Buffington, in Texas, wrote:
"I didn't watch the interview. To me, Meghan Markle has *never* appeared as she wishes to present herself. The wend won't be pretty and Harry is in danger. Saw #TheWedding and been saying all along that something isn't right with MM (Meghan Markle). #MarkMyWords."
Tara is a gifted psychic and I am sure you have seen her YouTube channel. In fact, we will be working together this weekend, in a special on prediction.
But…what are you feeling about all this? Whenever I have run features on public predictions in the past – like Brexit, the failure of Donald Trump or COVID-19 – I have always found that what you tell me in Comments brings new facts to light.
At a certain point, I can only turn to old predictions so often, before I look to you readers for new insights.
Join Tara Buffington (pictured) and me for a YouTube Premiere on Sunday the 14th and Monday the 15th of March across all time zones from New York to London and Sydney.
We'll be taking live Tarot readings for you, during the premiere. You can subscribe to my YouTube channel now or join Meetups to talk to us. It's always free. Join us for the Zoom After Show too. Feel free to ask me about Harry, Meghan and Oprah. It's in the stars. It's in the cards. It's certainly in these two charts, timed in a fated way, at 19 degrees.
Prince Philip and Piers Morgan
When I left a message for Piers Morgan about the hospital address for the Duke of Edinburgh, Prince Philip (so you could all send flowers and Get Well cards) I was inundated with thanks on Twitter. Even from Australia, where there is much muttering about a republic, given the awful drama being played out on American television.
How do you feel about Meghan and Harry's decision to go public with their allegations at a time when Prince Philip was in hospital following a heart condition emergency?
Important: If you have been affected by this story and need to call a helpline, the ABC in Australia has compiled an excellent list of numbers. Thank you. 
The Samaritans in your city are an excellent resource worldwide.
Astrological charts – Stephanie Johnson, AstroGold.
Images courtesy of various news and pinterest sources.
Thanks to astrologers Kate Silas and Olga Morales and psychic Tara Buffington.