Melbourne Astrology and Tarot Predictions
As I write this on 27th September 2021, Melbourne is shut, after a rise in COVID-19 cases – and recovering from an earthquake. Her football team has won the AFL 2021 Grand Final. What does the astrology and Tarot show for October 2021 and beyond? This is a major year for Melbourne and Victoria, and a Major Arcana Tarot card has shown up.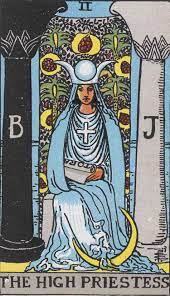 The High Priestess
My Tarot take on Melbourne in October 2021 is that a female professional or academic will either take over, temporarily, from Premier Daniel Andrews – or make her presence felt in what has been all-male COVID-19 leadership, to the media and public, to date.
We can see the letters B and J on the columns. Is this Gladys Berejiklian changing her mind about her virus strategy in Sydney and New South Wales? (Because when Sydney sneezes, Melbourne catches more than a cold). Is she the B?
Perhaps the J is Jacinda Ardern, who was pursuing a New Zealand-Australia bridge and bubble, before a passenger flew into Auckland from Sydney Airport, infected with the virus.
A lot of my readers are psychic. What are you seeing for Melbourne in October with the High Priestess? There's another woman showing up too…For this let's go over to resident Tarot expert Tara Buffington.
Tara Buffington and the Queen of Swords
Tara Buffington is a Tarot professional in Texas who has cast her eye at Melbourne in October and found the Queen of Swords. The card shows a determined, strong woman. Tara has more to say about Melbourne on her YouTube channel.
Katie-Ellen Hazeldine and The High Priestess
Katie-Ellen Hazeldine is a well-known British Tarot expert who found The High Priestess in her general view of October 2021. And that includes Melbourne. From a Twitter discussion about the Tarot cards and Melbourne in October came an Australian-American-British conclusion: this is about female energy. This is also showing up in the astrological chart. Forget the optics of violent male protest with policemen in pursuit. Women lead.
Women Come Through
This is Tarot validation for female strength and wisdom coming to Melbourne and Victoria in October 2021. Could it be former Australian Prime Minister Julia Gillard? What about the women on the Andrews team? The High Priestess and Queen of Swords have spoken.
Female Ministers?
Premier Andrews' female ministers include the Honourables Allan, D'Ambrosio, Horne, Hutchins, Neville, Pulford, Spence and many more (Andrews famously made sure women were 50% of his political team).
Melbourne is a Virgo
Melbourne is a Virgo, born on 30th August 1835 and thus well-known (for better or worse) for her health and fitness, her work force, trade unions and lifestyle. It's a hard-working city with a respect for working men and working men's sport that has remained in the old pubs in the football villages as well as the home grounds.
Melbourne's Sixth House of Hospitals and Health
If we're going to look at Melbourne's pandemic story, we have to go to her Sixth House of health, hospitals, Medicare, doctors, nurses and the rest.
That's a Virgo story and Melbourne certainly has these factors. We leave out the IC because we don't have a confirmed time (we are using 12 noon). Virgo also rules employment and working people, the trade unions and service industries. Virgo is ruled by Mercury so we also associate it with work (Virgo) which is all about the world of words: information technology, writing, education.
A Very Virgo City
The State Library of Victoria, in Melbourne, is the fourth most visited, worldwide. Marcus Clarke and C.J. Dennis are from Melbourne, as are Peter Carey, Nick Cave and Christos Tsiolkas. The city has Australia's widest range of bookshops, the largest publishing sector and is the second City of Literature named by UNESCO. Rupert Murdoch is from Melbourne.
We have no date for Melbourne's 'birth' in terms of her owners, the first Australians, but in this particular version of the city, it makes sense that at least 20,000 Kulin people from three languages groups resided in the area when the Europeans arrived. Ruled by Mercury, from the start.
The Eight Hours Act
The eight-hour day for workers was pioneered by people in Melbourne and Victoria, passing the Victoria Eight Hours Act in 1916. It would take the rest of the country until the 1920's to do so. This is classically Virgo: eight hours to work, rest and play.
The Melbourne Virgo Signature
Sun 5 Virgo
Mercury 3 Virgo
Aesculapia 19 Virgo
Proserpina 22 Virgo
Sport, Fitness and Melbourne
The Australian Open, the 1956 Summer Olympics and the 2006 Commonwealth Games, as well as Melbourne's football villages (Carlton, Collingwood, St. Kilda and the like) are classically Virgo: the sign that rules nutritionists, physiotherapy, gyms and vitamins.
The Spanish Flu and COVID-19 Matches
The first case of the Spanish Flu appeared in Melbourne on 9th or 10th January, 1919. It spread from Melbourne to New South Wales and South Australia. This is the exact line-up.
What we are seeing is the repetition of a slow-moving planet in Aquarius, in 1919 and 2020, 2021. Back then it was Uranus. Now it is Jupiter and Saturn. The same nodal cycle is flipped backwards – in 2020, 2021 it is the South Node in Sagittarius and North Node in Gemini.
The Spanish Flu Aspects of January 1919
Pluto at 5 Cancer sextile Sun at 5 Virgo
Neptune at 8 Leo sextile Mars at 8 Libra and Chiron at 8 Gemini
Uranus at 25 Aquarius in opposition to Venus at 25 Leo
Jupiter at 9 and 10 Cancer in conjunction with natal Jupiter (Jupiter Return at 9 Cancer) and Salacia at 8 Cancer
North Node at 12 Sagittarius trine Vesta at 12 Leo (South Node at 12 Gemini sextile Vesta)
Key Dates in the Melbourne Covid Story
On 19th January 2020 – a man returning to his home in Melbourne from Wuhan, China, tested positive for COVID-19. He had flown in from Guandong. This is the exact line-up on that fateful day, before social distancing had to become a way of life in Melbourne:
Neptune at 16 Pisces trine the Moon at 16 Scorpio
Saturn at 21, 22, 23, 24 Capricorn aspecting Vulcano 24 Aries, Juno 21 Gemini, Proserpina 22 Virgo.
Jupiter at 6-13 Capricorn aspecting Chiron 8 Gemini, Jupiter 9 Cancer, Salacia 10 Cancer, Vesta 12 Leo, Mars 8 Libra.
North Node at 7, 8 Cancer aspecting Chiron 8 Gemini, Mars 8 Libra
South Node at 7, 8 Capricorn aspecting Chiron 8 Gemini, Mars 8 Libra (T-Square)
Chiron at 1 Aries aspecting Psyche at 1 Gemini, Fortuna at 1 Libra, Neptune at 1 Aquarius
Testing the Melbourne Chart – From Earthquake to Olympics
The 2021 Melbourne Earthquake was a 5.9 on September 22nd, 2021, with aftershocks expected. It is the usual 'perfect storm' of many transits landing at the same time. The most spectacular of these was Pluto at 24 Capricorn square Vulcano at 24 Aries.
In 1956 the year begins with a rare line-up at 0 degrees, triggering Minerva at 0 Aries and Panacea at 0 Scorpio. Neptune, Uranus and Jupiter were all at zero.
The Full Melbourne Astrology Chart in Detail
Ignoring the angles (Ascendant, Descendant, Midheaven, Immum Coeli) as there is no recorded time –
The First House of Reputation, Brand and Appearance
Minerva 0 Aries
Pluto 14 Aries
Vulcano 24 Aries
The Melbourne flag shows Aries the Ram in the top left-hand corner. Not for astrological reasons – it was a symbol of her sheep trade. The date of 30th August 1835 is accepted as Melbourne's birthday, when Tasmanian settlers arrived on the Enterprize, and it shows up in the Aries/First House cluster. Minerva at 0 Aries is exactly in aspect to money-minded Panacea at 0 Scorpio in the Eighth House.
The Second House of Income, Taxation, Trade
Hygiea 26 Taurus
The Third House of Transport, Media, Interstate Travel
Psyche 1 Gemini
North Node 3 Gemini
Chiron 8 Gemini
Juno 21 Gemini
The Fourth House of Property, Families and Land
Jupiter 9 Cancer
Salacia 10 Cancer
The Fifth House of Sex, Babies, Children, Teenagers
Vesta 12 Leo
Ops 19 Leo
Venus 25 Leo
The Sixth House of Health, Fitness and Employment
Mercury 3 Virgo
Sun 5 Virgo
Aesculapia 19 Virgo
Proserpina 22 Virgo
The Seventh House of Duets and Duels
Fortuna 1 Libra
Mars 8 Libra
Saturn 20 Libra
The Eighth House of Shared Finances, Property, Business
Panacea 0 Scorpio
Moon 16 Scorpio
Cupido 18 Scorpio
Bacchus 29 Scorpio
The Ninth House of Foreigners, Publishing, Academia
South Node 3 Sagittarius
Ceres 14 Sagittarius
The Eleventh House of Teams, Political Parties, Clubs and Allies
Neptune 1 Aquarius
Uranus 28 Aquarius
Diana 28 Aquarius
Melbourne, Tarot, Astrology and the Twenties
So where has COVID-19 come from in terms of the astrology of Melbourne? And where is it going to, in the Twenties? For that, we go to the solar and natal chart for Melbourne. She's a Virgo with a stellium in Virgo in her Sixth House of public health, fitness and employment. In her solar chart, she currently has Jupiter and Saturn in Aquarius, transiting her Sixth House.
The Welcome Departure of Neptune
A pandemic should show up as a rare, historic pattern. It does. Melbourne has Proserpina at 22 Virgo in her Sixth House of hospitals, vaccination, testing and immunity. In 2021, transiting Neptune at 22 Pisces moved into an exact opposition from April 18th to May 29th, then again from July 24th until September 6th. The final pass of Neptune at 22 Pisces is February 18th to March 17th, 2022. That is a welcome departure.
Yet, the transits triggering the Sixth House of public health and employment run for some years, using the solar and natal chart. That means Aquarius, Pisces weather on all fronts, past 2023. This is going to likely result in a completely different approach to the work force; to hours; to the unions and professional organisations and so on.
Watching Saturn in Pisces
We should be watching Saturn in Pisces in opposition to the Melbourne Virgo stellium at 3, 5, 19 and 22 degrees and that takes place from April 4th 2023 until the final pass, 19th March 2025.
This looks like the last time Melbourne, politically, and in business terms, will put up with the old interstate and regional travel situation. What happens after that, with domestic flights, ferries, cruises, cars, bicycles, the roads, the trains (even the trams) is a revolution. We would also expect a revolution with her media, so The Age newspaper and The Herald-Sun. This is a rare transit. It starts in 2026. The New Melbourne Travel
Once Uranus makes his historic ingress into Gemini and begins a chain of conjunctions to Melbourne's Gemini stellium, from 1 to 21 degrees of that sign, this is nothing short of a revolution. That's soon after 27th April 2026. This is likely to be planes running on alternative energy; certainly electric cars; undoubtedly a train link. There may be new state border rules, too.
Melbourne – Every Month in the Tarot to 2022
As we have this Neptune opposition in Pisces hanging around, opposing Proserpina in Virgo (public health) until March 2022, now might be the time to look at every month in the Tarot. We've already been shown The High Priestess for October 2021. This is transiting Venus at 3, then 14 Sagittarius in conjunction with the South Node and then Ceres.
Just to repeat – the woman who dominates Melbourne in October 2021 is an academic or a professionally qualified woman. She has the degree in her hand, or perhaps her thesis. Sagittarius rules the universities. The Tarot says, this is a wise choice. She may have lived or worked in a country outside Australia; Sagittarius rules foreigners and foreign countries.
November – The Hanged Man.
Here we have delay. The waiting game suggests a city caught in a yoga pose, upside-down, dangling until a huge restart. There are big questions here about the United Kingdom approach and also the Sydney, New South Wales approach to the pandemic.
December – Eight of Cups
Travel begins, regionally and between states. There is a longing to get away, to return from the holiday break to a brighter 2022. There is a feeling that this has been a very long, tough year (correct) and politicians and the public will be on a big break. This ties in with the Ninth House of the Melbourne chart.
January – Knight of Swords
The Knight of Swords. The Melbourne Cup makes news even though it is not run until November. An angry young man dominates the city as 2022 begins. In general we have the resurfacing of testosterone-fuelled male anger in Melbourne but there is one leading figure who is really embracing the charge.
February – Eight of Staves
The Eight of Staves. Political parties, sports teams, bands and trade unions, will either fall in a heap or rapidly reconstruct in February 2022. One party in particular (Liberal, Green or Labour) will reshuffle. There may be departures. It will happen quickly. This ties in with the Eleventh House of the Melbourne chart.
March – Queen of Cups
Queen of Cups. A woman dominates Melbourne for the first time since October 2021. She is confused and confusing! She is obviously important in political or business terms, though identified just as much with her personal life.
Melbourne and her T-Square
Melbourne was 'born' with a T-Square between Mercury at 3 Virgo, the North Node at 3 Gemini and South Node at 3 Sagittarius. This is always going to raise tension (T stands for troublesome) with Virgo (public health, employment), Gemini (domestic travel, transport, the media) and Sagittarius (foreigners and foreign countries).
Whenever you see transits at 3 degrees of the mutable signs, which are Virgo, Pisces, Gemini, Sagittarius – the original inner conflicts of this city are triggered. It's been like this since she was founded in 1835.
The Spanish Flu and COVID-19 Patterns
In 1919, the year that Melbourne exported Spanish Flu to Sydney, we find the North Node at 3 Sagittarius, South Node at 3 Gemini and then Saturn at 3 Virgo as the year goes on. This is mutable sign weather, hitting the Melbourne T-Square.
In 2021, the year that Sydney exported COVID-19 (again) to Sydney, we find the North Node at 3 Gemini, South Node at 3 Sagittarius again.
The Old City of Melbourne
Until Melbourne gets a new birth chart, or all the old buildings from the 19th century vanish, along with the landscape, we are still living in the old city with that old astrological signature.
This is useful, though. It tells us that The Spanish Flu of 1919 in Australia has shown us what to do – and what not to do. It is also really clear that Melbourne and Victoria must deal with the realities of COVID-19 and other public health issues (Virgo) for years to come. That mutable sign weather, with Saturn in Pisces, then Uranus in Gemini is not going away any time soon.
New Melbourne – Working at Home, Job Share, the Half Week
From an astrological point of view, the issue with COVID-19 for Melbourne will be working from home; sharing jobs; sacrificing salary to work a 3.5 day week. This goes on right through the mutable sign weather (Virgo-Pisces-Gemini-Sagittarius) of 2021, 2022 and 2023.
The New Work
In this respect Melbourne and Victoria are no different to other strongly mutable sign cities and countries around the world. What the pandemic is doing, is forcing likely the biggest shift in corporate-employee relations in about a quarter-century.
That's what happens at the tail end of Pluto in Capricorn and these historic, hard-work, unusual mutable sign patterns pulling in Virgo, the sign that led Melbourne to lead the union movement. I think we'll be looking at this chart for years.