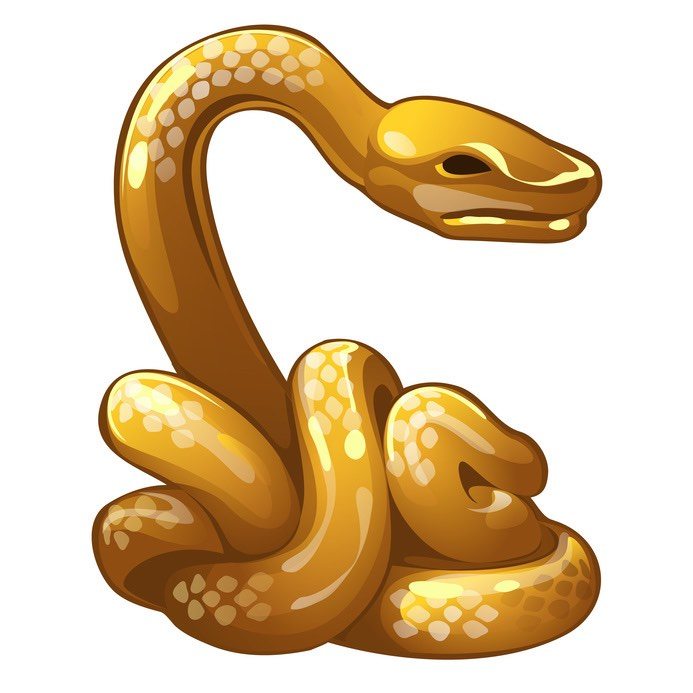 Born 
1917, 1929, 1941, 1953, 1965, 1977, 1989*
The flickering tongue of the snake and its famous hiss (and occasional rattle) tells you the first thing you need to know about this sign. Snakes need to be heard and fully understood. This Chinese zodiac sign vibrates strongly to the sign of Gemini in Western astrology and it's all about communication. Did you know Apple Macintosh computers got their official start in 1977, the Year of the Snake? If you are a snake then your life may revolve around the internet. Even if you reject computers you must still have a venue for your way with words – sung, written or spoken.
Snakes are never lost for words and give memorable speeches. They can read convincingly from any script. As children, snakes should be encouraged in English classes as they have tremendous potential as writers.
You will never have a dull postcard from a snake and many of them are extremely witty or natural poets. They have a way of presenting the facts or selling their message which is irresistible. Even if all you do is keep a diary it will be well worth reading, years into the future.
Investigative journalism may draw you, as it did snake Jessica Mitford. Alternatively you may be a children's writer like snake J.K.Rowling, who named her own daughter after Jessica Mitford too. One of the most famous snakes in America must be Oprah Winfrey who has written books, published her own magazine and made her name asking the right question at the right time.
In the age of Instagram and YouTube perhaps your preferred medium is photography or film, but snakes have a way of transmitting what they want to say in a powerful and effective way, even if no words are involved.
Snakes do not necessarily want the adoration of an audience. Many of them are shy and dislike too much attention, either online or in the real world. The key to understanding a snake, though, is to appreciate that they hate to be ignored. They yearn for someone to read or listen and even if they feel they have only got through to one person, that is sometimes enough. They are natural teachers.
The typical snake has her literary heroes and heroines, and dislikes music of the doof-doof variety, preferring lyricists who are as clever as she is. She has no trouble naming her favourite books, which she has read many times.
*If you were born in January or February please double-check your Chinese zodiac sign at Wikipedia
ABOUT ASIANSCOPES
You know your regular horoscope but what about your Asianscope? You might assume you have a Chinese sign, but in truth, you actually have an Asian Sign. Asian astrology combines Chinese, Indian, Vietnamese, Korean, Tibetan and Japanese knowledge – all of which evolved at the same time. The biggest common factor across all these different kinds of Asian astrology is the importance of the number twelve (twelve signs, and also the twelve-year cycle of Jupiter, which in Western Astrology we associate with good fortune.) This 'rule of twelve' links Eastern and Western horoscopes in an uncannily accurate way.