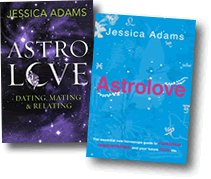 Astrolove is published by Penguin Books in Australia, Corgi in the United Kingdom, and by Tokuma Shoten in Japan. It covers major astrological relationship cycles, and the importance of the personal planets in dating, mating and relating.
Here are some astrological extras for readers of Astrolove – your guide to dating, mating and relating.
Astrolove Extra Planet Signs
Look up your Mercury, Venus and Mars sign here. R = Retrograde. Retrograde means a planet was going backwards through a sign, on the day you were born, sticking on the sign before. D= Direct. Direct means it started going forwards again, in that sign. Check the first tables for Mercury from 1900 to 1910 to see full examples.
To discover your Moon sign, please go to www.astro.com and use the free chart service, as space does not allow for thousands of Moon tables here! Planet sign dates for 1985-2000 will appear shortly, in the meantime you can also find these at www.astro.com's free chart service.
YOUR MERCURY SIGN
18 Jan 1900 22:18 Mercury in Aquarius
5 Feb 1900 8:09 Mercury in Pisces
21 Feb 1900 12:47 Mercury in Pisces (Retrograde)
14 Mar 1900 20:40 Mercury Pisces (Direct)
13 Apr 1900 0:13 Mercury in Aries
30 Apr 1900 3:51 Mercury in Taurus
14 May 1900 7:11 Mercury in Gemini
30 May 1900 4:32 Mercury in Cancer
23 Jun 1900 8:32 Mercury in Cancer (Retrograde)
17 Jul 1900 13:21 Mercury in Cancer (Direct)
7 Aug 1900 5:37 Mercury in Leo
22 Aug 1900 10:11 Mercury in Virgo
7 Sep 1900 22:24 Mercury in Libra
28 Sep 1900 13:28 Mercury in Scorpio
18 Oct 1900 13:42 Mercury in Scorpio (Retrograde)
7 Nov 1900 9:08 Mercury in Libra
8 Nov 1900 2:29 Mercury in Libra (Direct)
8 Nov 1900 18:32 Mercury in Scorpio
3 Dec 1900 20:25 Mercury in Sagittarius
23 Dec 1900 2:02 Mercury in Capricorn
10 Jan 1901 13:25 Mercury in Aquarius
1 Feb 1901 7:47 Mercury in Pisces
4 Feb 1901 1:59 Mercury in Pisces (Retrograde)
6 Feb 1901 19:05 Mercury in Aquarius
25 Feb 1901 15:42 Mercury in Aquarius (Direct)
17 Mar 1901 6:01 Mercury in Pisces
6 Apr 1901 7:11 Mercury in Aries
21 Apr 1901 20:06 Mercury in Taurus
6 May 1901 4:56 Mercury in Gemini
4 Jun 1901 5:22 Mercury in Gemini (Retrograde)
28 Jun 1901 5:50 Mercury in Gemini (Direct)
12 Jul 1901 22:35 Mercury in Cancer
30 Jul 1901 10:17 Mercury in Leo
14 Aug 1901 5:05 Mercury in Virgo
1 Sep 1901 0:39 Mercury in Libra
1 Oct 1901 19:24 Mercury in Libra (Retrograde)
23 Oct 1901 0:23 Mercury in Libra (Direct)
7 Nov 1901 19:50 Mercury in Scorpio
26 Nov 1901 18:23 Mercury in Sagittarius
15 Dec 1901 19:54 Mercury in Capricorn
3 Jan 1902 21:40 Mercury in Aquarius
18 Jan 1902 20:51 Mercury in Aquarius (Retrograde)
4 Feb 1902 4:52 Mercury in Capricorn
8 Feb 1902 17:28 Mercury in Capricorn (Direct)
13 Feb 1902 17:00 Mercury in Aquarius
11 Mar 1902 23:31 Mercury in Pisces
29 Mar 1902 14:43 Mercury in Aries
13 Apr 1902 10:10 Mercury in Taurus
30 Apr 1902 7:22 Mercury in Gemini
15 May 1902 18:50 Mercury in Gemini (Retrograde)
8 Jun 1902 15:12 Mercury in Gemini (Direct)
7 Jul 1902 10:34 Mercury in Cancer
21 Jul 1902 22:42 Mercury in Leo
6 Aug 1902 9:51 Mercury in Virgo
26 Aug 1902 21:14 Mercury in Libra
14 Sep 1902 19:39 Mercury in Libra (Retrograde)
2 Oct 1902 9:37 Mercury in Virgo
6 Oct 1902 19:26 Mercury in Virgo Direct
11 Oct 1902 5:27 Mercury in Libra
31 Oct 1902 22:43 Mercury in Scorpio
19 Nov 1902 11:29 Mercury in Sagittarius
8 Dec 1902 20:21 Mercury in Capricorn
2 Jan 1903 18:20 Mercury in Capricorn Retrograde
23 Jan 1903 1:09 Mercury Direct in Capricorn
13 Feb 1903 0:56 Mercury in Aquarius
5 Mar 1903 2:02 Mercury in Pisces
21 Mar 1903 12:15 Mercury in Aries
5 Apr 1903 14:39 Mercury in Taurus
26 Apr 1903 12:00 Mercury Retrograde in Taurus
20 May 1903 7:33 Mercury Direct in Taurus
13 Jun 1903 1:27 Mercury in Gemini
29 Jun 1903 10:16 Mercury in Cancer
13 Jul 1903 12:09 Mercury in Leo
30 Jul 1903 14:06 Mercury in Virgo
28 Aug 1903 13:42 Mercury Retrograde in Virgo
20 Sep 1903 8:53 Mercury Direct in Virgo
7 Oct 1903 1:25 Mercury in Libra
24 Oct 1903 11:19 Mercury in Scorpio
12 Nov 1903 7:19 Mercury in Sagittarius
2 Dec 1903 21:37 Mercury in Capricorn
17 Dec 1903 16:02 Mercury Retrograde in Capricorn
30 Dec 1903 20:12 Mercury in Sagittarius
6 Jan 1904 13:45 Mercury Direct in Sagittarius
14 Jan 1904 10:59 Mercury in Capricorn
7 Feb 1904 4:18 Mercury in Aquarius
25 Feb 1904 12:57 Mercury in Pisces
12 Mar 1904 9:44 Mercury in Aries
1 Apr 1904 2:56 Mercury in Taurus
6 Apr 1904 20:28 Mercury Retrograde in Taurus
13 Apr 1904 1:02 Mercury in Aries
30 Apr 1904 13:06 Mercury Direct in Aries
16 May 1904 6:48 Mercury in Taurus
5 Jun 1904 12:46 Mercury in Gemini
19 Jun 1904 19:49 Mercury in Cancer
4 Jul 1904 14:53 Mercury in Leo
25 Jul 1904 14:00 Mercury in Virgo
10 Aug 1904 0:33 Mercury Retrograde in Virgo
25 Aug 1904 1:40 Mercury in Leo
2 Sep 1904 13:10 Mercury Direct in Leo
10 Sep 1904 7:25 Mercury in Virgo
28 Sep 1904 14:13 Mercury in Libra
15 Oct 1904 22:58 Mercury in Scorpio
4 Nov 1904 14:40 Mercury in Sagittarius
30 Nov 1904 12:18 Mercury Retrograde in Sagittarius
20 Dec 1904 6:30 Mercury Direct in Sagittarius
10 Jan 1905 4:06 Mercury in Capricorn
30 Jan 1905 5:35 Mercury in Aquarius
16 Feb 1905 17:44 Mercury in Pisces
5 Mar 1905 1:39 Mercury in Aries
20 Mar 1905 0:15 Mercury Retrograde in Aries
12 Apr 1905 7:46 Mercury Direct in Aries
12 May 1905 9:11 Mercury in Taurus
28 May 1905 10:43 Mercury in Gemini
11 Jun 1905 7:04 Mercury in Cancer
28 Jun 1905 4:05 Mercury in Leo
23 Jul 1905 3:01 Mercury Retrograde in Leo
16 Aug 1905 3:51 Mercury Direct in Leo
4 Sep 1905 17:50 Mercury in Virgo
20 Sep 1905 16:40 Mercury in Libra
8 Oct 1905 17:15 Mercury in Scorpio
30 Oct 1905 9:03 Mercury in Sagittarius
14 Nov 1905 5:43 Mercury Retrograde in Sagittarius
26 Nov 1905 11:53 Mercury in Scorpio
4 Dec 1905 2:24 Mercury Direct in Scorpio
12 Dec 1905 21:08 Mercury in Sagittarius
3 Jan 1906 21:25 Mercury in Capricorn
22 Jan 1906 20:40 Mercury in Aquarius
9 Feb 1906 1:21 Mercury in Pisces
2 Mar 1906 20:30 Mercury Retrograde in Pisces
25 Mar 1906 13:43 Mercury Direct in Pisces
16 Apr 1906 12:19 Mercury in Aries
5 May 1906 8:26 Mercury in Taurus
19 May 1906 20:51 Mercury in Gemini
3 Jun 1906 11:21 Mercury in Cancer
28 Jun 1906 20:22 Mercury in Leo
4 Jul 1906 19:34 Mercury Retrograde in Leo
10 Jul 1906 19:55 Mercury in Cancer
29 Jul 1906 0:40 Mercury Direct in Cancer
11 Aug 1906 3:58 Mercury in Leo
27 Aug 1906 19:30 Mercury in Virgo
12 Sep 1906 21:09 Mercury in Libra
2 Oct 1906 4:39 Mercury in Scorpio
28 Oct 1906 19:17 Mercury Retrograde in Scorpio
18 Nov 1906 0:26 Mercury Direct in Scorpio
8 Dec 1906 5:50 Mercury in Sagittarius
27 Dec 1906 20:54 Mercury in Capricorn
15 Jan 1907 9:24 Mercury in Aquarius
2 Feb 1907 9:22 Mercury in Pisces
14 Feb 1907 4:38 Mercury Retrograde in Pisces
27 Feb 1907 3:12 Mercury in Aquarius
8 Mar 1907 4:45 Mercury Direct in Aquarius
18 Mar 1907 9:29 Mercury in Pisces
10 Apr 1907 23:04 Mercury in Aries
27 Apr 1907 7:14 Mercury in Taurus
11 May 1907 9:17 Mercury in Gemini
29 May 1907 1:04 Mercury in Cancer
15 Jun 1907 23:41 Mercury Retrograde in Cancer
10 Jul 1907 2:16 Mercury Direct in Cancer
4 Aug 1907 17:12 Mercury in Leo
19 Aug 1907 13:00 Mercury in Virgo
5 Sep 1907 12:02 Mercury in Libra
27 Sep 1907 17:21 Mercury in Scorpio
12 Oct 1907 4:01 Mercury Retrograde in Scorpio
24 Oct 1907 3:38 Mercury in Libra
1 Nov 1907 22:59 Mercury Direct in Libra
11 Nov 1907 8:35 Mercury in Scorpio
1 Dec 1907 12:20 Mercury in Sagittarius
20 Dec 1907 14:42 Mercury in Capricorn
8 Jan 1908 4:46 Mercury in Aquarius
28 Jan 1908 20:31 Mercury Retrograde in Aquarius
19 Feb 1908 2:58 Mercury Direct in Aquarius
14 Mar 1908 22:42 Mercury in Pisces
2 Apr 1908 17:42 Mercury in Aries
17 Apr 1908 21:06 Mercury in Taurus
2 May 1908 20:05 Mercury in Gemini
26 May 1908 15:48 Mercury Retrograde in Gemini
19 Jun 1908 14:32 Mercury Direct in Gemini
10 Jul 1908 20:10 Mercury in Cancer
26 Jul 1908 11:48 Mercury in Leo
10 Aug 1908 10:51 Mercury in Virgo
29 Aug 1908 2:52 Mercury in Libra
24 Sep 1908 7:17 Mercury Retrograde in Libra
15 Oct 1908 20:06 Mercury Direct in Libra
4 Nov 1908 15:59 Mercury in Scorpio
23 Nov 1908 7:08 Mercury in Sagittarius
12 Dec 1908 10:12 Mercury in Capricorn
1 Jan 1909 9:53 Mercury in Aquarius
11 Jan 1909 16:44 Mercury Retrograde in Aquarius
21 Jan 1909 5:36 Mercury in Capricorn
1 Feb 1909 7:11 Mercury Direct in Capricorn
14 Feb 1909 15:35 Mercury in Aquarius
8 Mar 1909 18:53 Mercury in Pisces
25 Mar 1909 19:53 Mercury in Aries
9 Apr 1909 14:22 Mercury in Taurus
30 Apr 1909 22:57 Mercury in Gemini
7 May 1909 5:01 Mercury Retrograde in Gemini
13 May 1909 23:34 Mercury in Taurus
31 May 1909 1:22 Mercury Direct in Taurus
14 Jun 1909 2:36 Mercury in Gemini
3 Jul 1909 19:16 Mercury in Cancer
17 Jul 1909 23:09 Mercury in Leo
2 Aug 1909 23:09 Mercury in Virgo
25 Aug 1909 20:26 Mercury in Libra
7 Sep 1909 4:45 Mercury Retrograde in Libra
18 Sep 1909 3:19 Mercury in Virgo
29 Sep 1909 13:14 Mercury Direct in Virgo
10 Oct 1909 3:36 Mercury in Libra
28 Oct 1909 10:08 Mercury in Scorpio
16 Nov 1909 0:28 Mercury in Sagittarius
5 Dec 1909 17:24 Mercury in Capricorn
26 Dec 1909 14:39 Mercury Retrograde in Capricorn
15 Jan 1910 16:52 Mercury Direct in Capricorn
10 Feb 1910 9:04 Mercury in Aquarius
1 Mar 1910 13:27 Mercury in Pisces
17 Mar 1910 16:10 Mercury in Aries
2 Apr 1910 13:07 Mercury in Taurus
18 Apr 1910 4:07 Mercury Retrograde in Taurus
11 May 1910 22:27 Mercury Direct in Taurus
10 Jun 1910 5:37 Mercury in Gemini
25 Jun 1910 10:31 Mercury in Cancer
9 Jul 1910 16:30 Mercury in Leo
27 Jul 1910 21:46 Mercury in Virgo
20 Aug 1910 19:59 Mercury Retrograde in Virgo
12 Sep 1910 23:09 Mercury Direct in Virgo
3 Oct 1910 15:03 Mercury in Libra
20 Oct 1910 21:19 Mercury in Scorpio
8 Nov 1910 23:43 Mercury in Sagittarius
1 Dec 1910 0:20 Mercury in Capricorn
10 Dec 1910 12:05 Mercury Retrograde in Capricorn
18 Dec 1910 14:49 Mercury in Sagittarius
30 Dec 1910 7:21 Mercury Direct in Sagittarius
13 Jan 1911 11:24 Mercury in Capricorn
3 Feb 1911 22:17 Mercury in Aquarius
21 Feb 1911 20:51 Mercury in Pisces
9 Mar 1911 17:48 Mercury in Aries
30 Mar 1911 20:48 Mercury R
23 Apr 1911 10:05 Mercury D
15 May 1911 23:12 Mercury in Taurus
2 Jun 1911 19:59 Mercury in Gemini
16 Jun 1911 19:09 Mercury in Cancer
2 Jul 1911 5:40 Mercury in Leo
28 Jul 1911 18:22 Mercury in Virgo
3 Aug 1911 3:51 Mercury R
8 Aug 1911 9:33 Mercury in Leo
26 Aug 1911 22:04 Mercury D
9 Sep 1911 5:51 Mercury in Virgo
25 Sep 1911 21:09 Mercury in Libra
13 Oct 1911 10:51 Mercury in Scorpio
2 Nov 1911 16:55 Mercury in Sagittarius
24 Nov 1911 7:20 Mercury R
14 Dec 1911 1:43 Mercury D
8 Jan 1912 6:32 Mercury in Capricorn
27 Jan 1912 18:10 Mercury in Aquarius
14 Feb 1912 1:36 Mercury in Pisces
2 Mar 1912 11:41 Mercury in Aries
12 Mar 1912 7:50 Mercury R
23 Mar 1912 13:23 Mercury in Pisces
4 Apr 1912 10:12 Mercury D
16 Apr 1912 22:31 Mercury in Aries
9 May 1912 5:11 Mercury in Taurus
24 May 1912 11:11 Mercury in Gemini
7 Jun 1912 11:15 Mercury in Cancer
26 Jun 1912 2:30 Mercury in Leo
15 Jul 1912 2:17 Mercury R
8 Aug 1912 5:41 Mercury D
1 Sep 1912 2:30 Mercury in Virgo
16 Sep 1912 23:23 Mercury in Libra
5 Oct 1912 10:35 Mercury in Scorpio
29 Oct 1912 6:26 Mercury in Sagittarius
6 Nov 1912 23:04 Mercury R
14 Nov 1912 7:30 Mercury in Scorpio
26 Nov 1912 22:48 Mercury D
11 Dec 1912 1:35 Mercury in Sagittarius
31 Dec 1912 14:02 Mercury in Capricorn
19 Jan 1913 7:24 Mercury in Aquarius
5 Feb 1913 14:56 Mercury in Pisces
23 Feb 1913 9:42 Mercury R
17 Mar 1913 20:04 Mercury D
14 Apr 1913 2:33 Mercury in Aries
1 May 1913 15:35 Mercury in Taurus
15 May 1913 20:41 Mercury in Gemini
31 May 1913 7:10 Mercury in Cancer
26 Jun 1913 13:08 Mercury R
20 Jul 1913 18:23 Mercury D
8 Aug 1913 12:12 Mercury in Leo
23 Aug 1913 22:37 Mercury in Virgo
9 Sep 1913 7:08 Mercury in Libra
29 Sep 1913 11:38 Mercury in Scorpio
21 Oct 1913 10:29 Mercury R
10 Nov 1913 21:12 Mercury D
5 Dec 1913 2:41 Mercury in Sagittarius
24 Dec 1913 10:12 Mercury in Capricorn
11 Jan 1914 21:34 Mercury in Aquarius
31 Jan 1914 14:37 Mercury in Pisces
6 Feb 1914 21:44 Mercury R
13 Feb 1914 3:12 Mercury in Aquarius
28 Feb 1914 14:01 Mercury D
17 Mar 1914 22:17 Mercury in Pisces
7 Apr 1914 15:33 Mercury in Aries
23 Apr 1914 9:15 Mercury in Taurus
7 May 1914 14:57 Mercury in Gemini
29 May 1914 9:18 Mercury in Cancer
7 Jun 1914 11:57 Mercury R
17 Jun 1914 10:01 Mercury in Gemini
1 Jul 1914 12:51 Mercury D
13 Jul 1914 4:31 Mercury in Cancer
31 Jul 1914 22:43 Mercury in Leo
15 Aug 1914 16:44 Mercury in Virgo
2 Sep 1914 5:39 Mercury in Libra
27 Sep 1914 22:59 Mercury in Scorpio
4 Oct 1914 17:03 Mercury R
10 Oct 1914 17:06 Mercury in Libra
25 Oct 1914 19:17 Mercury D
8 Nov 1914 23:04 Mercury in Scorpio
28 Nov 1914 2:25 Mercury in Sagittarius
17 Dec 1914 3:52 Mercury in Capricorn
5 Jan 1915 1:09 Mercury in Aquarius
21 Jan 1915 15:55 Mercury R
11 Feb 1915 14:58 Mercury D
13 Mar 1915 3:49 Mercury in Pisces
31 Mar 1915 1:41 Mercury in Aries
14 Apr 1915 22:51 Mercury in Taurus
1 May 1915 2:08 Mercury in Gemini
19 May 1915 1:50 Mercury R
11 Jun 1915 22:34 Mercury D
8 Jul 1915 18:47 Mercury in Cancer
23 Jul 1915 12:14 Mercury in Leo
7 Aug 1915 19:16 Mercury in Virgo
27 Aug 1915 15:46 Mercury in Libra
17 Sep 1915 18:10 Mercury R
9 Oct 1915 14:58 Mercury D
2 Nov 1915 7:05 Mercury in Scorpio
20 Nov 1915 19:43 Mercury in Sagittarius
10 Dec 1915 2:34 Mercury in Capricorn
2 Jan 1916 3:01 Mercury in Aquarius
5 Jan 1916 13:06 Mercury R
8 Jan 1916 18:52 Mercury in Capricorn
25 Jan 1916 21:50 Mercury D
13 Feb 1916 22:38 Mercury in Aquarius
5 Mar 1916 10:22 Mercury in Pisces
22 Mar 1916 0:17 Mercury in Aries
5 Apr 1916 23:13 Mercury in Taurus
28 Apr 1916 17:20 Mercury R
22 May 1916 13:20 Mercury D
12 Jun 1916 23:15 Mercury in Gemini
29 Jun 1916 23:21 Mercury in Cancer
14 Jul 1916 0:48 Mercury in Leo
30 Jul 1916 18:20 Mercury in Virgo
30 Aug 1916 13:04 Mercury R
22 Sep 1916 5:31 Mercury D
7 Oct 1916 7:53 Mercury in Libra
24 Oct 1916 20:46 Mercury in Scorpio
12 Nov 1916 14:39 Mercury in Sagittarius
2 Dec 1916 21:20 Mercury in Capricorn
19 Dec 1916 10:56 Mercury R
4 Jan 1917 14:35 Mercury in Sagittarius
8 Jan 1917 9:43 Mercury D
12 Jan 1917 13:53 Mercury in Capricorn
7 Feb 1917 9:34 Mercury in Aquarius
25 Feb 1917 23:05 Mercury in Pisces
13 Mar 1917 21:06 Mercury in Aries
31 Mar 1917 17:43 Mercury in Taurus
9 Apr 1917 23:15 Mercury R
20 Apr 1917 17:36 Mercury in Aries
3 May 1917 16:33 Mercury D
16 May 1917 3:56 Mercury in Taurus
6 Jun 1917 22:10 Mercury in Gemini
21 Jun 1917 9:57 Mercury in Cancer
6 Jul 1917 0:22 Mercury in Leo
25 Jul 1917 23:47 Mercury in Virgo
13 Aug 1917 1:01 Mercury R
31 Aug 1917 15:43 Mercury in Leo
5 Sep 1917 11:30 Mercury D
10 Sep 1917 2:15 Mercury in Virgo
30 Sep 1917 0:42 Mercury in Libra
17 Oct 1917 7:58 Mercury in Scorpio
5 Nov 1917 19:19 Mercury in Sagittarius
3 Dec 1917 7:35 Mercury R
23 Dec 1917 1:51 Mercury D
11 Jan 1918 5:06 Mercury in Capricorn
31 Jan 1918 13:38 Mercury in Aquarius
18 Feb 1918 4:26 Mercury in Pisces
6 Mar 1918 7:36 Mercury in Aries
23 Mar 1918 0:20 Mercury R
15 Apr 1918 9:21 Mercury D
13 May 1918 12:39 Mercury in Taurus
29 May 1918 23:46 Mercury in Gemini
12 Jun 1918 20:01 Mercury in Cancer
29 Jun 1918 5:19 Mercury in Leo
26 Jul 1918 5:03 Mercury R
19 Aug 1918 4:25 Mercury D
6 Sep 1918 2:34 Mercury in Virgo
22 Sep 1918 3:40 Mercury in Libra
10 Oct 1918 0:41 Mercury in Scorpio
31 Oct 1918 4:41 Mercury in Sagittarius
17 Nov 1918 1:34 Mercury R
1 Dec 1918 11:15 Mercury in Scorpio
6 Dec 1918 21:23 Mercury D
12 Dec 1918 23:21 Mercury in Sagittarius
5 Jan 1919 3:38 Mercury in Capricorn
24 Jan 1919 5:48 Mercury in Aquarius
10 Feb 1919 10:50 Mercury in Pisces
5 Mar 1919 18:19 Mercury R
28 Mar 1919 13:59 Mercury D
17 Apr 1919 5:56 Mercury in Aries
6 May 1919 18:22 Mercury in Taurus
21 May 1919 10:51 Mercury in Gemini
4 Jun 1919 20:07 Mercury in Cancer
27 Jun 1919 0:33 Mercury in Leo
7 Jul 1919 23:15 Mercury R
19 Jul 1919 7:02 Mercury in Cancer
1 Aug 1919 3:58 Mercury D
11 Aug 1919 19:31 Mercury in Leo
29 Aug 1919 7:47 Mercury in Virgo
14 Sep 1919 7:15 Mercury in Libra
3 Oct 1919 8:15 Mercury in Scorpio
31 Oct 1919 15:42 Mercury R
20 Nov 1919 19:12 Mercury D
9 Dec 1919 9:40 Mercury in Sagittarius
29 Dec 1919 4:54 Mercury in Capricorn
16 Jan 1920 18:29 Mercury in Aquarius
3 Feb 1920 11:37 Mercury in Pisces
17 Feb 1920 0:55 Mercury R
4 Mar 1920 11:11 Mercury in Aquarius
10 Mar 1920 3:49 Mercury D
16 Mar 1920 7:27 Mercury in Pisces
11 Apr 1920 4:45 Mercury in Aries
27 Apr 1920 19:50 Mercury in Taurus
11 May 1920 21:59 Mercury in Gemini
28 May 1920 18:14 Mercury in Cancer
18 Jun 1920 5:00 Mercury R
12 Jul 1920 8:27 Mercury D
5 Aug 1920 3:27 Mercury in Leo
20 Aug 1920 1:31 Mercury in Virgo
5 Sep 1920 19:47 Mercury in Libra
27 Sep 1920 7:43 Mercury in Scorpio
14 Oct 1920 1:06 Mercury R
28 Oct 1920 1:48 Mercury in Libra
3 Nov 1920 17:50 Mercury D
10 Nov 1920 21:39 Mercury in Scorpio
1 Dec 1920 19:50 Mercury in Sagittarius
20 Dec 1920 23:06 Mercury in Capricorn
2 Jan 1930 10:26 Mercury in Aquarius
13 Jan 1930 1:46 Mercury R
23 Jan 1930 0:33 Mercury in Capricorn
2 Feb 1930 17:43 Mercury D
15 Feb 1930 15:04 Mercury in Aquarius
9 Mar 1930 22:36 Mercury in Pisces
26 Mar 1930 23:34 Mercury in Aries
10 Apr 1930 17:06 Mercury in Taurus
1 May 1930 5:48 Mercury in Gemini
8 May 1930 22:19 Mercury R
17 May 1930 11:04 Mercury in Taurus
1 Jun 1930 18:38 Mercury D
14 Jun 1930 19:58 Mercury in Gemini
4 Jul 1930 22:07 Mercury in Cancer
19 Jul 1930 2:45 Mercury in Leo
4 Aug 1930 2:41 Mercury in Virgo
26 Aug 1930 18:11 Mercury in Libra
8 Sep 1930 16:32 Mercury R
20 Sep 1930 2:10 Mercury in Virgo
30 Sep 1930 22:53 Mercury D
11 Oct 1930 4:36 Mercury in Libra
29 Oct 1930 14:34 Mercury in Scorpio
17 Nov 1930 5:31 Mercury in Sagittarius
6 Dec 1930 20:58 Mercury in Capricorn
27 Dec 1930 23:38 Mercury R
17 Jan 1931 2:52 Mercury D
11 Feb 1931 12:27 Mercury in Aquarius
2 Mar 1931 17:26 Mercury in Pisces
18 Mar 1931 19:30 Mercury in Aries
3 Apr 1931 13:39 Mercury in Taurus
19 Apr 1931 19:51 Mercury R
13 May 1931 14:32 Mercury D
11 Jun 1931 7:23 Mercury in Gemini
26 Jun 1931 13:48 Mercury in Cancer
10 Jul 1931 19:58 Mercury in Leo
28 Jul 1931 23:28 Mercury in Virgo
22 Aug 1931 8:33 Mercury R
14 Sep 1931 9:44 Mercury D
4 Oct 1931 18:26 Mercury in Libra
22 Oct 1931 2:09 Mercury in Scorpio
10 Nov 1931 4:27 Mercury in Sagittarius
2 Dec 1931 0:09 Mercury in Capricorn
11 Dec 1931 21:11 Mercury R
20 Dec 1931 7:54 Mercury in Sagittarius
31 Dec 1931 16:55 Mercury D
14 Jan 1932 12:45 Mercury in Capricorn
5 Feb 1932 2:34 Mercury in Aquarius
23 Feb 1932 0:48 Mercury in Pisces
9 Mar 1932 20:22 Mercury in Aries
31 Mar 1932 10:27 Mercury R
24 Apr 1932 0:45 Mercury D
15 May 1932 22:43 Mercury in Taurus
2 Jun 1932 23:01 Mercury in Gemini
16 Jun 1932 22:31 Mercury in Cancer
2 Jul 1932 8:18 Mercury in Leo
27 Jul 1932 20:59 Mercury in Virgo
3 Aug 1932 17:13 Mercury R
10 Aug 1932 7:15 Mercury in Leo
27 Aug 1932 10:02 Mercury D
9 Sep 1932 7:14 Mercury in Virgo
26 Sep 1932 1:15 Mercury in Libra
13 Oct 1932 15:41 Mercury in Scorpio
2 Nov 1932 20:29 Mercury in Sagittarius
24 Nov 1932 16:40 Mercury R
14 Dec 1932 10:54 Mercury D
8 Jan 1933 10:24 Mercury in Capricorn
27 Jan 1933 22:37 Mercury in Aquarius
14 Feb 1933 5:05 Mercury in Pisces
3 Mar 1933 10:51 Mercury in Aries
13 Mar 1933 19:43 Mercury R
25 Mar 1933 21:55 Mercury in Pisces
5 Apr 1933 23:35 Mercury D
17 Apr 1933 15:21 Mercury in Aries
10 May 1933 7:40 Mercury in Taurus
25 May 1933 14:26 Mercury in Gemini
8 Jun 1933 14:12 Mercury in Cancer
27 Jun 1933 1:18 Mercury in Leo
16 Jul 1933 16:37 Mercury R
9 Aug 1933 19:32 Mercury D
2 Sep 1933 5:43 Mercury in Virgo
18 Sep 1933 3:49 Mercury in Libra
6 Oct 1933 15:05 Mercury in Scorpio
30 Oct 1933 4:36 Mercury in Sagittarius
8 Nov 1933 8:47 Mercury R
16 Nov 1933 1:50 Mercury in Scorpio
28 Nov 1933 7:41 Mercury D
12 Dec 1933 3:39 Mercury in Sagittarius
1 Jan 1934 18:39 Mercury in Capricorn
20 Jan 1934 11:44 Mercury in Aquarius
6 Feb 1934 17:24 Mercury in Pisces
24 Feb 1934 20:17 Mercury R
19 Mar 1934 8:25 Mercury D
15 Apr 1934 4:10 Mercury in Aries
2 May 1934 18:42 Mercury in Taurus
16 May 1934 23:44 Mercury in Gemini
1 Jun 1934 8:24 Mercury in Cancer
28 Jun 1934 4:57 Mercury R
22 Jul 1934 10:21 Mercury D
9 Aug 1934 13:47 Mercury in Leo
25 Aug 1934 2:19 Mercury in Virgo
10 Sep 1934 11:29 Mercury in Libra
30 Sep 1934 14:47 Mercury in Scorpio
22 Oct 1934 20:44 Mercury R
12 Nov 1934 5:58 Mercury D
6 Dec 1934 6:41 Mercury in Sagittarius
25 Dec 1934 14:58 Mercury in Capricorn
13 Jan 1935 1:19 Mercury in Aquarius
1 Feb 1935 11:18 Mercury in Pisces
8 Feb 1935 7:25 Mercury R
15 Feb 1935 2:47 Mercury in Aquarius
2 Mar 1935 1:37 Mercury D
18 Mar 1935 21:47 Mercury in Pisces
8 Apr 1935 18:37 Mercury in Aries
24 Apr 1935 12:28 Mercury in Taurus
8 May 1935 17:22 Mercury in Gemini
29 May 1935 19:40 Mercury in Cancer
9 Jun 1935 5:06 Mercury R
20 Jun 1935 17:57 Mercury in Gemini
3 Jul 1935 6:24 Mercury D
13 Jul 1935 22:05 Mercury in Cancer
2 Aug 1935 1:46 Mercury in Leo
16 Aug 1935 20:41 Mercury in Virgo
3 Sep 1935 9:33 Mercury in Libra
28 Sep 1935 16:02 Mercury in Scorpio
6 Oct 1935 3:53 Mercury R
12 Oct 1935 17:44 Mercury in Libra
27 Oct 1935 4:11 Mercury D
10 Nov 1935 1:20 Mercury in Scorpio
29 Nov 1935 7:05 Mercury in Sagittarius
18 Dec 1935 8:28 Mercury in Capricorn
6 Jan 1936 3:33 Mercury in Aquarius
23 Jan 1936 1:05 Mercury R
13 Feb 1936 1:57 Mercury D
13 Mar 1936 6:37 Mercury in Pisces
31 Mar 1936 5:06 Mercury in Aries
15 Apr 1936 1:45 Mercury in Taurus
1 May 1936 1:37 Mercury in Gemini
19 May 1936 19:26 Mercury R
12 Jun 1936 16:35 Mercury D
8 Jul 1936 20:42 Mercury in Cancer
23 Jul 1936 15:39 Mercury in Leo
7 Aug 1936 23:01 Mercury in Virgo
27 Aug 1936 17:45 Mercury in Libra
18 Sep 1936 5:33 Mercury R
10 Oct 1936 0:17 Mercury D
2 Nov 1936 10:59 Mercury in Scorpio
21 Nov 1936 0:39 Mercury in Sagittarius
10 Dec 1936 6:39 Mercury in Capricorn
1 Jan 1937 17:04 Mercury in Aquarius
5 Jan 1937 22:03 Mercury R
9 Jan 1937 20:49 Mercury in Capricorn
26 Jan 1937 8:10 Mercury D
14 Feb 1937 0:21 Mercury in Aquarius
6 Mar 1937 14:05 Mercury in Pisces
23 Mar 1937 3:39 Mercury in Aries
7 Apr 1937 1:13 Mercury in Taurus
30 Apr 1937 10:03 Mercury R
24 May 1937 6:16 Mercury D
13 Jun 1937 22:20 Mercury in Gemini
1 Jul 1937 2:18 Mercury in Cancer
15 Jul 1937 4:13 Mercury in Leo
31 Jul 1937 21:10 Mercury in Virgo
1 Sep 1937 1:08 Mercury R
23 Sep 1937 15:38 Mercury D
8 Oct 1937 10:10 Mercury in Libra
26 Oct 1937 1:14 Mercury in Scorpio
13 Nov 1937 19:25 Mercury in Sagittarius
3 Dec 1937 23:53 Mercury in Capricorn
20 Dec 1937 19:54 Mercury R
6 Jan 1938 22:42 Mercury in Sagittarius
9 Jan 1938 19:29 Mercury D
12 Jan 1938 21:42 Mercury in Capricorn
8 Feb 1938 13:16 Mercury in Aquarius
27 Feb 1938 2:58 Mercury in Pisces
15 Mar 1938 0:02 Mercury in Aries
1 Apr 1938 13:27 Mercury in Taurus
11 Apr 1938 14:11 Mercury R
23 Apr 1938 13:56 Mercury in Aries
5 May 1938 7:54 Mercury D
16 May 1938 17:36 Mercury in Taurus
8 Jun 1938 0:27 Mercury in Gemini
22 Jun 1938 13:08 Mercury in Cancer
7 Jul 1938 3:24 Mercury in Leo
26 Jul 1938 23:00 Mercury in Virgo
14 Aug 1938 13:51 Mercury R
3 Sep 1938 3:35 Mercury in Leo
6 Sep 1938 22:39 Mercury D
10 Sep 1938 15:16 Mercury in Virgo
1 Oct 1938 4:18 Mercury in Libra
18 Oct 1938 12:43 Mercury in Scorpio
6 Nov 1938 23:33 Mercury in Sagittarius
4 Dec 1938 16:46 Mercury R
24 Dec 1938 11:09 Mercury D
12 Jan 1939 7:55 Mercury in Capricorn
1 Feb 1939 17:55 Mercury in Aquarius
19 Feb 1939 8:08 Mercury in Pisces
7 Mar 1939 9:15 Mercury in Aries
24 Mar 1939 13:17 Mercury R
16 Apr 1939 23:26 Mercury D
14 May 1939 13:41 Mercury in Taurus
31 May 1939 2:43 Mercury in Gemini
13 Jun 1939 23:03 Mercury in Cancer
30 Jun 1939 6:44 Mercury in Leo
27 Jul 1939 18:54 Mercury R
20 Aug 1939 17:07 Mercury D
7 Sep 1939 4:54 Mercury in Virgo
23 Sep 1939 7:48 Mercury in Libra
11 Oct 1939 5:20 Mercury in Scorpio
1 Nov 1939 7:05 Mercury in Sagittarius
18 Nov 1939 11:04 Mercury R
3 Dec 1939 7:41 Mercury in Scorpio
8 Dec 1939 6:23 Mercury D
13 Dec 1939 18:57 Mercury in Sagittarius
6 Jan 1940 7:55 Mercury in Capricorn
25 Jan 1940 10:14 Mercury in Aquarius
11 Feb 1940 14:00 Mercury in Pisces
4 Mar 1940 10:32 Mercury in Aries
6 Mar 1940 5:32 Mercury R
7 Mar 1940 23:48 Mercury in Pisces
29 Mar 1940 2:57 Mercury D
17 Apr 1940 4:51 Mercury in Aries
6 May 1940 21:11 Mercury in Taurus
21 May 1940 13:58 Mercury in Gemini
4 Jun 1940 22:32 Mercury in Cancer
26 Jun 1940 14:37 Mercury in Leo
8 Jul 1940 14:17 Mercury R
21 Jul 1940 1:37 Mercury in Cancer
1 Aug 1940 18:42 Mercury D
11 Aug 1940 16:54 Mercury in Leo
29 Aug 1940 11:10 Mercury in Virgo
14 Sep 1940 11:33 Mercury in Libra
3 Oct 1940 12:13 Mercury in Scorpio
1 Nov 1940 1:39 Mercury R
21 Nov 1940 4:05 Mercury D
9 Dec 1940 12:44 Mercury in Sagittarius
29 Dec 1940 9:34 Mercury in Capricorn
16 Jan 1941 22:35 Mercury in Aquarius
3 Feb 1941 13:09 Mercury in Pisces
17 Feb 1941 10:57 Mercury R
7 Mar 1941 2:59 Mercury in Aquarius
11 Mar 1941 15:52 Mercury D
16 Mar 1941 12:24 Mercury in Pisces
12 Apr 1941 7:17 Mercury in Aries
28 Apr 1941 23:06 Mercury in Taurus
13 May 1941 0:52 Mercury in Gemini
29 May 1941 17:37 Mercury in Cancer
19 Jun 1941 21:17 Mercury R
14 Jul 1941 1:15 Mercury D
6 Aug 1941 5:53 Mercury in Leo
21 Aug 1941 5:19 Mercury in Virgo
6 Sep 1941 23:59 Mercury in Libra
28 Sep 1941 9:23 Mercury in Scorpio
15 Oct 1941 11:30 Mercury R
29 Oct 1941 20:52 Mercury in Libra
5 Nov 1941 2:41 Mercury D
11 Nov 1941 19:54 Mercury in Scorpio
3 Dec 1941 0:10 Mercury in Sagittarius
22 Dec 1941 3:53 Mercury in Capricorn
9 Jan 1942 15:23 Mercury in Aquarius
1 Feb 1942 1:16 Mercury R
22 Feb 1942 12:08 Mercury D
17 Mar 1942 0:06 Mercury in Pisces
5 Apr 1942 7:04 Mercury in Aries
20 Apr 1942 13:42 Mercury in Taurus
5 May 1942 4:41 Mercury in Gemini
31 May 1942 16:03 Mercury R
24 Jun 1942 15:54 Mercury D
12 Jul 1942 20:16 Mercury in Cancer
29 Jul 1942 4:23 Mercury in Leo
13 Aug 1942 1:49 Mercury in Virgo
31 Aug 1942 8:28 Mercury in Libra
28 Sep 1942 16:12 Mercury R
20 Oct 1942 0:22 Mercury D
7 Nov 1942 1:42 Mercury in Scorpio
25 Nov 1942 20:25 Mercury in Sagittarius
14 Dec 1942 22:21 Mercury in Capricorn
3 Jan 1943 8:29 Mercury in Aquarius
15 Jan 1943 20:46 Mercury R
27 Jan 1943 23:56 Mercury in Capricorn
5 Feb 1943 14:50 Mercury D
15 Feb 1943 18:50 Mercury in Aquarius
11 Mar 1943 4:57 Mercury in Pisces
28 Mar 1943 11:19 Mercury in Aries
12 Apr 1943 4:57 Mercury in Taurus
30 Apr 1943 16:04 Mercury in Gemini
12 May 1943 5:13 Mercury R
26 May 1943 10:06 Mercury in Taurus
5 Jun 1943 1:29 Mercury D
14 Jun 1943 0:27 Mercury in Gemini
6 Jul 1943 9:03 Mercury in Cancer
20 Jul 1943 16:08 Mercury in Leo
5 Aug 1943 10:33 Mercury in Virgo
27 Aug 1943 0:43 Mercury in Libra
11 Sep 1943 15:23 Mercury R
25 Sep 1943 9:57 Mercury in Virgo
3 Oct 1943 18:41 Mercury D
11 Oct 1943 23:12 Mercury in Libra
30 Oct 1943 23:37 Mercury in Scorpio
18 Nov 1943 13:38 Mercury in Sagittarius
8 Dec 1943 1:48 Mercury in Capricorn
30 Dec 1943 18:32 Mercury R
19 Jan 1944 23:20 Mercury D
12 Feb 1944 14:16 Mercury in Aquarius
3 Mar 1944 2:43 Mercury in Pisces
19 Mar 1944 7:42 Mercury in Aries
3 Apr 1944 17:33 Mercury in Taurus
22 Apr 1944 0:34 Mercury R
15 May 1944 19:39 Mercury D
11 Jun 1944 11:45 Mercury in Gemini
27 Jun 1944 3:38 Mercury in Cancer
11 Jul 1944 7:42 Mercury in Leo
28 Jul 1944 23:47 Mercury in Virgo
24 Aug 1944 8:25 Mercury R
16 Sep 1944 6:47 Mercury D
5 Oct 1944 3:15 Mercury in Libra
22 Oct 1944 11:32 Mercury in Scorpio
10 Nov 1944 11:09 Mercury in Sagittarius
1 Dec 1944 15:34 Mercury in Capricorn
13 Dec 1944 16:11 Mercury R
23 Dec 1944 23:25 Mercury in Sagittarius
2 Jan 1945 12:45 Mercury D
14 Jan 1945 2:56 Mercury in Capricorn
5 Feb 1945 9:19 Mercury in Aquarius
23 Feb 1945 11:25 Mercury in Pisces
11 Mar 1945 6:45 Mercury in Aries
3 Apr 1945 12:12 Mercury R
27 Apr 1945 3:46 Mercury D
16 May 1945 15:18 Mercury in Taurus
4 Jun 1945 10:29 Mercury in Gemini
18 Jun 1945 12:27 Mercury in Cancer
3 Jul 1945 15:40 Mercury in Leo
26 Jul 1945 14:52 Mercury in Virgo
6 Aug 1945 18:10 Mercury R
17 Aug 1945 8:45 Mercury in Leo
30 Aug 1945 9:02 Mercury D
10 Sep 1945 7:12 Mercury in Virgo
27 Sep 1945 12:08 Mercury in Libra
15 Oct 1945 0:14 Mercury in Scorpio
3 Nov 1945 23:08 Mercury in Sagittarius
27 Nov 1945 12:00 Mercury R
17 Dec 1945 6:11 Mercury D
9 Jan 1946 14:08 Mercury in Capricorn
29 Jan 1946 7:21 Mercury in Aquarius
15 Feb 1946 15:42 Mercury in Pisces
4 Mar 1946 9:29 Mercury in Aries
16 Mar 1946 18:55 Mercury R
1 Apr 1946 18:33 Mercury in Pisces
9 Apr 1946 0:38 Mercury D
16 Apr 1946 14:46 Mercury in Aries
11 May 1946 14:27 Mercury in Taurus
27 May 1946 4:11 Mercury in Gemini
10 Jun 1946 2:02 Mercury in Cancer
27 Jun 1946 19:12 Mercury in Leo
19 Jul 1946 18:55 Mercury R
12 Aug 1946 21:03 Mercury D
3 Sep 1946 16:28 Mercury in Virgo
19 Sep 1946 14:34 Mercury in Libra
7 Oct 1946 21:22 Mercury in Scorpio
30 Oct 1946 11:23 Mercury in Sagittarius
11 Nov 1946 4:43 Mercury R
20 Nov 1946 20:12 Mercury in Scorpio
1 Dec 1946 2:32 Mercury D
12 Dec 1946 23:56 Mercury in Sagittarius
3 Jan 1947 1:45 Mercury in Capricorn
21 Jan 1947 21:04 Mercury in Aquarius
8 Feb 1947 1:32 Mercury in Pisces
27 Feb 1947 17:35 Mercury R
22 Mar 1947 8:05 Mercury D
16 Apr 1947 4:27 Mercury in Aries
4 May 1947 6:00 Mercury in Taurus
18 May 1947 13:33 Mercury in Gemini
2 Jun 1947 13:41 Mercury in Cancer
1 Jul 1947 9:13 Mercury R
25 Jul 1947 14:37 Mercury D
10 Aug 1947 17:33 Mercury in Leo
26 Aug 1947 14:50 Mercury in Virgo
11 Sep 1947 20:56 Mercury in Libra
1 Oct 1947 15:27 Mercury in Scorpio
25 Oct 1947 17:25 Mercury R
15 Nov 1947 0:40 Mercury D
7 Dec 1947 12:31 Mercury in Sagittarius
26 Dec 1947 23:16 Mercury in Capricorn
14 Jan 1948 10:05 Mercury in Aquarius
2 Feb 1948 0:57 Mercury in Pisces
11 Feb 1948 3:24 Mercury R
20 Feb 1948 11:07 Mercury in Aquarius
4 Mar 1948 0:19 Mercury D
18 Mar 1948 8:09 Mercury in Pisces
9 Apr 1948 2:23 Mercury in Aries
25 Apr 1948 1:36 Mercury in Taurus
9 May 1948 4:40 Mercury in Gemini
28 May 1948 10:52 Mercury in Cancer
11 Jun 1948 11:15 Mercury R
28 Jun 1948 18:11 Mercury in Gemini
5 Jul 1948 13:04 Mercury D
11 Jul 1948 20:29 Mercury in Cancer
2 Aug 1948 13:53 Mercury in Leo
17 Aug 1948 8:44 Mercury in Virgo
3 Sep 1948 15:48 Mercury in Libra
27 Sep 1948 7:25 Mercury in Scorpio
8 Oct 1948 1:22 Mercury R
17 Oct 1948 3:21 Mercury in Libra
28 Oct 1948 23:05 Mercury D
10 Nov 1948 2:13 Mercury in Scorpio
29 Nov 1948 15:08 Mercury in Sagittarius
18 Dec 1948 16:46 Mercury in Capricorn
6 Jan 1949 8:53 Mercury in Aquarius
24 Jan 1949 20:17 Mercury R
14 Feb 1949 23:45 Mercury D
14 Mar 1949 9:50 Mercury in Pisces
1 Apr 1949 16:00 Mercury in Aries
16 Apr 1949 14:55 Mercury in Taurus
2 May 1949 2:25 Mercury in Gemini
23 May 1949 2:16 Mercury R
16 Jun 1949 0:08 Mercury D
10 Jul 1949 3:13 Mercury in Cancer
25 Jul 1949 5:20 Mercury in Leo
9 Aug 1949 9:05 Mercury in Virgo
28 Aug 1949 15:49 Mercury in Libra
21 Sep 1949 3:49 Mercury R
12 Oct 1949 19:44 Mercury D
3 Nov 1949 18:57 Mercury in Scorpio
22 Nov 1949 9:06 Mercury in Sagittarius
11 Dec 1949 13:37 Mercury in Capricorn
1 Jan 1950 12:41 Mercury in Aquarius
8 Jan 1950 16:54 Mercury R
15 Jan 1950 7:24 Mercury in Capricorn
29 Jan 1950 5:03 Mercury D
14 Feb 1950 19:07 Mercury in Aquarius
7 Mar 1950 22:02 Mercury in Pisces
24 Mar 1950 15:50 Mercury in Aries
8 Apr 1950 11:12 Mercury in Taurus
3 May 1950 16:06 Mercury R
27 May 1950 12:28 Mercury D
14 Jun 1950 14:29 Mercury in Gemini
2 Jul 1950 14:56 Mercury in Cancer
16 Jul 1950 17:09 Mercury in Leo
2 Aug 1950 2:46 Mercury in Virgo
27 Aug 1950 14:23 Mercury in Libra
4 Sep 1950 0:14 Mercury R
10 Sep 1950 18:55 Mercury in Virgo
26 Sep 1950 11:59 Mercury D
9 Oct 1950 14:38 Mercury in Libra
27 Oct 1950 10:36 Mercury in Scorpio
15 Nov 1950 3:10 Mercury in Sagittarius
5 Dec 1950 1:59 Mercury in Capricorn
23 Dec 1950 14:48 Mercury R
12 Jan 1951 15:34 Mercury D
9 Feb 1951 17:48 Mercury in Aquarius
28 Feb 1951 13:03 Mercury in Pisces
16 Mar 1951 11:53 Mercury in Aries
2 Apr 1951 3:38 Mercury in Taurus
14 Apr 1951 17:50 Mercury R
1 May 1951 21:46 Mercury in Aries
8 May 1951 11:50 Mercury D
15 May 1951 1:15 Mercury in Taurus
9 Jun 1951 8:41 Mercury in Gemini
24 Jun 1951 3:13 Mercury in Cancer
8 Jul 1951 13:39 Mercury in Leo
27 Jul 1951 15:26 Mercury in Virgo
17 Aug 1951 14:04 Mercury R
9 Sep 1951 20:22 Mercury D
2 Oct 1951 14:25 Mercury in Libra
19 Oct 1951 21:53 Mercury in Scorpio
8 Nov 1951 4:59 Mercury in Sagittarius
1 Dec 1951 21:02 Mercury in Capricorn
7 Dec 1951 11:57 Mercury R
12 Dec 1951 12:36 Mercury in Sagittarius
27 Dec 1951 6:38 Mercury D
13 Jan 1952 6:41 Mercury in Capricorn
3 Feb 1952 1:36 Mercury in Aquarius
20 Feb 1952 18:53 Mercury in Pisces
7 Mar 1952 17:11 Mercury in Aries
26 Mar 1952 13:54 Mercury R
19 Apr 1952 1:32 Mercury D
14 May 1952 14:41 Mercury in Taurus
31 May 1952 15:24 Mercury in Gemini
14 Jun 1952 12:21 Mercury in Cancer
30 Jun 1952 10:27 Mercury in Leo
29 Jul 1952 20:31 Mercury R
22 Aug 1952 16:54 Mercury D
7 Sep 1952 12:02 Mercury in Virgo
23 Sep 1952 18:46 Mercury in Libra
11 Oct 1952 13:05 Mercury in Scorpio
1 Nov 1952 5:36 Mercury in Sagittarius
20 Nov 1952 6:43 Mercury R
10 Dec 1952 1:28 Mercury D
6 Jan 1953 13:23 Mercury in Capricorn
25 Jan 1953 19:09 Mercury in Aquarius
11 Feb 1953 23:56 Mercury in Pisces
2 Mar 1953 19:42 Mercury in Aries
9 Mar 1953 3:44 Mercury R
15 Mar 1953 21:01 Mercury in Pisces
1 Apr 1953 3:36 Mercury D
17 Apr 1953 16:43 Mercury in Aries
8 May 1953 6:21 Mercury in Taurus
23 May 1953 3:57 Mercury in Gemini
6 Jun 1953 8:24 Mercury in Cancer
26 Jun 1953 11:02 Mercury in Leo
11 Jul 1953 17:25 Mercury R
28 Jul 1953 13:44 Mercury in Cancer
4 Aug 1953 21:21 Mercury D
11 Aug 1953 13:56 Mercury in Leo
30 Aug 1953 22:58 Mercury in Virgo
15 Sep 1953 21:46 Mercury in Libra
4 Oct 1953 16:41 Mercury in Scorpio
31 Oct 1953 16:17 Mercury in Sagittarius
3 Nov 1953 21:50 Mercury R
6 Nov 1953 21:18 Mercury in Scorpio
23 Nov 1953 22:55 Mercury D
10 Dec 1953 14:46 Mercury in Sagittarius
30 Dec 1953 17:13 Mercury in Capricorn
18 Jan 1954 7:42 Mercury in Aquarius
4 Feb 1954 18:05 Mercury in Pisces
20 Feb 1954 7:33 Mercury R
14 Mar 1954 15:06 Mercury D
13 Apr 1954 11:33 Mercury in Aries
30 Apr 1954 11:25 Mercury in Taurus
14 May 1954 13:57 Mercury in Gemini
30 May 1954 16:16 Mercury in Cancer
23 Jun 1954 2:09 Mercury R
17 Jul 1954 6:50 Mercury D
7 Aug 1954 14:41 Mercury in Leo
22 Aug 1954 17:42 Mercury in Virgo
8 Sep 1954 8:06 Mercury in Libra
29 Sep 1954 4:09 Mercury in Scorpio
18 Oct 1954 8:25 Mercury R
4 Nov 1954 12:42 Mercury in Libra
7 Nov 1954 21:30 Mercury D
11 Nov 1954 10:12 Mercury in Scorpio
4 Dec 1954 7:02 Mercury in Sagittarius
23 Dec 1954 12:09 Mercury in Capricorn
10 Jan 1955 23:04 Mercury in Aquarius
3 Feb 1955 20:55 Mercury R
25 Feb 1955 10:17 Mercury D
17 Mar 1955 20:44 Mercury in Pisces
6 Apr 1955 16:13 Mercury in Aries
22 Apr 1955 2:56 Mercury in Taurus
6 May 1955 13:05 Mercury in Gemini
3 Jun 1955 22:46 Mercury R
27 Jun 1955 23:11 Mercury D
13 Jul 1955 14:40 Mercury in Cancer
30 Jul 1955 17:21 Mercury in Leo
14 Aug 1955 13:08 Mercury in Virgo
1 Sep 1955 12:06 Mercury in Libra
1 Oct 1955 13:58 Mercury R
22 Oct 1955 19:22 Mercury D
8 Nov 1955 6:55 Mercury in Scorpio
27 Nov 1955 4:34 Mercury in Sagittarius
16 Dec 1955 6:06 Mercury in Capricorn
4 Jan 1956 9:17 Mercury in Aquarius
18 Jan 1956 15:52 Mercury R
2 Feb 1956 12:19 Mercury in Capricorn
8 Feb 1956 12:10 Mercury D
15 Feb 1956 6:19 Mercury in Aquarius
11 Mar 1956 10:26 Mercury in Pisces
28 Mar 1956 22:39 Mercury in Aries
12 Apr 1956 17:10 Mercury in Taurus
29 Apr 1956 22:52 Mercury in Gemini
14 May 1956 12:12 Mercury R
7 Jun 1956 8:34 Mercury D
6 Jul 1956 18:58 Mercury in Cancer
21 Jul 1956 5:35 Mercury in Leo
5 Aug 1956 19:08 Mercury in Virgo
26 Aug 1956 13:30 Mercury in Libra
13 Sep 1956 14:08 Mercury R
29 Sep 1956 21:46 Mercury in Virgo
5 Oct 1956 14:21 Mercury D
11 Oct 1956 7:13 Mercury in Libra
31 Oct 1956 8:19 Mercury in Scorpio
18 Nov 1956 21:42 Mercury in Sagittarius
8 Dec 1956 7:11 Mercury in Capricorn
1 Jan 1957 13:23 Mercury R
21 Jan 1957 19:56 Mercury D
12 Feb 1957 14:28 Mercury in Aquarius
4 Mar 1957 11:33 Mercury in Pisces
20 Mar 1957 19:46 Mercury in Aries
4 Apr 1957 23:42 Mercury in Taurus
25 Apr 1957 5:32 Mercury R
19 May 1957 1:04 Mercury D
12 Jun 1957 13:38 Mercury in Gemini
28 Jun 1957 17:06 Mercury in Cancer
12 Jul 1957 19:43 Mercury in Leo
30 Jul 1957 1:47 Mercury in Virgo
27 Aug 1957 8:04 Mercury R
19 Sep 1957 3:37 Mercury D
6 Oct 1957 11:08 Mercury in Libra
23 Oct 1957 20:51 Mercury in Scorpio
11 Nov 1957 18:00 Mercury in Sagittarius
2 Dec 1957 11:19 Mercury in Capricorn
16 Dec 1957 11:05 Mercury R
28 Dec 1957 17:42 Mercury in Sagittarius
5 Jan 1958 8:39 Mercury D
14 Jan 1958 9:59 Mercury in Capricorn
6 Feb 1958 15:19 Mercury in Aquarius
24 Feb 1958 21:42 Mercury in Pisces
12 Mar 1958 17:31 Mercury in Aries
2 Apr 1958 20:00 Mercury in Taurus
6 Apr 1958 14:24 Mercury R
10 Apr 1958 13:41 Mercury in Aries
30 Apr 1958 6:57 Mercury D
17 May 1958 1:45 Mercury in Taurus
5 Jun 1958 20:55 Mercury in Gemini
20 Jun 1958 2:20 Mercury in Cancer
4 Jul 1958 23:49 Mercury in Leo
26 Jul 1958 10:10 Mercury in Virgo
9 Aug 1958 18:47 Mercury R
23 Aug 1958 14:32 Mercury in Leo
2 Sep 1958 7:42 Mercury D
11 Sep 1958 0:52 Mercury in Virgo
28 Sep 1958 22:46 Mercury in Libra
16 Oct 1958 8:52 Mercury in Scorpio
5 Nov 1958 2:36 Mercury in Sagittarius
30 Nov 1958 7:16 Mercury R
20 Dec 1958 1:27 Mercury D
10 Jan 1959 16:46 Mercury in Capricorn
30 Jan 1959 15:40 Mercury in Aquarius
17 Feb 1959 2:13 Mercury in Pisces
5 Mar 1959 11:52 Mercury in Aries
19 Mar 1959 18:34 Mercury R
12 Apr 1959 1:53 Mercury D
12 May 1959 19:44 Mercury in Taurus
28 May 1959 17:33 Mercury in Gemini
11 Jun 1959 14:11 Mercury in Cancer
28 Jun 1959 16:34 Mercury in Leo
22 Jul 1959 21:02 Mercury R
15 Aug 1959 22:05 Mercury D
5 Sep 1959 2:25 Mercury in Virgo
21 Sep 1959 1:21 Mercury in Libra
9 Oct 1959 4:03 Mercury in Scorpio
31 Oct 1959 1:21 Mercury in Sagittarius
14 Nov 1959 0:37 Mercury R
25 Nov 1959 11:52 Mercury in Scorpio
3 Dec 1959 21:25 Mercury D
13 Dec 1959 15:36 Mercury in Sagittarius
4 Jan 1960 8:23 Mercury in Capricorn
23 Jan 1960 6:15 Mercury in Aquarius
9 Feb 1960 10:12 Mercury in Pisces
1 Mar 1960 15:10 Mercury R
24 Mar 1960 8:05 Mercury D
16 Apr 1960 2:17 Mercury in Aries
4 May 1960 16:43 Mercury in Taurus
19 May 1960 3:26 Mercury in Gemini
2 Jun 1960 20:35 Mercury in Cancer
1 Jul 1960 2:22 Mercury in Leo
3 Jul 1960 13:15 Mercury R
6 Jul 1960 0:11 Mercury in Cancer
27 Jul 1960 18:24 Mercury D
10 Aug 1960 17:41 Mercury in Leo
27 Aug 1960 3:11 Mercury in Virgo
12 Sep 1960 6:30 Mercury in Libra
1 Oct 1960 17:18 Mercury in Scorpio
27 Oct 1960 14:02 Mercury R
16 Nov 1960 19:27 Mercury D
7 Dec 1960 17:28 Mercury in Sagittarius
27 Dec 1960 7:20 Mercury in Capricorn
MORE MERCURY TABLES
1961
Jan 14 18:57 Aquarius
Feb 01 21:38 Pisces
Feb 24 20:24 Aquarius (R)
Mar 18 10:12 Pisces
Apr 10 09:20 Aries
Apr 26 14:32 Taurus
May 10 16:32 Gemini
May 28 17:20 Cancer
Aug 04 01:14 Leo
Aug 18 20:50 Virgo
Sep 04 22:30 Libra
Sep 27 12:12 Scorpio
Oct 22 02:33 Libra (R)
Nov 10 23:49 Scorpio
Nov 30 22:51 Sagittarius
Dec 20 01:01 Capricorn
1962
Jan 07 15:05 Aquarius
Mar 15 11:39 Pisces
Apr 03 02:29 Aries
Apr 18 04:07 Taurus
May 03 06:01 Gemini
Jul 11 07:33 Cancer
Jul 26 18:47 Leo
Aug 10 19:26 Virgo
Aug 29 15:44 Libra
Nov 05 02:16 Scorpio
Nov 23 17:27 Sagittarius
Dec 12 20:47 Capricorn
1963
Jan 02 01:05 Aquarius
Jan 20 05:04 Capricorn (R)
Feb 15 10:03 Aquarius
Mar 09 05:22 Pisces
Mar 26 03:49 Aries
Apr 09 22:00 Taurus
May 03 03:57 Gemini
May 10 21:02 Taurus (R)
Jun 14 23:14 Gemini
Jul 04 02:57 Cancer
Jul 18 06:16 Leo
Aug 03 09:17 Virgo
Aug 26 20:25 Libra
Sep 16 20:36 Virgo (R)
Oct 10 16:39 Libra
Oct 28 19:50 Scorpio
Nov 16 11:02 Sagittarius
Dec 06 05:12 Capricorn
1964
Feb 10 21:26 Aquarius
Feb 29 22:46 Pisces
Mar 16 23:51 Aries
Apr 02 00:53 Taurus
Jun 09 15:41 Gemini
Jun 24 17:14 Cancer
Jul 09 00:35 Leo
Jul 27 11:31 Virgo
Oct 03 00:08 Libra
Oct 20 07:07 Scorpio
Nov 08 10:57 Sagittarius
Nov 30 19:23 Capricorn
Dec 16 14:37 Sagittarius (R)
1965
Jan 13 03:07 Capricorn
Feb 03 08:58 Aquarius
Feb 21 05:36 Pisces
Mar 09 02:15 Aries
May 15 13:14 Taurus
Jun 02 03:44 Gemini
Jun 16 02:01 Cancer
Jul 01 15:51 Leo
Jul 31 10:36 Virgo
Aug 03 08:57 Leo (R)
Sep 08 17:10 Virgo
Sep 25 05:46 Libra
Oct 12 21:11 Scorpio
Nov 02 05:59 Sagittarius
1966
Jan 07 18:22 Capricorn
Jan 27 04:06 Aquarius
Feb 13 10:15 Pisces
Mar 03 02:53 Aries
Mar 22 02:40 Pisces (R)
Apr 17 21:25 Aries
May 09 14:45 Taurus
May 24 17:57 Gemini
Jun 07 19:08 Cancer
Jun 26 19:01 Leo
Sep 01 10:33 Virgo
Sep 17 08:16 Libra
Oct 05 21:59 Scorpio
Oct 30 07:31 Sagittarius
Nov 13 03:31 Scorpio (R)
Dec 11 15:23 Sagittarius
1967
Jan 01 00:49 Capricorn
Jan 19 17:03 Aquarius
Feb 06 00:35 Pisces
Apr 14 14:35 Aries
May 01 23:24 Taurus
May 16 03:25 Gemini
May 31 17:59 Cancer
Aug 08 22:08 Leo
Aug 24 06:16 Virgo
Sep 09 16:51 Libra
Sep 30 01:43 Scorpio
Dec 05 13:39 Sagittarius
Dec 24 20:31 Capricorn
1968
Jan 12 07:18 Aquarius
Feb 01 12:55 Pisces
Feb 11 18:56 Aquarius (R)
Mar 17 14:43 Pisces
Apr 07 01:00 Aries
Apr 22 16:17 Taurus
May 06 22:55 Gemini
May 29 22:40 Cancer
Jun 13 22:36 Gemini (R)
Jul 13 01:29 Cancer
Jul 31 06:10 Leo
Aug 15 00:53 Virgo
Sep 01 16:58 Libra
Sep 28 14:37 Scorpio
Oct 07 22:49 Libra (R)
Nov 08 10:59 Scorpio
Nov 27 12:46 Sagittarius
Dec 16 14:10 Capricorn
1969
Jan 04 12:18 Aquarius
Mar 12 15:19 Pisces
Mar 30 09:59 Aries
Apr 14 05:55 Taurus
Apr 30 15:18 Gemini
Jul 08 03:58 Cancer
Jul 22 19:12 Leo
Aug 07 04:22 Virgo
Aug 27 06:52 Libra
Nov 01 16:54 Scorpio
Nov 20 06:01 Sagittarius
Dec 09 13:22 Capricorn
1970
Feb 13 13:10 Aquarius
Mar 05 20:12 Pisces
Mar 22 08:00 Aries
Apr 06 07:41 Taurus
Jun 13 12:48 Gemini
Jun 30 06:24 Cancer
Jul 14 08:08 Leo
Jul 31 05:24 Virgo
Oct 07 18:06 Libra
Oct 25 06:18 Scorpio
Nov 13 01:19 Sagittarius
Dec 03 10:17 Capricorn
1971
Jan 02 23:31 Sagittarius (R)
Jan 14 02:23 Capricorn
Feb 07 20:54 Aquarius
Feb 26 08:00 Pisces
Mar 14 04:48 Aries
Apr 01 14:16 Taurus
Apr 18 21:46 Aries (R)
May 17 03:37 Taurus
Jun 07 06:47 Gemini
Jun 21 16:27 Cancer
Jul 06 08:56 Leo
Jul 26 17:08 Virgo
Aug 29 20:35 Leo (R)
Sep 11 06:51 Virgo
Sep 30 09:21 Libra
Oct 17 17:52 Scorpio
Nov 06 07:02 Sagittarius
1972
Jan 11 18:22 Capricorn
Jan 31 23:50 Aquarius
Feb 18 12:57 Pisces
Mar 05 17:03 Aries
May 12 23:49 Taurus
May 29 06:49 Gemini
Jun 12 02:59 Cancer
Jun 28 16:56 Leo
Sep 05 11:40 Virgo
Sep 21 12:15 Libra
Oct 09 11:15 Scorpio
Oct 30 19:32 Sagittarius
Nov 29 07:03 Scorpio (R)
Dec 12 23:27 Sagittarius
1973
Jan 04 14:46 Capricorn
Jan 23 15:27 Aquarius
Feb 09 19:34 Pisces
Apr 16 21:22 Aries
May 06 02:58 Taurus
May 20 17:27 Gemini
Jun 04 04:46 Cancer
Jun 27 06:52 Leo
Jul 16 07:52 Cancer (R)
Aug 11 12:27 Leo
Aug 28 15:26 Virgo
Sep 13 16:20 Libra
Oct 02 20:17 Scorpio
Dec 08 21:34 Sagittarius
Dec 28 15:19 Capricorn
1974
Jan 16 04:01 Aquarius
Feb 02 22:47 Pisces
Mar 02 17:40 Aquarius (R)
Mar 17 20:21 Pisces
Apr 11 15:24 Aries
Apr 28 03:14 Taurus
May 12 04:58 Gemini
May 29 08:08 Cancer
Aug 05 11:46 Leo
Aug 20 09:07 Virgo
Sep 06 05:53 Libra
Sep 28 00:26 Scorpio
Oct 26 23:16 Libra (R)
Nov 11 16:11 Scorpio
Dec 02 06:22 Sagittarius
Dec 21 09:21 Capricorn
1975
Jan 08 22:02 Aquarius
Mar 16 11:55 Pisces
Apr 04 12:31 Aries
Apr 19 17:23 Taurus
May 04 11:58 Gemini
Jul 12 09:00 Cancer
Jul 28 08:08 Leo
Aug 12 06:16 Virgo
Aug 30 17:25 Libra
Nov 06 09:01 Scorpio
Nov 25 01:48 Sagittarius
Dec 14 04:13 Capricorn
1976
Jan 02 20:26 Aquarius
Jan 25 01:26 Capricorn (R)
Feb 15 19:09 Aquarius
Mar 09 12:05 Pisces
Mar 26 15:39 Aries
Apr 10 09:32 Taurus
Apr 29 23:17 Gemini
May 19 19:14 Taurus (R)
Jun 13 19:25 Gemini
Jul 04 14:20 Cancer
Jul 18 19:38 Leo
Aug 03 16:44 Virgo
Aug 25 20:57 Libra
Sep 21 07:11 Virgo (R)
Oct 10 14:50 Libra
Oct 29 04:57 Scorpio
Nov 16 19:04 Sagittarius
Dec 06 09:27 Capricorn
1977
Feb 10 23:58 Aquarius
Mar 02 08:11 Pisces
Mar 18 11:58 Aries
Apr 03 02:48 Taurus
Jun 10 21:08 Gemini
Jun 26 07:09 Cancer
Jul 10 12:01 Leo
Jul 28 10:17 Virgo
Oct 04 09:18 Libra
Oct 21 16:25 Scorpio
Nov 09 17:21 Sagittarius
Dec 01 06:45 Capricorn
Dec 21 07:18 Sagittarius (R)
1978
Jan 13 20:09 Capricorn
Feb 04 15:55 Aquarius
Feb 22 16:12 Pisces
Mar 10 12:11 Aries
May 16 08:20 Taurus
Jun 03 15:26 Gemini
Jun 17 15:49 Cancer
Jul 02 22:28 Leo
Jul 27 06:11 Virgo
Aug 13 07:05 Leo (R)
Sep 09 19:24 Virgo
Sep 26 16:40 Libra
Oct 14 05:29 Scorpio
Nov 03 07:47 Sagittarius
1979
Jan 08 22:33 Capricorn
Jan 28 12:49 Aquarius
Feb 14 20:38 Pisces
Mar 03 21:31 Aries
Mar 28 10:42 Pisces (R)
Apr 17 12:46 Aries
May 10 22:02 Taurus
May 26 07:43 Gemini
Jun 09 06:31 Cancer
Jun 27 09:50 Leo
Sep 02 21:38 Virgo
Sep 18 18:58 Libra
Oct 07 03:53 Scorpio
Oct 30 07:02 Sagittarius
Nov 18 03:12 Scorpio (R)
Dec 12 13:32 Sagittarius
1980
Jan 02 08:01 Capricorn
Jan 21 02:17 Aquarius
Feb 07 08:05 Pisces
Apr 14 15:55 Aries
May 02 10:54 Taurus
May 16 17:05 Gemini
May 31 22:03 Cancer
Aug 09 03:28 Leo
Aug 24 18:46 Virgo
Sep 10 01:58 Libra
Sep 30 01:13 Scorpio
Dec 05 19:42 Sagittarius
Dec 25 04:44 Capricorn
1981
Jan 12 15:45 Aquarius
Jan 31 17:31 Pisces
Feb 16 08:07 Aquarius (R)
Mar 18 04:28 Pisces
Apr 08 09:08 Aries
Apr 24 05:29 Taurus
May 08 09:40 Gemini
May 28 16:57 Cancer
Jun 22 23:02 Gemini (R)
Jul 12 21:01 Cancer
Aug 01 18:28 Leo
Aug 16 12:45 Virgo
Sep 02 22:36 Libra
Sep 27 10:54 Scorpio
Oct 14 02:16 Libra (R)
Nov 09 13:10 Scorpio
Nov 28 20:48 Sagittarius
Dec 17 22:17 Capricorn
1982
Jan 05 16:45 Aquarius
Mar 13 19:07 Pisces
Mar 31 20:56 Aries
Apr 15 18:51 Taurus
May 01 13:25 Gemini
Jul 09 11:23 Cancer
Jul 24 08:46 Leo
Aug 08 14:03 Virgo
Aug 28 03:17 Libra
Nov 03 01:06 Scorpio
Nov 21 14:23 Sagittarius
Dec 10 20:00 Capricorn
1983
Jan 01 13:24 Aquarius
Jan 12 07:02 Capricorn (R)
Feb 14 09:31 Aquarius
Mar 07 04:20 Pisces
Mar 23 20:06 Aries
Apr 07 17:00 Taurus
Jun 14 08:01 Gemini
Jul 01 19:15 Cancer
Jul 15 20:54 Leo
Aug 01 10:19 Virgo
Aug 29 05:50 Libra
Sep 06 02:46 Virgo (R)
Oct 08 23:40 Libra
Oct 26 15:43 Scorpio
Nov 14 08:52 Sagittarius
Dec 04 11:18 Capricorn
1984
Feb 09 01:47 Aquarius
Feb 27 18:04 Pisces
Mar 14 16:24 Aries
Mar 31 20:20 Taurus
Apr 25 11:59 Aries (R)
May 15 12:24 Taurus
Jun 07 15:41 Gemini
Jun 22 06:37 Cancer
Jul 06 18:53 Leo
Jul 26 06:45 Virgo
Sep 30 19:41 Libra
Oct 18 02:58 Scorpio
Nov 06 12:05 Sagittarius
Dec 01 16:17 Capricorn
Dec 07 21:57 Sagittarius (R)
1985
Jan 11 18:21 Capricorn
Feb 01 07:41 Aquarius
Feb 18 23:39 Pisces
Mar 07 00:05 Aries
May 14 02:07 Taurus
May 30 19:42 Gemini
Jun 13 16:09 Cancer
Jun 29 19:31 Leo
Sep 06 19:37 Virgo
Sep 22 23:11 Libra
Oct 10 18:48 Scorpio
Oct 31 16:40 Sagittarius
Dec 04 19:29 Scorpio (R)
Dec 12 10:58 Sagittarius
YOUR VENUS SIGN
24 Jan 1900 19:52 Venus in Capricorn
18 Feb 1900 4:43 Venus in Aquarius
13 Mar 1900 11:36 Venus in Pisces
6 Apr 1900 18:37 Venus in Aries
1 May 1900 2:48 Venus in Taurus
25 May 1900 12:14 Venus in Gemini
18 Jun 1900 22:14 Venus in Cancer
13 Jul 1900 8:02 Venus in Leo
6 Aug 1900 17:32 Venus in Virgo
31 Aug 1900 3:35 Venus in Libra
24 Sep 1900 15:25 Venus in Scorpio
19 Oct 1900 6:18 Venus in Sagittarius
13 Nov 1900 2:14 Venus in Capricorn
8 Dec 1900 8:48 Venus in Aquarius
3 Jan 1901 18:14 Venus in Pisces
2 Feb 1901 19:16 Venus in Aries
9 Mar 1901 1:07 Venus R
20 Apr 1901 4:35 Venus D
6 Jun 1901 10:24 Venus in Taurus
5 Jul 1901 16:43 Venus in Gemini
1 Aug 1901 12:17 Venus in Cancer
27 Aug 1901 4:12 Venus in Leo
21 Sep 1901 2:09 Venus in Virgo
15 Oct 1901 11:42 Venus in Libra
8 Nov 1901 13:27 Venus in Scorpio
2 Dec 1901 11:11 Venus in Sagittarius
26 Dec 1901 7:24 Venus in Capricorn
19 Jan 1902 3:41 Venus in Aquarius
12 Feb 1902 1:17 Venus in Pisces
8 Mar 1902 1:41 Venus in Aries
1 Apr 1902 6:39 Venus in Taurus
25 Apr 1902 17:56 Venus in Gemini
20 May 1902 13:27 Venus in Cancer
14 Jun 1902 20:16 Venus in Leo
10 Jul 1902 21:08 Venus in Virgo
7 Aug 1902 9:08 Venus in Libra
8 Sep 1902 3:07 Venus in Scorpio
10 Oct 1902 18:35 Venus R
21 Nov 1902 7:13 Venus D
7 Jan 1903 13:07 Venus in Sagittarius
4 Feb 1903 13:26 Venus in Capricorn
2 Mar 1903 12:39 Venus in Aquarius
27 Mar 1903 18:13 Venus in Pisces
21 Apr 1903 16:17 Venus in Aries
16 May 1903 10:57 Venus in Taurus
10 Jun 1903 3:31 Venus in Gemini
4 Jul 1903 17:38 Venus in Cancer
29 Jul 1903 4:24 Venus in Leo
22 Aug 1903 11:35 Venus in Virgo
15 Sep 1903 15:57 Venus in Libra
9 Oct 1903 18:55 Venus in Scorpio
2 Nov 1903 21:42 Venus in Sagittarius
27 Nov 1903 1:07 Venus in Capricorn
21 Dec 1903 6:32 Venus in Aquarius
14 Jan 1904 17:15 Venus in Pisces
8 Feb 1904 16:20 Venus in Aries
5 Mar 1904 18:12 Venus in Taurus
3 Apr 1904 14:57 Venus in Gemini
17 May 1904 22:29 Venus R
29 Jun 1904 23:16 Venus D
7 Aug 1904 11:01 Venus in Cancer
6 Sep 1904 22:14 Venus in Leo
3 Oct 1904 17:19 Venus in Virgo
29 Oct 1904 0:38 Venus in Libra
22 Nov 1904 13:31 Venus in Scorpio
16 Dec 1904 17:09 Venus in Sagittarius
9 Jan 1905 16:55 Venus in Capricorn
2 Feb 1905 15:42 Venus in Aquarius
26 Feb 1905 15:06 Venus in Pisces
22 Mar 1905 16:24 Venus in Aries
15 Apr 1905 20:36 Venus in Taurus
10 May 1905 4:14 Venus in Gemini
3 Jun 1905 15:17 Venus in Cancer
28 Jun 1905 5:53 Venus in Leo
23 Jul 1905 1:01 Venus in Virgo
17 Aug 1905 3:04 Venus in Libra
11 Sep 1905 16:14 Venus in Scorpio
8 Oct 1905 1:00 Venus in Sagittarius
5 Nov 1905 8:11 Venus in Capricorn
15 Dec 1905 16:07 Venus in Aquarius
24 Dec 1905 9:37 Venus R
1 Jan 1906 19:59 Venus in Capricorn
3 Feb 1906 9:19 Venus D
5 Mar 1906 8:37 Venus in Aquarius
6 Apr 1906 1:19 Venus in Pisces
3 May 1906 10:24 Venus in Aries
29 May 1906 12:41 Venus in Taurus
24 Jun 1906 0:30 Venus in Gemini
19 Jul 1906 2:40 Venus in Cancer
12 Aug 1906 20:20 Venus in Leo
6 Sep 1906 6:14 Venus in Virgo
30 Sep 1906 10:01 Venus in Libra
24 Oct 1906 9:57 Venus in Scorpio
17 Nov 1906 8:02 Venus in Sagittarius
11 Dec 1906 5:33 Venus in Capricorn
4 Jan 1907 3:31 Venus in Aquarius
28 Jan 1907 3:32 Venus in Pisces
21 Feb 1907 8:21 Venus in Aries
17 Mar 1907 22:00 Venus in Taurus
12 Apr 1907 2:14 Venus in Gemini
8 May 1907 7:28 Venus in Cancer
5 Jun 1907 17:59 Venus in Leo
14 Jul 1907 18:32 Venus in Virgo
27 Jul 1907 17:28 Venus R
9 Aug 1907 0:58 Venus in Leo
8 Sep 1907 16:15 Venus D
8 Oct 1907 6:50 Venus in Virgo
8 Nov 1907 21:04 Venus in Libra
5 Dec 1907 13:28 Venus in Scorpio
30 Dec 1907 18:01 Venus in Sagittarius
24 Jan 1908 8:05 Venus in Capricorn
17 Feb 1908 16:21 Venus in Aquarius
12 Mar 1908 22:50 Venus in Pisces
6 Apr 1908 5:35 Venus in Aries
30 Apr 1908 13:34 Venus in Taurus
24 May 1908 22:51 Venus in Gemini
18 Jun 1908 8:48 Venus in Cancer
12 Jul 1908 18:38 Venus in Leo
6 Aug 1908 4:19 Venus in Virgo
30 Aug 1908 14:41 Venus in Libra
24 Sep 1908 2:58 Venus in Scorpio
18 Oct 1908 18:30 Venus in Sagittarius
12 Nov 1908 15:24 Venus in Capricorn
7 Dec 1908 23:36 Venus in Aquarius
3 Jan 1909 12:35 Venus in Pisces
3 Feb 1909 3:43 Venus in Aries
6 Mar 1909 17:18 Venus R
11 Apr 1909 12:50 Venus in Pisces
17 Apr 1909 19:25 Venus D
24 Apr 1909 7:01 Venus in Aries
6 Jun 1909 9:06 Venus in Taurus
5 Jul 1909 8:22 Venus in Gemini
1 Aug 1909 1:27 Venus in Cancer
26 Aug 1909 16:11 Venus in Leo
20 Sep 1909 13:31 Venus in Virgo
14 Oct 1909 22:46 Venus in Libra
8 Nov 1909 0:23 Venus in Scorpio
1 Dec 1909 22:03 Venus in Sagittarius
25 Dec 1909 18:16 Venus in Capricorn
18 Jan 1910 14:34 Venus in Aquarius
11 Feb 1910 12:09 Venus in Pisces
7 Mar 1910 12:33 Venus in Aries
31 Mar 1910 17:34 Venus in Taurus
25 Apr 1910 5:05 Venus in Gemini
20 May 1910 1:04 Venus in Cancer
14 Jun 1910 8:49 Venus in Leo
10 Jul 1910 11:31 Venus in Virgo
7 Aug 1910 3:47 Venus in Libra
8 Sep 1910 15:46 Venus in Scorpio
8 Oct 1910 7:06 Venus R
8 Nov 1910 3:18 Venus in Libra
18 Nov 1910 21:18 Venus D
30 Nov 1910 0:19 Venus in Scorpio
7 Jan 1911 12:30 Venus in Sagittarius
4 Feb 1911 5:57 Venus in Capricorn
2 Mar 1911 2:38 Venus in Aquarius
27 Mar 1911 6:52 Venus in Pisces
21 Apr 1911 4:06 Venus in Aries
15 May 1911 22:11 Venus in Taurus
9 Jun 1911 14:23 Venus in Gemini
4 Jul 1911 4:16 Venus in Cancer
28 Jul 1911 14:58 Venus in Leo
21 Aug 1911 22:10 Venus in Virgo
15 Sep 1911 2:39 Venus in Libra
9 Oct 1911 5:49 Venus in Scorpio
2 Nov 1911 8:51 Venus in Sagittarius
26 Nov 1911 12:35 Venus in Capricorn
20 Dec 1911 18:25 Venus in Aquarius
14 Jan 1912 5:47 Venus in Pisces
8 Feb 1912 6:00 Venus in Aries
5 Mar 1912 10:24 Venus in Taurus
3 Apr 1912 15:18 Venus in Gemini
15 May 1912 14:33 Venus R
27 Jun 1912 15:07 Venus D
7 Aug 1912 13:42 Venus in Cancer
6 Sep 1912 14:47 Venus in Leo
3 Oct 1912 6:58 Venus in Virgo
28 Oct 1912 13:03 Venus in Libra
22 Nov 1912 1:19 Venus in Scorpio
16 Dec 1912 4:37 Venus in Sagittarius
9 Jan 1913 4:10 Venus in Capricorn
2 Feb 1913 2:46 Venus in Aquarius
26 Feb 1913 2:02 Venus in Pisces
22 Mar 1913 3:14 Venus in Aries
15 Apr 1913 7:24 Venus in Taurus
9 May 1913 15:02 Venus in Gemini
3 Jun 1913 2:12 Venus in Cancer
27 Jun 1913 17:03 Venus in Leo
22 Jul 1913 12:40 Venus in Virgo
16 Aug 1913 15:36 Venus in Libra
11 Sep 1913 6:15 Venus in Scorpio
7 Oct 1913 17:53 Venus in Sagittarius
5 Nov 1913 8:43 Venus in Capricorn
21 Dec 1913 21:54 Venus R
31 Jan 1914 20:49 Venus D
5 Mar 1914 21:00 Venus in Aquarius
5 Apr 1914 20:29 Venus in Pisces
3 May 1914 1:20 Venus in Aries
29 May 1914 1:45 Venus in Taurus
23 Jun 1914 12:33 Venus in Gemini
18 Jul 1914 14:05 Venus in Cancer
12 Aug 1914 7:23 Venus in Leo
5 Sep 1914 17:06 Venus in Virgo
29 Sep 1914 20:52 Venus in Libra
23 Oct 1914 20:51 Venus in Scorpio
16 Nov 1914 19:03 Venus in Sagittarius
10 Dec 1914 16:41 Venus in Capricorn
3 Jan 1915 14:47 Venus in Aquarius
27 Jan 1915 14:59 Venus in Pisces
20 Feb 1915 20:05 Venus in Aries
17 Mar 1915 10:14 Venus in Taurus
11 Apr 1915 15:28 Venus in Gemini
7 May 1915 22:52 Venus in Cancer
5 Jun 1915 15:33 Venus in Leo
18 Jul 1915 23:03 Venus in Virgo
25 Jul 1915 9:29 Venus R
31 Jul 1915 15:13 Venus in Leo
6 Sep 1915 8:30 Venus D
8 Oct 1915 17:26 Venus in Virgo
8 Nov 1915 15:30 Venus in Libra
5 Dec 1915 4:14 Venus in Scorpio
30 Dec 1915 7:16 Venus in Sagittarius
23 Jan 1916 20:31 Venus in Capricorn
17 Feb 1916 4:16 Venus in Aquarius
12 Mar 1916 10:23 Venus in Pisces
5 Apr 1916 16:50 Venus in Aries
30 Apr 1916 0:35 Venus in Taurus
24 May 1916 9:44 Venus in Gemini
17 Jun 1916 19:38 Venus in Cancer
12 Jul 1916 5:33 Venus in Leo
5 Aug 1916 15:26 Venus in Virgo
30 Aug 1916 2:06 Venus in Libra
23 Sep 1916 14:50 Venus in Scorpio
18 Oct 1916 7:00 Venus in Sagittarius
12 Nov 1916 4:54 Venus in Capricorn
7 Dec 1916 14:50 Venus in Aquarius
3 Jan 1917 7:46 Venus in Pisces
3 Feb 1917 15:52 Venus in Aries
4 Mar 1917 9:10 Venus R
3 Apr 1917 0:36 Venus in Pisces
15 Apr 1917 10:18 Venus D
28 Apr 1917 13:10 Venus in Aries
6 Jun 1917 7:25 Venus in Taurus
5 Jul 1917 0:10 Venus in Gemini
31 Jul 1917 14:53 Venus in Cancer
26 Aug 1917 4:29 Venus in Leo
20 Sep 1917 1:14 Venus in Virgo
14 Oct 1917 10:10 Venus in Libra
7 Nov 1917 11:38 Venus in Scorpio
1 Dec 1917 9:13 Venus in Sagittarius
25 Dec 1917 5:25 Venus in Capricorn
18 Jan 1918 1:43 Venus in Aquarius
10 Feb 1918 23:19 Venus in Pisces
6 Mar 1918 23:45 Venus in Aries
31 Mar 1918 4:53 Venus in Taurus
24 Apr 1918 16:39 Venus in Gemini
19 May 1918 13:10 Venus in Cancer
13 Jun 1918 21:53 Venus in Leo
10 Jul 1918 2:31 Venus in Virgo
6 Aug 1918 23:27 Venus in Libra
9 Sep 1918 9:26 Venus in Scorpio
5 Oct 1918 19:05 Venus R
31 Oct 1918 19:47 Venus in Libra
16 Nov 1918 10:52 Venus D
2 Dec 1918 16:55 Venus in Scorpio
7 Jan 1919 11:17 Venus in Sagittarius
3 Feb 1919 22:28 Venus in Capricorn
1 Mar 1919 16:44 Venus in Aquarius
26 Mar 1919 19:42 Venus in Pisces
20 Apr 1919 16:10 Venus in Aries
15 May 1919 9:45 Venus in Taurus
9 Jun 1919 1:36 Venus in Gemini
3 Jul 1919 15:17 Venus in Cancer
28 Jul 1919 1:53 Venus in Leo
21 Aug 1919 9:06 Venus in Virgo
14 Sep 1919 13:42 Venus in Libra
8 Oct 1919 17:05 Venus in Scorpio
1 Nov 1919 20:24 Venus in Sagittarius
26 Nov 1919 0:28 Venus in Capricorn
20 Dec 1919 6:41 Venus in Aquarius
13 Jan 1920 18:38 Venus in Pisces
7 Feb 1920 20:02 Venus in Aries
5 Mar 1920 3:07 Venus in Taurus
3 Apr 1920 17:11 Venus in Gemini
13 May 1920 6:46 Venus R
25 Jun 1920 6:49 Venus D
7 Aug 1920 15:20 Venus in Cancer
6 Sep 1920 7:20 Venus in Leo
2 Oct 1920 20:47 Venus in Virgo
28 Oct 1920 1:40 Venus in Libra
21 Nov 1920 13:21 Venus in Scorpio
15 Dec 1920 16:20 Venus in Sagittarius
24 Jan 1930 0:21 Venus in Aquarius
16 Feb 1930 22:11 Venus in Pisces
12 Mar 1930 22:33 Venus in Aries
6 Apr 1930 2:57 Venus in Taurus
30 Apr 1930 12:36 Venus in Gemini
25 May 1930 4:36 Venus in Cancer
19 Jun 1930 4:38 Venus in Leo
14 Jul 1930 16:34 Venus in Virgo
10 Aug 1930 0:53 Venus in Libra
7 Sep 1930 4:06 Venus in Scorpio
12 Oct 1930 2:50 Venus in Sagittarius
2 Nov 1930 3:50 Venus R
22 Nov 1930 7:43 Venus in Scorpio
13 Dec 1930 6:23 Venus D
3 Jan 1931 19:57 Venus in Sagittarius
6 Feb 1931 12:24 Venus in Capricorn
5 Mar 1931 21:45 Venus in Aquarius
31 Mar 1931 19:03 Venus in Pisces
26 Apr 1931 2:09 Venus in Aries
21 May 1931 2:38 Venus in Taurus
14 Jun 1931 23:04 Venus in Gemini
9 Jul 1931 15:34 Venus in Cancer
3 Aug 1931 3:29 Venus in Leo
27 Aug 1931 10:42 Venus in Virgo
20 Sep 1931 14:14 Venus in Libra
14 Oct 1931 15:44 Venus in Scorpio
7 Nov 1931 16:32 Venus in Sagittarius
1 Dec 1931 17:29 Venus in Capricorn
25 Dec 1931 19:43 Venus in Aquarius
19 Jan 1932 1:51 Venus in Pisces
12 Feb 1932 16:58 Venus in Aries
9 Mar 1932 2:07 Venus in Taurus
5 Apr 1932 0:19 Venus in Gemini
6 May 1932 9:05 Venus in Cancer
7 Jun 1932 17:35 Venus R
13 Jul 1932 10:38 Venus in Gemini
20 Jul 1932 20:22 Venus D
28 Jul 1932 12:33 Venus in Cancer
8 Sep 1932 19:43 Venus in Leo
7 Oct 1932 5:45 Venus in Virgo
2 Nov 1932 4:01 Venus in Libra
27 Nov 1932 0:06 Venus in Scorpio
21 Dec 1932 7:42 Venus in Sagittarius
14 Jan 1933 9:56 Venus in Capricorn
7 Feb 1933 10:29 Venus in Aquarius
3 Mar 1933 11:24 Venus in Pisces
27 Mar 1933 13:57 Venus in Aries
20 Apr 1933 19:00 Venus in Taurus
15 May 1933 2:46 Venus in Gemini
8 Jun 1933 13:01 Venus in Cancer
3 Jul 1933 1:29 Venus in Leo
27 Jul 1933 16:45 Venus in Virgo
21 Aug 1933 12:23 Venus in Libra
15 Sep 1933 14:54 Venus in Scorpio
11 Oct 1933 4:32 Venus in Sagittarius
6 Nov 1933 16:02 Venus in Capricorn
5 Dec 1933 18:01 Venus in Aquarius
15 Jan 1934 11:45 Venus R
25 Feb 1934 17:42 Venus D
6 Apr 1934 9:21 Venus in Pisces
6 May 1934 8:53 Venus in Aries
2 Jun 1934 10:10 Venus in Taurus
28 Jun 1934 9:37 Venus in Gemini
23 Jul 1934 18:21 Venus in Cancer
17 Aug 1934 15:44 Venus in Leo
11 Sep 1934 3:31 Venus in Virgo
5 Oct 1934 7:55 Venus in Libra
29 Oct 1934 7:37 Venus in Scorpio
22 Nov 1934 4:59 Venus in Sagittarius
16 Dec 1934 1:38 Venus in Capricorn
8 Jan 1935 22:43 Venus in Aquarius
1 Feb 1935 21:36 Venus in Pisces
26 Feb 1935 0:29 Venus in Aries
22 Mar 1935 10:29 Venus in Taurus
16 Apr 1935 7:37 Venus in Gemini
11 May 1935 22:01 Venus in Cancer
7 Jun 1935 19:11 Venus in Leo
7 Jul 1935 20:34 Venus in Virgo
18 Aug 1935 1:41 Venus R
29 Sep 1935 17:46 Venus D
9 Nov 1935 16:33 Venus in Libra
8 Dec 1935 14:35 Venus in Scorpio
3 Jan 1936 14:16 Venus in Sagittarius
28 Jan 1936 14:00 Venus in Capricorn
22 Feb 1936 4:14 Venus in Aquarius
17 Mar 1936 14:53 Venus in Pisces
11 Apr 1936 0:40 Venus in Aries
5 May 1936 10:52 Venus in Taurus
29 May 1936 21:39 Venus in Gemini
23 Jun 1936 8:16 Venus in Cancer
17 Jul 1936 17:50 Venus in Leo
11 Aug 1936 2:11 Venus in Virgo
4 Sep 1936 10:01 Venus in Libra
28 Sep 1936 18:35 Venus in Scorpio
23 Oct 1936 5:00 Venus in Sagittarius
16 Nov 1936 18:35 Venus in Capricorn
11 Dec 1936 14:51 Venus in Aquarius
6 Jan 1937 3:18 Venus in Pisces
2 Feb 1937 10:39 Venus in Aries
9 Mar 1937 13:20 Venus in Taurus
27 Mar 1937 19:06 Venus R
14 Apr 1937 4:15 Venus in Aries
9 May 1937 5:56 Venus D
4 Jun 1937 6:38 Venus in Taurus
7 Jul 1937 21:11 Venus in Gemini
4 Aug 1937 20:13 Venus in Cancer
31 Aug 1937 0:07 Venus in Leo
25 Sep 1937 4:02 Venus in Virgo
19 Oct 1937 16:33 Venus in Libra
12 Nov 1937 19:42 Venus in Scorpio
6 Dec 1937 18:05 Venus in Sagittarius
30 Dec 1937 14:42 Venus in Capricorn
23 Jan 1938 11:15 Venus in Aquarius
16 Feb 1938 9:00 Venus in Pisces
12 Mar 1938 9:20 Venus in Aries
5 Apr 1938 13:46 Venus in Taurus
29 Apr 1938 23:35 Venus in Gemini
24 May 1938 15:55 Venus in Cancer
18 Jun 1938 16:37 Venus in Leo
14 Jul 1938 5:44 Venus in Virgo
9 Aug 1938 16:26 Venus in Libra
7 Sep 1938 1:37 Venus in Scorpio
13 Oct 1938 18:55 Venus in Sagittarius
30 Oct 1938 16:22 Venus R
15 Nov 1938 16:03 Venus in Scorpio
10 Dec 1938 19:52 Venus D
4 Jan 1939 21:43 Venus in Sagittarius
6 Feb 1939 9:19 Venus in Capricorn
5 Mar 1939 13:28 Venus in Aquarius
31 Mar 1939 8:34 Venus in Pisces
25 Apr 1939 14:28 Venus in Aries
20 May 1939 14:12 Venus in Taurus
14 Jun 1939 10:10 Venus in Gemini
9 Jul 1939 2:24 Venus in Cancer
2 Aug 1939 14:11 Venus in Leo
26 Aug 1939 21:23 Venus in Virgo
20 Sep 1939 1:02 Venus in Libra
14 Oct 1939 2:41 Venus in Scorpio
7 Nov 1939 3:40 Venus in Sagittarius
1 Dec 1939 4:51 Venus in Capricorn
25 Dec 1939 7:25 Venus in Aquarius
18 Jan 1940 13:59 Venus in Pisces
12 Feb 1940 5:50 Venus in Aries
8 Mar 1940 16:25 Venus in Taurus
4 Apr 1940 18:10 Venus in Gemini
6 May 1940 18:49 Venus in Cancer
5 Jun 1940 10:05 Venus R
5 Jul 1940 16:23 Venus in Gemini
18 Jul 1940 13:13 Venus D
1 Aug 1940 2:09 Venus in Cancer
8 Sep 1940 16:58 Venus in Leo
6 Oct 1940 21:09 Venus in Virgo
1 Nov 1940 17:23 Venus in Libra
26 Nov 1940 12:31 Venus in Scorpio
20 Dec 1940 19:36 Venus in Sagittarius
13 Jan 1941 21:29 Venus in Capricorn
6 Feb 1941 21:48 Venus in Aquarius
2 Mar 1941 22:33 Venus in Pisces
27 Mar 1941 0:57 Venus in Aries
20 Apr 1941 5:53 Venus in Taurus
14 May 1941 13:36 Venus in Gemini
7 Jun 1941 23:52 Venus in Cancer
2 Jul 1941 12:32 Venus in Leo
27 Jul 1941 4:12 Venus in Virgo
21 Aug 1941 0:29 Venus in Libra
15 Sep 1941 4:01 Venus in Scorpio
10 Oct 1941 19:21 Venus in Sagittarius
6 Nov 1941 10:16 Venus in Capricorn
5 Dec 1941 23:06 Venus in Aquarius
13 Jan 1942 0:41 Venus R
23 Feb 1942 6:02 Venus D
6 Apr 1942 13:14 Venus in Pisces
6 May 1942 2:25 Venus in Aries
2 Jun 1942 0:25 Venus in Taurus
27 Jun 1942 22:18 Venus in Gemini
23 Jul 1942 6:09 Venus in Cancer
17 Aug 1942 3:04 Venus in Leo
10 Sep 1942 14:37 Venus in Virgo
4 Oct 1942 18:57 Venus in Libra
28 Oct 1942 18:40 Venus in Scorpio
21 Nov 1942 16:07 Venus in Sagittarius
15 Dec 1942 12:52 Venus in Capricorn
8 Jan 1943 10:02 Venus in Aquarius
1 Feb 1943 9:01 Venus in Pisces
25 Feb 1943 12:04 Venus in Aries
21 Mar 1943 22:24 Venus in Taurus
15 Apr 1943 20:12 Venus in Gemini
11 May 1943 11:56 Venus in Cancer
7 Jun 1943 12:08 Venus in Leo
7 Jul 1943 23:58 Venus in Virgo
15 Aug 1943 16:36 Venus R
27 Sep 1943 9:15 Venus D
9 Nov 1943 18:23 Venus in Libra
8 Dec 1943 7:44 Venus in Scorpio
3 Jan 1944 4:43 Venus in Sagittarius
28 Jan 1944 3:10 Venus in Capricorn
21 Feb 1944 16:39 Venus in Aquarius
17 Mar 1944 2:46 Venus in Pisces
10 Apr 1944 12:09 Venus in Aries
4 May 1944 22:03 Venus in Taurus
29 May 1944 8:39 Venus in Gemini
22 Jun 1944 19:11 Venus in Cancer
17 Jul 1944 4:46 Venus in Leo
10 Aug 1944 13:12 Venus in Virgo
3 Sep 1944 21:16 Venus in Libra
28 Sep 1944 6:12 Venus in Scorpio
22 Oct 1944 17:07 Venus in Sagittarius
16 Nov 1944 7:25 Venus in Capricorn
11 Dec 1944 4:47 Venus in Aquarius
5 Jan 1945 19:18 Venus in Pisces
2 Feb 1945 8:07 Venus in Aries
11 Mar 1945 11:18 Venus in Taurus
25 Mar 1945 11:24 Venus R
7 Apr 1945 19:07 Venus in Aries
6 May 1945 21:03 Venus D
4 Jun 1945 22:54 Venus in Taurus
7 Jul 1945 16:19 Venus in Gemini
4 Aug 1945 10:59 Venus in Cancer
30 Aug 1945 13:04 Venus in Leo
24 Sep 1945 16:06 Venus in Virgo
19 Oct 1945 4:09 Venus in Libra
12 Nov 1945 7:04 Venus in Scorpio
6 Dec 1945 5:22 Venus in Sagittarius
30 Dec 1945 1:56 Venus in Capricorn
22 Jan 1946 22:27 Venus in Aquarius
15 Feb 1946 20:11 Venus in Pisces
11 Mar 1946 20:31 Venus in Aries
5 Apr 1946 1:01 Venus in Taurus
29 Apr 1946 10:59 Venus in Gemini
24 May 1946 3:39 Venus in Cancer
18 Jun 1946 5:00 Venus in Leo
13 Jul 1946 19:22 Venus in Virgo
9 Aug 1946 8:34 Venus in Libra
7 Sep 1946 0:16 Venus in Scorpio
16 Oct 1946 10:47 Venus in Sagittarius
28 Oct 1946 4:52 Venus R
8 Nov 1946 8:49 Venus in Scorpio
8 Dec 1946 9:32 Venus D
5 Jan 1947 16:42 Venus in Sagittarius
6 Feb 1947 5:40 Venus in Capricorn
5 Mar 1947 5:08 Venus in Aquarius
30 Mar 1947 22:14 Venus in Pisces
25 Apr 1947 3:02 Venus in Aries
20 May 1947 2:05 Venus in Taurus
13 Jun 1947 21:34 Venus in Gemini
8 Jul 1947 13:29 Venus in Cancer
2 Aug 1947 1:06 Venus in Leo
26 Aug 1947 8:17 Venus in Virgo
19 Sep 1947 12:00 Venus in Libra
13 Oct 1947 13:48 Venus in Scorpio
6 Nov 1947 14:58 Venus in Sagittarius
30 Nov 1947 16:22 Venus in Capricorn
24 Dec 1947 19:12 Venus in Aquarius
18 Jan 1948 2:13 Venus in Pisces
11 Feb 1948 18:50 Venus in Aries
8 Mar 1948 6:59 Venus in Taurus
4 Apr 1948 12:40 Venus in Gemini
7 May 1948 8:29 Venus in Cancer
3 Jun 1948 2:01 Venus R
29 Jun 1948 8:01 Venus in Gemini
16 Jul 1948 5:25 Venus D
3 Aug 1948 2:08 Venus in Cancer
8 Sep 1948 13:40 Venus in Leo
6 Oct 1948 12:25 Venus in Virgo
1 Nov 1948 6:41 Venus in Libra
26 Nov 1948 0:54 Venus in Scorpio
20 Dec 1948 7:27 Venus in Sagittarius
13 Jan 1949 9:00 Venus in Capricorn
6 Feb 1949 9:05 Venus in Aquarius
2 Mar 1949 9:38 Venus in Pisces
26 Mar 1949 11:53 Venus in Aries
19 Apr 1949 16:43 Venus in Taurus
14 May 1949 0:25 Venus in Gemini
7 Jun 1949 10:47 Venus in Cancer
1 Jul 1949 23:40 Venus in Leo
26 Jul 1949 15:43 Venus in Virgo
20 Aug 1949 12:38 Venus in Libra
14 Sep 1949 17:12 Venus in Scorpio
10 Oct 1949 10:18 Venus in Sagittarius
6 Nov 1949 4:53 Venus in Capricorn
6 Dec 1949 6:07 Venus in Aquarius
10 Jan 1950 13:35 Venus R
20 Feb 1950 18:03 Venus D
6 Apr 1950 15:12 Venus in Pisces
5 May 1950 19:18 Venus in Aries
1 Jun 1950 14:18 Venus in Taurus
27 Jun 1950 10:44 Venus in Gemini
22 Jul 1950 17:49 Venus in Cancer
16 Aug 1950 14:17 Venus in Leo
10 Sep 1950 1:37 Venus in Virgo
4 Oct 1950 5:50 Venus in Libra
28 Oct 1950 5:32 Venus in Scorpio
21 Nov 1950 3:03 Venus in Sagittarius
14 Dec 1950 23:53 Venus in Capricorn
7 Jan 1951 21:10 Venus in Aquarius
31 Jan 1951 20:14 Venus in Pisces
24 Feb 1951 23:26 Venus in Aries
21 Mar 1951 10:05 Venus in Taurus
15 Apr 1951 8:33 Venus in Gemini
11 May 1951 1:41 Venus in Cancer
7 Jun 1951 5:10 Venus in Leo
8 Jul 1951 4:55 Venus in Virgo
13 Aug 1951 7:51 Venus R
25 Sep 1951 0:58 Venus D
9 Nov 1951 18:46 Venus in Libra
8 Dec 1951 0:18 Venus in Scorpio
2 Jan 1952 18:43 Venus in Sagittarius
27 Jan 1952 15:57 Venus in Capricorn
21 Feb 1952 4:42 Venus in Aquarius
16 Mar 1952 14:17 Venus in Pisces
9 Apr 1952 23:17 Venus in Aries
4 May 1952 8:54 Venus in Taurus
28 May 1952 19:18 Venus in Gemini
22 Jun 1952 5:46 Venus in Cancer
16 Jul 1952 15:22 Venus in Leo
9 Aug 1952 23:57 Venus in Virgo
3 Sep 1952 8:17 Venus in Libra
27 Sep 1952 17:35 Venus in Scorpio
22 Oct 1952 5:01 Venus in Sagittarius
15 Nov 1952 20:02 Venus in Capricorn
10 Dec 1952 18:30 Venus in Aquarius
5 Jan 1953 11:10 Venus in Pisces
2 Feb 1953 5:55 Venus in Aries
14 Mar 1953 19:13 Venus in Taurus
23 Mar 1953 3:53 Venus R
31 Mar 1953 4:59 Venus in Aries
4 May 1953 12:33 Venus D
5 Jun 1953 10:33 Venus in Taurus
7 Jul 1953 10:29 Venus in Gemini
4 Aug 1953 1:08 Venus in Cancer
30 Aug 1953 1:34 Venus in Leo
24 Sep 1953 3:47 Venus in Virgo
18 Oct 1953 15:26 Venus in Libra
11 Nov 1953 18:11 Venus in Scorpio
5 Dec 1953 16:23 Venus in Sagittarius
29 Dec 1953 12:53 Venus in Capricorn
22 Jan 1954 9:20 Venus in Aquarius
15 Feb 1954 7:01 Venus in Pisces
11 Mar 1954 7:21 Venus in Aries
4 Apr 1954 11:55 Venus in Taurus
28 Apr 1954 22:03 Venus in Gemini
23 May 1954 15:03 Venus in Cancer
17 Jun 1954 17:04 Venus in Leo
13 Jul 1954 8:42 Venus in Virgo
9 Aug 1954 0:34 Venus in Libra
6 Sep 1954 23:29 Venus in Scorpio
23 Oct 1954 23:49 Venus in Sagittarius
25 Oct 1954 16:36 Venus R
27 Oct 1954 10:13 Venus in Scorpio
5 Dec 1954 22:39 Venus D
6 Jan 1955 6:46 Venus in Sagittarius
6 Feb 1955 1:14 Venus in Capricorn
4 Mar 1955 20:21 Venus in Aquarius
30 Mar 1955 11:30 Venus in Pisces
24 Apr 1955 15:12 Venus in Aries
19 May 1955 13:35 Venus in Taurus
13 Jun 1955 8:37 Venus in Gemini
8 Jul 1955 0:15 Venus in Cancer
1 Aug 1955 11:42 Venus in Leo
25 Aug 1955 18:52 Venus in Virgo
18 Sep 1955 22:40 Venus in Libra
13 Oct 1955 0:38 Venus in Scorpio
6 Nov 1955 2:02 Venus in Sagittarius
30 Nov 1955 3:42 Venus in Capricorn
24 Dec 1955 6:52 Venus in Aquarius
17 Jan 1956 14:21 Venus in Pisces
11 Feb 1956 7:46 Venus in Aries
7 Mar 1956 21:31 Venus in Taurus
4 Apr 1956 7:23 Venus in Gemini
8 May 1956 2:21 Venus in Cancer
31 May 1956 18:04 Venus R
23 Jun 1956 12:10 Venus in Gemini
13 Jul 1956 21:20 Venus D
4 Aug 1956 9:46 Venus in Cancer
8 Sep 1956 9:22 Venus in Leo
6 Oct 1956 3:11 Venus in Virgo
31 Oct 1956 19:39 Venus in Libra
25 Nov 1956 13:01 Venus in Scorpio
19 Dec 1956 19:06 Venus in Sagittarius
12 Jan 1957 20:22 Venus in Capricorn
5 Feb 1957 20:16 Venus in Aquarius
1 Mar 1957 20:39 Venus in Pisces
25 Mar 1957 22:45 Venus in Aries
19 Apr 1957 3:28 Venus in Taurus
13 May 1957 11:07 Venus in Gemini
6 Jun 1957 21:34 Venus in Cancer
1 Jul 1957 10:42 Venus in Leo
26 Jul 1957 3:09 Venus in Virgo
20 Aug 1957 0:43 Venus in Libra
14 Sep 1957 6:19 Venus in Scorpio
10 Oct 1957 1:15 Venus in Sagittarius
5 Nov 1957 23:46 Venus in Capricorn
6 Dec 1957 15:27 Venus in Aquarius
8 Jan 1958 2:47 Venus R
18 Feb 1958 6:17 Venus D
6 Apr 1958 15:58 Venus in Pisces
5 May 1958 11:58 Venus in Aries
1 Jun 1958 4:07 Venus in Taurus
26 Jun 1958 23:08 Venus in Gemini
22 Jul 1958 5:25 Venus in Cancer
16 Aug 1958 1:28 Venus in Leo
9 Sep 1958 12:35 Venus in Virgo
3 Oct 1958 16:43 Venus in Libra
27 Oct 1958 16:26 Venus in Scorpio
20 Nov 1958 13:59 Venus in Sagittarius
14 Dec 1958 10:54 Venus in Capricorn
7 Jan 1959 8:16 Venus in Aquarius
31 Jan 1959 7:28 Venus in Pisces
24 Feb 1959 10:52 Venus in Aries
20 Mar 1959 21:55 Venus in Taurus
14 Apr 1959 21:07 Venus in Gemini
10 May 1959 15:44 Venus in Cancer
6 Jun 1959 22:43 Venus in Leo
8 Jul 1959 12:08 Venus in Virgo
10 Aug 1959 23:16 Venus R
20 Sep 1959 4:03 Venus in Leo
22 Sep 1959 17:15 Venus D
25 Sep 1959 7:33 Venus in Virgo
9 Nov 1959 18:09 Venus in Libra
7 Dec 1959 16:41 Venus in Scorpio
2 Jan 1960 8:42 Venus in Sagittarius
27 Jan 1960 4:45 Venus in Capricorn
20 Feb 1960 16:47 Venus in Aquarius
16 Mar 1960 1:53 Venus in Pisces
9 Apr 1960 10:32 Venus in Aries
3 May 1960 19:55 Venus in Taurus
28 May 1960 6:10 Venus in Gemini
21 Jun 1960 16:33 Venus in Cancer
16 Jul 1960 2:11 Venus in Leo
9 Aug 1960 10:53 Venus in Virgo
2 Sep 1960 19:29 Venus in Libra
27 Sep 1960 5:12 Venus in Scorpio
21 Oct 1960 17:11 Venus in Sagittarius
15 Nov 1960 8:57 Venus in Capricorn
10 Dec 1960 8:34 Venus in Aquarius
MORE VENUS SIGNS
1961
Jan 05 03:29 Pisces
Feb 02 04:44 Aries
Jun 05 19:20 Taurus
Jul 07 04:29 Gemini
Aug 03 15:25 Cancer
Aug 29 14:15 Leo
Sep 23 15:39 Virgo
Oct 18 02:54 Libra
Nov 11 05:29 Scorpio
Dec 05 03:36 Sagittarius
Dec 29 00:03 Capricorn
1962
Jan 21 20:27 Aquarius
Feb 14 18:05 Pisces
Mar 10 18:25 Aries
Apr 03 23:01 Taurus
Apr 28 09:18 Gemini
May 23 02:42 Cancer
Jun 17 05:26 Leo
Jul 12 22:27 Virgo
Aug 08 17:09 Libra
Sep 07 00:05 Scorpio
1963
Jan 06 17:29 Sagittarius
Feb 05 20:30 Capricorn
Mar 04 11:36 Aquarius
Mar 30 00:54 Pisces
Apr 24 03:34 Aries
May 19 01:15 Taurus
Jun 12 19:51 Gemini
Jul 07 11:13 Cancer
Jul 31 22:34 Leo
Aug 25 05:43 Virgo
Sep 18 09:37 Libra
Oct 12 11:44 Scorpio
Nov 05 13:19 Sagittarius
Nov 29 15:15 Capricorn
Dec 23 18:48 Aquarius
1964
Jan 17 02:48 Pisces
Feb 10 21:04 Aries
Mar 07 12:32 Taurus
Apr 04 02:56 Gemini
May 09 03:04 Cancer
Jun 17 18:28 Gemini (R)
Aug 05 08:43 Cancer
Sep 08 04:47 Leo
Oct 05 18:04 Virgo
Oct 31 08:48 Libra
Nov 25 01:19 Scorpio
Dec 19 06:57 Sagittarius
1965
Jan 12 07:55 Capricorn
Feb 05 07:37 Aquarius
Mar 01 07:50 Pisces
Mar 25 09:49 Aries
Apr 18 14:25 Taurus
May 12 22:02 Gemini
Jun 06 08:33 Cancer
Jun 30 21:54 Leo
Jul 25 14:46 Virgo
Aug 19 13:01 Libra
Sep 13 19:45 Scorpio
Oct 09 16:40 Sagittarius
Nov 05 19:30 Capricorn
Dec 07 04:28 Aquarius
1966
Feb 06 13:00 Capricorn (R)
Feb 25 10:39 Aquarius
Apr 06 15:47 Pisces
May 05 04:28 Aries
May 31 17:55 Taurus
Jun 26 11:36 Gemini
Jul 21 17:08 Cancer
Aug 15 12:43 Leo
Sep 08 23:36 Virgo
Oct 03 03:40 Libra
Oct 27 03:23 Scorpio
Nov 20 01:02 Sagittarius
Dec 13 22:05 Capricorn
1967
Jan 06 19:32 Aquarius
Jan 30 18:50 Pisces
Feb 23 22:27 Aries
Mar 20 09:53 Taurus
Apr 14 09:51 Gemini
May 10 06:01 Cancer
Jun 06 16:44 Leo
Jul 08 22:07 Virgo
Sep 09 12:05 Leo (R)
Oct 01 17:59 Virgo
Nov 09 16:29 Libra
Dec 07 08:45 Scorpio
1968
Jan 01 22:36 Sagittarius
Jan 26 17:33 Capricorn
Feb 20 04:54 Aquarius
Mar 15 13:30 Pisces
Apr 08 21:47 Aries
May 03 06:55 Taurus
May 27 17:00 Gemini
Jun 21 03:19 Cancer
Jul 15 12:58 Leo
Aug 08 21:48 Virgo
Sep 02 06:39 Libra
Sep 26 16:44 Scorpio
Oct 21 05:15 Sagittarius
Nov 14 21:47 Capricorn
Dec 09 22:39 Aquarius
1969
Jan 04 20:07 Pisces
Feb 02 04:45 Aries
Jun 06 01:49 Taurus
Jul 06 22:04 Gemini
Aug 03 05:31 Cancer
Aug 29 02:49 Leo
Sep 23 03:27 Virgo
Oct 17 14:18 Libra
Nov 10 16:40 Scorpio
Dec 04 14:42 Sagittarius
Dec 28 11:05 Capricorn
1970
Jan 21 07:28 Aquarius
Feb 14 05:06 Pisces
Mar 10 05:27 Aries
Apr 03 10:07 Taurus
Apr 27 20:35 Gemini
May 22 14:21 Cancer
Jun 16 17:51 Leo
Jul 12 12:19 Virgo
Aug 08 10:03 Libra
Sep 07 01:57 Scorpio
1971
Jan 07 01:05 Sagittarius
Feb 05 15:01 Capricorn
Mar 04 02:28 Aquarius
Mar 29 14:05 Pisces
Apr 23 15:47 Aries
May 18 12:51 Taurus
Jun 12 07:01 Gemini
Jul 06 22:06 Cancer
Jul 31 09:19 Leo
Aug 24 16:29 Virgo
Sep 17 20:30 Libra
Oct 11 22:47 Scorpio
Nov 05 00:34 Sagittarius
Nov 29 02:45 Capricorn
Dec 23 06:37 Aquarius
1972
Jan 16 15:06 Pisces
Feb 10 10:14 Aries
Mar 07 03:31 Taurus
Apr 03 22:54 Gemini
May 10 14:01 Cancer
Jun 11 19:58 Gemini (R)
Aug 06 01:36 Cancer
Sep 07 23:33 Leo
Oct 05 08:39 Virgo
Oct 30 21:45 Libra
Nov 24 13:28 Scorpio
Dec 18 18:39 Sagittarius
1973
Jan 11 19:20 Capricorn
Feb 04 18:49 Aquarius
Feb 28 18:51 Pisces
Mar 24 20:40 Aries
Apr 18 01:10 Taurus
May 12 08:48 Gemini
Jun 05 19:25 Cancer
Jun 30 09:01 Leo
Jul 25 02:19 Virgo
Aug 19 01:16 Libra
Sep 13 09:11 Scorpio
Oct 09 08:14 Sagittarius
Nov 05 15:45 Capricorn
Dec 07 21:46 Aquarius
1974
Jan 29 19:38 Capricorn (R)
Feb 28 14:39 Aquarius
Apr 06 14:24 Pisces
May 04 20:27 Aries
May 31 07:25 Taurus
Jun 25 23:50 Gemini
Jul 21 04:40 Cancer
Aug 14 23:53 Leo
Sep 08 10:33 Virgo
Oct 02 14:32 Libra
Oct 26 14:17 Scorpio
Nov 19 12:02 Sagittarius
Dec 13 09:11 Capricorn
1975
Jan 06 06:45 Aquarius
Jan 30 06:10 Pisces
Feb 23 09:59 Aries
Mar 19 21:47 Taurus
Apr 13 22:31 Gemini
May 09 20:16 Cancer
Jun 06 11:00 Leo
Jul 09 11:15 Virgo
Sep 02 15:23 Leo (R)
Oct 04 05:30 Virgo
Nov 09 13:57 Libra
Dec 07 00:33 Scorpio
1976
Jan 01 12:19 Sagittarius
Jan 26 06:13 Capricorn
Feb 19 16:55 Aquarius
Mar 15 01:04 Pisces
Apr 08 09:00 Aries
May 02 17:52 Taurus
May 27 03:47 Gemini
Jun 20 14:00 Cancer
Jul 14 23:40 Leo
Aug 08 08:40 Virgo
Sep 01 17:48 Libra
Sep 26 04:20 Scorpio
Oct 20 17:25 Sagittarius
Nov 14 10:45 Capricorn
Dec 09 12:56 Aquarius
1977
Jan 04 13:05 Pisces
Feb 02 05:59 Aries
Jun 06 06:13 Taurus
Jul 06 15:12 Gemini
Aug 02 19:21 Cancer
Aug 28 15:12 Leo
Sep 22 15:07 Virgo
Oct 17 01:38 Libra
Nov 10 03:53 Scorpio
Dec 04 01:50 Sagittarius
Dec 27 22:11 Capricorn
1978
Jan 20 18:31 Aquarius
Feb 13 16:08 Pisces
Mar 09 16:30 Aries
Apr 02 21:14 Taurus
Apr 27 07:54 Gemini
May 22 02:04 Cancer
Jun 16 06:19 Leo
Jul 12 02:15 Virgo
Aug 08 03:09 Libra
Sep 07 05:07 Scorpio
1979
Jan 07 06:37 Sagittarius
Feb 05 09:15 Capricorn
Mar 03 17:18 Aquarius
Mar 29 03:17 Pisces
Apr 23 04:01 Aries
May 18 00:27 Taurus
Jun 11 18:12 Gemini
Jul 06 09:01 Cancer
Jul 30 20:06 Leo
Aug 24 03:15 Virgo
Sep 17 07:19 Libra
Oct 11 09:46 Scorpio
Nov 04 11:47 Sagittarius
Nov 28 14:17 Capricorn
Dec 22 18:32 Aquarius
1980
Jan 16 03:34 Pisces
Feb 09 23:37 Aries
Mar 06 18:51 Taurus
Apr 03 19:42 Gemini
May 12 20:42 Cancer
Jun 05 05:54 Gemini (R)
Aug 06 14:20 Cancer
Sep 07 17:53 Leo
Oct 04 23:03 Virgo
Oct 30 10:34 Libra
Nov 24 01:31 Scorpio
Dec 18 06:17 Sagittarius
1981
Jan 11 06:45 Capricorn
Feb 04 06:04 Aquarius
Feb 28 05:58 Pisces
Mar 24 07:39 Aries
Apr 17 12:04 Taurus
May 11 19:40 Gemini
Jun 05 06:25 Cancer
Jun 29 20:15 Leo
Jul 24 14:00 Virgo
Aug 18 13:40 Libra
Sep 12 22:46 Scorpio
Oct 08 23:59 Sagittarius
Nov 05 12:33 Capricorn
Dec 08 20:43 Aquarius
1982
Jan 23 03:06 Capricorn (R)
Mar 02 11:15 Aquarius
Apr 06 12:14 Pisces
May 04 12:21 Aries
May 30 20:56 Taurus
Jun 25 12:08 Gemini
Jul 20 16:16 Cancer
Aug 14 11:04 Leo
Sep 07 21:32 Virgo
Oct 02 01:27 Libra
Oct 26 01:13 Scorpio
Nov 18 23:01 Sagittarius
Dec 12 20:14 Capricorn
1983
Jan 05 17:53 Aquarius
Jan 29 17:27 Pisces
Feb 22 21:30 Aries
Mar 19 09:46 Taurus
Apr 13 11:20 Gemini
May 09 10:50 Cancer
Jun 06 05:57 Leo
Jul 10 05:16 Virgo
Aug 27 11:54 Leo (R)
Oct 05 19:24 Virgo
Nov 09 10:46 Libra
Dec 06 16:09 Scorpio
1984
Jan 01 01:55 Sagittarius
Jan 25 18:46 Capricorn
Feb 19 04:48 Aquarius
Mar 14 12:30 Pisces
Apr 07 20:08 Aries
May 02 04:48 Taurus
May 26 14:35 Gemini
Jun 20 00:44 Cancer
Jul 14 10:26 Leo
Aug 07 19:36 Virgo
Sep 01 05:02 Libra
Sep 25 16:00 Scorpio
Oct 20 05:41 Sagittarius
Nov 13 23:49 Capricorn
Dec 09 03:22 Aquarius
1985
Jan 04 06:19 Pisces
Feb 02 08:24 Aries
Jun 06 08:48 Taurus
Jul 06 07:58 Gemini
Aug 02 09:07 Cancer
Aug 28 03:35 Leo
Sep 22 02:49 Virgo
Oct 16 13:00 Libra
Nov 09 15:04 Scorpio
Dec 03 12:57 Sagittarius
Dec 27 09:15 Capricorn
YOUR MARS SIGN
4 Jan 1900 3:00 Mars in Pisces
12 Feb 1900 1:04 Mars in Aries
23 Mar 1900 1:25 Mars in Taurus
3 May 1900 19:18 Mars in Gemini
16 Jun 1900 12:29 Mars in Cancer
1 Aug 1900 1:20 Mars in Leo
17 Sep 1900 0:19 Mars in Virgo
4 Nov 1900 2:00 Mars in Libra
23 Dec 1900 14:37 Mars in Scorpio
14 Feb 1901 20:06 Mars in Sagittarius
11 May 1901 16:09 Mars R
19 Jul 1901 22:46 Mars D
8 Sep 1901 17:49 Mars in Capricorn
27 Oct 1901 17:18 Mars in Aquarius
8 Dec 1901 21:52 Mars in Pisces
18 Jan 1902 22:53 Mars in Aries
1 Mar 1902 15:04 Mars in Taurus
13 Apr 1902 17:35 Mars in Gemini
28 May 1902 11:42 Mars in Cancer
13 Jul 1902 15:23 Mars in Leo
29 Aug 1902 14:37 Mars in Virgo
15 Oct 1902 17:37 Mars in Libra
1 Dec 1902 14:26 Mars in Scorpio
17 Jan 1903 4:22 Mars in Sagittarius
4 Mar 1903 21:16 Mars in Capricorn
21 Apr 1903 23:48 Mars in Aquarius
17 Jun 1903 2:27 Mars in Pisces
29 Jul 1903 7:37 Mars R
27 Sep 1903 7:53 Mars D
16 Dec 1903 13:23 Mars in Aries
3 Feb 1904 10:04 Mars in Taurus
21 Mar 1904 7:39 Mars in Gemini
7 May 1904 8:45 Mars in Cancer
23 Jun 1904 20:50 Mars in Leo
10 Aug 1904 10:14 Mars in Virgo
26 Sep 1904 9:15 Mars in Libra
11 Nov 1904 5:10 Mars in Scorpio
25 Dec 1904 16:03 Mars in Sagittarius
6 Feb 1905 18:31 Mars in Capricorn
20 Mar 1905 18:01 Mars in Aquarius
1 May 1905 2:57 Mars in Pisces
12 Jun 1905 2:29 Mars in Aries
28 Jul 1905 5:12 Mars in Taurus
1 Oct 1905 22:04 Mars R
10 Dec 1905 4:04 Mars D
17 Feb 1906 22:42 Mars in Gemini
14 Apr 1906 0:58 Mars in Cancer
3 Jun 1906 18:42 Mars in Leo
22 Jul 1906 18:52 Mars in Virgo
8 Sep 1906 4:18 Mars in Libra
23 Oct 1906 16:37 Mars in Scorpio
6 Dec 1906 4:57 Mars in Sagittarius
16 Jan 1907 20:53 Mars in Capricorn
26 Feb 1907 1:32 Mars in Aquarius
6 Apr 1907 8:49 Mars in Pisces
15 May 1907 14:06 Mars in Aries
24 Jun 1907 21:26 Mars in Taurus
7 Aug 1907 6:01 Mars in Gemini
28 Sep 1907 23:56 Mars in Cancer
15 Nov 1907 8:25 Mars R
31 Dec 1907 16:01 Mars in Gemini
30 Jan 1908 22:34 Mars D
4 Mar 1908 10:00 Mars in Cancer
9 May 1908 20:19 Mars in Leo
1 Jul 1908 16:20 Mars in Virgo
19 Aug 1908 10:03 Mars in Libra
4 Oct 1908 4:33 Mars in Scorpio
16 Nov 1908 8:26 Mars in Sagittarius
27 Dec 1908 7:30 Mars in Capricorn
4 Feb 1909 15:54 Mars in Aquarius
15 Mar 1909 3:19 Mars in Pisces
22 Apr 1909 13:44 Mars in Aries
31 May 1909 21:18 Mars in Taurus
12 Jul 1909 2:56 Mars in Gemini
25 Aug 1909 17:15 Mars in Cancer
16 Oct 1909 15:32 Mars in Leo
20 Dec 1909 13:27 Mars R
10 Mar 1910 17:09 Mars D
7 Jun 1910 6:10 Mars in Virgo
29 Jul 1910 23:45 Mars in Libra
14 Sep 1910 22:37 Mars in Scorpio
28 Oct 1910 6:47 Mars in Sagittarius
7 Dec 1910 23:48 Mars in Capricorn
15 Jan 1911 22:41 Mars in Aquarius
23 Feb 1911 1:05 Mars in Pisces
2 Apr 1911 4:51 Mars in Aries
11 May 1911 7:03 Mars in Taurus
21 Jun 1911 2:49 Mars in Gemini
3 Aug 1911 9:21 Mars in Cancer
19 Sep 1911 1:51 Mars in Leo
11 Nov 1911 4:15 Mars in Virgo
24 Jan 1912 0:54 Mars R
14 Apr 1912 3:54 Mars D
3 Jul 1912 12:31 Mars in Libra
23 Aug 1912 15:23 Mars in Scorpio
7 Oct 1912 3:20 Mars in Sagittarius
17 Nov 1912 2:35 Mars in Capricorn
26 Dec 1912 0:48 Mars in Aquarius
2 Feb 1913 1:53 Mars in Pisces
12 Mar 1913 6:25 Mars in Aries
20 Apr 1913 11:48 Mars in Taurus
31 May 1913 10:38 Mars in Gemini
13 Jul 1913 13:21 Mars in Cancer
28 Aug 1913 2:04 Mars in Leo
15 Oct 1913 11:04 Mars in Virgo
7 Dec 1913 20:41 Mars in Libra
1 Mar 1914 16:24 Mars R
20 May 1914 1:32 Mars D
26 Jul 1914 2:23 Mars in Scorpio
13 Sep 1914 21:56 Mars in Sagittarius
26 Oct 1914 10:42 Mars in Capricorn
4 Dec 1914 23:56 Mars in Aquarius
12 Jan 1915 10:19 Mars in Pisces
20 Feb 1915 0:11 Mars in Aries
31 Mar 1915 16:26 Mars in Taurus
12 May 1915 2:40 Mars in Gemini
24 Jun 1915 13:32 Mars in Cancer
8 Aug 1915 23:32 Mars in Leo
25 Sep 1915 2:17 Mars in Virgo
12 Nov 1915 21:40 Mars in Libra
3 Jan 1916 14:32 Mars in Scorpio
6 Mar 1916 2:30 Mars in Sagittarius
17 Apr 1916 12:14 Mars R
27 May 1916 13:51 Mars in Scorpio
29 Jun 1916 23:39 Mars D
2 Aug 1916 17:46 Mars in Sagittarius
27 Sep 1916 8:05 Mars in Capricorn
9 Nov 1916 5:50 Mars in Aquarius
19 Dec 1916 9:22 Mars in Pisces
28 Jan 1917 5:38 Mars in Aries
10 Mar 1917 0:33 Mars in Taurus
21 Apr 1917 10:31 Mars in Gemini
4 Jun 1917 16:15 Mars in Cancer
20 Jul 1917 12:19 Mars in Leo
5 Sep 1917 9:34 Mars in Virgo
22 Oct 1917 18:28 Mars in Libra
9 Dec 1917 8:58 Mars in Scorpio
26 Jan 1918 12:55 Mars in Sagittarius
17 Mar 1918 16:40 Mars in Capricorn
16 May 1918 4:56 Mars in Aquarius
26 Jun 1918 21:05 Mars R
13 Aug 1918 2:23 Mars in Capricorn
27 Aug 1918 14:06 Mars D
11 Sep 1918 0:43 Mars in Aquarius
15 Nov 1918 22:19 Mars in Pisces
1 Jan 1919 2:19 Mars in Aries
14 Feb 1919 10:50 Mars in Taurus
31 Mar 1919 6:11 Mars in Gemini
16 May 1919 3:09 Mars in Cancer
1 Jul 1919 23:19 Mars in Leo
18 Aug 1919 5:17 Mars in Virgo
4 Oct 1919 4:21 Mars in Libra
19 Nov 1919 7:39 Mars in Scorpio
3 Jan 1920 9:37 Mars in Sagittarius
16 Feb 1920 11:32 Mars in Capricorn
30 Mar 1920 19:42 Mars in Aquarius
13 May 1920 4:17 Mars in Pisces
28 Jun 1920 1:45 Mars in Aries
9 Sep 1920 22:23 Mars R
14 Nov 1920 0:36 Mars D
6 Feb 1930 18:20 Mars in Aquarius
17 Mar 1930 5:54 Mars in Pisces
24 Apr 1930 17:26 Mars in Aries
3 Jun 1930 3:15 Mars in Taurus
14 Jul 1930 12:54 Mars in Gemini
28 Aug 1930 11:27 Mars in Cancer
20 Oct 1930 14:44 Mars in Leo
18 Dec 1930 13:45 Mars R
16 Feb 1931 14:30 Mars in Cancer
8 Mar 1931 13:52 Mars D
30 Mar 1931 3:41 Mars in Leo
10 Jun 1931 14:57 Mars in Virgo
1 Aug 1931 16:37 Mars in Libra
17 Sep 1931 8:43 Mars in Scorpio
30 Oct 1931 12:46 Mars in Sagittarius
10 Dec 1931 3:10 Mars in Capricorn
18 Jan 1932 0:34 Mars in Aquarius
25 Feb 1932 2:36 Mars in Pisces
3 Apr 1932 7:01 Mars in Aries
12 May 1932 10:53 Mars in Taurus
22 Jun 1932 9:19 Mars in Gemini
4 Aug 1932 19:52 Mars in Cancer
20 Sep 1932 19:43 Mars in Leo
13 Nov 1932 21:26 Mars in Virgo
21 Jan 1933 1:28 Mars R
12 Apr 1933 2:17 Mars D
6 Jul 1933 22:01 Mars in Libra
26 Aug 1933 6:33 Mars in Scorpio
9 Oct 1933 11:34 Mars in Sagittarius
19 Nov 1933 7:18 Mars in Capricorn
28 Dec 1933 3:42 Mars in Aquarius
4 Feb 1934 4:13 Mars in Pisces
14 Mar 1934 9:08 Mars in Aries
22 Apr 1934 15:40 Mars in Taurus
2 Jun 1934 16:21 Mars in Gemini
15 Jul 1934 21:32 Mars in Cancer
30 Aug 1934 13:43 Mars in Leo
18 Oct 1934 4:59 Mars in Virgo
11 Dec 1934 9:32 Mars in Libra
27 Feb 1935 12:11 Mars R
17 May 1935 21:37 Mars D
29 Jul 1935 17:31 Mars in Scorpio
16 Sep 1935 12:58 Mars in Sagittarius
28 Oct 1935 18:21 Mars in Capricorn
7 Dec 1935 4:33 Mars in Aquarius
14 Jan 1936 13:59 Mars in Pisces
22 Feb 1936 4:09 Mars in Aries
1 Apr 1936 21:29 Mars in Taurus
13 May 1936 9:16 Mars in Gemini
25 Jun 1936 21:53 Mars in Cancer
10 Aug 1936 9:42 Mars in Leo
26 Sep 1936 14:51 Mars in Virgo
14 Nov 1936 14:52 Mars in Libra
5 Jan 1937 20:39 Mars in Scorpio
13 Mar 1937 3:19 Mars in Sagittarius
14 Apr 1937 14:42 Mars R
14 May 1937 22:48 Mars in Scorpio
27 Jun 1937 10:08 Mars D
8 Aug 1937 22:10 Mars in Sagittarius
30 Sep 1937 9:07 Mars in Capricorn
11 Nov 1937 18:30 Mars in Aquarius
21 Dec 1937 17:45 Mars in Pisces
30 Jan 1938 12:44 Mars in Aries
12 Mar 1938 7:47 Mars in Taurus
23 Apr 1938 18:39 Mars in Gemini
7 Jun 1938 1:28 Mars in Cancer
22 Jul 1938 22:26 Mars in Leo
7 Sep 1938 20:22 Mars in Virgo
25 Oct 1938 6:20 Mars in Libra
11 Dec 1938 23:25 Mars in Scorpio
29 Jan 1939 9:48 Mars in Sagittarius
21 Mar 1939 7:25 Mars in Capricorn
25 May 1939 0:23 Mars in Aquarius
22 Jun 1939 18:33 Mars R
21 Jul 1939 19:29 Mars in Capricorn
23 Aug 1939 23:58 Mars D
24 Sep 1939 1:09 Mars in Aquarius
19 Nov 1939 15:55 Mars in Pisces
4 Jan 1940 0:05 Mars in Aries
17 Feb 1940 1:53 Mars in Taurus
1 Apr 1940 18:41 Mars in Gemini
17 May 1940 14:45 Mars in Cancer
3 Jul 1940 10:31 Mars in Leo
19 Aug 1940 15:57 Mars in Virgo
5 Oct 1940 14:21 Mars in Libra
20 Nov 1940 17:15 Mars in Scorpio
4 Jan 1941 19:42 Mars in Sagittarius
17 Feb 1941 23:32 Mars in Capricorn
2 Apr 1941 11:45 Mars in Aquarius
16 May 1941 5:05 Mars in Pisces
2 Jul 1941 5:17 Mars in Aries
6 Sep 1941 18:34 Mars R
10 Nov 1941 8:33 Mars D
11 Jan 1942 22:19 Mars in Taurus
7 Mar 1942 8:04 Mars in Gemini
26 Apr 1942 6:17 Mars in Cancer
14 Jun 1942 3:55 Mars in Leo
1 Aug 1942 8:26 Mars in Virgo
17 Sep 1942 10:10 Mars in Libra
1 Nov 1942 22:35 Mars in Scorpio
15 Dec 1942 16:50 Mars in Sagittarius
26 Jan 1943 19:09 Mars in Capricorn
8 Mar 1943 12:41 Mars in Aquarius
17 Apr 1943 10:25 Mars in Pisces
27 May 1943 9:25 Mars in Aries
7 Jul 1943 23:05 Mars in Taurus
23 Aug 1943 23:59 Mars in Gemini
28 Oct 1943 5:15 Mars R
10 Jan 1944 4:37 Mars D
28 Mar 1944 9:53 Mars in Cancer
22 May 1944 14:16 Mars in Leo
12 Jul 1944 2:54 Mars in Virgo
29 Aug 1944 0:22 Mars in Libra
13 Oct 1944 12:09 Mars in Scorpio
25 Nov 1944 16:11 Mars in Sagittarius
5 Jan 1945 19:30 Mars in Capricorn
14 Feb 1945 9:57 Mars in Aquarius
25 Mar 1945 3:43 Mars in Pisces
2 May 1945 20:29 Mars in Aries
11 Jun 1945 11:52 Mars in Taurus
23 Jul 1945 8:59 Mars in Gemini
7 Sep 1945 20:56 Mars in Cancer
11 Nov 1945 21:10 Mars in Leo
4 Dec 1945 22:49 Mars R
26 Dec 1945 15:01 Mars in Cancer
21 Feb 1946 21:12 Mars D
22 Apr 1946 19:29 Mars in Leo
20 Jun 1946 8:31 Mars in Virgo
9 Aug 1946 13:16 Mars in Libra
24 Sep 1946 16:34 Mars in Scorpio
6 Nov 1946 18:22 Mars in Sagittarius
17 Dec 1946 10:55 Mars in Capricorn
25 Jan 1947 11:44 Mars in Aquarius
4 Mar 1947 16:46 Mars in Pisces
11 Apr 1947 23:02 Mars in Aries
21 May 1947 3:39 Mars in Taurus
1 Jul 1947 3:34 Mars in Gemini
13 Aug 1947 21:26 Mars in Cancer
1 Oct 1947 2:31 Mars in Leo
1 Dec 1947 11:43 Mars in Virgo
8 Jan 1948 13:49 Mars R
12 Feb 1948 10:27 Mars in Leo
29 Mar 1948 12:33 Mars D
18 May 1948 20:51 Mars in Virgo
17 Jul 1948 5:24 Mars in Libra
3 Sep 1948 13:57 Mars in Scorpio
17 Oct 1948 5:43 Mars in Sagittarius
26 Nov 1948 21:58 Mars in Capricorn
4 Jan 1949 17:49 Mars in Aquarius
11 Feb 1949 18:05 Mars in Pisces
21 Mar 1949 22:02 Mars in Aries
30 Apr 1949 2:32 Mars in Taurus
10 Jun 1949 0:56 Mars in Gemini
23 Jul 1949 5:54 Mars in Cancer
7 Sep 1949 4:51 Mars in Leo
27 Oct 1949 0:58 Mars in Virgo
26 Dec 1949 5:25 Mars in Libra
12 Feb 1950 5:48 Mars R
28 Mar 1950 11:04 Mars in Virgo
3 May 1950 15:51 Mars D
11 Jun 1950 20:23 Mars in Libra
10 Aug 1950 16:47 Mars in Scorpio
25 Sep 1950 19:48 Mars in Sagittarius
6 Nov 1950 6:40 Mars in Capricorn
15 Dec 1950 8:58 Mars in Aquarius
22 Jan 1951 13:05 Mars in Pisces
1 Mar 1951 22:03 Mars in Aries
10 Apr 1951 9:36 Mars in Taurus
21 May 1951 15:31 Mars in Gemini
3 Jul 1951 23:42 Mars in Cancer
18 Aug 1951 10:55 Mars in Leo
5 Oct 1951 0:20 Mars in Virgo
24 Nov 1951 6:11 Mars in Libra
20 Jan 1952 1:33 Mars in Scorpio
25 Mar 1952 11:07 Mars R
10 Jun 1952 2:45 Mars D
27 Aug 1952 18:52 Mars in Sagittarius
12 Oct 1952 4:44 Mars in Capricorn
21 Nov 1952 19:39 Mars in Aquarius
30 Dec 1952 21:35 Mars in Pisces
8 Feb 1953 1:07 Mars in Aries
20 Mar 1953 6:53 Mars in Taurus
1 May 1953 6:07 Mars in Gemini
14 Jun 1953 3:48 Mars in Cancer
29 Jul 1953 19:25 Mars in Leo
14 Sep 1953 17:58 Mars in Virgo
1 Nov 1953 14:18 Mars in Libra
20 Dec 1953 11:22 Mars in Scorpio
9 Feb 1954 19:17 Mars in Sagittarius
12 Apr 1954 16:29 Mars in Capricorn
23 May 1954 12:47 Mars R
3 Jul 1954 7:24 Mars in Sagittarius
29 Jul 1954 15:20 Mars D
24 Aug 1954 13:21 Mars in Capricorn
21 Oct 1954 12:02 Mars in Aquarius
4 Dec 1954 7:41 Mars in Pisces
15 Jan 1955 4:33 Mars in Aries
26 Feb 1955 10:22 Mars in Taurus
10 Apr 1955 23:08 Mars in Gemini
26 May 1955 0:49 Mars in Cancer
11 Jul 1955 9:22 Mars in Leo
27 Aug 1955 10:13 Mars in Virgo
13 Oct 1955 11:19 Mars in Libra
29 Nov 1955 1:33 Mars in Scorpio
14 Jan 1956 2:27 Mars in Sagittarius
28 Feb 1956 20:04 Mars in Capricorn
14 Apr 1956 23:39 Mars in Aquarius
3 Jun 1956 7:52 Mars in Pisces
10 Aug 1956 16:18 Mars R
10 Oct 1956 10:06 Mars D
6 Dec 1956 11:23 Mars in Aries
28 Jan 1957 14:18 Mars in Taurus
17 Mar 1957 21:33 Mars in Gemini
4 May 1957 15:21 Mars in Cancer
21 Jun 1957 12:17 Mars in Leo
8 Aug 1957 5:27 Mars in Virgo
24 Sep 1957 4:30 Mars in Libra
8 Nov 1957 21:03 Mars in Scorpio
23 Dec 1957 1:29 Mars in Sagittarius
3 Feb 1958 18:56 Mars in Capricorn
17 Mar 1958 7:10 Mars in Aquarius
27 Apr 1958 2:30 Mars in Pisces
7 Jun 1958 6:20 Mars in Aries
21 Jul 1958 7:03 Mars in Taurus
21 Sep 1958 5:31 Mars in Gemini
10 Oct 1958 9:47 Mars R
28 Oct 1958 23:52 Mars in Taurus
20 Dec 1958 6:45 Mars D
10 Feb 1959 13:56 Mars in Gemini
10 Apr 1959 9:46 Mars in Cancer
1 Jun 1959 2:25 Mars in Leo
20 Jul 1959 11:03 Mars in Virgo
5 Sep 1959 22:46 Mars in Libra
21 Oct 1959 9:40 Mars in Scorpio
3 Dec 1959 18:08 Mars in Sagittarius
14 Jan 1960 4:59 Mars in Capricorn
23 Feb 1960 4:11 Mars in Aquarius
2 Apr 1960 6:24 Mars in Pisces
11 May 1960 7:19 Mars in Aries
20 Jun 1960 9:04 Mars in Taurus
2 Aug 1960 4:32 Mars in Gemini
21 Sep 1960 4:07 Mars in Cancer
20 Nov 1960 17:04 Mars R
MORE MARS SIGNS
1960
Jan 14 05:00 Capricorn
Feb 23 04:11 Aquarius
Apr 02 06:23 Pisces
May 11 07:17 Aries
Jun 20 09:03 Taurus
Aug 02 04:30 Gemini
Sep 21 04:02 Cancer
1961
May 06 01:06 Leo
Jun 28 23:42 Virgo
Aug 17 00:36 Libra
Oct 01 19:56 Scorpio
Nov 13 21:44 Sagittarius
Dec 24 17:44 Capricorn
1962
Feb 01 23:01 Aquarius
Mar 12 07:52 Pisces
Apr 19 16:51 Aries
May 28 23:40 Taurus
Jul 09 03:43 Gemini
Aug 22 11:29 Cancer
Oct 11 23:43 Leo
1963
Jun 03 06:17 Virgo
Jul 27 04:04 Libra
Sep 12 09:01 Scorpio
Oct 25 17:21 Sagittarius
Dec 05 08:54 Capricorn
1964
Jan 13 06:05 Aquarius
Feb 20 07:25 Pisces
Mar 29 11:15 Aries
May 07 14:31 Taurus
Jun 17 11:33 Gemini
Jul 30 18:13 Cancer
Sep 15 05:11 Leo
Nov 06 03:06 Virgo
1965
Jun 29 00:59 Libra
Aug 20 12:07 Scorpio
Oct 04 06:37 Sagittarius
Nov 14 07:10 Capricorn
Dec 23 05:29 Aquarius
1966
Jan 30 06:55 Pisces
Mar 09 12:48 Aries
Apr 17 20:27 Taurus
May 28 21:59 Gemini
Jul 11 03:07 Cancer
Aug 25 15:44 Leo
Oct 12 18:28 Virgo
Dec 04 00:46 Libra
1967
Feb 12 12:04 Scorpio
Mar 31 06:25 Libra (R)
Jul 19 22:49 Scorpio
Sep 10 01:39 Sagittarius
Oct 23 02:09 Capricorn
Dec 01 20:08 Aquarius
1968
Jan 09 09:46 Pisces
Feb 17 03:15 Aries
Mar 27 23:40 Taurus
May 08 14:11 Gemini
Jun 21 05:01 Cancer
Aug 05 17:06 Leo
Sep 21 18:37 Virgo
Nov 09 06:07 Libra
Dec 29 22:07 Scorpio
1969
Feb 25 06:21 Sagittarius
Sep 21 06:37 Capricorn
Nov 04 18:52 Aquarius
Dec 15 14:24 Pisces
1970
Jan 24 21:33 Aries
Mar 07 01:32 Taurus
Apr 18 19:02 Gemini
Jun 02 06:54 Cancer
Jul 18 06:48 Leo
Sep 03 05:02 Virgo
Oct 20 11:02 Libra
Dec 06 16:40 Scorpio
1971
Jan 23 01:41 Sagittarius
Mar 12 10:19 Capricorn
May 03 21:05 Aquarius
Nov 06 12:40 Pisces
Dec 26 18:13 Aries
1972
Feb 10 14:13 Taurus
Mar 27 04:39 Gemini
May 12 13:23 Cancer
Jun 28 16:19 Leo
Aug 15 01:09 Virgo
Sep 30 23:33 Libra
Nov 15 22:26 Scorpio
Dec 30 16:22 Sagittarius
1973
Feb 12 06:01 Capricorn
Mar 26 21:08 Aquarius
May 08 04:18 Pisces
Jun 20 21:04 Aries
Aug 12 15:14 Taurus
Oct 29 22:36 Aries (R)
Dec 24 08:32 Taurus
1974
Feb 27 10:24 Gemini
Apr 20 08:29 Cancer
Jun 09 01:05 Leo
Jul 27 14:16 Virgo
Sep 12 19:19 Libra
Oct 28 07:14 Scorpio
Dec 10 22:15 Sagittarius
1975
Jan 21 18:59 Capricorn
Mar 03 05:41 Aquarius
Apr 11 19:23 Pisces
May 21 08:21 Aries
Jul 01 04:02 Taurus
Aug 14 20:57 Gemini
Oct 17 09:04 Cancer
Nov 25 18:12 Gemini (R)
1976
Mar 18 13:26 Cancer
May 16 11:18 Leo
Jul 06 23:35 Virgo
Aug 24 06:02 Libra
Oct 08 20:29 Scorpio
Nov 20 23:58 Sagittarius
1977
Jan 01 00:47 Capricorn
Feb 09 12:02 Aquarius
Mar 20 02:24 Pisces
Apr 27 15:49 Aries
Jun 06 03:03 Taurus
Jul 17 15:17 Gemini
Sep 01 00:24 Cancer
Oct 26 18:59 Leo
1978
Jan 26 01:55 Cancer (R)
Apr 10 18:51 Leo
Jun 14 02:38 Virgo
Aug 04 09:08 Libra
Sep 19 20:56 Scorpio
Nov 02 01:19 Sagittarius
Dec 12 17:37 Capricorn
1979
Jan 20 17:07 Aquarius
Feb 27 20:24 Pisces
Apr 07 01:06 Aries
May 16 04:22 Taurus
Jun 26 01:52 Gemini
Aug 08 13:26 Cancer
Sep 24 21:16 Leo
Nov 19 21:28 Virgo
1980
Mar 11 20:58 Leo (R)
May 04 02:10 Virgo
Jul 10 17:52 Libra
Aug 29 05:44 Scorpio
Oct 12 06:19 Sagittarius
Nov 22 01:35 Capricorn
Dec 30 22:24 Aquarius
1981
Feb 06 22:43 Pisces
Mar 17 02:33 Aries
Apr 25 07:09 Taurus
Jun 05 05:18 Gemini
Jul 18 08:46 Cancer
Sep 02 01:43 Leo
Oct 21 01:45 Virgo
Dec 16 00:01 Libra
1982
Aug 03 11:35 Scorpio
Sep 20 01:10 Sagittarius
Oct 31 22:55 Capricorn
Dec 10 06:08 Aquarius
1983
Jan 17 13:02 Pisces
Feb 25 00:11 Aries
Apr 05 13:54 Taurus
May 16 21:34 Gemini
Jun 29 06:44 Cancer
Aug 13 16:45 Leo
Sep 30 00:01 Virgo
Nov 18 10:14 Libra
1984
Jan 11 03:08 Scorpio
Aug 17 19:40 Sagittarius
Oct 05 05:54 Capricorn
Nov 15 18:01 Aquarius
Dec 25 06:31 Pisces
1985
Feb 02 17:13 Aries
Mar 15 05:00 Taurus
Apr 26 09:05 Gemini
Jun 09 10:33 Cancer
Jul 25 03:57 Leo
Sep 10 01:25 Virgo
Oct 27 15:08 Libra
Dec 14 18:53 Scorpio