By purchasing the books below you will help good causes around the world. And just by following a link to Dogstar you can help turn the lives of unwanted dogs in Sri Lanka around.
Jessica Adams is one of the patrons of Dogstar, a charity set up by some British animal lovers and their friends in Sri Lanka to transform the lives of homeless street dogs. Working with local temples, they perform miracles every day.  Here are some before and after shots of Errol, an unwanted stray who was taken in by the small team at Dogstar. If you can sponsor a dog with them or just want to make a small donation please do so here. Part of the proceeds at travel website Holiday Goddess go to Dogstar.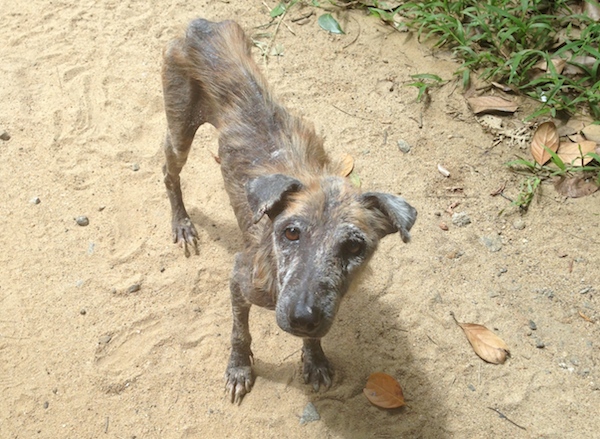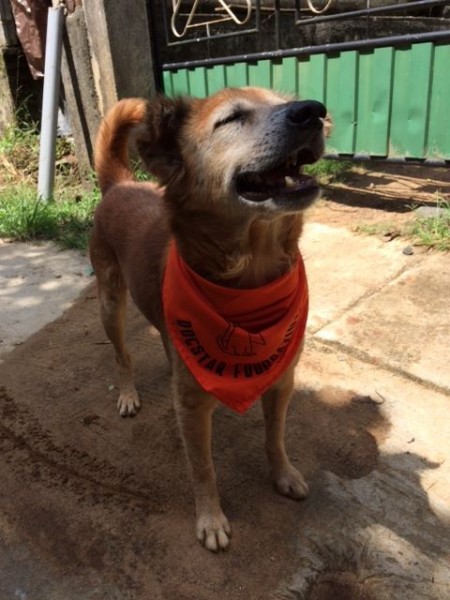 Girls' Night In: the 10th Anniversary Collection
Penguin Books
This bumper Tenth Anniversary Edition of Girls' Night In brings together much-loved stories from the previous four books by some of the biggest names in women's fiction – Marian Keyes, Candace Bushnell, Cathy Kelly and Maggie Alderson, to name a few.
In 2014 Penguin and HarperCollins will release the Girls' Night In series for the iPad and Kindle helping exceed the original fundraising total of over US/AUD $3 million for the children's charity War Child.  Jessica Adams is a team editor on all books in the Girls' Night In and Kids' Night In series, and has acted as both patron and trustee for War Child in Britain and Australia. You can now buy Girls' Night In 10th Anniversary Collection for Kindle at the new price of $14.99 – as always, Jessica, her fellow editors, all the authors and illustrator Anna Johnson have donated their time, and all royalties go to the charity. The new British e-book edition of the original classic Girls' Night In is now available at Amazon, price £3.92.
'A special collection of short stories by some of the starriest names in the worlds of literature and fashion, including Nick Hornby, Candace Bushnell and Kate Moss . . . Read all about it' – Vogue
For more information visit www.penguin.com.au
Girls' Night In and Kids' Night In
Penguin Books, HarperCollins, Red Dress Ink
There are four adult anthologies in the Girls' Night In series and two collections for children. All have raised $2.5 million for the children's charity War Child and continue to raise funds every time a new copy is purchased. Contributors include Bob Geldof, Stella McCartney, Kate Moss and Jamie Oliver. Editorial teams include Jessica Adams, Maggie Alderson, Imogen Edwards-Jones, Nick Earls, Chris Manby, Carole Matthews, Sarah Mlynowski, Fiona Walker. 
For more information visit www.girlsnight.in
How We Met
Penguin Books
True confessions of love, lust and that fateful first meeting – How We Met celebrates the surprising, sweet, funny and downright weird ways in which people have found love. Join a who's who of writers as they share their sometimes romantic, sometimes bittersweet true stories of finding the love of their life – the one they are with, or the one that got away. All royalties from sales go to PEN, a worldwide association of writers, which works to promote literature, defends the freedom to write and to read and campaigns for writers around the world persecuted for expressing their views. The book is a grand flirtation with that captivating idea that we all have one special person out there for us; that it is written in the stars that sooner or later we will meet and fall in love. THE AGE
Contributors include Susan Kurosawa, Lisa Jewell, Di Morrissey, Elizabeth Stead, Adele Parkes, Tony Wilson, Kate Veitch, Maggie Alderson, Danny Katz, Jessica Adams, Lee Tulloch and Rachael Treasure
For more information visit www.penguin.com.au
Some Girls Do…
Allen and Unwin
Edited by Jacinta Tynan. Some of Australia's favourite female writers recount the true stories of their teenage years in this bumper collection. All royalties plus $1 for every book sold go to the SISTER2sister Program, a mentoring program for disadvantaged teenage girls, which is part of Life Changing Experiences.
For more information visit www.allenandunwin.com