Jessica Adams' free Psychic Astrology forecast for April. See what this month looks like in the stars.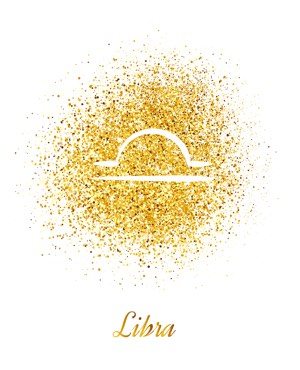 April

Duets and Duels
Duets or duels in April 2021? Well, it's about your former wife, your next girlfriend or your old work partner. It's about the business duet that bit the dust but won't go away. It's about your old husband who you never completely split from. Libra, you will have your own example.
You're going to see a lot happen very quickly, and lots of you will split or commit on Monday the 12th of April, the New Moon.
We have an Aries stellium (your opposite sign, which rules your opposite number – like your husband – or your opponent – like your former business partner) making a lot of patterns, from Saturday April 3rd to Monday April 19th.
The stellium in Aries involves Venus (your ruler), Ceres, the Sun, Mercury, Chiron and the New Moon. (The New Moon falls on Monday April 12th). That last date seems likely for a fresh start, as I said, and we'll see Libra reunions, legal separations, new chapters (babies, new homes) and so on. First dates, obviously.
Venus tells you it's complicated. You tend to get envy or even jealousy when she is around. There is vanity and narcissism.
Far more important is the fact that by May 8th, you two will have figured out some kind of deal together. The compromise may be over who/what has the upper hand. It may be that you agree to differ over the controls.
In the 17th century, the astrologer William Lilly described this area of your chart as follows: "It gives judgement of marriage; and describes the person enquired after; whether it be a man or woman; all manner of love questions; or public enemies, the defendant in a lawsuit, in war, the opposing party; all quarrels, duels, lawsuits."
Duels can be found in The Three Musketeers, War and Peace, Vanity Fair, Hamlet, James Bond, Popeye and Star Trek. When husband and wife divorce, they often duel in court, thus William Lilly, writing in 1647, had it right.
As for your ruler, Venus? Well, Venus was of course guilty of adultery. She had sex with Mars behind her husband Vulcan's back.
Life is not necessarily an opera, nor a soap opera for you. It really depends on your personal birth chart. The bottom line in April is that you and your husband might sort out new rules for the home, or your budget, or the children. That's a good example of the most common outcomes of this sort of weather.
And yet, and yet, we have Chiron there too. And he hangs around in your chart until 2027. So, this month, April 2021, is part of a much longer pattern when you are constantly confronted and challenged by what your other half tries to get away with. (The other half being that other person in the duet or duel).
This in turn makes you see what you can wriggle away with. Nothing is too audacious or outrageous for Chiron. What should not happen, must not happen, can't possibly happen – usually does, on this cycle. Libra, what you end up with by May is really a totally new landscape with this person or without them. You come into your own on Venus cycles. Why? You resonate to the drama, the poetry, the rock'n'roll nature of what goes on. Your whole raison d'etre is to balance the scales between yourself and others, often because there is sexism, or racism, or homophobia, or ageism, or class difference.
Maybe that's the issue in April or perhaps it's really diluted for you, but your place on one end of the see-saw is now in question, as you tilt and wobble, and either get a new arrangement with the other person or leave the playground. If you are a Premium Member and know you have Aries factors, then this may be about your married status as Mrs. It happens.
Come along to some April events (see information above in Hello Readers section), where I'll talk more about this, online and answer questions.
If you are a Premium Member, you can keep reading for diary dates which may affect your personal birth chart.
Extended Premium Forecast
© Copyright 2021 Goddess Media Limited. All Rights Reserved.
Find me on Twitter @jessicacadams for updates and a conversation about Astrology.
Join my free newsletter to stay in touch, hear about new astrology and horoscope posts. We will also write to you occasionally to tell you about events and offers linked to this website. We respect your privacy. We will never sell or share your personal information and you can opt out by clicking an unsubscribe link at the bottom of any email.