Description
Your 2021-2022 Astrological Report begins on 12th February 2021 and ends on 1st February 2022. In this Astrology Report, you will find a report based on your Sun Sign (zodiac sign) using a Solar Sign house horoscope. This shows the headlines of your life. To go behind the story, this report contains more than 40 pages of guidance and instruction to help you understand the stelliums in your personal birth chart. To get the best results if you are not a premium member you can go to the chart store to generate a Family & Friends Extended Personal Birth Chart.
This new Astrological Report format contains additional report content that allows you to decode the stelliums in your birth chart to understand the unique astrological weather that will help you go beyond the headlines of your chart.  This Astrological Report does not require forum access. 
What you need to know:
Each report is approximately 130-140 pages in length.
The Astrological Report from Jessica Adams is delivered in PDF format.
Astrological Reports are delivered electronically and cannot be returned once downloaded.
No refunds are permitted and all sales are considered final.
This product is a one-off purchase and does not automatically renew.
The purchase price is for your 2021-2022 Astrological Report only.
This report

does not

provide access to Report forums for 2021-2022.
Report forum access it not required for this report format.
Generation of a personal birth chart at jessicaadams.com is recommended to reveal and decode the stelliums in your birth chart.  Your birth chart can be purchased from the chart store as a one-off sale or generated with a Premium Membership. Your birth chart is unique to you based on your date, time and place of birth.
After purchase you will receive an email with a  purchase receipt containing a unique download link for your report.
Please ensure you download and save your purchase to your device for future reference.
The download link will expire seven days after purchase.
If you cannot specify a download location, your purchase can be found in the Downloads folder on your device.
If you have any issues downloading your report please contact our support team for assistance.
WHAT IS A STELLIUM?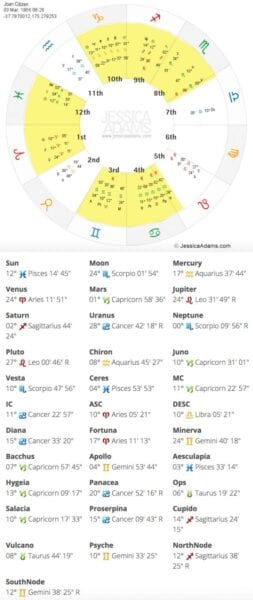 A stellium is a cluster of horoscope factors in one zodiac sign. Most people have three or four clusters, or stelliums. The Joan Citizen chart (right) shows her largest stelliums in Capricorn in the 10th House, Gemini in the 3rd House and Cancer in the 4th House.
You can find the biggest three or four stelliums in your personal birth chart. Which zodiac signs and houses have the highest count, in terms of horoscope factors? That's who you are! When we have 'weather' in those signs, your life changes. The additional 43 pages I've written into these reports help you decode these stelliums so you can understand the astrological weather.