Pamela Colman Smith and Arthur Waite's Tarot
The 1909 Tarot deck created by artist and storyteller Pamela Colman Smith and editor, journalist and author Arthur Waite was born from The Golden Dawn.
This secret British magical society included Oscar Wilde's wife Constance and the future Nobel prize winner William Butler Yeats in its ranks.
 Chelsea dweller Pamela was a Bohemian who knew (or was known by) the creator of Peter Pan; the inventor of Father Brown and the author of Dracula.
Her pictures, no matter how small they are ever reproduced, tell big stories about the human condition. She was also a powerful psychic.
Arthur and his magical companions from The Golden Dawn spent their days in The British Museum studying what we call the Occult. Hidden knowledge.
Astrology was on the Golden Dawn curriculum and zodiac symbols are illustrated in many of the cards.
You can see Aquarius, the Water-Bearer, Pamela's own Sun sign, hidden in Temperance. Arthur was a Sun Libran whose scales can be seen in Justice.
All Tarot interpretations are personal. This is a personal 21st century take on Pamela and Arthur's 78 portals to wisdom, referencing astrology. I hope Pamela's Tarot helps you as much as it has always helped me, my clients and readers. Thanks to Justin Tabari for the beautiful new photographs.
To find out more on each Pamela Colman Smith and Arthur Waite's Tarot card and its meaning, download Jessica's detailed guide to the cards Pamela's Tarot.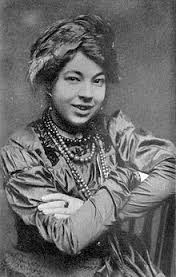 How to read Pamela Colman Smith and Arthur Waite's Tarot
There are many Tarot decks but only one has sold over 6 million copies, and shows the work of the most under-rated British artist of the 20thcentury. Her name was Pamela Colman Smith. She exhibited in the same New York gallery as Rodin and Picasso, but even today, her name is not widely known. Her cards, inspired and guided by the author and Golden Dawn leading light Arthur Waite, are very special. They are gateways to time and gateways to your own psychic ability.
Choosing a Card Now
There is nothing random about choosing to enquire about past, present or potential future. Even a so-called random 'shuffle' on a website has meaning and importance. So choose a card now to talk to you about what the headlines of your life are today. Pamela Colman Smith, who illustrated these cards, was used to submitting her work to journals of the day, back in the early 20thcentury.
Imagine Pamela has been asked to illustrate the most important scene or theme of your life now, for a journal cover. What is it? This 'randomly' chosen card will tell you. You can look back in time with the image and ask yourself what happened before, to take you to this point. You can peer forward, into the 'front' of the card and imagine what might come next. This way of working the card is right in tune with quantum physics, as interpreted by scientists like Fred Alan Wolf. It's exciting. It's liberating. It's not what most people assume Tarot to be!
Meanings and Instinct – How to Read
Your best reading will be instinctive, intuitive and put together by you in a personal way using the symbols. For example, Pamela has popped a snail into one of her cards. That means different things to different people. What does it mean to you? The 'vibe' or overall feel of a card can be described.
Yet, the very best sorts of Tarot readings use those 'Aha!' moments when you correctly interpret a symbol or even the look of a particular person (hair colour, clothes) and directly relate it to your own life.
When you read the present, you confirm the Tarot works – and that you are psychic – but you also give yourself an image to work with, to experiment with time. And your universe.
Premium Member? Use Jessica's Guide on the Cards and Your Journal!
Download Jessica's guide Pamela's Tarot. For more details on the Pamela Colman Smith and Arthur Waite's Tarot card and its meaning.

Recording your readings, using your Astrology Journal, which you can customise, create a cover for, and also use directly with the Tarot.
Single card Tarot Reading
Choose a card now to answer any question you have