Aquarius Monthly Horoscope
Jessica Adams' free Psychic Astrology forecast for December. See what this month looks like in the stars.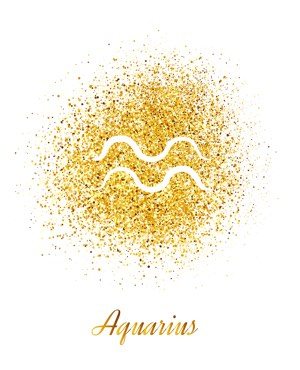 December
Money, House, Apartment, Business, Charity, Stuff
It's that time of year when the credit cards come out and the shopping, spending or grateful receipt is far more important. In astrology, there is another reason for the intense focus on all that you earn, own or owe. It is the Mars-Neptune conjunction of Friday 7th December, and it has the potential to be rather confusing. This would not be the end of it, either. You could be still trying to sort out who fits where, who owes what, and where the numbers count – between late February and April next year! If you are negotiating and talking about February, March or April as a final deadline or outcome, make sure that what you are discussing goes in writing and also allows plenty of room for changes or delays, in the first quarter of 2019. That is a smart move based on the arrival of Mercury Retrograde at that time. In general, Aquarius, December is about realising that you are now living in quite a different space with your charity, house, apartment, business, possessions or company. Everything is bent out of shape, not once, but twice, both near 7th December and again near the 29th. As things could move too fast, and either you or others are going in too hard, you may prefer to keep December simple, straightforward, contained and controlled. If you're redrawing the map of what is possible, permitted, practical and all the rest these days, you don't really want to be rushing it, or creating new parameters under any kind of pressure.
Secrets, Mysteries, Classified Information, Invisibility
The Full Moon on Saturday 22nd December suggests the 21st, 22nd, 23rd are days when a moment of truth is just a thought away. Nobody else really knows or understands what matters, at that time. It may involve something you can't even write in a diary. This is really about the stuff of the psychiatrist's couch, or the naked truth about who you are, when everything else is stripped away. It's about whatever truth drug is at large in your life and what you might say when not fully conscious, or even under the influence. You have been living with Pluto in this zone of your chart since 2008 and Saturn and the South Node recently joined in. This means that what lies beneath is a much bigger deal than usual and it demands a lot more time and space, and certainly more solitude.
Friendship, People Power, Groups, Circles, Community
It does take rather a long time for everything to come together on a Mercury Retrograde cycle, but don't just let things slide. You have been handed an intriguing number of contacts, possibilities, helping hands, clues and signs since November 1st. Just because nothing major has yet begun to roll does not mean you shrug and give up. In fact, Aquarius, things look inspiring around Friday 7th and Saturday 8th, when a party may bring you all together. Even if you are watching television that weekend, there is still something in the air online. Moving along to the stunning Mercury-Jupiter conjunction of Friday 21st December, that's another pre-Christmas weekend when the cards, the online greetings or the get-togethers will usher in something quite special. The final outcome won't really make sense or be written in stone until Christmas Eve, Christmas Day or Boxing Day, but from that point on, you will be so pleased that you have particular friends or groups in your life. And, Aquarius, if there have been any issues at all with the team, the club, the friend, the political party, the band and so on – trust Jupiter to throw a solution!
Career, University, Unpaid Work, College, Status
This does work out in the end, in terms of your job, degree, course, unpaid work, status, ambition or success in life. It has been such a long time since you started off on this path, and September or October were never going to be the end of the matter! Just bear that in mind as you go back to the very beginning in the first two weeks of December. There may be a rewrite or reschedule then. The over-arching story will not end until the final days of January and that is really about coming to an agreement with others about how you are all to make things work long-term. The more you did, prior to November, the better. You will have created some good things there, which help you a great deal now. A game of musical chairs (not Game of Thrones – but chairs) is in progress and when the music stops you must find a chair that suits you. People politics, power and influence – clout, if you like – is what is at stake here. Not just somewhere else to sit behind a desk, or at a table. One way or another you will all make this work by late January.
Premium member? Please continue.
Extended Premium Forecast
© Copyright 2018 Goddess Media Limited. All Rights Reserved.
Join my free newsletter to stay in touch, hear about new astrology and horoscope posts. We will also write to you occasionally to tell you about events and offers linked to this website. We respect your privacy. We will never sell or share your personal information and you can opt out by clicking an unsubscribe link at the bottom of any email.