Jessica Adams' free Psychic Astrology forecast for December. See what this month looks like in the stars.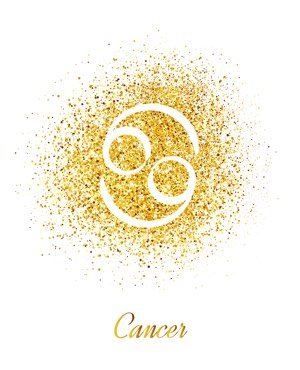 December
Travel, Relocation, Education, Web, Books, Foreigners
Cancer, if you are planning to travel, publish a book or new website, relocate, enroll in a new course or welcome a traveller or foreign connection next February, March you may want to get it in writing now – and check the fine print – as there is a chance of rescheduling or plan changes in those months. Even if you are not planning that far ahead, you still need to do a bit of maintenance now, near Friday 7th and Saturday 29th December. Slowing down and cooling down (even if it is quite cold where you are on those dates) is very wish. It's all too easy to push back too hard, or rush things, under these astrological conditions. You do need to set some firm boundaries, though. Without boundaries this situation could be rather confused and confusing. Some good old-fashioned common-sense rules would be useful. This may be particularly relevant if you are on vacation over Christmas or welcoming a traveller from another region or country. This would also apply to those of you enrolling in college or university or finishing a book, website or thesis for the end of 2018.
Former, Current and Potential Partners
You are ruled by the Moon as you know. When the Full Moon takes place on Saturday 22nd December with the Sun in your opposite sign of Capricorn and the Moon herself in your own sign of Cancer, you will need more time and space. This is only natural if you are on your own for Christmas and yet must deal with the absence of a partner – but there are all sorts of reasons why this Full Moon suggests you might like a diary with some extra wiggle room. You are an emotional water sign, ruled by your feelings and when the Moon and Sun are in opposite signs like this, you can feel at odds with yourself, or at odds with the other person. The truth is, you have never experienced Pluto, Saturn and the South Node in Capricorn, your opposite sign, in your lifetime. You never will again. As you go into 2019, 2020 you will be drawing on all your experience since 2008, as the time has come to deepen your understanding of what it means to be powerful, and what it means to be in control. If you have been with this person since around the year 2000, or the current situation reminds you of a relationship you had then, it would not be surprising. Karma is calling from about 19 years ago. January decisions will follow, about or for this person. It's a good time of year to make up your mind on the important things; others will give you feedback, and reaction and you do need an outsider's opinion.
One last point. Cancer, if you have an enemy, rival or opponent, the Full Moon is not the time to try and press the point, make the peace or pursue the issue. There are easier times to make progress and actually, January is more useful. Feel all the feelings, make mental notes about your options, but think about passing judgement or taking action another time.
Pregnancy, Children, Lovers, Young Relatives, Youth
Cancer, this has been a long and drawn-out story with the pregnancy, son, daughter, young relative, stepchild, adoption or similar. Your paid or unpaid efforts with youth and younger people are also in this category, as is any lover where there is a question mark about unplanned parenthood or existing offspring from another relationship. You may be wondering when it's all going to be sorted out. January is your answer. December is really about rescheduling, rethinking or going back to the drawing board for other reasons. A classic example would be a Cancerian teacher who finds the agenda with her student's changes. The Venus-Ceres conjunction on Thursday 27th December feels rather more personal, though. We associate Ceres with compromises made over time-sharing and the carving up of responsibility and particular rights and roles. Given the developments in your opposite sign of Capricorn, a great many Cancerian people will be committing or splitting by January. Even if life is not this dramatic (and your personal chart tells the full story) you may find that it takes you until the very end of January to sign off on this episode. Ultimately, what you both or all decide must be something practical that everyone can live with for the rest of 2019. It's worth the work.
Lifestyle, Workload, Daily Routine, Health, Fitness
We have a couple of false (but good) starts ahead this month. The opportunity or solution you need is out there, but even though there is a new beginning near Friday 7th December, and some really high hopes, following a key piece of news at the Mercury-Jupiter conjunction – it won't be until Christmas Eve, or Christmas Day, that everything is signed, sealed and delivered. Around Thursday 27th December you should be able to lock things in. This may be a new job or project for 2019. A turning point for your health or wellbeing. A special new direction in your student life. Cancer, you are in a fantastic new cycle when the solutions and opportunities will not stop coming. In fact, they will surround you until this time next year. This is just the start. It's a slow start, as you may have been counting on particular plans which now have to change, but you will be on track for an unusually satisfying Christmas. This is a very good time to look for post-Christmas work as reshuffles all around you, into January, may well give you the opening you need.
Are you a Premium Member? Read on.
Extended Premium Forecast
© Copyright 2018 Goddess Media Limited. All Rights Reserved.
Join my free newsletter to stay in touch, hear about new astrology and horoscope posts. We will also write to you occasionally to tell you about events and offers linked to this website. We respect your privacy. We will never sell or share your personal information and you can opt out by clicking an unsubscribe link at the bottom of any email.