Capricorn Monthly Horoscope
Jessica Adams' free Psychic Astrology forecast for December. See what this month looks like in the stars.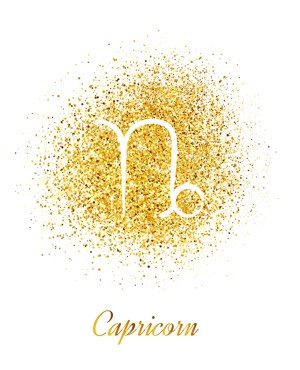 December
Web, Multimedia, Communication, Education
You're now nearing halfway through a communication cycle which began in 2011, all tangled up with the Worldwide Web, but also with communication as a whole. Near Friday 7th December you may want to step back from the internet, the ideas, the course, project, plans (or even the core issue about being heard and getting through). This could be useful as you don't have a Mars-Neptune conjunction all that often. We associate this cycle with the internet as an escape, or holiday from reality. Actually, all forms of communication can become that, and poetry, Skype or television lend themselves to this idea. There are no boundaries near the 7th and you may want to be aware of that. If there is a particular outcome or deadline centered on late February 2019 through April, look twice. That particular period will be dotted with delays or changes throughout, so if you do happen to be agreeing to something now, make sure it has enough space for you to factor in a slowdown, standstill or reschedule/rewrite later on. If you are buying or repairing phones or computers near the 7th do get everything in writing and read the fine print. The same goes for website or blog start-ups, new courses or workshops and so on. Around Saturday 29th December a similar issue presents itself. Where are the boundaries with all that you see, heard, read and write online? Where are the goalposts moving to these days? Where are the new lines in the sand?
Former, Current and Potential Partners
The Full Moon on Saturday 22nd December finds the Sun in your own sign opposite the Moon in Cancer, across from you. This describes the person opposite you, balancing the scales. Think of a double-act, duet or balancing act and you'll be close. Your former, current or potential partner is not necessarily going to present you with a smooth and easy 72-hour trail. December 21st, 22nd, 23rd are likely to be full of questions without simple or fast answers. Yet, if you want to get something meaningful out of this phase of the relationship, no matter where it stands, this is the time to step back and ask yourself a few questions. You now have the North Node in Cancer, so there is karma afoot. You could be sent back 19 years, just before Christmas, or even further back in time. Give yourself, him or her a huge amount of time and space near the 22nd as you honestly don't see the Node come around in your opposite sign more than every two decades. Some closure is required here and it's not going to happen overnight. Take your time.
Capricorn, if you have enemies, opponents or rivals and they are more of an emotional pull for you than a former, current or potential partner – please steer clear of the Full Moon near the 22nd, for any kind of outcome, confrontation, closure and so on. The Sun opposite the Moon is always D-Day. If this is what fate decrees, then so be it. Yet, if you can choose any time at all to try and tackle the issue or the person/the people, you may want to aim for any other period. So many heavy battles in the history books were fought on a Full Moon, or the day after/day before. Did you know?
Secrets, Life Behind the Scenes, Mysteries, Inner Life
Your solutions and opportunities for around another 12 months concern what nobody else can see or know. This may be a role behind the scenes (others are the name or face). It may involve you in hush-hush, sensitive or largely concealed places, or with faces which are behind locked doors. We also associate the Twelfth House with counselling, psychologists, psychics, dreams and anyone/anything which accesses your inner self. This cycle is about you laid bare, and whatever is at home, under lock and key. It is also about that part of you which dreams, crosses time and space boundaries, and survives you after you pass. Jupiter tells you that this is where the big answers and outcomes are. You are stumbling into the cycle with delays or changes to what you might have assumed was on track, but from Christmas Eve, it's on.
Friends, Groups, Social Media, Social Life, Networks
This has already taken such a long time to really shape up for you, Capricorn – yet you need to persist. You have admittedly come an awfully long way with your social media, friendships, social life, clubs, teams, groups, communities, societies, associations, unions and the rest. In fact, you have been thrown one useful contact, helping hand or connection after another for about the last 12 months. Now, you have to finish what you started in September or October. It may not be until you are approaching Christmas that you feel you have the final facts, or ultimate narrative. That is normal for this time of year, but your next task is certainly to figure out a new state of play with your friend or group. This follows a real moment of truth near Thursday 27th December about the complicated relationships involved, but also the power. Finding a different way to give every person a stake is what this month is all about. This takes you into January, too, and although this has already taken longer than it should, by the end of January a new deal will be in place. Together you can all strike out in search of a new social or friendship world. A new people power possibility.
 Are you a Premium Member? Please read on.
Extended Premium Forecast
© Copyright 2018 Goddess Media Limited. All Rights Reserved.
Join my free newsletter to stay in touch, hear about new astrology and horoscope posts. We will also write to you occasionally to tell you about events and offers linked to this website. We respect your privacy. We will never sell or share your personal information and you can opt out by clicking an unsubscribe link at the bottom of any email.