Sagittarius Monthly Horoscope
Jessica Adams' free Psychic Astrology forecast for December. See what this month looks like in the stars.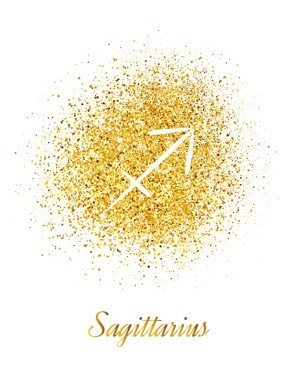 December
Your Town, Country, House, Family, Flat, Household
Sagittarius, if you are planning to move, renovate, organise a family reunion, book Airbnb, attend to home repairs, deal with a crucial council issue or even residency questions, look at the dates. If these happen to fall between approximately February 20th and April 17th, make sure the agreements you have now are in writing, but can be changed with your permission. Cover yourself for potential delays, cancellations or even reversals in that time, as Mercury Retrograde is up ahead, next year. You are certainly going to face crucial questions about how you live, where you live, with whom you live – but also deeper concerns about where you come from, where you belong to, and where your roots are. Near Friday 7th December life could be confusing unless you put some boundaries in. This may be with a family member, live-in partner or flatmate. Simple things like personal space or line-crossing (forgetting the lines which separate the role of relative, from other roles) are good examples of this. There may even be concerns here about water (which Neptune rules) and potential flooding, plumbing and so on. Just be aware of this, Sagittarius. Near Friday 7th December, no matter if it's the space, the place or the people – keep it real, keep it clear and keep it simple. I do feel as if this whole area of your life is under reconstruction. In fact, near Saturday 29th December when Mars conjuncts Chiron, you seem likely to be faced with wild new possibilities. What or whom is unacceptable these days? Out of the question? Outrageous? Chances are, when it comes to your house, apartment, family, household, home town or homeland, the answer is 'Never say never.' Well, that's perfectly fine, but again – please do look at February-April 2019 and if there is a particular outcome expected then, make sure that whatever plans you are making, allow for delays or changes.
Money, House, Charity, Apartment, Business, Stuff
Sagittarius, you may prefer to avoid December 21st, 22nd, 23rd for big judgement calls or action plans regarding Christmas shopping, the January sales, your end-of-year bonus, property leases or purchases/sales, business end-of-year decisions, redundancy settlements and the rest. We have a Full Moon, you see, on Saturday 22nd December. This is always D-Day and in fact many important military battles in history were conducted on Full Moons. They needed the light. Today, we just use astrology as a timing device, and although light will be shed on what you earn, own or owe – you are also dealing with a tug-of-war inside yourself, or with people or organisations which are at polar opposites with you. I would not normally stress this Full Moon on 22nd December so much, but you are also living with Saturn, Pluto and the South Node in your zone of finance. This is a long-haul thing and you need to give yourself a ton of breathing space, so you can figure out a strategy for 2019. The good news is, from Christmas 2019 (about a year away) there will be incredible solutions and huge answers which benefit you financially into 2020. For now, though, just work your way through this, one step at a time.
Relaunch, Rebirth, Renaissance, Return
Keep believing in your appearance, your name, your title, your image, your brand. It works incredibly well for you in 2019 and in fact, everything is pointing to a relaunch. Even if the rebirth in question is delayed or changes shape – keep believing. Have faith in the renaissance of 'Me' as this is your year. We only see Jupiter in your First House of image, ruled by the sign of Sagittarius, every 12 years. You have been given a slow or uncertain start to this new renaissance period, but the return of you – You, You, You – has been a long time coming. This whole period in your life is like Elvis Presley's comeback or the return of The Spice Girls. New look? Maybe. New twist on an old shape, face, haircut, wardrobe? Why not? I realise there has been a fair bit of history for you, here, if you are of an age to have gone through critical years for image and appearances, before 2008. If anything still concerns you, a solution is here, and it will be the Christmas present you unwrap around December 24th, 25th. If everything about yourself, publicly, is in reasonable shape then you have the biggest and best relaunch or return in years coming. Jupiter always takes you One Step Beyond, to quote Madness. If you're a big fish in a small pond, you'll make a big splash in a bigger pond in 2019. If you need better lighting, you'll get better lighting. Seriously, Sagittarius, even if you are sent backwards and sideways, do not be put off. Christmas Day is your relaunch pad and in the third week of January you and a certain someone will make a super-duper re-entry on behalf of each other, that also benefits your public face or name.
Secrets, Life Behind the Scenes, Your Inner Life
You may be wondering if things will ever be fully finished, with your secret, classified project, confidential plans, life behind the scenes, period of solitude, inner life, private mysteries or hidden self! You were on track a while ago then you found other people did not get back to you, or you hit obstacles with organisations which did not deliver as they should. You may also have had basic computer issues, which Mercury Retrograde is notorious for. You will see a replay, across the first two weeks of December. This will put you straight. You'll see what is, not what was (particularly as it stood in late October). From that point forward, you get to deal. It gets even easier from 19th December when a more personal angle, for you or someone else, is straightened out. After that, it becomes clear that you need to figure out a new deal or compromise. You will do this by the end of January, then you can park this whole matter for 2019. The more effort you put into a particular solution or opportunity before November, the better off you'll be.
Premium? Go on.
Extended Premium Forecast
© Copyright 2018 Goddess Media Limited. All Rights Reserved.
Join my free newsletter to stay in touch, hear about new astrology and horoscope posts. We will also write to you occasionally to tell you about events and offers linked to this website. We respect your privacy. We will never sell or share your personal information and you can opt out by clicking an unsubscribe link at the bottom of any email.