New Novels With Tarot Magic I first worked with bestselling novelists Imogen Edwards-Jones and Daisy Waugh on the Girls' Night In series (HarperCollins and Penguin) in aid of the charity War Child. We later joined forces again in an anthology of erotica, called In Bed With, also published by Penguin. Somewhere along the way, we all became mad about the Tarot and Daisy has not only created a series called The Tarot Detective (using her pen name E.V. Harte) she has also become a professional card reader. Tarot novels are new on Amazon – but very welcome.
Tarot Fiction Beyond James Bond
I recently had to squeeze a couple of paperbacks in my luggage for a long flight from London to Dubai, and onto Perth, Western Australia. I must admit helping Imogen with The Witches of St. Petersburg, a story about the powerful role magic played during the collapse of the Russian Empire.
I will also confess Daisy was recently our guest during a special Tarot day in Brighton, with master reader Avril Price (also her teacher at the College of Psychic Studies in Kensington). Yet, although I can't be at all objective or impartial here, I have to say – if you are intrigued by the occult in general and the cards in particular – these are great, escapist novels with first-hand knowledge and research – not the usual James Bond jokes (Live and Let Die revealed Ian Fleming as a better espionage expert than a Tarot reader!) What's great about the novels by Waugh and Edwards-Jones is that they come from first-hand, long research.
The Novel That Grew at The College of Psychic Studies
A great interview and photograph in The Times (below, which Daisy has written for in the past, along with The Sunday Times) reveals her as being at the forefront of what is a new, fashionable wave of passion for the old cards. Decks are launched on Kickstarter these days. Tarot diaries are shared on Instagram. Daisy, who once interviewed President Donald Trump, is now dealing with Tarot Trumps instead, both via Skype for clients – and in the pages of her series about Dolly Greene, The Tarot Detective. Admitting that she does, in fact, read for herself – Daisy has been given good advice by the Tarot of Pamela Colman Smith and Arthur Waite, as she's signed to complete three books about the intriguing Dolly Greene. Daisy Waugh in The Times
Tarot Cards and Bestselling Novelists
You know Tarot is peaking when Vogue in the U.S. offers a beginner's guide to the cards and Patti Smith comes out about using them as inspiration for her songwriting. Yet, something about these new novels by Imogen Edwards-Jones and Daisy Waugh is timeless enough to outlive any temporary fad.
Apart from Ian Fleming, novelists do have form with the Tarot. The President of the College of Psychic Studies in South Kensington was Sir Arthur Conan Doyle. As the shiny front door of the college in Kensington was a hop, skip and jump away for Daisy, she says " For a while the place began to feel like my second home." In fact, she even ended up at South Kensington tube station handing out fliers offering tarot readings.
Welcome to Dolly Greene – The Tourettish Tarot Reader
All this hard-won education and streetwise Tarot experience pays off in The Prime Of Ms Dolly Greene, the first in a series of three books about a frank, somewhat broke, single mother with a student daughter, whose clients inevitably draw her into the dark world of London crime. Dolly, who is 'Tourettish' is not some whimsical woman on Skype with a unicorn on the desk.
I loved the way this book was unashamedly about the cards and related completely to the advice Dolly gives herself – 'Never tell a punter they're pregnant or dying.' Dolly's psychic flashes also come in the form of songs (again, many professional psychics can relate to this) and from her converted broom cupboard at home in London, she finds herself increasingly seeing what looks like a death – after the Death card turns up for a client.
Dolly Greene is the kind of psychic who stumbles into crime from £40 readings in a converted broom cupboard. She's a fantastically modern detective heroine, at the same time that her passion for the Tarot makes her a wildly original crime-fighter. This is a great series.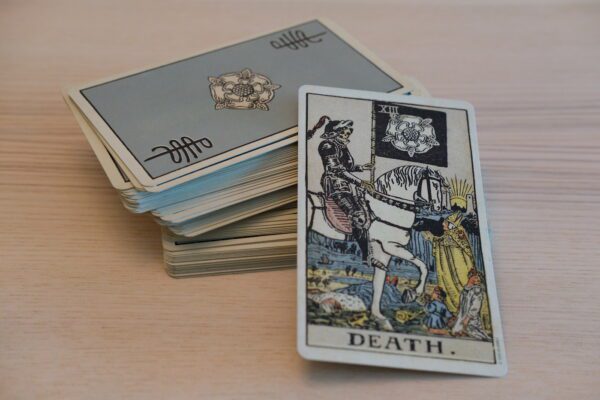 Imogen Edwards-Jones and The Witches of St. Petersburg
When Imogen and I worked together on the erotica anthology In Bed With, we teamed up with Joanne Harris, whose brilliant Holy Fool was – until recently – one of the very few books by a big, bestselling novelist, to delve into the Tarot deck.
Here, Imogen explains why this fascinating (and occasionally horrifying) new book about the fall of the Russian Empire and two sisters – princesses with a taste for the occult – bring Rasputin into the Russian Court. It's based on the true story of Princess Militza and Princess Anastasia, and as a former resident of Russia, Imogen tells her tale with huge passion.
Princess Militza and the Tarot cards in the Peach Scarf
In this scene from the book, Dr. Badmaev, who sells black lotus essence and mandrake to local Russians, comes for a reading with Militza so he can discover more about the Tsar's line of succession, as his wife is failing to produce a male heir.
The doctor cuts the cards and produces The High Priestess. "Wisdom, sound judgement, foresight and intuition" Militza declares. The next card is The Star. "Hope. Effort. Faith. Inspiration…" Finally, The Wheel of Fortune is produced, before The Ace of Cups. "Yes," she nodded. "Fertility and joy…But upside-down."
This is a Grey Goose vodka-strength novel about the occult boom at the beginning of the 20th century in Russia, and the fated way that the 'little girl games' of two princesses, armed with Tarot cards, pulled them into history. Everyone thinks they know the story of the end of the Russian Empire and the strange charm of Rasputin, but it's never been told like this.
Buy The Witches of St Petersburg here.
Buy The Prime of Ms Dolly Greene here.