Jessica Adams' free Psychic Astrology forecast for December. See what this month looks like in the stars.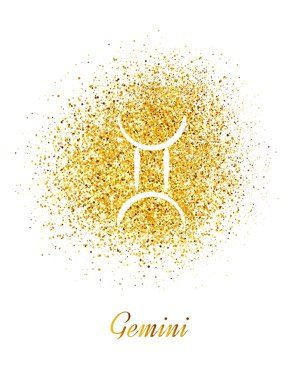 December
Career, University, College, Unpaid Work, Status
Gemini, take your time and think carefully about what you are doing with your career, university or college degree, unpaid work, success, status and ambition in life, near Friday 7th and Saturday 29th December. This could be a confused and confusing time, unless you set a few rules. Boundaries are a good thing, so that everybody involved on a project, plan or task is clear. Unless you do this now, you may find things become even more muddled in February and March 2019. A classic example would be working for a friend or working for a family member. Those rights, roles and responsibilities need to be contained so that you are not crossing the line, and others are not crossing theirs. This takes a bit of effort, but it is worth it. You had a fair bit of help and protection with your work, unpaid work or studies in 2018. That has now gone, so you need to double your efforts, particularly at the Mars-Chiron conjunction on Saturday 29th December. Every action has a reaction. If you go on the attack or defence around that date, you will have to deal with the consequences. This is why the standard advice for this kind of cycle is to slow down and cool down. Play the long game, Gemini. I'm sure you are being shown that there is no such word as 'impossible' or 'unthinkable' any more in regard to your place in the world, or your ambitions. Yet, this will draw a reaction, so you need to be more than usually thoughtful and cautious about where your words and actions will lead you. Just to repeat – one way or another, this does wash up in February, March 2019 so you need to be strategic about what you are doing with your boss, colleague, client, staff, lecturer, classmates and so on. Try to keep it all clear and under control, now.
Your Money, House, Apartment, Business, Charity
Gemini, this time of year is always pretty dramatic for your finances, house, apartment, business, shares, insurance, legacies, mortgage and so on. There are a couple of reasons for this. First of all, it's the time of year when people resign, retire, take new jobs, reshuffle their organisations and the rest, which always affects you, through a ripple effect. Secondly, we have Capricorn 'weather' in your chart, and this is the zodiac sign which rules everything that ties you to others, usually within the family or with a partner. Give yourself time and space at the Full Moon (look up and you will see it over your house or apartment, near the night of Saturday 22nd December). This is a moment of truth for you, about what must be done in January 2019. If you feel that all this is an unusually weighty matter, you are right. For the first and last time in your life, you have Saturn, Pluto and the South Node all in this area of your chart. Take your time and take good advice. Believe it or not, from Christmas 2020 you will no longer be sorting out numbers in December and January. Of course, this may be because you see family members at this time of year and they are involved with your own financial, business or property affairs. Whatever the reason, you may have to put the Christmas cake to one side now and concentrate on the agreements made, and the new arrangements to come.
Lifestyle, Workload, Health, Fitness, Duty, Service
You have been spinning around, to quote Kylie, for several months with an issue that would normally take a few weeks. The reason for this is Mercury Retrograde, but also Venus Retrograde. When planets appear to be standing still for days, and moving backwards, so does life. This would explain why you are yet to have a final answer about a question relating to your job, daily routine, workload, unpaid work, housework – and significantly – your body. You'll make more progress if you realise this is actually a task for January too. In fact, you won't finish one matter until the closing days of next month. In the meantime, you have to make a deal with others, particularly at the Venus-Ceres conjunction on Thursday 27th December. This is a complicated relationship, to be sure. It has many layers to it. Yet, you both (or you all) should be able to sort out a compromise over the next few weeks. It may be about time-sharing or power-sharing. This will actually contribute to the greater whole, and by February 2019 you will come to see that September-January was really about creating something brand new, by slowly reshaping your ideas about work, duty and service. You can't separate your health and fitness from this story. They go together. You are the machine that spins the cogs, in the wider machinery. Thus, it's time for maintenance and more. January 1st is always about New Year's Resolutions and these often concern your food, fitness, drugs, drink, dentist, doctor or healer. This is actually far too early. The real, final resolution for 2019 will come just as February 1st is around the corner. Until then, know that you are on the path to change, even if it's taking a bit of time.

Your Former, Current or Potential Partner
Gemini, the story this Christmas is about your former, current or potential partner. This may be plural, so it could be about more than one person too. The news is good. It is also going to change your life next year. As early as Friday 7th December, you'll see a New Moon in the sky, which will bring a new beginning. Don't be too concerned if things don't come together quickly or easily, as even though Friday 21st December makes your heart leap with hope, it's still not the final story. You're going to meet with delays, rescheduling, perhaps a reversal – certainly a retold story with this person – until you actually get to Christmas Eve. Certainly, by Boxing Day everything will be laid out in front of you. This is a capital O Opportunity moment. Jupiter solves problems. Jupiter also goes beyond that, to give you the biggest and best. A lot of this is karmic in nature, so it depends on what you were up to in your life about 12 years ago. If you were developing your relationships skills, or cultivating a partnership, or working on a good connection with your ex – then you'll be further along now. Even if you need a situation to blow wide open in order to be healed, that can happen now. Christmas is, of course, the time that you make contact with former partners – sometimes because of child custody. It is also the time that people who are unhappily married have to think about another year together and break up. Christmas is also traditionally a time of engagements! We associate this time of year with couples moving in together, too. It is party season and the Mistletoe is overhead, along with the release of inhibitions that only your Aunt's lethal punch can deliver. So, Gemini, we have to say that after a very, very long period in your life when nothing was really progressing or moving, it's all about to roll. You will be sorting things out with this person for most of next year, in terms of who is in charge, and how you two are going to share the controls. No matter if this is about a son or daughter in your lives (if you are married) or a brand-new relationship, trust in the future. This is going to take work next year, but you will never, ever forget the turning point that Christmas brought you. Be open to change. Say yes.
Enemies, Rivals, Opponents
Gemini, sometimes this cycle (above) is not about your former, current or potential partner. If fighting is more important to you than loving, then it may well be that you are dealing with a feud or battle this Christmas. It works for you. It works really, really well for you – particularly from Christmas Eve until the end of the month. This may be because your opponent is so weak that she/he increases your own power and strength. There may be other reasons. Just be aware that if you do set things in motion, you will spend most of 2019 trying to sort out the aftermath. This doesn't just end in December or even January. You and your opposite number, or opponent, will be figuring out the territory for a long time to come. All the more reason to try and park things in a good place.
Are you a Premium Member? Read on.
Extended Premium Forecast
© Copyright 2018 Goddess Media Limited. All Rights Reserved.
Join my free newsletter to stay in touch, hear about new astrology and horoscope posts. We will also write to you occasionally to tell you about events and offers linked to this website. We respect your privacy. We will never sell or share your personal information and you can opt out by clicking an unsubscribe link at the bottom of any email.