Jessica Adams' free Psychic Astrology forecast for June. See what this month looks like in the stars.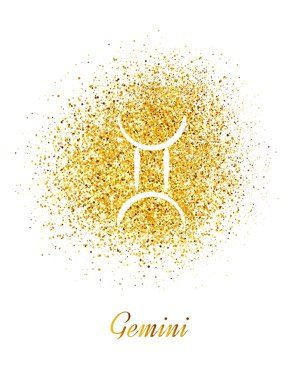 June

Your Career, Unpaid Work or Study
Just a heads-up that you may want to slow down and cool down, close to June 13th. The situation with your role, aims and goals is already pretty unclear, or not particularly based in the real world. That is as fine as far as it goes, Gemini, but as things could move too quickly, you may want to reduce the speed. Lowering the emotional temperature with other people or organisations, then, is also wise.
Finance, Business, Property, Possessions
Gemini, you put up with the most restricted, challenging and endlessly tight situation in 2019, with some power plays by people or organisations who/which should have known better.
Those days with your money, house, apartment, business, possessions or charity are now firmly behind you. In fact, what happens near June 30th is an important shift in the balance of power. It may be with your bank, a government department, your husband or your boss. It may be intensely personal or just feel that way, even if there's no connection.
Pluto is being taken over by Jupiter, a symbol of hope, optimism, solutions, growth, expansion and breakthroughs. Keep going and keep growing, Gemini, because the best is yet to come, just before Christmas. If you have been looking for a sweeping answer to ongoing issues about your empowerment, or the controls, then you won't forget the end of June in a hurry. And – of course – in Australia it's the end of the financial tax year.
When Not to Do Deals or Calculate
Just make sure you skip the eclipse, please, which is exact on the New Moon on the 21st of June. Allow June 20th, 21st, 22nd for that. A solar eclipse always blots things out you need to see or know. So, if you can buy, sell, sign, calculate or do deals at any time at all, you may prefer to skip that one. Especially if you have Cancer factors in your personal birth chart and a house or apartment is involved.
Mercury your ruler is retrograde all month, too, so you need to have Plan B and C. This may be issues with online banking, or a never-ending refund. You get the picture. Mercury rules those crucial conversations, handshakes or bits of paper and as he won't be fully back to normal motion until around the 27th of July, this is a long loop.
I mentioned the amazing breakthrough, in terms of your financial empowerment, or the control with a business, property or charity situation at the end of June. That is correct, but you also need to have back-up as it's the kind of month when delays or reversals, rescheduling or even product recall, could affect what you have in mind.
Image, Publicity, Title, Reputation, Brand, Name
Gemini, you have been going backwards and forwards with people who are important to your appearance (maybe your hairdresser, right?) image, profile, reputation and self-promotion – for weeks. In fact, ever since Venus went retrograde shadow in Gemini, your own sign, you have been dealing with rescheduling, standstills or even dramatic changes of plan. If you are in a business where a publicist is part of your career, you'll really have noticed it.
So what is June? More dress rehearsal. This is really like trying out a number of looks, or a different variety of titles, logos and so on (on paper). If you can delay any commitment while Venus is retrograde in Gemini, it may be easier. It's your choice (the cycle ends around the 29th of July).
The 'Me' story is also showing another loop. This time round, we are talking about life 19 years ago so in 2001, but also 19 years before that. Possibly, into past life experiences, regarding matters of reputation, name, title or appearances.
There is unfinished business about the year 2001 regarding how you were seen, from a distance. If you were a small child then, it may be (now) about issues you had then about your name, or your teeth and so on!
Are you a Premium Member? You can add more detail to your monthly reading by asking your own questions at The Astrology Oracle, using the cards and guidebook. You can also use the exclusive guide, Pamela's Tarot, to go further into your Tarot card readings on this website (always free).
Now, here are the dates that matter in June 2020. Keep reading to see if your personal birth chart is affected by the astrological weather passing through.
Extended Premium Forecast
© Copyright 2020 Goddess Media Limited. All Rights Reserved.
Join my free newsletter to stay in touch, hear about new astrology and horoscope posts. We will also write to you occasionally to tell you about events and offers linked to this website. We respect your privacy. We will never sell or share your personal information and you can opt out by clicking an unsubscribe link at the bottom of any email.