Jessica Adams' free Psychic Astrology forecast for August. See what this month looks like in the stars.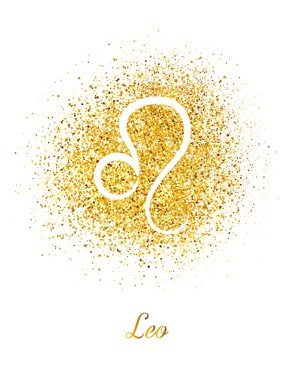 August
Your Lifestyle, Well-being and Workload
Leo, you have four bridges to cross in August, before you get to the really big leap (in November) with your lifestyle, wellbeing and workload. You can't really separate your body from your job, or your unpaid work or study. In fact, from head to toe, everything is connected. We include your mind in that, too, as mental health is obviously about self-care, as much as the issues you might take to a doctor or healer.
Ever since Pluto changed signs in 2008 you've had a dozen years of questions about 'fitness for duty' or 'fitness for service' as so much of what you do is about putting other people first. This can be the case even if you've been the President of the United States.
You have been in a demanding, heavy, prolonged cycle of late, commencing in December 2017 and weighing you down in 2018, 2019. Now, here comes August 2020 and you have these four bridges to cross. When do you do that? Well it depends on the Capricorn weather, as this sign rules your wellbeing, job, unpaid work, full-time or part-time study and your housework.
The key dates for the Capricorn weather (Pluto, Saturn and Jupiter in Capricorn oppositions) are August 1st, 3rd, 25th, 30th. Allow a day either side.
This may be when you get real, once and for all, about your schedule. It may be the moment of truth with your doctor, hypnotist, naturopath, surgeon, personal trainer, yoga teacher. You are proceeding towards a reckoning-up and rebalancing of your lifestyle, due the second week of November.
The Pluto-Jupiter conjunction in Capricorn takes place between November 8th and 13th and it's really about getting rid of most of what bothered you, in 2018-2019 that has lingered on. When Saturn finally leaves Capricorn on December 18th, consider that the end of most of it! For some Leo people this is clearly the end of a job; redundancy; retirement; promotion; a new role. In other cases, depending on your health situation, it's a year-end wrap.
In astrology, you don't really get there from here, without some big moves, and August challenges you and changes you, for a bigger and better November result. Again, this may have been about your unpaid work, as much as your paid work, or a university/college degree. I am sure you know exactly which project, position, campaign, goal I am talking about.
The future is really about education. Gaining new skills which make you easier to hire, or just studying for fun. It is also about you tutoring, guiding, mentoring or training. All this is written globally in the world chart, but also in your own, as an option (until 2023). If you are curious join me at The Conscious Café and we can discuss. Buy tickets here.

You, You, You – Leo Weather
This is the first time in years, you have been in a position to really review the past and see what has been going on. This is about your reputation, title, name, face, image, brand or profile, Leo.
The key dates for the Leo weather are the Full Moon on Monday the 3rd of August, the Sun-Mercury conjunction on Monday the 17th of August and the New Moon on Wednesday the 19th of August.

Essentially you did not know (or could not see) what was going on in 2017, 2018, 2019 during the Leo eclipses. So, the wool was pulled over your eyes, or you were just blind to what was actually happening. You may have already had a bit of a wake-up call. The internet is full of pond slime, isn't it? So, your good name or brand may have been used without you being aware of it.
Another example might be issues about your physical or personal appearance that you were clueless about. Something as simple as a different camera or mirror could wake you up to that one. I won't go into the myriad possibilities, but suffice to say, August is wake-up time and you'll find out what you did not know, or could not see, about your image – back in 2017, 2018, 2019. It follows that you'll take action. If you need to clear out the pond slime, then August is the time.
Of course, the eclipses are also about you covering up, hiding things, blurring the picture for others and the rest. So if you were concealing matters, in the interests of your reputation or name, then again – August is really the month that the spotlight goes on the dark corners of your past or the torch goes shining into that space under the floorboards.
When we look at this sequence of dates, we get – the time of reckoning. The big statement or question-and-answer session. Then, the fresh start.
Premium? Go on.
Extended Premium Forecast
© Copyright 2020 Goddess Media Limited. All Rights Reserved.
Find me on Twitter @jessicacadams for updates and a conversation about Astrology.
Join my free newsletter to stay in touch, hear about new astrology and horoscope posts. We will also write to you occasionally to tell you about events and offers linked to this website. We respect your privacy. We will never sell or share your personal information and you can opt out by clicking an unsubscribe link at the bottom of any email.